Streelman claims $1 million in Kodak Challenge
November, 12, 2009
11/12/09
10:19
AM ET
Not every professional golfer becomes an immediate success, traversing the world in a fleet of private jets while sipping the finest champagne with a bevy of bikini models.
Take Kevin Streelman, for example. The second-year PGA Tour pro can recall spending long days as a caddie at prestigious Whisper Rock GC in Scottsdale, Ariz., home to many elite-level players.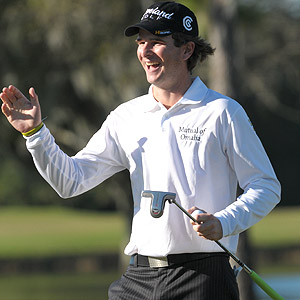 AP Photo/Phelan M. EbenhackKevin Streelman was all smiles Friday after making a birdie on the par-4 17th hole. The former caddy took home a cool $1 million for winning the first Kodak Challenge.
"I was just trying to save up money and practice wherever I could," he says. "I'd be running around there in my jumpsuit, dodging rattlesnakes, trying to make a couple of hundred bucks each day."
Of course, there's no reason Streelman shouldn't remember that time in his life. It didn't take place years ago when he was a teenager or even while in college. This was in the winters of 2002 and 2003, when the Duke University grad was already well into his mid-20s and listing "professional golfer" as his main occupation.
And so the news that Streelman became the inaugural winner of the Kodak Challenge and its $1 million jackpot on Friday should be met with a warm smile and a hearty "Attaboy!" as the payout didn't simply serve as a rich-get-richer proposition for another wealthy golfer.
The truth is, there isn't one player on tour who would turn down a seven-figure payday, but whereas the extra cash could help build another tennis court at Tiger Woods' estate or add a few more fancy cars to Phil Mickelson's garage, you get the feeling that it means more to a guy like Streelman. And it should. In 28 appearances prior to this week's Children's Miracle Network Classic, he banked a total of $4,983 less than he did for winning this year-long competition.
"It's going to go to some great causes, it's going to be invested smartly and it's going to help out some people who have helped me a lot," he says of the money. "Both my parents and my wife's parents are approaching retirement, so we're going to make sure they feel comfortable and can get some golf in during the next few years."
Such advantages are a far cry from just a few years ago. If those caddying days seem like recent history, then Streelman's time on the mini-tours is barely a memory.
It was only two years ago when he was plying his craft in golf's version of low minor league baseball, living paycheck to paycheck, still hoping to hit the big-time.
"I was chasing my dreams, driving around in my own car, saving up as much money as I could," he recalls. "I didn't have anything. I didn't have a house; I had my Altima, which had a couple hundred-thousand miles on it, and just a dream and a work ethic."
It wasn't until advancing through all three stages of the PGA Tour Qualifying Tournament in late 2007 that he earned status in the big leagues. Despite such a modest ascendancy to this level, the money isn't even the most important aspect to winning for Streelman.
With six career top-10 finishes in 64 starts entering this week -- and just two this year, including a T-3 at the Mayakoba Golf Classic in March -- he believes dealing with the pressure of being atop the leaderboard of the year-long competition since July will help him navigate his way to the winner's circle sometime soon.
"I love the pressure, being in that environment. It's something I'll be able to build on in the future when I'm faced with similar situations, hopefully, for PGA Tour events, if not a major," says Streelman, who is perhaps best known for sharing the opening-round lead at last year's U.S. Open before finishing T-53 at Torrey Pines. "So that's my goal and I think that's how I'll be able to use this to my advantage."
And then there's the fact that, much like Woods winning the inaugural FedEx Cup in 2007, Streelman will forever be the first player to claim the Kodak Challenge title.
"It will be neat to tell my kids that at least I have one trophy Tiger will never get," he says with a laugh, "because he'll never play enough holes to get it. So it's something that I won't soon forget."
He will also never forget those days caddying for some of the biggest names in the game. He can't, really, because Streelman still spends plenty of time at Whisper Rock, as the former looper is now a full-time member of the club. And before hailing his Kodak victory as the culmination of so many years of hard work, consider the following tale from his time in the desert.
"Last summer, they invited me to be a member and then last winter, I won the club championship," he says proudly. "So that's kind of a neat sidebar that I went from caddie to club champion in about five years."
Now $1 million richer, Kevin Streelman is no longer toting bags and averting snakes in hopes of pursuing the ultimate dream. Instead, he's living the dream -- and earning some very nice perks in the process.
Jason Sobel is a golf writer for ESPN.com. He can be reached at Jason.Sobel@espn3.com.