It's time for Tiger to speak up
November, 27, 2009
11/27/09
10:00
PM ET
A few years ago, in an attempt to delve into the inner machinations of the world's most famous athlete -- and possibly catch him in a rare moment of candor -- I posed this question to Tiger Woods: What is your greatest fear?
"I don't really have any," he responded without the slightest hesitation.
Nothing at all?
"No, not really."
Not even snakes? Spiders? Fire-breathing monsters? Camera flashes in your backswing?
"I can't think of any."
[+] Enlarge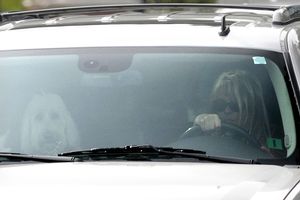 AP Photo/Phelan M. EbenhackTiger Woods' wife, Elin, left their Isleworth subdivision Saturday. For a second straight day, the couple denied Florida Highway Patrol requests to speak to them about the accident.
Based on the recent news swirling around the No. 1-ranked golfer -- two days after a tabloid report alleging an extramarital affair, Woods was involved in a one-car accident outside his home at 2:25 a.m. ET on Friday -- I'd like to have another crack at proffering this query.
Woods might not admit to any trepidations in this instance, either, but for one of the most guarded public figures in any profession, seeing his own name splashed across the headlines while the rumor mill churns at an unprecedented rate has to be more than a little disconcerting. It must scare the bejesus out of him.
How protective is Woods when it comes to revealing his personality? Enough that the aforementioned tale of fearlessness tells us less about how he feels than how he thinks.
The 14-time major championship winner has made a career out of earning his reputation inside the ropes. Off the course, he is the quintessential fence-sitter, never going out of his way to support anything other than the most conventional causes -- all of which has endeared him to marketing executives around the globe, making him sports' most sought-after corporate spokesman since Michael Jordan.
On this occasion, however, playing it close to the vest should prove only to be a disadvantage. He will not own an intimidation factor over his peers by clouding the facts; he will not garner any more lucrative sponsorship deals by remaining surreptitiously coy.
Instead, for perhaps the first time in his professional career, Tiger Woods needs to come clean.
It would be a bold move for a man who employs more spin doctors than your run-of-the-mill United States senator, but it would be the right one. Woods should hold a news conference sooner rather than later to tell his story, answer each question and volunteer every little detail -- no matter how tawdry or mundane these facts may be.
And remember: Just because he's tentatively scheduled to hold a news conference on Tuesday doesn't mean he'll necessarily divulge any information. A benign opening statement followed by a swift "no comment" to any impending question would follow the trend established by interviews under less racy circumstances -- injuries, swing changes, etc. -- that have taken place during his career.
In a court of law, the accused is considered innocent until proved guilty. In the court of public opinion, it's very much the opposite. With plenty of news about what really happened in the moments before, during and after that accident still waiting to be unveiled, even the least gossip-minded people among us are having a difficult time not pondering the most scandalous possibilities that would have led to such a situation.
And yet, Woods shouldn't come forward simply to quell any notions of these rumors. He shouldn't present his account of the conflict to quench the public's thirst for knowledge or because he knows the plain truth will be revealed in due time.
No, he should submit to veracity solely for his own well-being.
For every minute that passes without a single word from Woods, he is committing irreparable damage to his image. If he never goes public with the details of these circumstances, the whispers and innuendo will remain throughout his career, forever erasing the squeaky-clean likeness he has built since first joining the PGA Tour in 1996.
If there were any indiscretions at all that contributed to this incident, Woods should go the righteous route, owning up to any ignominy while seeking forgiveness. If he does, there is a chance he could someday be seen as a man of the people. The world may dislike an apologist, but it abhors a liar. For so long, Woods has appeared as some type of golfing android; being involved in a scandal could at least make him seem more lifelike to the masses.
If I were one of those spin doctors, that's the message I would relay to him.
Don't count on that approach, though. Already Woods has stonewalled Florida Highway Patrol state troopers on separate occasions during the first two days of the investigation. The man famous for rigorous early-morning workouts and lengthy, methodical practice sessions on the driving range is a creature of habit, and Tiger has spent too much of his life sidestepping the facts to change his spots now.
Examining his current situation, I am once again reminded of that interview from a few years ago. Though he couldn't name a single fear, there was one instance in which he almost let down his guard, allowing for a brief bit of scrutiny into the worst thing about being Tiger Woods.
"Anonymity," he said at the time. "Something I think I lost when I left college."
Woods is a man who enjoys his solitude so much that he named his personal yacht "Privacy." With so many news trucks and reporters waiting outside the gates of his posh Isleworth community and the world anticipating his story, such secrecy is now a thing of the past.
And so it's time for Woods to put that tight-lipped, confidential part of his life to rest. It's time for him to open up and tell the truth -- as scary as that may sound.
Jason Sobel is a golf writer for ESPN.com. He can be reached at Jason.Sobel@espn3.com.