Fowler set to take off on rookie season
January, 10, 2010
01/10/10
3:21
PM ET
Rory McIlroy, 20, is the ninth-ranked golfer in the world. Ryo Ishikawa, 18, led the Japan Golf Tour money list last year. Danny Lee, 19, was the youngest winner of both the U.S. Amateur and a European Tour event.
[+] Enlarge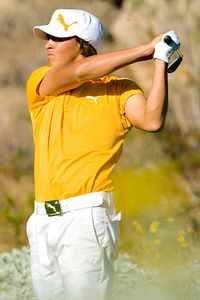 Allan Henry/US PresswireAt the 2009 Frys.com Open, Rickie Fowler nearly won, eventually losing in a playoff. So he earned his 2010 PGA Tour card the old-fashioned way: through Q-school.
What do they have in common? Other than being golf wunderkinds, both were born outside the United States, potentially leaving the game with a much brighter future internationally than stateside.
Well, maybe not.
Enter Rickie Fowler, America's answer to those global phenoms. At 21, he has seen success on the junior level (AJGA All-America selection), as a collegian (first freshman to win the Ben Hogan Award) and already on the professional level (reaching a playoff at the PGA Tour's Frys.com Open last year).
After cruising through Q-school in December, Fowler is now a rookie on the sport's most elite circuit. On Tuesday he sat down on the ESPN.com Hot Seat to discuss the expectations on him for this season, what he learned from the Tiger Woods scandal, and his competitive relationship with those other aforementioned young players.
Q: I've got some bad news for you. I know you're big on motocross, but most guys on the PGA Tour aren't going to have any idea what you're talking about when that subject comes up.
A: Yeah, not many guys ride or are involved with dirt bikes out here.
Q: Are there any analogies between motocross and golf? Anything you learned on a bike that can help you on the golf course?
A: One of the main things I would say is that when I'm on a new track doing jumps and stuff, that's the one thing that kind of goes hand in hand with the way I play golf. I would most of the time just kind of roll over the jump, look at it once or twice, and just do it. My golf game is kind of, step up, get the yardage and hit the shot. To not have the fear of messing up or coming up short and crashing, to not think about the negatives kind of goes over to golf. I step up and hit the shot not thinking about what I don't want to do, but what I'm trying to do.
Q: For those who have only heard your name but haven't seen you play yet, in case they couldn't tell by that answer, you're not exactly a traditional country-club kid, are you?
A: No, I grew up learning golf on a driving range. I worked with a guy [Barry McDonnell] from when I was 7 through high school, really, and he was a bit older than me -- he's in his mid-70s now. I've never used a video camera, just kind of sat at the end of the driving range. He'd smoke a cigar and I'd hit some balls.
Q: And I don't suppose you're going to start changing things now that you're a pro.
A: No, I've basically worked on my own the last few years, since I left for college. That's kind of how Barry taught me, to be able to know my own swing, be able to work my way through bad times and it's worked out pretty well so far. Just going to keep doing my thing. My caddie, Joe [Skovron], helps me out a bit on the road if I need a little bit of help with something, and we just go from there.
Q: There are some pretty hefty expectations on you for the upcoming season. Do you like it that way, or would you prefer to fly under the radar?
A: It's either way to me. Doesn't bother me if there's high expectations or none at all. It's cool to have the media and the press that I'm getting -- no complaints about that. And the expectations, I've dealt with them at each level, from junior to amateur to college, then in the Fall Series, and the expectations are a bit higher now with how I played in the Fall Series. So like we talked about coach-wise, I'm not changing anything; I'm not going to change the way I play just because of expectations. I'm just going to go out and keep playing the way I'm playing.
Q: You mentioned the media. It seems like so many people think you're going to be winning tournaments right out of the gate this year. Is there pressure on you to succeed right away?
A: There is and there isn't. Like I said, with the expectations, I'm not really worrying or thinking too much about them out there. I'm just trying to play my game and if I play well, I feel like I can put myself in contention quite a bit out here. But you know, golf is crazy. It can turn around in a day. I can play well one day then go down the tubes the next. So I'm just going to go out on a week-to-week basis and try to play each tournament as best as I can.
Previous Hot Seat Guests
Who else has appeared on ESPN.com's Hot Seat to discuss golf? Everyone from Tiger Woods to Jack Nicklaus.
Click here for the full list.
Q: Speaking of winning, you nearly claimed a victory as a nonmember at last year's Frys.com Open, losing in a three-man playoff to Troy Matteson. Were you happy because you played so well or disappointed because you didn't win?
A: A bit of both. I played well the week before. I played awesome there at Frys, didn't make very many mistakes, made a hole-in-one the last round. You know, it was almost perfect; we just missed the victory. But it was awesome to have the opportunity to be in contention two weeks in a row. Came really close there. Troy hit an awesome shot there on the second playoff hole to about a foot, so not much I can do there. I just look at those two events as a little experience and to hopefully help me out down the road. Hopefully sooner than later.
Q: What goals do you have for your rookie season?
A: The main goal is to keep the card. I think a lot of guys coming out of school, that's one of their main goals. Other than that, short-term goal is to get off to a decent start, get a good reshuffle number, get going and cruise through the season.
Q: Are there veteran players on tour from whom you'll seek advice? Maybe some of the former Oklahoma State guys?
A: Yeah. I go to a lot of the Oklahoma State guys; I spend a lot of time with them. Chris Tidland is probably one of the main ones that I spend time with. One of the guys who has helped me outside of Oklahoma State the most is Tom Pernice. We both live in the same town [Murrietta, Calif.], I played a lot of golf with him through high school and he's helped me the last few years and especially the last few months getting ready for the season. He's still going to help me week-to-week with places to go and stay, getting more comfortable each week.
Q: You were eight years old when Tiger Woods won his first major at the 1997 Masters, so you've sort of grown up with him being the gold standard in the game. What do you make of the recent scandal surrounding Tiger?
A: You know, it's kind of unfortunate, especially for the game, but I still look up to Tiger for what he has done for the game of golf and the accomplishments that he's had. I remember watching the '97 Masters -- it doesn't feel like it was very long ago. Like I said, I still look up to him for what he's done for the game and how he's played. It's a bummer that his private life came out like that. Not much I can do about it, just hope for the best for him along with Elin and their kids.
Q: Have you learned anything from this story?
A: Yeah. You've got to watch out a bit. You can't keep everything a secret, so I guess at all times be on your best behavior.
Q: This may not be the smoothest segue, but you turned 21 last month. How was the celebration?
A: Me, my mom and my dad had dinner at the Ritz-Carlton the night after the Shark Shootout. That was about all the celebration I had. I'm not a big partier or drinker. Other than that, I went to the casino a couple of times when I was home and played some blackjack, but that's about it.
Q: How'd you do playing blackjack?
A: Surprisingly, I didn't lose. I didn't win, either. I think I broke even the three times I went, so I'd say that's better than losing.
Q: Are you as aggressive at the blackjack table as you are on the golf course?
A: I'd say I'm a little bit more conservative on the blackjack table.
Q: At the risk of sounding like a really old guy, between you and Rory and Ryo and Danny, what is it with you damn kids today and your crazy haircuts?
A: I don't know. We've all got kind of our own thing, but they're all crazy. They're all great guys. I've had the opportunity to play with all of them, and I look forward to playing with them again this year and for years to come. They're great guys and great players, as well.
Q: Do you feel any special kinship with these guys since you're all about the same age and sort of embarking on this journey as professionals together? Does it make you want to beat them even more?
A: Yes and no. In a way, I almost feel like we're a team, all the young guys coming up. Rory, Danny, Jamie [Lovemark], you've got Billy [Horschel] and Cameron [Tringale] out here -- they've got their cards. But I mean, Rory has obviously had the most success, jumped out and done his thing; he's off and rolling. Danny got a win last year. So Jamie, me, Billy and Cameron, we need to step up and do our thing. But it's going to be a lot of fun, like I said, this year and hopefully for years to come.
Q: You've really embraced social media, constantly updating your Facebook and Twitter accounts. How important is it for you to maintain communication with the fans through these means?
A: I think it's big. You know, I don't need to do it -- it's not like Twitter and Facebook were around for guys 10 years ago -- but I think it's a great way to get fans a little more involved. They can get to know me a little bit more; it's more of a personal thing. They can interact with me a little bit more. So I think Twitter and Facebook are great. It's another way for fans to follow the players and get to know them.
Q: Last question: How many people have told you to stay off the motocross bike now that you're a pro golfer?
A: A lot. I'll still hop on every once in a while, but I'll stay aggressive on the course and conservative on the bike. Never going to be able to give that up.
Jason Sobel is a golf writer for ESPN.com. He can be reached at Jason.Sobel@espn3.com.