One group at DBC came away 23 under
September, 3, 2010
09/03/10
3:56
PM ET
NORTON, Mass. -- Ryan Palmer walked off the course following his opening round of the Deutsche Bank Championship with a smile across his face, but good-naturedly shaking his head, too.
[+] Enlarge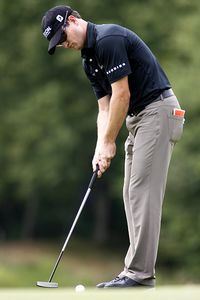 AP Photo/Stew MilneZach Johnson certainly bolstered his chances of earning a captain's pick for the U.S. Ryder Cup team with his opening-round 63 on Friday at TPC Boston.
It's a good thing he doesn't have a self-esteem problem. After all, Palmer posted a sublime score of 7-under 64, leaving him in an eight-way tie for third place … and it was still the worst total in his threesome on Friday.
That's because playing partners Zach Johnson and Jason Day both fired rounds of 63 to jointly lead with 18 holes completed at TPC Boston.
"I made a couple of birdies in a row and I felt like I was sprinting trying to keep up," Palmer said. "It was cool, it was fun."
If you're scoring at home, here are the eye-popping numbers:
• The group combined to shoot 23-under-par.
• They totaled 26 birdies against just three bogeys.
• At least two of them birdied the same hole on eight separate occasions.
• Their best-ball score would have been 14-under 57.
"I've never been a part of this kind of round," said Palmer, who has posted four sub-70 scores in his past five rounds. "I've been in 'em where a couple of guys shot well and somebody struggled, but as far as all three of us shooting 23-under-par, I've never been a part of that. It seemed like every hole, someone birdied then someone else birdied, so we were all just kind of feeding off each other."
"I think I probably have, but it was not remotely on a golf course of this magnitude," Johnson said. "Maybe I haven't. I mean, there could have been a mini tour week here or there, but nothing on the Nationwide or PGA Tour. ... That was pretty impressive all around, I think."
No, this wasn't some kind of best-ball or scramble or shamble format. They didn't have amateur partners playing off sandbagged handicaps. There were no windmills guarding the holes or offers of a free game for making a putt on the 19th hole.
That's not to say conditions weren't easier. In anticipation of heavy wind and rain from Hurricane Earl, greens were only single cut and a lift, clean and place policy was in effect.
And yet, things weren't as easy as Johnson, Day and Palmer made 'em appear. Tiger Woods (1 over), Dustin Johnson (2 over) and Sean O'Hair (3 over) were among the notable players who struggled in the first round -- a notion which must have appeared foreign to the leaders.
It might not have been a coincidence that the threesome played so well together, though. Each said he considers the other two to be good friends and they all seemed to be relaxed and rooting for each other throughout the round.
"It's nice to play with friends," Johnson said. "When we're all playing decent, it makes it that much better. Yeah, joking around, just a casual round of golf. It was nice."
"When you get to play with guys you know real well and you're friends with and you get on a run like that, you just feed off each other," Palmer said. "We're all in good moods, we're all talking, laughing, cutting up. And yet, we're all making birdies, as well."
All of which leads to a chicken-or-the-egg type of conundrum: Did the trio play well because they were having fun or did they have fun because they were playing well?
"I think it was a little bit of both," Day said. "I try and have as much fun as possible when I'm out there because it puts me in a good mood, and you can't play golf cranky. It's a little hard to do that. But the two guys that were with me today, they're a bunch of fun. I've known those guys for a few years now and they're just a good bunch of guys to just have fun out there. It was just a really good, fun day."
It was just a little more fun for Day and Johnson than Palmer. One stroke more, to be exact.
Of course, there's plenty of time to get that back. The three players will be grouped together once again in Saturday's second round. If the momentum continues, expect another guy with a low score to once again be shaking his head after walking off the final green.
Jason Sobel is a golf writer for ESPN.com. He can be reached at Jason.Sobel@espn.com.