Jason Day taking it one at a time
September, 5, 2010
09/05/10
8:14
PM ET
NORTON, Mass. -- You can learn a lot about a player by observing how he bounces back after a disappointing result.
One week ago, Jason Day had a share of second place following three rounds at the Barclays, only to post a final-day even-par 71 that left him tied for fifth when the tournament was over.
What have we learned so far this week? The 22-year-old has a pretty tough inner resolve, as he has once again climbed the leaderboard, in charge at the Deutsche Bank Championship by a stroke going into the final stanza Monday at TPC Boston.
[+] Enlarge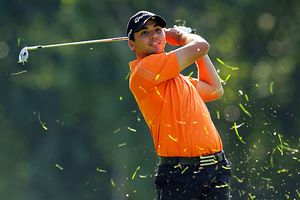 Mike Ehrmann/Getty ImagesFor the second straight week, Jason Day owns the 54-hole lead in a FedEx Cup playoff event. The Aussie leads by a stroke at the Deutsche Bank Championship.
Of course, you can only learn so much about a player by watching him compete and tracking his results. Sometimes it takes a more personal approach.
Which leads to this notion: You can learn a lot about a player by walking 18 holes with his significant other.
Ellie Day is the Ohio-born wife of the Australian golfer, and as often happens with these pros she knows him better than anyone else. They met five years ago when she was waitressing at a restaurant in Twinsburg, Ohio, but didn't start seriously dating until coincidentally running into each other a few years later.
The couple travels to events with their two dogs in an RV trailer that features such accessories as a washer, dryer and convection oven. Post-tournament evenings often consist of Ellie cooking dinner while the two keep a low profile.
"We're so normal," she says, "it's ridiculous."
Ellie can back it up with plenty of examples. Like the fact that Jason currently has a hankering for 1980s music, even going as far as to start planning an '80s theme party for the upcoming offseason. His biggest obsession? The band Journey, even telling Ellie that "Faithfully" should be their song.
Or the fact that his favorite pastime is video games. While Ellie studies for online classes, he plays a game from a catalog that includes plenty of non-sports titles. Which ones? "Oh, lord," she says. "They all look the same to me."
Or this: The current tournament leader -- a guy who's banked more than $2 million in earnings already this season -- shops at Target. He recently purchased an iPad at the retail store, but only after comparing prices for a few months.
Ellie isn't exactly the shy, reserved type, so a day on the course can elicit plenty about her husband, too.
If this touring pro gig doesn't work out for Jason, don't expect a second career as an instructor. "He's a terrible teacher," insists Ellie, who once hit balls under his watchful eye for three days without getting one airborne.
The couple is planning to purchase a house in Columbus, Ohio, soon. When it's suggested that the Days take their talents to South Beach like a certain NBA superstar, she says with the utmost sarcasm, "Yeah, that's definitely our scene."
But spend time with Ellie Day and you can learn a lot more about one of the world's best young players than just his hobbies and living arrangements. You can garner some insight as to whether he has what it takes to reach the upper echelon of golf's elite.
For instance, he's a changed man. "The first year he was out here," Ellie recalls of the 2008 campaign, "he'd be chucking clubs or dropping F-bombs. But he's much more comfortable in this environment now."
That goes for all aspects of the job. Not only is there an increased comfort level with his game, but Day is fitting in nicely with his peers -- most of whom have a few years on the youngster.
"It used to just be me and him eating all our meals together," Ellie says. "Now we know more people and it's more comfortable. I think that helps him on the course, too."
She then offers a notion that makes your ears perk up. It's an idea that all the great ones have, but very few can execute.
"His biggest thing is that he wants to keep everything normal on the course," Ellie intimates. "It doesn't matter how he's playing, he wants to keep it the same. He's grown up so much the past few years it's not even funny."
Jason Day is growing up every week, it seems, right before our eyes. We've come to glean plenty about him during recent events, but playing with the 54-hole lead on Monday at TPC Boston, we'll learn more about whether Day can withstand the final-round pressure of a big event.
Either way, his wife will be walking all 18 holes, right by his side.
Jason Sobel is a golf writer for ESPN.com. He can be reached at Jason.Sobel@espn.com.