Charley Hoffman rolls in holiday birdie fest
September, 6, 2010
09/06/10
8:39
PM ET
NORTON, Mass. -- Forget the barrage of birdies, the punched ticket to next year's Masters and the newfound opportunity to win the $10 million FedEx Cup first-place prize after Charley Hoffman won the Deutsche Bank Championship on Monday.
We'll get to each of those, but any story about Hoffman is required by journalistic law to first break down his most distinguishing feature.
[+] Enlarge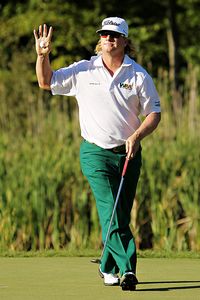 Mike Ehrmann/Getty ImagesCharley Hoffman made 11 birdies during the final round of the Deutsche Bank Championship on Monday. His 62 was the lowest final round in the tournament's history.
So let's start with the hair.
After all, Hoffman is most easily recognized by the shoulder-length blond locks protruding from beneath his hat, making him a dead ringer for another legend in this part of New England, Harry Dunne. If that name doesn't ring a bell, check your slapstick comedy card at the door, as he was one of two main characters in the cult classic, "Dumb & Dumber" -- which just happens to be the golfer's favorite film.
"I guess I do it just to stand out a little bit in the crowd," Hoffman said of his hairstyle. "Golfers tend to sort of all look alike, and I try to stand out a little bit for my sponsors and myself to sort of showcase my personality."
There is plenty of personality to showcase.
A literal good-time Charley, he isn't averse to the notion of a smile on the golf course. Hoffman often wears a green glove, belt and spikes, but the real fashion trend comes via his personal website, which offers T-shirts replete with his likeness and a motto stolen from an entertainment celebrity and altered for his own benefit: "Don't Hassle The Hoffman."
"You know, he's laid-back," said Miguel Rivera, his caddie of five years. "Loves to grab some beers in his off time, but when it comes to practicing, he's a hard worker and knows how to play the game really well."
That was on display in the final round, as Hoffman posted 11 birdies en route to a 9-under 62 to win convincingly, beating a trio of contenders by five strokes. Most impressively, he did his best work when the pressure was on, starting the back nine with birdies on the first two holes, then dunking a bunker shot for another on No. 13 before posting three more on his final four holes.
His second career victory -- he also won the 2007 Bob Hope Classic -- vaults him from 59th to second on the current FedEx Cup points list with two playoff events left to play. It also secures his PGA Tour playing privileges through the end of 2012 and qualifies him to compete at Augusta National for the first time at next year's Masters Tournament.
"I've said since I turned pro I would never step foot on that ground unless I won and earned my way there and finally I have," said Hoffman, whose previous title didn't get him into the event. "I can't wait, there's no question."
Those are some lofty accomplishments for a player who began the season on the shelf for five weeks due to a swollen capsule in his left wrist that occurred after too much bunker work in the offseason. He failed to reach the field in any of this year's majors, never moving from first alternate status at Whistling Straits during the recent PGA Championship.
Hoffman now becomes eligible for each of next year's four major championships, thanks to the triumph at TPC Boston, where he was serenaded throughout the final round by local galleries known for a certain dialect.
"They were hooting and hollering all day long," Rivera said. "We were laughing, because of the way it's pronounced here. It's like they forgot the 'r' in Charley with that Boston accent."
The player who will forever be referred to in these parts as "Chollie" proved this week that he's not just "the guy with the hair." Hoffman might use the unconventional coiffure to showcase his personality, but he understands that it takes more than that to win over the fans.
"Good golf," he explained, "always makes you stand out a little bit better."
Jason Sobel is a golf writer for ESPN.com. He can be reached at Jason.Sobel@espn.com.