Yani Tseng deserves serious accolades
December, 8, 2010
12/08/10
9:35
AM ET
Let's pretend for a minute that each of the world's major professional tours annually banded together to honor one individual as the Global Golfer of the Year.
[+] Enlarge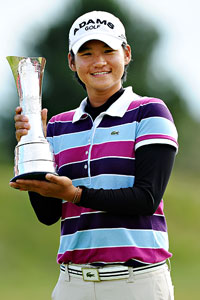 Paul Ellis/AFP/Getty ImagesYani Tseng is the only player to win two major championships in 2010, male or female. She started the year with a victory at the Kraft Nabisco and then won the Women's British Open later in the season.
Come to think of it, this isn't such a bad idea. In a December month already saturated with announcements of season-ending accolades, at least this would be a major declaration, worthy of 19th hole debates from Argentina to Zimbabwe.
Well, if such an award did exist, this year's winner might surprise you.
The player in mind didn't triumph at a revered golf sanctuary like Augusta National, Pebble Beach or St. Andrews. Never rose to No. 1 in the world. Didn't qualify for the Ryder Cup or FedEx Cup. Rarely made off-the-course headlines.
In fact, the only time this player really garnered conversation was in victory -- and that happened only three times. Then again, two of those triumphs came at major championships, a claim no other golfer can make this year and one that only Padraig Harrington (2008) and Tiger Woods (2007) can make in the past half-decade.
I'm referring, of course, to Yani Tseng.
Winner of the Kraft Nabisco Championship and Women's British Open at the tender age of 21, she posted eight top-10 finishes in 19 appearances on the LPGA, winning the tour's points-based Player of the Year Award while finishing fourth on the final money list. Those are numbers that should place her season among the best of this year on any tour, either gender.
Full disclosure: If this award existed for 2010 and I was offered a ballot, my vote would be cast for Graeme McDowell in a closely contested race. That doesn't mean a strong case can't be made, though, for Tseng, who has developed into the type of player we usually only witness after years of experience in the professional ranks. Including the 2008 LPGA Championship title in her rookie season, she has amassed three major championship victories in her first three years since joining the major league circuit from her native Taiwan.
"When I was a rookie," Tseng recalled after Sunday's final round of the LPGA Tour Championship, "I said my dream was to be the first Chinese player to win a major, then it just came in the first half-year. Sometimes dreams take a long time, but that happened so quickly. Now I'm really looking forward to winning the U.S. Open."
That's right. While much of the golf world is already going gaga over the potential of Rory McIlroy, Rickie Fowler and Michelle Wie -- and for good reason -- their fellow 21-year-old has lapped them in the trophy department. Despite being of legal drinking age only since January and still a few years from minimum car rental requirements, Tseng is already three-quarters of the way to the career Grand Slam.
In case that doesn't sound significant enough, check out the ultra-impressive list of those who have accomplished the feat so far: Pat Bradley, Juli Inkster, Annika Sorenstam, Louise Suggs, Karrie Webb and Mickey Wright on the women's side; Ben Hogan, Jack Nicklaus, Gary Player, Gene Sarazen and Tiger Woods for the men. Tseng has an opportunity to not only become the 12th player in history to reach the goal, but has a few years to best Woods -- who was 24 when he completed the Slam -- as the youngest ever.
And yet, Tseng isn't content to stick with what's gotten her to this point. A classic grip-it-and-rip-it player who makes birdies in bunches and can turn tournament starts into all-or-nothing propositions, she sees room for improvement. This season she ranked eighth on the LPGA in scoring average (70.66), ninth in percentage of rounds under par (69.1) and 10th in driving distance (262.3) -- all solid numbers, but hardly the stuff of legend.
Ask whose game she would like to emulate and Tseng quickly responds with the names of Jiyai Shin, Ai Miyazato and Na Yeon Choi -- three players with whom she has little in common. Which is exactly why she would like to emulate their games.
"The way they play, their style is different than me," Tseng said. "They're so consistent, swing so smooth, hit the fairways and make their putts. I'm an aggressive player, have a lot of ups and downs. I think I need to learn from them."
The respect is mutual.
"Well, I think she's amazing," Choi said. "She hits every shot like really powerful. And she is a good fighter. Yeah, definitely she [should] get Player of the Year. She's the best player."
While the U.S. Women's Open title remains a long-term goal, Tseng has her eyes on another previously unopened prize in the early part of the 2011 season: She wants to ascend to No. 1 in the Rolex Rankings, a spot that has been shared by Shin, Miyazato and Cristie Kerr during the current year, but continues to elude Tseng.
"I think it's going to be hard at the beginning of next year," she said. "Everyone is still working so hard for this. I feel like it's going to change a little bit."
Asked whether that's a good thing for the game or if it would be more beneficial to have a steady, regular No. 1 player, she doesn't hold back. "I don't know," Tseng replied with a laugh. "If I can hold it for a long time, I think that would be a good thing."
For now, she will have to be content with the knowledge that her season ranked with the best of any player in the world. It's too bad there's no award for such a thing. Yani Tseng just might have won it.
Jason Sobel is a golf writer for ESPN.com. He can be reached at Jason.Sobel@espn.com.