Buy these rising stocks for 2011
January, 1, 2011
01/01/11
6:16
AM ET
When it comes to expectations of immediate success for the current crop of elite young 20-somethings and teenagers, allow me to proffer four words of caution: Don't believe the hype.
[+] Enlarge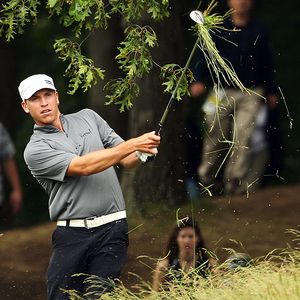 Andy Lyons/Getty ImagesFormer U.S. Amateur champion Ricky Barnes finished tied for second at a soggy 2009 U.S. Open at Bethpage Black.
Oh, don't get me wrong. I think Rory McIlroy can win a major title any day now, Rickie Fowler has the gumption of a superstar twice his age, and Matteo Manassero might become a modern-day Seve Ballesteros.
Unlike other sports, though, where top draft picks can often parlay amateur stardom into professional superstardom, young golfers usually need a few years to mature. It has less to do with talent than experience -- getting comfortable playing weekly events at the highest level, learning about the courses, even knowing where to stay, where to park and where to eat.
All of those factors are reasons we rarely see fab freshmen vault to the top of this profession. Personally, I look for players in their third, fourth or fifth year as a PGA Tour member to figure these things out and gain enough experience to find success. Hunter Mahan, Jeff Overton, Nick Watney and Bubba Watson are all players who weren't overnight sensations, but they recently crossed the threshold into the next echelon at this point in their careers.
The following six players are hardly unknown commodities. Some have already won tournaments and some have contended for major championship titles. But each one is still on the rise. If you've got a fantasy golf squad, stock up on these guys, then sit back and watch 'em rake in the big bucks for you. And if not, well, at least you can impress the other guys at the local 19th hole.
Ricky Barnes: He was a can't-miss kid coming out of the University of Arizona, where he shared the Ben Hogan Award and won the 2002 U.S. Amateur. And then, he missed.
The ultra-athletic Barnes toiled on the developmental Nationwide Tour for years before finally getting called up to the big leagues in 2009. His struggles that season were counterbalanced by a surprising runner-up finish at the U.S. Open, and then he followed with six top-10s in 2010. Expect another major spike in success as he becomes more comfortable in his surroundings.
Jason Day: If golfers were stocks, this 23-year-old Aussie would be a blue-chipper on the verge of making a lot of people very rich. Instead, he's the one about to prosper.
In his third year on tour, Day won the Byron Nelson Championship and finished fifth and second, respectively, at the first two FedEx Cup playoff events. That's a breakthrough season for most young players, but for him it's just a sign of bigger things to come. Don't be surprised if Day is among the biggest earners on the entire circuit this season -- and for many years to come.
Martin Laird: Members of boy bands and Hollywood starlets have spent less time around Justin Timberlake the past few years than this Scotsman via Colorado State University. Laird won the entertainer's eponymous tournament in 2009, then lost in a playoff last season. The latter came just two months after kicking away a title at The Barclays, then losing that one in extra holes, too. Chalk it all up to experience, as Laird will continue to grow in his fourth year on the PGA Tour.
Steve Marino: Best player without a career victory? Marino is definitely in the discussion, as he has pulled in nearly $7 million since joining the PGA Tour in 2007. While his earnings and ranking increased in each of his first three seasons, the University of Virginia alum witnessed a slide in his fourth year.
Don't let it dissuade you from being bullish on his future, though. When Marino is on -- as he was with top-five finishes in back-to-back weeks at Riviera and Pebble Beach last season -- he can hang with the best of 'em.
Andres Romero: Admit it: Even though he had finished T-8 at the Open Championship one year earlier, you had never heard of Romero until he took the lead at Carnoustie with a few holes left to play in 2007. Don't feel bad; you're hardly alone. He followed by winning the Zurich Classic and Rookie of the Year honors the next season, but has struggled ever since. Buying a home in the U.S. is in the works -- currently the Argentina native doesn't have one -- and should help his comfortability on the PGA Tour.
Webb Simpson: There are some pundits -- OK, me -- who believe Simpson should have won the Rookie of the Year award in 2009. He had one more top-10 and the same amount of top-25s as winner Marc Leishman, but the Aussie took the honors based largely on a late-season runner-up at the BMW Championship. No matter. While Simpson faded in those two categories and in money earned during his sophomore season, the Wake Forest product has too much talent to keep him from the winner's circle for much longer.
Jason Sobel is a golf writer for ESPN.com. He can be reached at Jason.Sobel@espn.com.