Get ready for a new Masters experience
January, 3, 2011
01/03/11
7:31
PM ET
At some point every April, the following rhetorical question is anxiously posed by golf fans on couches around the world.
[+] Enlarge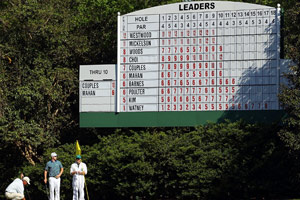 Streeter Lecka/Getty Images/Golf WeekIf you can't get to Augusta National, EA Sports' new "Tiger Woods '12" game will get you close.
"Wouldn't it be cool ... if you could play Augusta National Golf Club ... and the actual Masters Tournament ... on a video game?!"
Wonder no longer, my friends. The world's most revered golf course and the year's first major championship will soon be available in the long-standing EA Sports "Tiger Woods" series.
And yes, it will be very cool.
This is the golf and gaming equivalent to the first time someone dipped a chocolate bar into another person's peanut butter. Or more pertinently, the first time someone slapped pimento cheese on white bread -- the unofficial must-have lunch of the Masters Tournament.
For the first time ever, a virtual version of the entire course will be available to play from the luxury of your living room starting on March 29, just nine days before the opening round of the actual tournament.
Green jacket sold separately, of course.
This move is the latest in a recent trend from Augusta National to not only grow the game globally, but make itself more visible.
Consider it a refreshing departure from the previous exclusivity of the course. Think about it: The first and second rounds of the Masters weren't even televised until 1982; broadcast coverage wasn't allowed to show competition on the front nine holes until 2002.
[+] Enlarge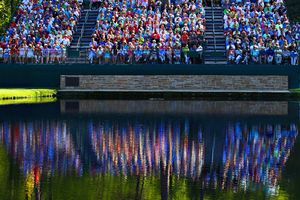 Streeter Lecka/Getty ImagesAugusta National's scenic views used to be available in April during the Masters. Now, golf fans will be able to see them in their living rooms all year long.
And now? In recent years, the tournament has been the first major shown in both high-definition and 3-D television, the first to offer live bonus coverage on the Internet and the first to allow free admission to all children under 16 accompanied by an adult. Each of those decisions has helped the Masters appeal to a younger generation, and its inclusion in the video game continues along that pattern.
"Our desire to help grow the game of golf throughout the world is sincere, and it is that commitment that first led us to EA Sports more than three years ago," said Billy Payne, chairman of Augusta National Golf Club and the Masters Tournament, in a statement. "EA Sports, Tiger Woods and the PGA Tour have developed an extremely successful franchise that responds to one of the popular entertainment choices of kids today. We hope our inclusion will foster an appreciation for the history and traditions of the Masters and inspire the next generation of golfers."
It's often been said that no one can realize exactly how hilly Augusta National's terrain really is without seeing it in person. Same goes for the overwhelming colors that permeate the course. Watching on television may grant observers a glimpse into the course's beauty, but it fails to capture the other senses in a way that only being there really can.
I'm reminded of a piece I wrote upon my first day on assignment at Augusta National years ago. It began:
Look to the left. The world is simply green, as far as the eye can see. Look to the right. More green, with hills and swales topped in that constant outdoorsy hue. Look behind you. Straight ahead. Anywhere. It's all the same. It's all serene, peaceful, yet exhilarating. It's all so much a part of history, yet so alive today. It's all so ... perfect.
The point in sharing this passage isn't to point out how much those who haven't made the pilgrimage have missed, but to prove what advantages might await in video game form -- all from the comfort of your own home. It's because of this ability to pull back the curtain that such an addition should intrigue hard-core golf fans as much as -- if not more than -- fanatical gamers. This is a chance to walk through the vaunted gates of Augusta National without needing access to drive down Magnolia Lane.
It's a win-win proposition. You can play the world's most famous golf course for the first time ever. Meanwhile, 100 percent of Augusta National's proceeds from the video game will be contributed to the newly created Masters Tournament Foundation, which is designed to annually invest in development programs for the game of golf worldwide.
Actually, that makes it a win-win-win proposition, the last of those being the ability to capture a Masters title. For Tiger Woods, Phil Mickelson and the world's elite golfers, that chance will come over four days in April. For the rest of us, it will soon be readily available anytime, at the click of a button.
Jason Sobel is a golf writer for ESPN.com. He can be reached at Jason.Sobel@espn.com.