July, 18, 2010
07/18/10
1:16
PM ET
KINGSBARNS, Scotland -- A tiny man wearing all black stood over his approach shot at the final hole of Kingsbarns Golf Links, a 15-minute drive from the Old Course. He swung and the ball flew high into the air, came down, landed and almost bounced into the hole.
Gary Player grabbed his putter and marched toward the green.
[+] Enlarge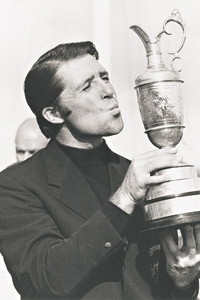 AP PhotoGary Player knows a thing or two about winning the Open Championship. He did it three times and owns 9 major victories overall.
On Sunday, while countryman Louis Oosthuizen was winning the Open Championship, Player played a round of golf with clients. He's 74, the winner of nine majors. Today, he hit every fairway. He didn't make a bogey. On the last hole, he outdrove the younger men and ended up closest to the hole. As Oosthuizen glided around the front nine, Player walked off the green.
The first words out of his mouth were about Louis.
"I'm hoping my man can win today," he says. "Can you imagine leading by 4? I had my turn and I tell you, it's tough. It can turn so quickly."
Player took a seat on the hill overlooking the 18th green and the North Sea. He pulled his legs up and looked around, surrounded by his incredible life: a view of the ocean, dogs playing in the surf down below, a Bentley waiting in the clubhouse drive. All because he won golf tournaments. A long time ago, he too was a young South African boy with nothing but a dream.
"I landed here in 1955," he says. "I get off the train. By myself. Ernie Els and Tiger have G-Vs in here. I had a suitcase this big. Two pairs of pants. I had a necktie which was my belt by day and tie at night. I go to a hotel and I can't get a room. Forty or 50 pounds. I had 200 pounds in my pocket. That was my world earnings. My total assets. I went and slept on the beach the first night. It was just like tonight. I put my waterproofs on and my sweater and I slept on the beach."
Gary Player remembers what it's like to live in poverty. What it's like to be Louis Oosthuizen -- who, South African billionaire and golf lover Johann Rupert says, grew up "dirt, dirt, dirt, dirt poor."
Player remembers how one Sunday afternoon can change everything.
"It's the biggest day of his life," he says. "Biggest day he'll ever have."
The two men talked Sunday morning. Player was on the third hole at Kingsbarns and Louis was waiting to tee off. Player wanted to make sure the young man knew the crowds would probably be cheering for Paul Casey, an Englishman.
"I said, 'In 1961, when I won the Masters, I'm playing with Arnold Palmer,'" Player says. "'He was America's hero. There are 50,000 people there and there's one person pulling for me. My wife. What I did was, because I had a tough upbringing as a kid, a lot of suffering as a kid, this is not gonna worry me. They can cheer all they like. I'm gonna beat him. You've got to understand, it's not that they don't like you. They're just cheering for their man. The more they cheer for him, the better you've got to play. You just got to have patience. Get in there, hang in there and say a little prayer before you play.'"
Oosthuizen kept saying "Dankie, Oom," over and over, in his native Afrikaans. Dankie means thank you. Oom doesn't translate exactly. The phrase is one of deep respect. When they were finished, Player hung up.
"I had a tear in my eye," he says. "I had a tear in my eye, just talking to him. I thought, 'Gee, I hope this boy wins.'"
Player was relaxed, lounging in the grass overlooking the green. Not in any hurry at all. The next group came off the green and got their St. Andrews moment.
"How you doing, guys?" Player calls.
"Great," they say, unable to stop staring, or wipe the stupid grins off their faces.
He sat on the hill, telling stories, about to take the clients to dinner. Player grew up with nothing and now his portfolio is massive: a winery, a ranch, several businesses, on and on and on.
"This golf game never ceases to amaze me," he says. "It never ceases to amaze me. When I played this course today, when I stood on the first tee, I was grateful to be here. Because when you've been poor -- man, I was poor -- when you're poor and you get the things in life you end up getting, you appreciate it."
His first time to St. Andrews, he slept on a beach with every penny he had to his name in his pocket. Nine Sunday afternoons changed all that.
He's asked where he's staying this week.
Gary Player laughs.
"This time," he says, "we have a house with 14 bedrooms."