AUGUSTA, Ga. -- Shawn Spieth, proud father, was standing under the old oak tree at Augusta National and talking about the time he met his idol, Michael Jordan, a couple years ago at the Ryder Cup. Spieth told Jordan he had named the older of his two sons after him, and one of the world's most famous golf fans seemed a bit taken aback.
"He just gave me a look of surprise," Spieth said. "He had a kind of a fan reaction. It's pretty cool when Michael Jordan looks at you like that."
It's even cooler when Michael Jordan tells you he is a devoted admirer of your child. Shawn Spieth didn't have a tape recorder rolling when talking to the former Chicago Bulls great, but he remembered Jordan saying, "I love watching your son play golf. I love the way he competes as a player."
And then it was Spieth's turn to be a bit taken aback. "That really hit me," he said. "Michael Jordan was my favorite athlete because of his competitive spirit."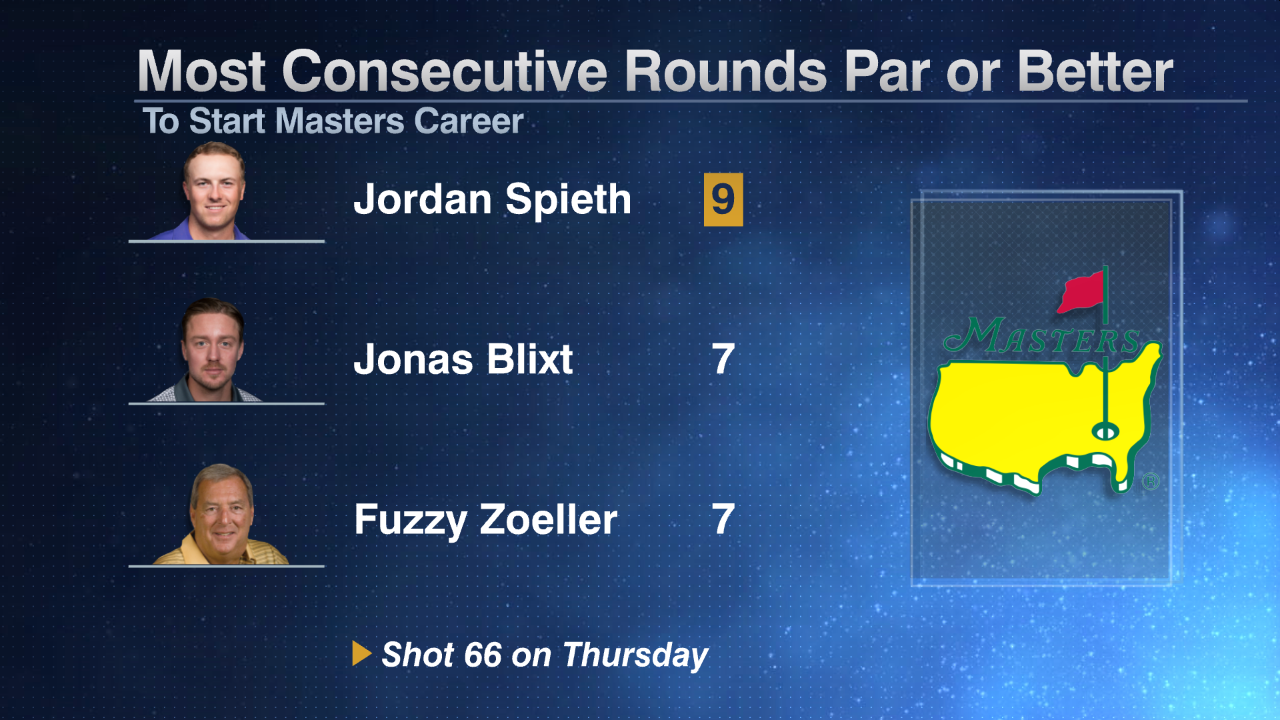 The subject was raised at the Masters because Jordan Spieth, the 22-year-old defending champ, had just done something that surely made a proud man of the American icon who inspired his given name. Despite Spieth's difficult early season (by his otherworldly standards) and the potentially ruinous distraction of discovering a crack in his driver on the eve of the tournament, Spieth spent a windy Thursday in the sun reminding his Augusta National opponents something they won't soon forget:
No matter what else is going on around me, this is still my house.
Told that his boy's opening 66 had the feel of a Jordanesque statement, Shawn Spieth embraced the thought. "I think you're right on," he said. "Jordan's on a mission. He's not talking a lot. He doesn't want anybody to think that it's not going to happen this year, and he's off to a good start."
A good start? Spieth pulled off one of the most ridiculous shots of his young life on the 11th hole, and all but mocked the devilish gusts that blew Rickie Fowler and the six-putting likes of Ernie Els out of the ballpark. Spieth became the first player in tournament history to lead outright in five consecutive rounds, and he shot par or better here for a ninth consecutive round, the longest such streak to start a Masters career. Spieth is 29-under in those nine rounds, and he has shot 66 or better three of the past five times.
But back to that mission his father said Spieth is on this week. Asked if he'd proven again on Thursday just how comfortable he is in his Augusta National skin -- despite his relatively middling start to the season (no victories since the Hyundai Tournament of Champions in Hawaii) -- Spieth grew unusually defensive.
"Yeah, I'm still trying to figure out why people think I've been struggling," he said. "We've finished in the top 20 eight out of the last nine events. What am I supposed to do?
"We've done as good a job or better at this point than we did last year up until now. ... The toughest part is how to answer on why you're not finishing first every time. We're fine. Everything's been good. I told everyone the last two weeks that it's coming around, we're putting in the right work. We're just waiting for the scores and they are finally coming out."
Once again, Michael Jordan would have been proud of the golfer named in his honor. Whether it was former Knicks coach Jeff Van Gundy calling him a con man before a game or reporters inquiring about his late-night gambling habits, Jordan's fire was forever stoked by real or imagined slights.
Spieth's own father had just conceded his son was "more relaxed and more comfortable than he's been the last five or six weeks he's played." And yet the first-round Masters leader bristled at the notion that he hasn't been the same player who was only a small handful of shots away from winning all four majors last year.
Maybe that's a good thing. Maybe Spieth needed to show up at Augusta National with an edge, a bit of a 'tude.
Maybe that bat-spit crazy approach he hit out of the pine straw on the 11th hole was more evidence that Spieth is ready to play angry this week as he tries to become the tournament's fourth back-to-back champion in its 80-year history, and the youngest man to win a third major in the Masters era.
The fans standing near the trees on the right side of the 11th fairway were incredulous that Spieth was about to attempt this shot. "He's got no choice but to pitch it out," said one. "He's in jail."
Spieth wasn't in jail -- he was in a maximum-security federal prison. As he took some practice swings, it was clear the tree to his immediate left might impact his follow-through. His caddie, Michael Greller, was begging him to play a safer shot, but Spieth eyed a small window in the forest with a boy's wonderment.
He motioned dramatically toward some cameramen to stop clicking away, saying, "Easy, easy." Spieth traded the club in his hands for a 4-iron, and that's when his father grew anxious. "The only question was," said Shawn Spieth, "are they thinking that shot, or are they thinking four days at that point?"
In other words, why risk disaster when you're already 4-under just 10½ holes into the tournament?
Jordan Spieth didn't care. From 210 yards away, he said, "I had a gap where it had to rise over a tree, under another branch and split [the trees]." Greller wanted no part of it, but his boss overruled him. "Just trust me on this one," Spieth told him.
He took a mad hack at the ball and it went through the trees, around the trees, over the trees, under the trees. Somehow the ball made it out alive, and somehow it stopped on the left fringe of the green, a couple of rotations short of a watery grave. Spieth was smiling and laughing with his caddie afterward, pointing out all the limbs dodged on the magical flight.
"That was one of the best shots I've ever hit in tournament competition," Spieth said, "given where it was. And there was no camera or anything to see it."
Spieth admitted he was nuts to try it, and yet he was reveling in the results. Yes, it's good to be king at Augusta. Spieth made important up-and-down saves at Nos. 1 and 4, another one at 16 (he kissed the blade of his putter for effect) and then made his sixth birdie on the final hole of a bogey-free round that had his playing partners in awe.
Paul Casey called Spieth's performance "absolutely flawless" in conditions he described among the toughest he has seen at the Masters. Of greater significance, Casey said Spieth was projecting a certain something you only see from the very best of the very best.
"It's a knowing, it's a confidence," Casey said. "It's the way he walks. It's the way he stands. It goes all the way through from the way he speaks and the way he shakes your hand and the way he deals with people as well. It's wonderful."
On the walk up the 18th fairway, Spieth turned to the gifted and eccentric amateur Bryson DeChambeau and said, "I don't know what it is about this place. I just love putting here."
The wind, the new driver, the pressure of being the defending champ -- nothing was going to unnerve Spieth on this day. A rules official put Spieth's group on the clock at the 17th hole, and that didn't bother him either. Well, actually, that one did bother him, and he said so in a news conference with an Augusta National elder sitting right next to him. "It seemed a bit, in my opinion, unnecessary, with a hole-and-a-half to go," Spieth said.
He increased his lead at the 18th, anyway, and then his old man said he wasn't surprised. Shawn Spieth reported that his son was in a good, calm mood Wednesday night, unaffected by the change in drivers or a so-so day of practice. "He wasn't freaking out like he may have in the past," Shawn said.
Jordan Spieth has a chance to get back to No. 1 in the world with a victory Sunday and, based on his first-round score, a chance to break the Masters record of 18-under he shares with Tiger Woods. He didn't look anything like the scuffling golfer who publicly rebuked his guy, Greller, last month, or like the road-weary international traveler who had Jason Day worried for him.
Instead, Spieth looked every bit like the 2015 winner who deserved every decibel of the standing ovation he got Thursday at the 12th tee.
"It was really, really cool," Spieth said, "to kind of feel like you belong as the Masters champion."
He owns this old place, after all, as much as Michael Jordan owned the old Chicago Stadium. Jordan Spieth made a Jordanesque statement to the rest of the field at the 2016 Masters, and it went something like this:
It's going to be a long decade, or two, for anyone trying to take possession of Augusta National.