AUGUSTA, Ga., -- If you've been paying close attention this week, you might have noticed something about Jordan Spieth that's a little different from normal. It's not a major departure from his everyday personality. It's subtler than that, but you can still sense it.
He's irritable.
Little stuff has been getting under his skin. A reporter's question. A few random gusts of wind. A rules official putting him on the clock for slow play. A miscommunication that led to him snapping at his caddie, Michael Greller, in the middle of a round.
Spieth has played the role of polite, genteel Texan for so long. To see another side of him this week has been interesting, and also somewhat revealing. Winning the Masters is always going to be one of the hardest feats to accomplish in golf, but winning the tournament when you're also carrying the burden of great expectations is considerably harder. There is a reason only three men (Jack Nicklaus, Nick Faldo, Tiger Woods) have won the Masters in consecutive years. Yet here Spieth is, on the cusp of becoming the fourth.
What we're witnessing isn't a personality change, but the next evolution of Spieth's career. The reason he's the most complete player in the world -- no matter what the rankings say -- is because he can contend in majors when he's mad, when he's relaxed, when the weather isn't great and when everyone is gunning for him. He doesn't need to catch every break, or have perfect timing, to climb the leaderboard and stay there. He can fill up his scorecard with birdies, and he can grind and make pars when all those around him are losing their heads. He can even shake off double bogeys, which he had to do twice on the back nine Saturday.
Spieth just keeps muttering to himself, clenching his jaw and finding ways to get the ball in the hole on greens that, especially this year, are playing like cement artfully dusted with green paint. At 3-under par, he leads Smylie Kaufman by a stroke and Bernhard Langer and Hideki Matsuyama by two.
If he hadn't limped home, bogeying 17 and double-bogeying 18, the members of Augusta National might already be asking Spieth if his measurements are the same as last year. As it stands, we've got ourselves a golf tournament. Spieth wasn't sure if the two wild drives he hit at the end of the round would be so easily forgotten.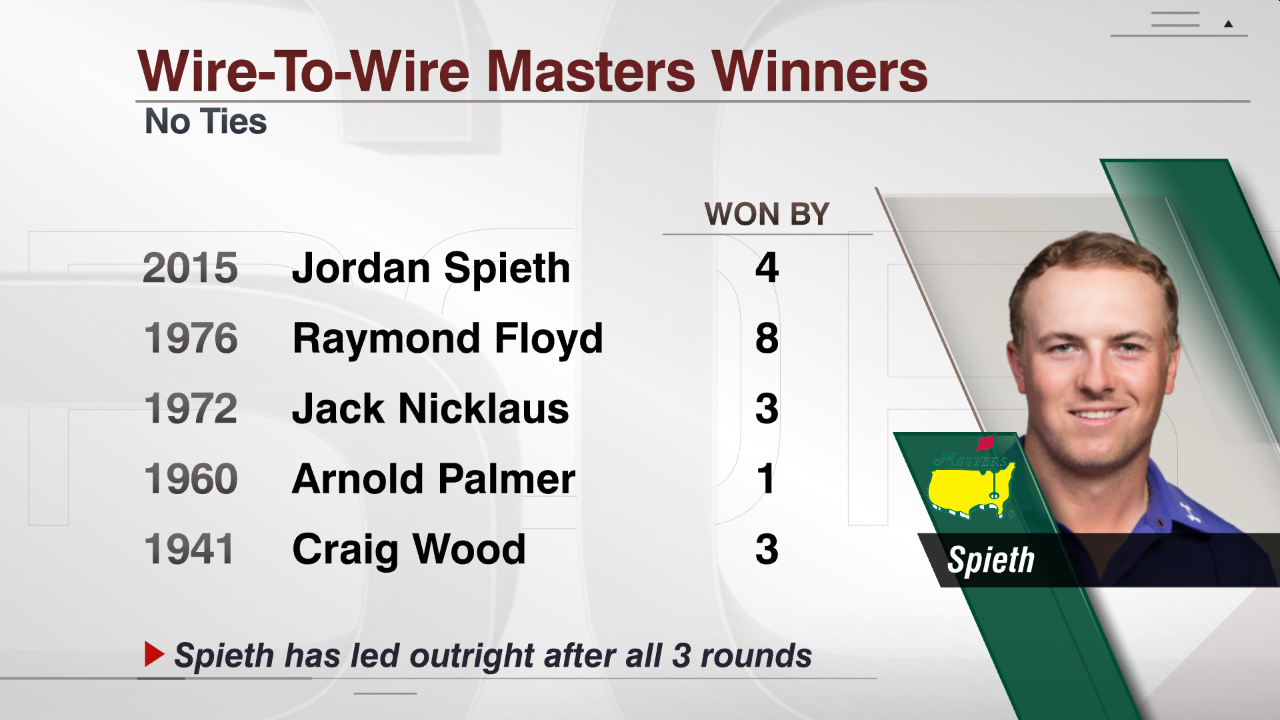 "I think it will be tough personally. I mean honestly, I think it will be tough to put it behind. I think I will, but that wasn't a fun last couple holes to play from the position I was in. I'm not going to dodge the question by any means. It's not going to be fun tonight for a little while, and hopefully I just sleep it off and it's fine tomorrow. I imagine that will be the case."
It wasn't always pretty, but none of it matters now. He is still in position to win his third major at age 22. Neither Nicklaus or Woods did that.
"I thought I putted the ball unbelievably well today," Spieth said. "I made a lot of putts from 4 to 8 feet on my second putts, after putting up ridges throughout the round, and I thought that was key to holding it together."
Spieth could certainly falter on Sunday, or get run down by someone who gets hot and has a career day. He hasn't been sharp with the driver all week, and he has been playing way too many shots off the pine straw. But chew on these statistics for a second: Spieth has now played 11 rounds in his career at the Masters. The lowest position he has ever held on the scoreboard at the end of the day is 12th, and that came after the first round he played in 2014. He has been alone atop the leaderboard for seven straight rounds. If he wins Sunday, he'll be the first man in golf history to win a major in consecutive years leading wire-to-wire both times.
"I played better than I scored today," Spieth said. "I'm in the lead after 54 holes. If you told me that at the beginning of the week, I'd be obviously very pleased. So it's mixed feelings right now."
He wasn't alone, expressing those mixed feelings. That alpha showdown between Spieth and Rory McIlroy that had everyone buzzing at the start of the day? It never materialized, and most of that fell on McIlroy. It was the first time in 80 rounds at a major that he failed to make a birdie. He frequently bombed the ball 40 yards past Spieth off the tee, but he still spent much of round with his shoulders slumped, staring down at his divots in exasperation. He slogged his way around the course and finished with a 77.
"To be honest with you, I would be feeling a lot worse about myself if I hadn't have just seen what Jordan did the last two holes," McIlroy said. "I sort of take a bit of heart from that, that I'm still in this golf tournament. Standing on 17 tee, I didn't feel I was."
It's clear Spieth's ability to play messy golf and still score well drives McIlroy a bit nutty at times. In a typical bit of candor, he admitted as much after the round. The two men -- who have won four of the past six majors -- have the potential to be such compelling rivals because their strengths and weaknesses present an interesting contrast. McIlroy can shrink a course with his driver and long irons, but Spieth can carve it up with his wedges and putter.
"I turned around after 15 and said 'How the hell is he 2-under par today?'" McIlroy said of Spieth. "But it's his most impressive asset. As much as it could be annoying to his competitors, it's very, very impressive. The guys out there playing that golf course, we're the ones that appreciate it the most. As much as it does dishearten you seeing those putts lip in, you have to take your hat off to him because he's such a grinder and such a battler."
McIlroy and Spieth aren't particularly close -- and really, why would we expect them to be when they're both vying for the same hardware? -- but they both understand what it's like to feel the burden of being two of the game's biggest stars in the post-Tiger Woods era. The year after he won two majors, McIlroy experienced his share of frustrations, and wasn't always happy trying to juggle his burgeoning fame and his new responsibilities. He predicted that Spieth would go through some of that as well.
"It will feel completely different for Jordan," McIlroy told the London Telegraph in December. "If you look at the stats at how those who have had a double-major season have performed the next year ... it's hard to back up. It just is. There's so much expectation, so much attention and focus. And I think it is more self-inflicted pressure really as your expectations are so high."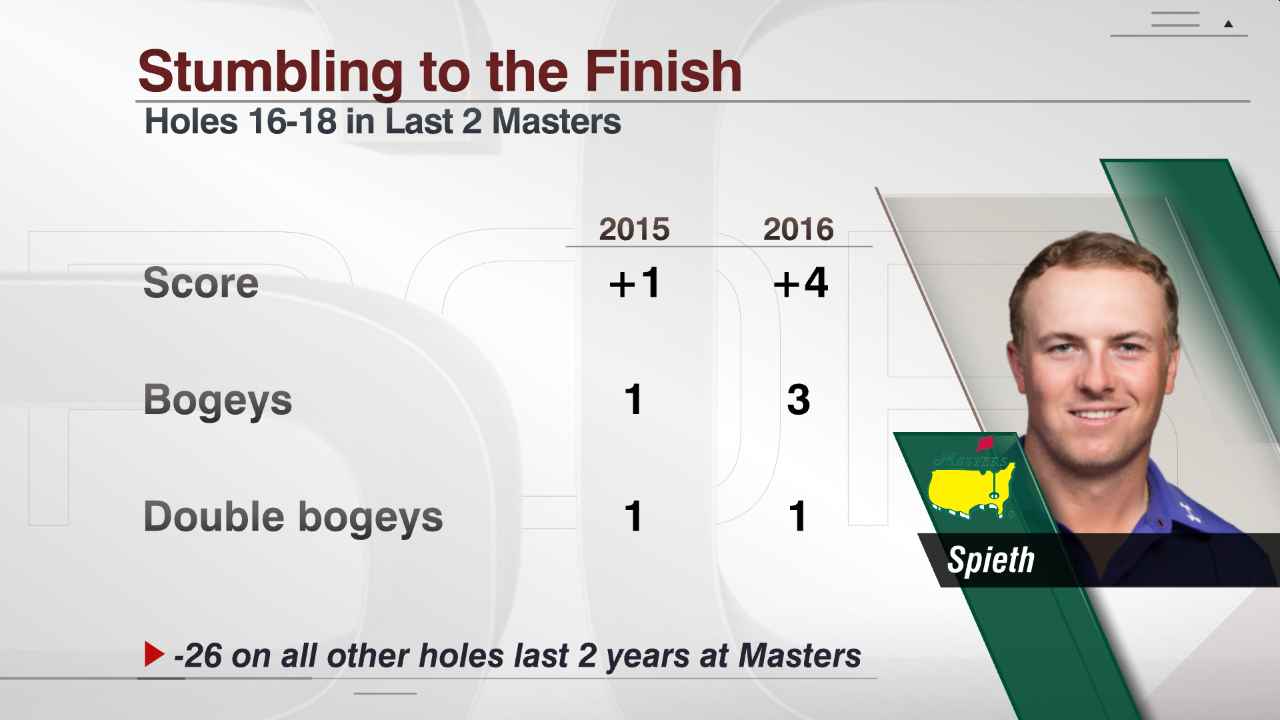 It seemed, during the first few months of 2016, as if McIlroy might be right. Spieth won his first event of the year at the Hyundai Tournament of Champions, but that incredible performance (he finished 30-under par) only raised expectations to unrealistic levels. Spieth admitted last month that he was still struggling with figuring out how to navigate the choppy waters of his new life.
"Things have changed," he said. "I still find myself struggling with what's the right thing to do. Oftentimes, I come off the course and I hit it poorly that day. And it's a frustrating feeling trying to look for answers, knowing you need to go work on it, and then you've got all the people asking for something. And if you don't do it, they give you a bad rap. On the other side, how great is it to have fans? How great is it to be able to influence people in a positive way? Why wouldn't you want to flip that switch?"
Whether Spieth wins his second Masters on Sunday will likely have a lot more to do with his driver than his temperament. Getting mad and growling at the ball (or at Greller) for a few seconds seems to actually help, almost like a valve releasing pressure on a pipe when it might otherwise burst. What's so impressive about Spieth is the way he has thrown himself back in the mix again, and gotten in position to win a Masters that's so different than the one he played in a year ago.
A year ago, Spieth spent the better part of four days smiling and strolling through the azaleas, charming us all with his grace and his composure. But I like this version just as much. He's staring right through people. He has a bit of an edge to him, and to hold on for 18 more holes, it's clear he needs to keep it.