AUGUSTA, Ga. -- As golf is a staggeringly cruel game that can drop the most resilient man to his knees, we have all been conditioned to avoid premature declarations of victory. Look at what happened to Greg Norman's 6-shot lead at the 1996 Masters, or to Arnold Palmer's 7-shot lead with nine holes to play while he chased Ben Hogan's scoring record at the 1966 U.S. Open.
I once reminded Jack Nicklaus about Palmer's ungodly collapse, and he nearly fell out of his chair when assured ol' Arnie was up 7 on Billy Casper through 63 holes at Olympic. It was about the same incredulous look Nicklaus wore when Tom Watson holed out at Pebble Beach in 1982, after Nicklaus was quite confident he was about to become the first man to win the U.S. Open a fifth time.
But occasionally there are endgame scenarios indemnified against the vile and fickle forces of golf. This is one of them: Jordan Spieth is almost certainly going to win his second consecutive Masters title on Sunday.
This time last year, when Spieth entered the final round with a 4-shot lead, I wrote that the 21-year-old wouldn't melt down because there was no evidence suggesting he would. He'd shot a perfectly reasonable even-par score in losing to Bubba Watson the previous April, and his caddie, Michael Greller, correctly pointed out that his guy had already become something of a seasoned pro. Spieth had felt the heat of a Masters Sunday, and had played in a Ryder Cup and in a Presidents Cup, and had competed in a series of tense playoff duels.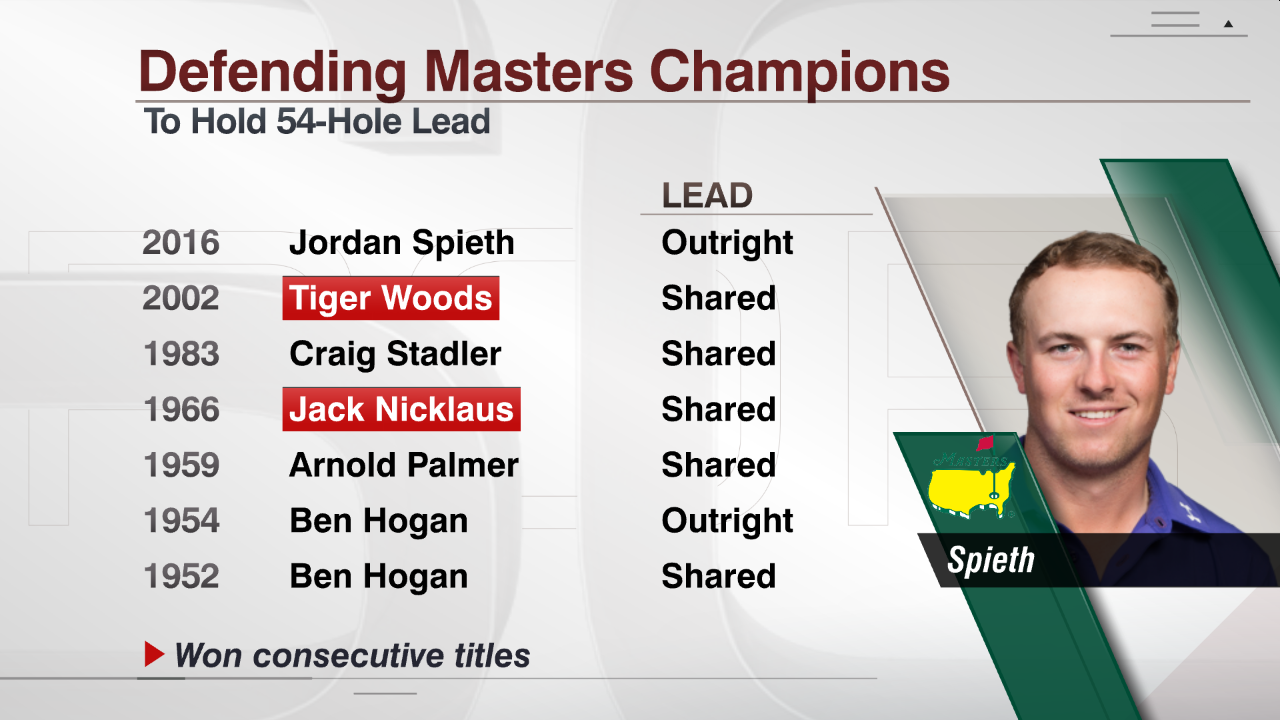 Of equal significance, Spieth carried a lethal weapon in his bag. "He steps up to every putt and thinks it's going in," Greller said.
And I know what you're saying: That was then and this is most certainly now. Spieth had recovered from a misadventure on the 17th hole in 2015 to make a surreal up-and-down on 18 that allowed him to get a good night's sleep. He did nothing of the sort on Saturday.
In fact, after bogeying the 17th, Spieth found the trees on his last drive and slashed and gashed his way to a double-bogey that cut his lead to 1 over Smylie Kaufman, and to 2 over Hideki Matsuyama and 58-year-old Bernhard Langer, a contender who has become far more popular in the press room than he was as a two-time Masters winner in his prime.
Spieth didn't just look uncharacteristically shaken afterward, he sounded uncharacteristically shaken, too. Asked if he could get past the fact his last two holes rained all over his sunshiny parade, the defending champ said, "I think it will be tough personally. I mean honestly, I think it will be tough to put it behind [me]. I think I will, but that wasn't fun, [the] last couple of holes to play from the position I was in. ... It's not going to be fun tonight for a little while, and hopefully I just sleep it off and it's fine tomorrow. I imagine that will be the case."
Spieth said he wanted to break something. He scolded himself for relying too much on his putter. More than anything, he scolded himself for letting a wide circle of hopefuls back into the ballgame, including Rory McIlroy, the rival he'd decisively outplayed all day long.
McIlroy shot 77 and killed off his majors streak of 80 consecutive rounds with at least one birdie, and yet stands only 5 strokes back of Spieth's 3-under total. Eight strokes behind on the 17th tee, McIlroy figured he'd once again turn up an Augusta National loser. Though he was relieved and grateful his closing "run" of seven consecutive pars brought him back to life, McIlroy still said this Masters was Spieth's "to lose."
One more time, with feeling, there's convincing evidence that Jordan Spieth won't lose it. He is unarguably the best putter in the field, and arguably the toughest player as well. He shares the Masters scoring record with Tiger Woods at 18 under, and at 22 years old, Spieth has led this tournament a record seven straight rounds, and for eight of the past nine (Woods led the Masters in nine rounds his entire career). Nobody on the first page of the leaderboard who's younger than Spieth's father has any green jackets in his closet.
The Masters rookie playing with Spieth on Sunday, 24-year-old Smylie Kaufman, has a long history of junior and amateur face-offs with the leader. "He's probably 1,000-0," Kaufman said of Spieth.
He's probably going to make that 1,001-0. Bernhard Langer? He'd be the oldest champion of any major by a decade, and he swears he believes he can win. "Sooner or later it's going to happen," he said. "One of the over-50s is going to win a major."
Go with "later" on Sunday. Langer won his two Masters before Spieth was born, and it's hard to imagine him remaining in the top 10 while opponents half his age are using much shorter clubs on their approach shots.
Jason Day and Dustin Johnson are only 3 off the lead, and they can't be discounted as serious challengers for different reasons. Day, because he's the No. 1 player in the world with a PGA Championship behind him. Johnson, because he's an athletic freak with too much talent to go major-free forever.
Matsuyama finished fifth here last year and has the game to pull the upset, but he hasn't won a big one. The same can actually be said of the four-time major champ, McIlroy, in this context: He has never won the biggest of the big ones, the Masters, and he sure didn't look capable of changing that tune on Saturday.
McIlroy was whistling his drives a few country miles past Spieth's and it never mattered, not when the leader's side-door putts drove the Northern Irishman mad. McIlroy complimented his rival for his relentless determination on the greens, and conceded he'll be facing more final-round pressure than Spieth because, "I haven't got a green jacket and he has."
Spieth's conspicuous advantage there has to be worth a shot or two on the back nine as he attempts to become the youngest two-time Masters winner (Woods and Nicklaus were 25) and the first back-to-back Masters winner to go wire-to-wire in both victories. And though he came unhinged on 17 and 18 on Saturday, Spieth did deliver in moments (the putts at Nos. 12, 14 and 15) that woke up the echoes of last year's dominance, and did endure Augusta National conditions best described as Open Championship wind meets U.S. Open greens.
He's a better, stronger player than he was last April, when he protected his 4-stroke lead over Justin Rose and 5-stroke lead over Phil Mickelson and refused to fold like McIlroy did at the same age in 2011. The lead isn't nearly as big this year, but the closest challengers aren't as threatening, either.
In other words, Jordan Spieth, 2015 champ, will surely end up sliding the green jacket onto Jordan Spieth, 2016 champ. And there isn't a damn thing those mischievous golf gods can do about it.