Does Asia swing make sense for the PGA Tour?

By Bob Harig
ESPN.com
Archive
With little warning but plenty of fanfare, the Fall Series has given us two golf tournament endings that would hold their own, regardless of the time of year.
[+] Enlarge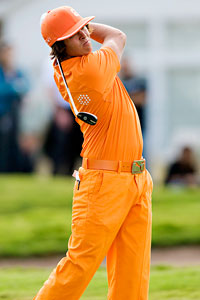 Steve Dykes/Getty ImagesRickie Fowler is among the PGA Tour players heading to the Far East this week for the CIMB Asia Pacific Classic Malaysia.
Rocco Mediate made four eagles on four straight days at the Frys.com Open, including holing out from the fairway on the 71st hole for a 1-stroke victory -- his first in eight years.
Then a week later, in near darkness, Jonathan Byrd -- whose PGA Tour card was hardly secured -- became the first player in tour history to win a tournament by making a hole-in-one in a sudden-death playoff.
Good stuff, even during golf's doldrums.
Now, however, riding this mini-wave of momentum, the PGA Tour takes a two-week break before concluding its official money season at the Children's Miracle Network Classic at Walt Disney World, adding to the maddening nature in which the golf season mercifully comes to an end.
Follow this. After the FedEx Cup season concluded with Jim Furyk's stirring victory -- and FedEx Cup title -- at the Tour Championship, the tour moved on to its Fall Series, where those not eligible for the FedEx Cup got to play again for the first time in more than a month.
The Viking Classic was played the same week as the Ryder Cup, followed by the McGladrey Classic, the Fys.com Open and Justin Timberlake Shriners Hospital for Children Open.
Now comes that two-week break so the PGA Tour can take its product overseas.
This week's event, the Asia Pacific Classic in Malaysia, is the tour's foray into sanctioning a tournament in Asia. The motives for such a move remain murky when there are plenty of problems to address on the home front. Certainly trying to open new doors in an emerging growth market is behind this endeavor.
But it's hard to see the tournament as anything more than a big-money perk that might get a few guys over to the region before next week's HSBC Champions, the fourth World Golf Championship event of the year.
While Ernie Els described it as "a momentous occasion for the PGA Tour and Southeast Asia," it is difficult to envision going beyond this, certainly not like the European Tour's attempts to branch out around the world.
"The European Tour has shown how to do it," Els said in Malaysia. "Whether the U.S. PGA Tour will do that, too, may be unlikely. It's a very long way from the U.S. to Asia so any more golf tournaments over here. … it's going to be tough for players to travel. They have a full schedule anyway in the U.S. but it will be interesting to see what the commissioner [Tim Finchem] thinks about it."
Luke Donald also applauded the move, saying it is good for the game for high-profile U.S. players and those who play the PGA Tour to be showcased abroad.
"The only problem I see is that there are so many good events to play in and it might tend to make other events a little bit diluted," Donald said.
Well, that is actually a problem already domestically. And when a player sets up his schedule, he is looking typically at the number of tournaments played, not whether or not they are official. A tournament appearance this week likely means dropping one somewhere else.
The Asia Pacific event, while co-sponsored by the PGA Tour along with the Asian Tour, has no official significance. Prize money will not count on the money list; a victory will not be official or bring with it a two-year exemption. It has just 40 players with a whopping $6 million purse and no cut.
The field is derived from the top 25 available on the final FedEx Cup standings, the top 10 from the Asian Tour and five sponsor exemptions. Among those who made the journey were Rickie Fowler and Retief Goosen.
All of them are sticking around for next week's HSBC event in China, which also is not official money. But a victory counts if you are a PGA Tour member. Of course, both tournaments award world ranking points, with next week's tournament in China setting up as a nice battle between Tiger Woods, Lee Westwood, Martin Kaymer and Phil Mickelson for No. 1.
Meanwhile, the rank and file must sweat it out for two more weeks before the season finale in the shadow of the Magic Kingdom.
Young champion
You could see this coming, more than a year ago, when Italy's Matteo Manassero, playing in the British Open as winner of the British Amateur, impressed Tom Watson. They were grouped for the first two days, along with Sergio Garcia.
"He's a beautiful putter, but he's also a great striker of the ball," Watson said at Turnberry, where he would famously lose in a playoff to Stewart Cink. "And he knows how to hit the ball. He put the ball in play all the time. He was rarely out of play.
"I was very impressed with him. In fact, I told him on the way down the 18th hole, I said. 'Don't change anything, just keep enjoying the game and you'll get there.'"
Manassero went on to finish tied for 13th at age 16. Now 17, he is a champion on the European Tour, the youngest to win a tournament on that circuit after his victory Sunday at the Castello Masters in Spain.
"He seems to be cut from the same exciting mold as Seve Ballesteros or Rory McIlroy," said Ireland's Peter Lawrie, who tied for third in the tournament. "He has that little bit of an aura about him and seems like a superstar going forward.
"But he also hangs around with the other lads [on tour] and is an all-round nice guy. He's a lovely fellow and deserves any success he gets."
Manassero suddenly has opportunities, including a spot in next week's HSBC Champions in China -- if he can secure a visa.
Meanwhile, there came a question as to what he would do with the prize money, which comes to more than $500,000.
"I'm not old enough to drive and I don't have a girlfriend so I really have nothing to spend the money on," he said.
Head-scratcher
Jose Maria Olazabal is the obvious choice to be the next European Ryder Cup captain. He served as a vice captain for Nick Faldo in 2008, was a last-minute addition to Colin Montgomerie's team of vice captains this year, and has an exemplary playing record, with seven Ryder Cup appearances. And he has received the endorsement of Monty for the role in 2012 at Medinah outside Chicago.
But Olazabal said last week he is unsure he will accept the position if offered due to health issues that have kept him from playing much golf in the past year. Olazabal has rheumatism which has limited him to just two events in the past 12 months. And he feels he needs to be playing in order to be Ryder Cup captain.
"If the committee decides it's going to be me as the next captain, I need to talk with them beforehand to see how we can solve the possible inconvenience that I may not be on the tour playing that much," Olazabal said. "If they appoint me, I somehow have to be close to the players, somehow be able to compete alongside them, talk to them, to see how they think, and just be close to the tour through the qualifying process."
Olazabal's intentions are noble, but does the role of the captain really require him to be alongside the players competing? That was hardly the case with Faldo two years ago. And American Paul Azinger was not on tour every week. Neither were Montgomerie or U.S. captain Corey Pavin this year.
A captain certainly wants to get a feel for how his players are competing, but this is another example of the task being overrated. Unless the criteria changes, Europe has nine players automatically make the team. There is nothing Olazabal can do by playing alongside them that will change that. He's got three at-large picks to make, which he can do by following tournaments in person, on television, and through media accounts.
It hardly seems that if Olazabal is unable to play, but is fit enough to be captain otherwise, that he should give up the post for those reasons.
"It would hurt me to say no, but if it is the right decision, my conscience will be clear," he said.
Bob Harig covers golf for ESPN.com. He can be reached at BobHarig@gmail.com.
Birdies And Bogeys
BIRDIES

Byrd
1. Jonathan Byrd. A walk-off ace to win. Only in Vegas.
2. Matteo Manassero. The Italian became the youngest winner at age 17 on the European Tour with a victory in Spain.
3. Fred Couples. A final-round 63 to win in Houston by 7 strokes gave Freddie his fourth Champions Tour title of the year.
BOGEYS

Simpson
1. Webb Simpson. He was in position to win his first PGA Tour event before hitting his tee shot in the water at the 17th hole Sunday, making a double-bogey that cost him a spot in the playoff.
2. PGA Grand Slam. Ernie Els (who last won a major in 2002) defeated David Toms (who last won a major in 2001) in an event that is supposed to be for the year's four major winners.
3. Juli Inkster. A final-hole bogey in Malaysia denied her at age 50 the opportunity to become the oldest winner in LPGA Tour history.
Memorable Ace
Jonathan Byrd's hole-in-one to win in Las Vegas was not even his most memorable. It was the second he made in competition, but another one he made in Las Vegas during a practice round conjures nice memories of Bryd's father, Jim, who died last year after a long fight with brain cancer.
"This was like four or five years ago, and [my dad] had never had a hole-in-one," Byrd recalled. "He called me and told me he had his first hole-in-one. Obviously he was thrilled. He was excited. But he was calling me to kind of needle me like 'What have you done lately? I just made a hole-in-one' … and that special relationship that dads and sons have.
"So the next week I came out to Vegas to play in the tournament, and I was on the 15th hole. I was playing a practice round. I was playing with [Phil] Mickelson and Billy Mayfair, and I one-hopped the driver in the hole on the par-4.
"When I got done with the round, I couldn't wait to call my dad and needle him and say guess what I did on a par-4. I made a hole-in-one today, but the kicker is mine was on a par-4. That was kind of funny. He finally makes a hole-in-one and I topped him with a hole-in-one on a par-4.
"Obviously I thought about that on Sunday after I made that hole-in-one. And was just thinking how could my dad have topped that? That was pretty special."
Notable
• A hole-in-one is an obvious boost to a player's round, but it doesn't often lead to victory. Before the past two weeks, the last player to have an ace and a victory at the same event was Richard S. Johnson in 2008 in Milwaukee. Now it's happened in consecutive tournaments -- Rocco Mediate and Jonathan Byrd, whose ace came in a sudden-death playoff.
• Both Byrd (130) and Mediate (188) began the Fall Series outside of the top 125 on the money list. Now they are exempt through 2012 with their victories.
• With one official event to go, Joe Durant has a chance to lead the PGA Tour in both driving accuracy and greens in regulation. He is hitting fairways at a 76 percent clip, greens at 72 percent. No player has led both categories in the same season since Calvin Peete, who did it for three straight years from 1981 to 1983. Durant, however, finds himself just 120th on the money list. Perhaps it has to do with putting. He is just 166th in putts per round, and 101st in putting average.
• This week's Nationwide Tour Championship is the final event of the season, reserved for the top 60 money winners. And it will determine who gets a promotion to the PGA Tour. The top 25 will have exempt status next year. With a first prize of $180,000, everyone in the field has a chance to play their win into the top 25.
• Finishing No. 1 on the Nationwide Tour money list comes with some perks. It means a player gets a spot in the Players Championship. And he is also fully exempt, just like a player who finished among the top 125 on the PGA Tour money list, and not subject to the reshuffle for players who earn their cards through Q-school and the Nationwide Tour.
• Troy Merritt left the Justin Timberlake Shriners Hospitals for Children Open in sole possession of first place in the Kodak Challenge, which offers $1 million to the winner. Merritt is 17 under par on the designated holes for the competition. He passed Rickie Fowler and Aaron Baddeley when he eagled the 560-yard par-5 16th at TPC Summerlin. Only one hole remains in the 2010 Kodak Challenge, the 17th at Disney's Magnolia course for the Children's Miracle Network Classic in two weeks.
• For those who don't make it, the PGA Tour's Qualifying Tournament is underway. Nationwide Tour players are exempt from first stage, but second stage qualifying will begin in three weeks, with the finals -- a six-day, 108-hole event -- set for the first week of December.
• Martin Kaymer has a chance to gain the No. 1 ranking in the world at this week's Andalucia Masters in Spain. If he doesn't, Lee Westwood will ascend to the top spot. Tiger Woods has held the spot for more than five years. Kaymer needs a victory or a second-place tie with no more than one player to move to No. 1. Westwood, who is not playing, would get his first No. 1 ranking if Kaymer is unable to grab it.
Quotable
"For it to go in is just luck. It's kinda absurd, actually." -- Jonathan Byrd on his 6-iron shot that went in for a hole-in-one during a sudden-death playoff at the Justin Timberlake tournament.