Why the no-shows for PGA Tour opener?

By Bob Harig
Archive
It is a new year but an old story. With all due respect to the likes of
Webb Simpson
,
Bubba Watson
,
Keegan Bradley
and
Steve Stricker
, who begin the 2012 PGA Tour season this week on Maui, the tournament again faces questions about why so many players are skipping it.
Although it might be tough to fathom the idea of passing on a free week in Hawaii -- Derek Lamely got $55,000 a year ago for finishing last -- the Hyundai Tournament of Champions has been dealing with this issue for years.
[+] Enlarge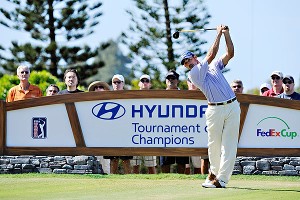 Stan Badz/PGA TOURJonathan Byrd captured the 2011 Hyundai Tournament of Champions, ensuring he'd earn a return trip to Hawaii in 2012.
Phil Mickelson hasn't played the tournament since 2001, and Tiger Woods -- who is not eligible this year -- last played at Kapalua in 2005.
Their decisions to bypass the first event of the new year have seemingly made it easier for others to take the week off. And this year, the old problem is even more glaring with the absence of 11 players who are eligible.
Among those who won't tee it up when the tournament begins Friday are three major champions (Charl Schwartzel, Rory McIlroy, Darren Clarke), three World Golf Championship winners (Luke Donald, Adam Scott, Martin Kaymer) and two FedEx playoff winners (Dustin Johnson, Justin Rose).
Throw in Mickelson, Brandt Snedeker and Fredrik Jacobson also taking a pass, and you've got nearly one-third of the eligible players not teeing it up.
To be fair, Johnson, Rose, Snedeker and Jacobson have legitimate reasons for skipping. Johnson and Snedeker are coming off offseason surgery and not ready to play. Jacobson also was dealing with an injury. Rose's wife just had a baby.
So what is the excuse for the other seven players? The same one they have for skipping any other tournament on the PGA Tour. They are not required to play, and although it is unfortunate that they choose not to participate this week, it is more than understandable.
There are simply too many choices, too many good tournaments for today's top players. And for some, there has hardly been an offseason. Donald just played three weeks ago at the Australian Masters -- the last of a three-week run that saw him play in South Africa and Dubai before Australia. He is scheduled to open his 2012 season in three weeks at Abu Dhabi.
McIlroy, Clarke, Kaymer and Scott all play worldwide schedules as well with the opportunity to play four WGC, no-cut, guaranteed-money events -- plus the appearances fees they get at various tournaments.
So what to do?
No sport starts its season with as little fanfare, as little buzz, as the PGA Tour. Then again, no sport has the minuscule offseason of golf, either, meaning that players start and end based on personal preference, not necessarily where the schedule says they should.
A drastic measure would be to make playing the tournament mandatory to eligible players. If the PGA Tour wants a big start to its season, it has to insist that everybody be there. Of course, that goes against the very nature of the PGA Tour, which does not want to compel any player to compete somewhere he does not want to be.
Follow On Twitter

Want great insight into the game of golf in 140 characters or fewer? Follow @BobHarig.
There have been calls to expand the field, as the Champions Tour does, by inviting winners of the past two years and those who hold major championship trophies for a period of time. But that doesn't mean that some of the marquee names from last year would show up.
You could attempt to make the first tournament of the year a World Golf Championship event and scrap the winners-only format, but again, guys can skip those, too.
The suggestion here has been to start the season a few weeks later, waiting until the end of January -- the week before the Super Bowl -- when there is no television conflict with the NFL playoffs, and players have a bit more time to decompress. Then stage a grand season-opening event with a full field of players in Hawaii, California or Florida. Figure out a way to compel everyone to be there and make it a big deal.
Members of the European Tour, who begin their seasons overseas, still would run into problems. And an extra three weeks in January doesn't mean some players still wouldn't want to wait to begin their season.
But at least it would try to alleviate the issue we are seeing this week.
Looking ahead in 2012
A long season begins this week, one that basically ends twice for the PGA Tour -- after the Tour Championship in September and then when the Fall Series concludes in November. The European Tour's season-ending tournament in Dubai finishes the weekend before Thanksgiving. It is also a Ryder Cup year.
Bob Harig's mailbag
Who will get off to a fast start to the 2012 PGA Tour season? Should the tour change how it opens the season? Drop ESPN.com golf writer Bob Harig a line, and he'll respond to some of the best questions. Ask Harig a question
Here are but a few of the storylines to keep an eye on.
• Tiger Woods. He clearly is playing better after a successful two weeks in Australia and a victory at his season-ending charity event. The true measure will be adding to his 71 PGA Tour titles and 14 major championships. He recently turned 36 and now has as many majors as Jack Nicklaus did at the same age.
• Rory McIlroy. He has rejoined the PGA Tour, and all seems good with the reigning U.S. Open champion. Can he add multiple tournament titles to his résumé?
• Luke Donald. The Englishman is coming off an amazing 2011 season in which he won money titles on both the PGA and European tours as well as four worldwide victories. Donald seemingly was in the top 10 every week, and while it might be a lot to ask for him to repeat his feats of a year ago, you can bet he'll go for quality (majors) over quantity this year.
• The Ryder Cup. Just think how hard it will be to make the European team. The top four in the world are all from Europe: Donald, Lee Westwood, McIlroy and Kaymer. Then you've got the likes of Ian Poulter, Graeme McDowell, Paul Casey, Justin Rose, Sergio Garcia, Alvaro Quiros, Robert Karlsson, Simon Dyson, Thomas Bjorn, Edoardo Molinari, Francesco Molinari and Matteo Manassero. Europe has 21 players ranked among the top 50, and some good ones won't be at Medinah in September.
• The FedEx Cup. The four-tournament playoff series is often panned, but it has been very successful in bringing together excellent fields at a time of year when such a scenario would be otherwise impossible. But this is the final year of the FedEx deal. The PGA Tour has been very successful at sponsorship renewals, but this one is huge. If FedEx does not re-up, then what?
Bob Harig covers golf for ESPN.com. He can be reached at BobHarig@gmail.com.
Expand The Monday Finishes
Birdies And Bogeys
BIRDIES
1. Bubba Watson.
He shot 58 on his home course in Arizona last week. That's a good omen.

Watson
2. Steve Stricker. At age 44, he tees off at Kapalua as the highest-ranked American in the world, No. 5.
3. Golf in Hawaii. Kind of tough to beat the views for the next two weeks.
BOGEYS
1. Golf's offseason.
It's nonexistent, and that is bound to hurt tournaments like the Hyundai.

Mickelson
2. Phil Mickelson. Of the 11 players skipping the Tournament of Champions, Lefty does not have the excuse of injury or of having played recently. His last tournament was the Presidents Cup.
3. Jim Huber. Sad to hear the news of the golf broadcaster's death this week at age 67.
The end of 2011 marked a cutoff point for Masters qualification based on the Official World Golf Ranking. Some pretty prominent names have yet to find their way into the field.
Ernie Els and Retief Goosen -- who have combined to win five major championships -- found themselves outside the top 50 in the world rankings at the close of 2011. Jim Furyk, meanwhile, got into the Masters by hanging on to the 50th spot.
Goosen is 53rd in the world, and Els is 56th. If they can jump into the top 50 and stay there by the Monday before the Masters, they will get an invitation. Or, if they win a PGA Tour event that isn't an opposite-field tournament, that would get them to Augusta National.
Among the others who are not yet in the Masters (April 5-8) are Ryo Ishikawa (51st in the world), Ben Crane (54th), Ryan Moore (57th), Matteo Manassero (58th), Robert Allenby (59th) and Anthony Kim (78th).
Of the 28 players in this week's Hyundai field, 13 are there for the first time, making for a wide-open tournament. ... The small field offers an excellent chance to get off to a good start and have a strong season. Only once in the past 20 years has a winner (Daniel Chopra, 2008) failed to advance to the Tour Championship. ... According to his Twitter feed, Bubba Watson shot 58 last week at Estancia Golf Club in Phoenix, playing from tees that measured more than 7,300 yards. Watson was tweeting during the round. ... With a Monday finish, David Toms will be looking to scramble off the course when his final round is complete. The BCS national title game follows, and he is a devout fan of No. 1 LSU. ... Before Jonathan Byrd won last year, Jim Furyk was the last American to win the Hyundai in 2001. ... One of the longest-running events on the Champions Tour lost Outback as a title sponsor. The Tampa Bay Pro-Am will go without a title sponsor in 2012 but entered a marketing agreement to have the NHL's Tampa Bay Lightning serve as tournament host. ... Mark Steinberg, who left IMG last year to join Excel Sports Management, has added Gary Woodland to his list of clients along with Tiger Woods, Matt Kuchar and the LPGA's Danielle Kang. ... PGA Tour rookie of the year Keegan Bradley, 25, is the youngest player in the Hyundai field. ... Louis Oosthuizen defends his title at the Africa Open, the season-opening event on the European Tour schedule. Retief Goosen is also in the tournament, the first of three straight events in South Africa to begin the European Tour season.

Byrd
"I think most players would agree that for many reasons it's a great place to start the season. It's cold at home. I live in Georgia on the East Coast. Not as cold as some other places, but it still is cold. ... To start the year in Hawaii, the first couple weeks of January, to get through with Christmas, get your year started out, to take the family, they always enjoy going to Hawaii, it's such a perk to be able to start your season [at Kapalua].'' -- defending Hyundai Tournament of Champions winner Jonathan Byrd.