A curious week ahead for Tiger Woods

By Bob Harig
ESPN.com
Archive
For most of the past year, seemingly every time
Tiger Woods
played golf in public, there was something extra at stake.
Whether it was the initial quest to overcome injuries that put him on the sideline for the better part of four months in 2011, or the work on his golf swing with coach Sean Foley, or winning tournaments again, or finally being a force on the game's biggest stages, there was always something to scrutinize, analyze or even obsess about.
[+] Enlarge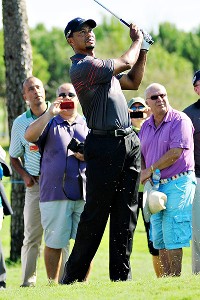 AFP/Getty ImagesAfter this week's CIMB Classic in Malaysia, Tiger Woods will likely only play one more tournament -- his own World Challenge the week after Thanksgiving -- the rest of 2012.
All of which makes this week's CIMB Classic in Malaysia a bit of an oddity.
Certainly there will be interest in how Woods performs; he has never been one to show up at a tournament and not play to win. And there is the matter of the $6.1 million purse (divided among only 48 players) and the $1.3 million that goes to the winner.
But finding huge meaning beyond prize money this week is a bit difficult.
The no-cut event in Kuala Lumpur is a third-year tournament. Woods and Jason Dufner are the only top-10 players in the world entered. Just eight of the top 50 in the world are participating, including defending champion Bo Van Pelt, who is coming off a victory in Australia.
The field is derived mostly from the final 2012 FedEx Cup points list, with 10 spots reserved for some of the top finishers on the Asian Tour's order of merit.
Because it's not an official event on the PGA Tour, its place in history is lacking since Woods can't add to his 74 career PGA Tour wins even with a victory. He's played plenty of golf of late, through the FedEx Cup playoffs, the Ryder Cup and an exhibition in Turkey -- so it's not as if we're curious to see where his game rates at this point.
After an exhibition on Monday in China with world No. 1 Rory McIlroy, Woods will not play again until his World Challenge event that starts Nov. 29. Once that tournament concludes, he is likely to take another lengthy break. Unless he surprises and decides to play the PGA Tour's season-opening Hyundai Tournament of Champions at Kapalua in Hawaii, Woods won't tee it up again until the Abu Dhabi HSBC Championship the third week of January.
All of which leaves this week lacking in context for Woods. There's been no real downtime throughout the golf season, no chance for Woods to take a break and assess. And yet it appears too early to begin focusing on next year, when Woods clearly will want to address some deficiencies in his game.
"What Sean and I actually talked about is that we're just going to continue working on the same things and get them more efficient where I am ... day in and day out, things don't have the variance that they've had,'' Woods said last week. "That's something that won't change. We have an offseason practice schedule, and some of the details we want to work on, but now is not the time because we don't have the time for that. So we're just going to continue doing the same things that we've worked on basically all summer long and just try and get more proficient at it through these next two events.
"We do have an offseason program in which we want to do some work and how we want to do it, and then I'll start really focusing on next year and my preparation and lead-up to Augusta.''
In a way, this is a good thing for Woods. The never-ending referendums on his game and his swing, through each round of every tournament, can be put on hold. Unless he finishes last or shoots in the 80s, what happens this week, what happens a month from now at the World Challenge, are really of little consequence in the big picture.

Get all of ESPN.com's latest news, highlights and commentary about the world's most talked-about golfer. Tiger Tracker
A year ago, when he played at the Frys.com Open, it was his first tournament in more than six weeks because he failed to qualify for the FedEx Cup playoffs. His performance in Australia at the Australian Open and Presidents Cup was an indication that his game was coming around. His December 2011 win at the World Challenge was his first, anywhere, in more than two years. He went on to win three times on the PGA Tour in 2012 and led the FedEx Cup points through the regular season. He is ranked second in the world and No. 2 on the PGA Tour money list.
With all of those questions answered, a couple of unofficial tournaments are not going to alter this year very much for Woods. There will be world ranking points at stake, but not enough to overtake McIlroy -- who still has several big European Tour events left and is striving to win the money title on both tours.
Winning, of course, never hurts, and a victory this week for Woods against a small field -- or at Sherwood Country Club, where Woods will be one of just 18 in the field in November -- would not be viewed as a bad thing. Nor, however, would indifferent performances mean a whole lot, not when there is a big break before the start of the 2013 season.
It's been a long year and Woods has made significant strides, just not in the tournaments (major championships) he wants the most. He's playing for pride now, and some significant prize money. Then, after a break, the work begins, again.
The Race to Dubai
After a one-week trip to Australia, the European Tour heads to Asia this week for the BMW Masters in China, now an official event on the schedule. A year ago, Rory McIlroy won the tournament, which was not sanctioned at the time.
This is the first of two events in China, followed by next week's WGC-HSBC Champions. McIlroy will be joined by 10 of his European Ryder Cup teammates, including Lee Westwood, Luke Donald, Ian Poulter and Justin Rose, who trails McIlroy on the European Tour money list by nearly $567,000. The tournament offers one of the tour's biggest purses at $7 million.
After the two tournaments in China, the European schedule has four events remaining -- the Barclays Singapore Open, the UBS Hong Kong Open, the SA Open Championship (in South Africa) and the season-ending DP World Tour Championship in Dubai -- which is Thanksgiving weekend -- for the top 60 players on the money list.
Bob Harig covers golf for ESPN.com. He can be reached at BobHarig@gmail.com.
Birdies And Bogeys
BIRDIES

Gainey
1.
Tommy Gainey
. It doesn't get much better than the way Gainey earned his first PGA Tour title, coming from 7 strokes back and shooting a final-round 60 at the McGladrey Classic.
2. Bo Van Pelt. The American held off countryman Jason Dufner to capture the European Tour event in Perth, Australia, and defends his title this week in Malaysia.
3. Suzann Pettersen. Her playoff victory over Catriona Matthew at the HanaBank LPGA in South Korea was the ninth of her LPGA Tour career.
BOGEYS

Furyk
1.
Jim Furyk
. It is no shame to lose to a guy who just shot 60, but Furyk couldn't deliver after pulling within 1 shot with two to play, despite opportunities at the McGladrey Classic. It was the end of a long, strange year for Furyk, who failed down the stretch at several tournaments.
2. Davis Love III. The tournament host at McGladrey gave himself a chance to win his own tournament -- until his tee shot found the water at the 70th hole.
3. 54-hole leaders. Only 15 of 43 leaders or co-leaders through 54 holes have gone on to win this year on the PGA Tour, a trend that continued at the McGladrey Classic.
After the epic Ryder Cup loss, U.S. captain Davis Love III could have gone into hiding, and nobody would have blamed him. Instead, he has played three straight weeks on the PGA Tour and taken on every question related to the defeat, never getting defensive and often pointing the finger at himself.
Along the way Love, 48, has played some nice golf, getting a bit better each week and finding himself in contention at the McGladrey Classic, a tournament where he served as host. Love couldn't get anything going Sunday in a final-round 71 and settled for a tie for fourth.
Still, it makes you wonder just how well Love could compete when given the time to work on his game. He also dealt with a rib injury earlier this year that knocked him out for six weeks, yet he quietly contended at the Memphis tournament the week prior to the U.S. Open.
Love's big goal now is to make the 2013 U.S. Presidents Cup team.
"The way I'm hitting it the last three weeks, I'm having fun and I want to try to play,'' he said. "Zach [Johnson] asked if I was over the Ryder Cup yet and I said, 'No, I don't think I'll ever get over it.' It was so much fun to be part of that team. I'd love to be a part of that again, whether it's to play or drive a golf cart or help out [U.S. Presidents Cup captain] Freddie [Couples.] I want to do whatever I can.''
Love will have some work to do, as players were earning points for the Presidents Cup in 2012. He is 70th in the standings, with the top 10 automatically making Couples' team. But the points are worth more in 2013, when presumably Love will get back to playing a full schedule.
Tommy Gainey was the fourth player this year to overcome a deficit of 7 strokes or more through three rounds on the PGA Tour. Kyle Stanley was 8 back at the Waste Management Phoenix Open, while Brandt Snedeker was 7 back at the Farmers Insurance Open and John Huh was 7 back at the Mayakoba Classic. ... Gainey's 60 was just the third ever in the final round on the PGA Tour. Grant Waite did it at the 1996 Phoenix event and Steve Lowery did it a year later at the Buick Challenge. ... It was the first 60 on the PGA Tour since Patrick Cantlay did it as an amateur at last year's Travelers Championship. ... Prior to the 60, Gainey's career-low round was a 63, and his best this year was a 65. ... The CIMB Classic in Malaysia is a PGA Tour-sanctioned event that next year becomes official on the PGA Tour schedule, along with the WGC-HSBC Champions, played next week in China. Next year the two tournaments will be part of the tour's wraparound schedule that begins in the fall. ... The Malaysia field is just 48 players but will increase next year to a minimum of 78 players with a $7 million purse. ... Tiger Woods is one of nine 2012 PGA Tour winners in the Malaysia field. ... The Champions Tour is down to its final two events with this week's AT&T Classic followed by the season-ending Charles Schwab Cup Championship. ... Mi Hyun Kim, who won two events and was rookie of the year on the LPGA Tour in 1999 after South Korea's Se Ri Pak captured two majors, retired following the HanaBank Championship. Kim's eight titles ranks third behind Pak and Jiyah Shin among Koreans in career wins . ... No. 1-ranked Yani Tseng finished third at HanaBank, a shot out of a playoff won by Suzann Pettersen; it was Tseng's best finish since April 1. ... Paul Casey's tie for fifth in Perth, Australia, was his first top-10 finish of the year on the European Tour.
"You got Hall of Famers, you got future Hall of Famers chasing me, chasing me now. I'm Tommy Gainey. I'm 'Two Gloves.' I shot 60 today and you got Jim Furyk, Davis Love III and David Toms; Hall of Famers and future Hall of Famers chasing me. I was just looking at my phone replying to text messages. I was just waiting. I mean, I was nervous. ... I was very nervous because, you know, when you got Davis Love III, Jim Furyk and David Toms coming at you, you might want to pay attention. So I was paying attention, and you know, it just worked out for me. And very proud to be here right now.'' -- Tommy "Two Gloves'' Gainey on his 2½-hour wait Sunday after shooting 60 during the final round of the McGladrey Classic, which he won by a stroke over David Toms.