Time to rethink the rules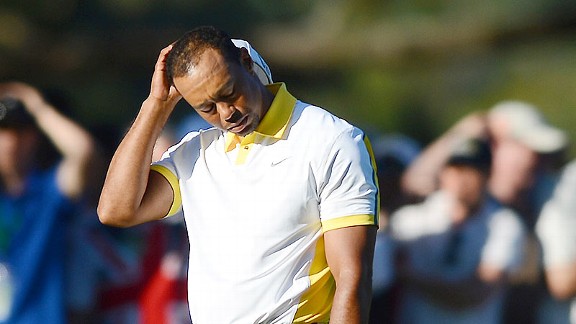 Jeff Siner/Charlotte Observer/MCT via Getty ImagesWhen Tiger Woods hit his ball into the water at 15, he set off a chain of unforeseen events.
It was inevitable and, in some ways, sad. The backlash. The conspiracy theories. The outrage. All when it comes to Tiger Woods.
A few days have passed now since the infamous drop on the 15th hole at Augusta National and the subsequent steps to add a two-stroke penalty, determine if he should be disqualified, and then the surprising decision to let him play on -- citing seldom-used Rule 33-7 that gave the rules committee discretion to avert disqualification.
Like many things in golf's rulebook, this rule leaves room for interpretation, and Woods clearly got a break.
Almost always, when a player signs his card and it is later determined he committed a rules violation, he is disqualified. Not for the violation itself, but because his card is deemed to be wrong.
And that is where a double standard with Woods arises.
Use a different name. Take eventual Masters winner Adam Scott. Put him in the 15th fairway on Friday, have him hit the pin with his third shot and see the ball bounce back into the water. Then take a drop from the original spot -- but do so 2 yards farther back -- and tell the media about it afterward.
Which brings us back to the entire scorecard silliness. Golf purists will howl, but haven't we passed the point of having to write down scores in professional golf?
Unbeknownst to the public, the Masters rules committee actually reviewed the drop and decided there was no violation before Scott signed his card. Then overnight, word came from television people that there might be a problem. His own words to the media are analyzed. The Masters determines, yes, he did take an illegal drop.
And then Scott is disqualified on Saturday morning.
You can bet there would have been disgust. Talk about golf's rules being antiquated -- and the unfairness of being disqualified a day later when, at the time of signing his card, he believed it to be correct, and that Masters rules officials let him sign it.
But put Woods' name in there, the outrage is reversed. The man is polarizing in that way, scrutinized like no other. The negativity toward him in this case is disturbing.
If you want, direct your ire at Augusta National, but the chairman of the competition committee, Fred Ridley, simply believed that it would have been a disservice, unfair, to Woods to disqualify him on Saturday when it had information Friday that it did not relay to him.
And isn't that what we all seek in many of these rules discussions?
Ridley, it should be noted, is no rules neophyte. The 1975 U.S. Amateur champion, he served for years on the United States Golf Association's rules committees and was the chairman of the competition committee before eventually becoming president of the organization in 2004-05. Since 2006, he has been chairman of the Masters competition committee.
If on Friday afternoon Woods had been presented the evidence he was shown Saturday morning, he almost assuredly would have agreed he was in error and added two strokes. But the committee did not do so.
"To me, it would have been grossly unfair to Tiger to have disqualified him after our committee had made that decision,'' said Ridley, who noted that he also consulted with the USGA and PGA Tour. "We felt it would have been prejudicial to Tiger to not have given him the benefit of that decision we made while he was still playing the 18th hole.''
Who knows if Rule 33-7 was applied properly in this case. There is plenty of debate about it and plenty of confusion. But the rule clearly leaves room for discretion. Why it has not been used more often might be a better debate.
"There's no question that Tiger should be penalized,'' Ridley said Saturday. "That's not the issue. The issue is what should we do in imposing that penalty. I'm pleased that the governing bodies and the tour are in agreement with our decision. Does it set a precedent? I hope it sets a good precedent because I think it is a good decision.''
(A more recent decision in the rulebook -- Rule 33-7/4.5, which became official in 2011 -- was not used in this case, although it was erroneously cited often on Saturday. Widely referred to as the Harrington Rule, it was instituted because a television viewer had seen Padraig Harrington's ball move fractionally while watching a European Tour event in high definition in 2011. Harrington was disqualified for signing an incorrect scorecard, but the USGA and R&A later that year added the 4.5 decision, recognizing that it would be quite difficult for Harrington to have known he committed such a rules violation and that it would have never come to light otherwise.)
So Woods should have simply taken it upon himself to withdraw or disqualify himself over this? He clearly was unaware that his drop was improper, telling media afterward that he stepped 2 yards back. Would you admit that if you were intentionally trying to break a rule?
Now it is his responsibility to know the rules and ignorance is not an excuse. But on a day when the world is watching -- with a rules official on the hole, two other players supposedly "protecting the field,'' and Augusta National officials reviewing the situation as he still played -- Woods was entitled to know about it before signing his card.
Which brings us back to the entire scorecard silliness. Golf purists will howl, but haven't we passed the point of having to write down scores in professional golf? At the very least, can't there be a stipulation that the scorecard is kept "open'' (not signed) for the duration of the tournament, thereby allowing for such rules violations to be added afterward? Or, better yet, once a day's play is complete, all is final?
Ten years ago, Mark Roe and Jesper Parnevik played together in the third round of the Open Championship at Royal St. George's. Roe, an Englishman, played his way into contention. He did interviews afterward, discussing his chances at winning the Claret Jug.
It was only at this point that it was learned that Roe and Parnevik had put their scores on the wrong card. Parnevik was to be keeping Roe's card, and vice versa, but somehow they got mixed up and put the other player's scores on their own card. Nobody caught it. They both signed cards that had the other players' scores. Both were disqualified.
There were no rules issues. There was nothing wrong with the scores they wrote down. They simply were on the wrong card, a clerical error.
These kind of rules gaffes are terrible for the game, especially to casual observers who have a hard time staying interested due to such complexities.
In Woods' case, he made a mistake. Admitted it. Got a two-stroke penalty. It took an unusual circumstance, but he was allowed to play on with the penalty he deserved for the infraction. Shouldn't that be enough?
Birdies
Scott
1. Adam Scott. A birdie at the 18th. A birdie at the second playoff hole. A weight lifted off all of Australia after his Masters victory.
2. Angel Cabrera. He hadn't posted a top-10 finish in two years, and there he was contending for his third major championship and second Masters. His approach to the 18th to tie Scott was epic.
3. Tianlang Guan. The Chinese amateur didn't figure to break 80. He did it four times and was low amateur at the Masters.
Bogeys
McIlroy
1. Rory McIlroy. A disappointing second-round 79 ruined his chances at Augusta National, where he seemingly can't get through the Masters without a bad day.
2. Phil Mickelson. Lefty is perplexed, too. He tied for 54th and had his second-worst 72-hole performance in 21 Masters.
3. Tiger Woods. Who knows what would have happened if his approach to the 15th hadn't bounced off the pin. But Woods admitted he breached the drop rule, and even having those two strokes back could have made a huge difference.
Masters watch
With a qualification change in place, only the top 12 finishers in the Masters not otherwise exempt are assured of returning to Augusta National next year, down from 16.
Aside from winner Adam Scott -- who is now exempt for life -- along with past champions Angel Cabrera and Tiger Woods, there were several players to whom that distinction was important in case they were not to be invited for other reasons.
Among them were Mark Leishman, Thorbjorn Olesen (who had two 68s on the weekend), John Huh and Tim Clark.
Those who finished just outside the top 12 in a tie for 13th were David Toms, Nick Watney and Henrik Stenson.
Notables
The 17th playoff in Masters history was also the second in a row. It was the 10th played at sudden death.
Geoff Ogilvy, who did not qualify for the Masters, was the last Australian prior to Adam Scott to win a major. He captured the 2006 U.S. Open. Scott's win was also his third straight top-10 at the Masters. And he's been top-16 in each of his last six major starts.
Steve Williams was on the bag for a Masters winner for the fourth time after three victories with Tiger Woods. But according to Augusta National, he does not hold the caddie record for such victories. Willie "Pappy'' Stokes won five Masters with four different players -- 1938 (Henry Picard), 1948 (Claude Harmon), 1951 and '53 (Ben Hogan) and 1956 (Jack Burke Jr.). Willie Peterson caddied for Jack Nicklaus in each of his first five Masters victories, with son Jackie on the bag for No. 6 in 1986.
Martin Kaymer birdied his final five holes on Sunday to shoot 32 on the back nine. Only two other players in Masters history have birdied the last five: Mark Calcavecchia, who had six in shooting 65 in 1992, and Tom Watson in 1993.
By virtue of a tie for sixth at the Masters, Denmark's Thorbjorn Olesen has earned enough money to join the PGA Tour as a special temporary member. It means he can accept unlimited sponsor exemptions for the rest of the year in hopes of earning enough money to keep his card for 2013-14.
Four players who finished in the top 10 at the Masters are competing this week: Jason Day, Marc Leishman, Brand Snedeker.
Quotable
"Australia is a proud sporting nation and this was one notch in the belt that we had never got. Amazing that it's come down to me, Mark (Leishman) and Jason (Day). It could have been any of us. But there was one guy who inspired a nation of golfers, and that's Greg Norman. He's been incredible to me and all the young golfers in Australia, and part of this definitely belongs to him.'' -- Adam Scott after winning the Masters