Fowler has substance to go with the style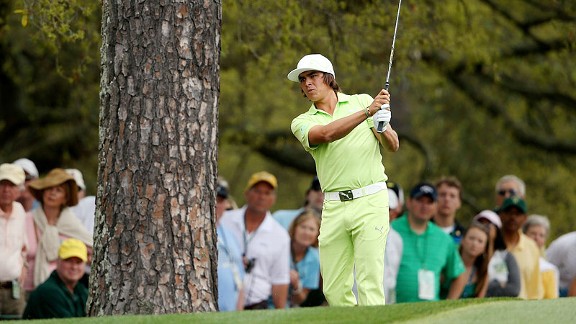 Andrew Redington/Getty ImagesDon't let the wardrobe fool you. Rickie Fowler has the game to go with the flash.
CHARLOTTE, N.C. -- Rickie Fowler hears the whispers, reads the comments on Twitter, knows what is said derisively about him.
Style without the substance.
Flashy clothes, unimpressive résumé.
"Yeah, a lot of people say I'm overhyped," Fowler, 24, said Wednesday at Quail Hollow, where he defends his lone PGA Tour title this week at the Wells Fargo Championship. "I just dress up and play golf. ... No, I'm actually ranked in the top 50 in the world and a decent player."
Fowler chuckled as he said it and knows such chatter comes with the territory.
For several years, he has been discussed as one of the top young American players and has all but multiple victories to prove it. A playoff victory a year ago over Rory McIlroy and D.A. Points was long in coming and seen as a breakthrough, but a back injury plagued him last summer and a second win still awaits.
"

Yeah, a lot of people say I'm overhyped. I just dress up and play golf. … No, I'm actually ranked in the top 50 in the world and a decent player.

"

-- Rickie Fowler
"I've always had high expectations for myself," said Fowler, who has three top-10 finishes this year, including a tie for third at the Arnold Palmer Invitational, where he played in the final group with winner Tiger Woods. "This year, coming in, I wanted to work on winning multiple times and then obviously playing well through the FedEx Cup and playing a little better, getting to East Lake [for the Tour Championship], the ultimate goal on the Ryder Cup team.
"So keeping the goals is still within reach, but I definitely have higher expectations of myself. I know I belong out here, and I know I can win out here. I don't ever want to show up at a week of tournament and not think I'm playing to win. I want to be in contention every week, and I want to be fighting for a trophy."
Fowler came out of Oklahoma State in 2009 with plenty of fanfare. He had a playoff loss and two top-10 finishes in his first three tournaments and cruised through the PGA Tour Qualifying tournament to set up his rookie season in 2010, which saw him picked for the U.S. Ryder Cup team despite zero victories.
In Wales, Fowler managed a clutch finish in his singles match against Edoardo Molinari, birdieing the final four holes to salvage a half-point and give the Americans hope for a final-day comeback.
But he failed to make the U.S. Presidents Cup team in 2011 or the Ryder Cup team in 2012.
After winning at Quail Hollow a year ago, he finished second the following week to Matt Kuchar at the Players Championship and tied for fifth at the Colonial. But he had disappointing performance in the major championships and didn't post a top-10 finish the rest of the year.
Some of that was due to a back problem that Fowler didn't fully get over until this year.
And he did show some promise, making a brief run at Woods on the back nine at Bay Hill, where an approach into the water at the 16th ultimately ended his chances.
"That was the first 72-hole event where I played without medication since the U.S. Open last year," Fowler said. "It's been feeling good, and I feel like I'm head in the right direction with the swing, what I'm doing with my trainer in the gym & making sure my body's healthy and working properly. I'm excited moving forward."
Guan's future
What's next for Guan Tianlang? The Chinese amateur acquitted himself beautifully in his starts at the Masters and Zurich Classic, making the cut in both tournaments and getting as far the third round in New Orleans before he made more than a bogey. It was an impressive round for any amateur, let alone a 14-year-old.
But now comes the interesting part. Guan, who has accepted another sponsor exemption to the Byron Nelson Championship later this month, is exempt from local qualifying for the U.S. Open -- by virtue of his Asia-Pacific Amateur title -- and will attempt to make it through sectionals in Dallas on June 3.
Either way, the hope is that Guan returns home sometime this summer and puts his efforts into competing against his peers. As impressive as his performances have been, some perspective is also in order. Guan played beautifully, but in the end, he made cuts and finished well down the list in each tournament. That's great for a 14-year-old; it's not so great as he gets older and tries to compete against the best players in the world.
Guan showed off a remarkable short game and an uncanny ability to hit long irons and fairway woods into par-4s. But aside from the pressure of making the cut, there is little in trying to improve your finish after that. Not for an amateur with no prize money at stake. Certainly not compared to a struggling pro, for whom every stroke could mean the difference in earning a significant payday.
It took Tiger Woods until his eighth professional event as an amateur before he made a cut -- at the 1995 Masters. But along the way, Woods was beating up on kids his own age, winning three consecutive U.S. Juniors and three straight U.S. Amateurs. There is a pressure that comes with being expected to win, and it clearly served Woods well.
Guan clearly has other issues to contend with as he gets older. He will likely grow taller, get bigger, become stronger. All of those things factor into the golf swing and how it repeats, and there are likely to be some setbacks along the way. Better to deal with them away from the bright lights of professional golf.
Birdies
1. Billy Horschel. Some players are wounded by close calls, but Horschel kept coming back and was rewarded with a victory in New Orleans, his fourth straight top-10 finish.
2. D.A. Points. A few weeks ago, he could barely make a cut. Now in a month he has a victory and a runner-up finish.
3. Inbee Park. Her victory at the North Texas LPGA Shootout was her third this year and solidified her place atop the world rankings.
Bogeys
Singh
1. Vijay Singh. It seems he got off on a technicality. He took a substance that the PGA Tour warned players not to take but will suffer no penalties.
2. Tim Finchem. The PGA Tour commissioner could have still issued Singh some sort of discipline, if for nothing else than being dumb enough to take something that the Tour had warned him and others about.
3. Greg Norman. Sure, there are some issues with the Tour's drug program, as the two previous bogeys point out. But calling it "disgraceful"? Norman didn't have all the facts when he criticized the Tour for not doing blood testing.
U.S. Open watch
The deadline for entering the U.S. Open passed last week with a record 9,860 signing up for the chance to get into Merion outside of Philadelphia. Only 156 will be in the final field, with 52 presently fully exempt.
A few more players will earn their way into the field if they are among the top 60 in the world as of May 27 or June 10. Winners of the PGA Tour's Players Championship and the European Tour's BMW PGA Championship also earn spots if not otherwise exempt.
Otherwise, players will have to go through qualifying. Local qualifying begins at 111 sites around the country Friday. There will be international sectional qualifiers on May 27 in Japan and England, and 11 U.S. sites will host 36-hole sectional qualifying on June 3.
Notables
Billy Horschel has posted five top-10 finishes this year, tied with Brandt Snedeker and Bill Haas for the most on the PGA Tour. … Horschel also leads the tour with 220 birdies. … Horschel's victory earned him a spot in next week's Players Championship. … It was the fifth straight come-from-behind victory on the PGA Tour and seventh overall this year. … The only way into next week's Players Championship for those not exempt is to win the Wells Fargo Championship -- unless the field of 144 is not filled. In that case, the tournament will go off the FedEx Cup points list. … The Wells Fargo Championship is the only event in which Tiger Woods has missed the cut twice as a pro. Alas, Woods decided to skip it this year. … Quail Hollow is generally regarded as an excellent course -- it will be the site of the 2017 PGA Championship -- but it is dealing some difficulty this week as several of its greens are in poor condition. … The greens might be the reason that several players decided to withdraw from the tournament, including Dustin Johnson and Ian Poulter. … Adam Scott has yet to return after his Masters victory and is expected to do so next week at the Players Championship. Runner-up Angel Cabrera is back this week, but he has already played since his playoff defeat, winning a tournament the following week in his native Argentina in a playoff. … The Masters announced this week that Mercedes-Benz was being brought on as a full sponsor of the tournament, replacing Exxon-Mobil. … Guan Tianlang, 14, has received plenty of attention recently, but he's being outdone this week as Ye Wocheng is playing in the European Tour event in China. At age 12.
Quotable
"I hadn't made a long one all week, and I said, 'I'm due.' I was like, 'If it's my time, this putt needs to go in.''' -- Billy Horschel on his final-hole birdie putt that clinched his victory at the Zurich Classic.