What's wrong with Tiger Woods? It's complicated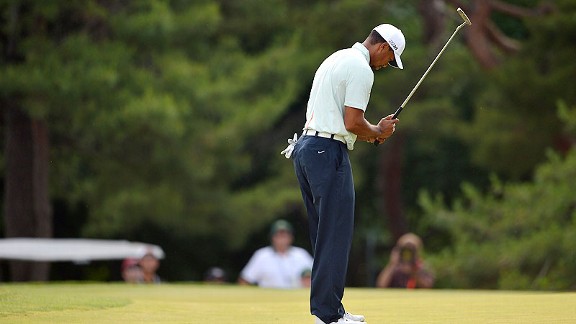 Drew Hallowell/Getty ImagesTiger Woods took 127 putts at the U.S. Open, his second-worst performance in a major.
Tiger Woods probably would like to forget about his past two tournaments and move on. Even though he said Sunday, following his tie for 32nd at the U.S. Open, that there is always something to be learned in defeat, perhaps washing his mind of the negatives and starting anew is best, with another major championship looming.
Any such discussion of the state of Woods' game should always come with a lengthy disclaimer:
Nobody is scrutinized more. When things are going poorly, there seems to be a referendum on every tournament, every round, every swing for Woods. The truth is, golf happens, even to Tiger -- although maybe more often now.
Just for some perspective, it should be noted that U.S. Open champion Justin Rose had a missed cut and a tie for 50th in two of the three starts before his victory. Phil Mickelson, who tied for second, also had a missed cut prior to the U.S. Open. Both Rose and Mickelson missed the cut at the Players Championship -- which Woods won.
That was Woods' fourth victory of the year and it came at a venue where he'd typically struggled. The firm, fast conditions and his ability to navigate a course that required more precision than length seemed to bode well for his chances at Merion, where he was looking to capture his first major title in five years.
Instead, Woods, 37, raised more questions about his ability to win a major. For the first time since 1997, he played consecutive tournaments in 5-over-par or worse -- as he also did at the Memorial and U.S. Open that year, without a round in the 60s. He had 21 holes at Merion over par, his worst in a major championship as a pro. He was 10 over during the weekend at the U.S. Open after playing the Memorial in 7 over for the final 36 holes, meaning two of his six worst weekend performances have come in his past two events.
All of this came after having won three of his previous four events, with a tie for fourth at the Masters the lone non-victory.
Is this cause for concern or simply the ups and downs experienced by numerous tour pros?
Certainly the mysterious elbow injury can't be discounted. The fact that he has withdrawn from next week's AT&T National -- where he is the defending champion -- suggests something is amiss. While Woods would barely discuss it and was not forthcoming with any details, his left arm/elbow was clearly bothering him. And for those suggesting he was using it as an excuse, there were signs of the injury on the very first hole of the tournament.
Woods said the injury first occurred at the Players Championship, although he showed no visible signs of it there or at the Memorial, where his tie for 65th also ranks among his worst 72-hole performances as a pro. But what if it was affecting his game? Such an injury would be difficult to play through, given the inability to practice proficiently and the possibility it could lead to bad habits.
None of that really explains his suddenly poor putting, unless you link it back to the fact that he hit the ball poorly, therefore having longer attempts on the greens. Woods took 100 putts in winning at Doral and 102 putts in winning at Bay Hill, career bests. So it was unlikely that would be sustained, but it's a long way from there to 127 -- the number he took at Merion.
That was his second-worst performance in a major, surpassed only by the 128 he took at Pinehurst in 2005, when he finished second to Michael Campbell by two strokes in the U.S. Open. In retrospect, Woods should have won that tournament easily.
This one was more complicated. There were issues with the driver, with his irons, certainly with his short game. His putting was poor for the second straight tournament (and yet there was a lot of poor putting at Merion) and wasn't great at the Players, overcome by great ballstriking.
So what are we to make of all of this?
With Woods, everything is magnified, so the scrutiny will continue. His ability to practice will be severely limited now that he has disclosed he is under doctor's orders to give it a rest. Skipping the AT&T is a big deal in that the tournament benefits his foundation. No other tournament, save for a major championship, would be so difficult to skip.
If he doesn't return until the Open Championship, how rusty will he be? How much will the time off help or hinder? There certainly will be plenty of conjecture about what it means.
Which leads to one more trend to keep in mind: Last year, Woods had a three-tournament stretch in which he finished tied for 40th, missed a cut, and had another tie for 40th -- at the Masters, Wells Fargo Championship and Players Championship, respectively. And then he won his next tournament.
So golf happens, even to Tiger.
Merion, again?
For all of the talk about Merion and its possible vulnerability, the historic course where Bobby Jones completed the Grand Slam in 1930 held up quite well at the 113th U.S. Open. When you consider that David Graham won the 1981 U.S. Open at 273, 7 under par, Justin Rose's winning score of 281, 1 over par, showed just how tough the golf course was even 32 years later.
Still, how much did the United States Golf Association have to "trick up" the venue to make it viable?
The fairways were narrow, which is typical of a U.S. Open, but the rough was brutal and the pin placements bordered on unfair. Player after player seemed taken aback by where the pins were located and the difficulty that played in the setup.
Then there were the logistics. While the players seemingly enjoyed the course, and the USGA should be commended for working so hard to bring the U.S. Open back to a place that means so much to the game, staging it on such a small property had numerous challenges.
The players hit balls and warmed up on another course a mile and a half away. Spectator flow was difficult, and far fewer tickets and less merchandise could be sold.
"As great as this week was, I think the U.S. Open has kind of moved past one of these venues," Brandt Snedeker said. "It's been great to be part of. I love the history here. It's awesome. But there's so much more that goes into the U.S. Open than just the golf, from an infrastructure standpoint, from the fan standpoint, from the whole global-marketing standpoint.
"I think this tournament needs more space to put on a championship in the right way."
Those factors will be weighed when the USGA takes stock of the 2013 Open and looks forward. The U.S. Open has been awarded through 2020, so any possible return likely would be at least 10 years away. And it won't be an easy decision.
Birdies
rose
Justin Rose. A final-round 70 on a day when the scoring average was about 74 suggests just how well he played under pressure, securing his first major championship at the U.S. Open.
Phil Mickelson. His defeat was gut-wrenching, but putting himself in position again with some inspired play was fun to watch.
Merion Golf Club. Despite fears that the East course was outdated, it held up perfectly well, causing as much angst as any U.S. Open venue of late.
Bogeys
woods
1. Tiger Woods. Poor tournaments are going to happen, but his ineffectiveness around the greens at Merion was shocking.
2. Rory McIlroy. His bent 9-iron on Sunday was a sign of the frustration he is feeling this year, as he has yet to win a tournament.
3. The USGA's pace of play initiative. It's all well and good to bring attention to a chronic problem, but the best place to start is at the U.S. Open, where once again, pace of play was abysmal.
Open Championship watch
Attention now will turn to the next major, the Open Championship at Muirfield starting July 18, with few opportunities remaining to gain entry.
Several elements have changed this year, including the scrapping of two money-list criteria that typically covered a series of tournaments on both the PGA Tour and the European Tour. Now, that has been reduced to the top five players among the top 20 on the FedEx Cup points list not already exempt through the Greenbrier Classic, as well as the top five players among the top 20 on the European Tour's Race to Dubai not already exempt through the French Open.
Among those inside the top 20 at the moment who are not in the field are Charles Howell III, Russell Henley and Memphis winner Harris English. Jimmy Walker is No. 21 and in need of a push in the next three weeks to make the field.
The tournament also will take the winners of the John Deere Classic and the Scottish Open, if those players are not already in the field. In addition to 12 spots coming from local final qualifying, there is also an international final qualifying event to be played Monday in London. The 36-hole qualifier will produce approximately eight players who will be exempt into the Open.
There are 108 players who are either exempt or who have qualified under some criteria, with the final field to be set at 156.
Notables
Jason Day's tie for second at the U.S. Open was due in part to his lack of big numbers. He was just one of six players at Merion to not suffer a double bogey ... Tiger Woods had just four birdies in the final 36 holes at Merion, which couldn't offset the 11 bogeys and a triple ... Michael Kim's performance at Merion was admirable, as the 19-year-old Cal sophomore finished tied for 17th to capture low amateur honors ... Of the eight players in the last four groups at Merion, only Justin Rose matched par. The other seven were a combined 33 over ... Rose headlines the field at this week's Travelers Championship at the TPC River Highlands near Hartford, Conn. Several who competed in the U.S. Open are in the field, including past winners Bubba Watson and Hunter Mahan, who has four top-four finishes at the venue ... The European Tour heads to Germany for the BMW International Open, where Ernie Els, coming off a tie for fourth at Merion, headlines the field ... Phil Mickelson has gone to the top of the U.S. Ryder Cup team standings, with Tiger Woods second. Only the majors count this year toward the 2014 team ... Mickelson has committed to the Greenbrier Classic in two weeks, as well as the Scottish Open, which is played the week before the Open Championship.
Quotable
"Going forward gives me a lot of confidence. I don't know if it takes pressure off, but it's a moment where you can look back and think childhood dreams have come true." -- Justin Rose on his U.S. Open victory.