For Rory McIlroy, 18 majors not on his mind
>Front nine
AKRON, Ohio -- The drinks flowed, and several of Rory McIlroy's tour brethren joined him for a celebratory night out at a Liverpool establishment following his Open Championship victory at Hoylake.
But if the evening was a bit more subdued than you might think for such an occasion, McIlroy has good reason.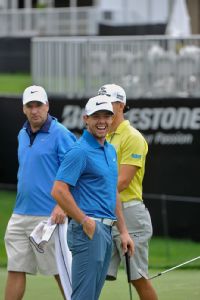 AP Photo/Phil LongRory McIlroy has a shot to regain the No. 1 ranking in the world with a victory this week as long as Adam Scott finishes outside the top 5 at the WGC-Bridgestone Invitational.
"It was the first time I'd ever been in a nightclub with my parents, and it was a bit surreal and weird," he said.
McIlroy's private life played out in public this year with the engagement to and then breakup with tennis star Caroline Wozniacki. He is in the midst of a legal battle with a former agent, finds his name in the tabloid press in Ireland and has had his share of on-course frustrations, including a celebrated walk-off at the Honda Classic last year.
All that and he's just 25, as that celebratory story reminds us.
Yet he is showing a good bit of maturity in the aftermath of his Open triumph. He had that night out in Liverpool and then another the following evening with his friends in Belfast.
But by July 23, three days after claiming the Claret Jug, McIlroy was back to work, engaging in a long-planned fitness test. He returned to Florida on Friday and spent the weekend working on his game, preparing for a long stretch of golf, including this week's WGC-Bridgestone Invitational and next week's PGA Championship.
If there is any weariness from it all, McIlroy is not showing it. In fact, he says bring it on.
"I didn't grow up wanting to lead a normal life. I grew up wanting to win major championships," he said. "I think you can still do both. You can still lead a relatively normal life. Like, obviously, always the week after winning a big tournament like the Open, it's going to be that's abnormal. That's not something you're going to have to deal with week in and week out, but I think you can still have the drive and the dedication to try to become one of the best players ever and still do relatively normal things."
That doesn't mean he has a goal in mind. Unlike Tiger Woods, who made it clear that Jack Nicklaus' 18 majors was what he was after, McIlroy said he has never put a number on it. The next goal is winning No. 4.
Interestingly, it was Nicklaus and his wife, Barbara, who sent one of the first messages of congratulations after McIlroy's victory. McIlroy has gotten closer to Nicklaus now that his Florida home is near the Golden Bear.
"I think his career is progressing very nicely, and I think he's going to win a lot of major championships," Nicklaus said last week. "I love his swagger. I love his demeanor. I love the way he sort of has a confident cockiness, yet he's not offensive with it. Self-confidence I guess you would call it."
WGC-Bridgestone Invitational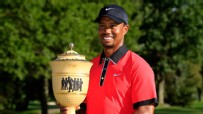 • Defending champion: Tiger Woods
• Tee times, leaderboard | Experts' picks
• FOREcaster
• Venue: Firestone Country Club (South Course); par-70, 7,360 yards
• Location: Akron, Ohio
• TV coverage: Thu., Fri, 1:30-6:30 p.m. ET, Golf Channel; Sat., noon-1:30 p.m. ET, Golf Channel and 2-6 p.m. ET on CBS; Sun., noon-1:30 p.m. ET, Golf Channel and 2-6 p.m. ET on CBS
• Field changes: Dustin Johnson (out)
• Payout: A 77-man field with winner taking $1,530,000 of a $9 million purse
• Format: 72-hole stroke play with no cut.
• Money leaders | Schedule | Rankings
• Follow @ESPNGolf on Twitter
McIlroy spent time with Nicklaus after the Memorial Tournament in early June, picking his brain about business but gathering some golf wisdom as well. Among the subjects that arose was McIlroy opening the Memorial Tournament with a 63 only to shoot 78 the next day. "How the hell do you go from 63 to 78," Nicklaus told him, McIlroy chuckling at the memory.
He might not be after Nicklaus' major record, but McIlroy appears to have Jack's mindset as far as how to proceed.
"I think every time you have success, you need to reassess your goals because it's only halfway, two-thirds through the season, and a lot of the goals that I set myself for the start of the year I've achieved already," McIlroy said. "So that's when you have to reassess and say like, OK, you've boxed that off. It's great. Celebrate it for a couple of days, but then you've got to move on. You've got to keep moving forward and keep thinking about what you want to achieve from now until the end of the year.
"And then at the end of the year you can really reflect on everything you've done and enjoy it. So it's a springboard. I feel like I've got a lot of momentum and I can carry that through to the end of the year and hopefully ride that and play some really good golf and some golf similar to what you saw at Hoylake."
At the turn
It is hard to find fault with a player who shoots 69 on Sunday and loses. Jim Furyk had a 3-shot lead at the RBC Canadian Open, shot 1 under par and still got beat by a hard-charging Tim Clark, who posted a 65.
But a closer look at the numbers reveals that Furyk was the only player in the top 10 at Royal Montreal who didn't shoot 2 under or better. Due to wet weather, lift, clean and place was in effect. In other words, par was probably lower than 70, and Furyk couldn't get any putts to drop.
Making matters worse is that Furyk, who has 16 PGA Tour wins and is a virtual certainty for a ninth straight U.S. Ryder Cup team, has had numerous close calls in his career and has now had seven straight 54-hole leads in which he failed to convert. He has 28 runner-up finishes on the PGA Tour, and it doesn't take a math whiz to figure out just how impressive his career record would look had he converted, say, 20 percent of those into victories.
Earlier this year, Furyk made big final-day rallies at the Wells Fargo Championship and Players Championship, coming up a shot short. No shame there. And he was fourth in the Open Championship at a tournament where Rory McIlroy led by six entering the final round.
But Furyk has gone nearly four years without a victory, his last coming at the 2010 Tour Championship. He shot 59 last year and didn't win, was the 54-hole leader at the 2012 U.S. Open and was right there last year at the PGA Championship. This week's Bridgestone Invitational brings more bad memories. Two years ago Furyk double-bogeyed the last hole to lose to Keegan Bradley.
Back nine
Even before Bernhard Langer won the Senior Open Championship by 13 strokes, there was discussion about the German being a captain's pick for the European Ryder Cup team. Among those who weighed in was Colin Montgomerie, who didn't discount his own chances after winning two senior majors this year.
"I mentioned picking Langer when I was captain four years ago, and people told me, 'Don't be stupid,'" Montgomerie said of the 2010 team he captained to victory in Wales. "But Bernhard, at 56, finished [eighth] in the Masters this year -- and Miguel [Angel Jimenez, 50] finished fourth. He is a senior in contention for a place at Gleneagles."
As for Monty's own chances? "If Langer and I were paired together in the foursomes, we'd feel we could bring a point home for Europe," Montgomerie said. "We'd need to sit out the four-balls, though. We'd be knackered."
FOLLOW GOLF ON ESPN
Stay up-to-date with the latest news, stories and analysis.
Follow ESPNGolf on Twitter
You could hear the snickers all the way from Wales, site of the Senior Open, but the Langer bandwagon is picking up some steam. While a 13-shot victory in a senior event -- competing against no one who will play in the Ryder Cup -- should not on the surface matter, his overall solid play has some wondering.
Gleneagles -- an American-style course designed by Jack Nicklaus -- won't play like a links, but it won't play particularly difficult either. Nothing says Langer would have to play every match or even every day. Could you imagine the support he would receive? Not to mention the psychological edge he might have over an American team or individual who, in reality, should be able to beat him.
That is the beauty of match play. There are no guarantees.
But realistically, whom would Paul McGinley leave out to pick Langer?
Among the prominent players currently not qualified for the European team are Graeme McDowell, Ian Poulter, Lee Westwood, Jimenez and Scotland's Stephen Gallacher, not to mention Francesco Molinari, who is coming off a good performance at the Open.
Given his Ryder Cup prowess, it is hard to imagine Poulter being left off, even though he hasn't posted a top-10 since April. McDowell has played well of late, winning the French Open and posting top-10s at the Open Championship and the Canadian Open.
So do you select Langer over Westwood? Or Jimenez, who is actually playing the European Tour? Or Gallacher, who grew up not far from Gleneagles?
But if McGinley is looking to do something way out of the box, picking Langer would certainly qualify.