Anchor ban might go smoother than thought
Front nine
PALM HARBOR, Fla. -- One tournament is not enough to make any hard, definitive assessments. There will be ups and downs on the greens for those who are making the transition to a short putter. But so far so good, it seems.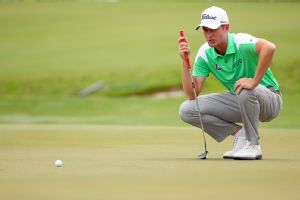 Mike Ehrmann/Getty ImagesWebb Simpson wanted to make a clean break with the long putter, so he literally broke it in half. He's now playing with a conventional sized putter this season on the PGA Tour.
Adam Scott is the latest player to go from the long or the belly putter to a standard model, making the move seem like much ado about nothing at the WGC-Cadillac Championship in Doral, Florida, where the Aussie had a single 3-putt green for the week, made just under 90 percent of his putts from 10 feet and in, and contended in the tournament.
It was his first official tournament in three months, following a change in caddies as well as the addition of a baby. The putter appeared to be the least of his worries.
"Thinking objectively about it at the end of last year, I thought as I'm going to have to do it by the end of the year, I should try to start now and maybe find the solution," Scott said, referring to the anchored stroke ban that goes into effect on Jan. 1, 2016. "It's been feeling good. I've enjoyed doing it. It's no big deal. Don't forget, I did it this way for a long time."
Scott was No. 3 in the world in 2008 with a conventional-length putter, which he used for his entire career until making the move to a long putter in 2011. But he made that change due to frustration on the greens and went on to claim a WGC event, the Masters and a No. 1 ranking. After a tie for fourth in Doral, he is now fourth in the world.
"I can think back to some really good memories putting with a short one and making some really important putts," said Scott.
Other major champions such as Keegan Bradley and Webb Simpson also have made the switch, both moving on from a belly putter.
Simpson even had a ceremonial breaking of the long putter just to make sure he didn't go back to it.
"In front of my wife, I snapped the putter in half over my knee," Simpson said. "I was going to throw it away, but she said, 'No, no, we've got to keep it -- you've done a lot of good stuff with that.' So the broken belly putter is in my trophy case."
Carl Pettersson, who said he used a long putter since 1997, believes the switch back has been harder for him than for those who used a belly putter.
"I've been experimenting on and off for the last two years," said Pettersson, who has used the short putter in 2015 with a modified claw grip. "It has gone better than I expected. I feel relatively comfortable. But I still think it's a bad rule."
At the turn
What can you expect at this week's Valspar Championship? We preview the week ahead on the PGA Tour:
>
Back nine
The Open Championship, scheduled for July 16-19, is bringing back its Champions Challenge on the eve of the tournament this year to be played at the Old Course in St. Andrews. The event, which was first played in 2000, was scheduled for 2010 also, but poor weather wiped out the proceedings.
The event will take place Wednesday at 4 p.m. over holes 1, 2, 17 and 18, with past champions paired as two-man teams. Among those scheduled to take part is Peter Thomson. The Australian won the Open five times and will celebrate 60 years since his victory at the Old Course in 1955.
Others who will take part, the tournament announced, include Tom Watson -- who is scheduled to play his last Open -- as well as Bob Charles, Gary Player, Nick Faldo and Tony Jacklin, plus recent winners Ernie Els, Phil Mickelson, Darren Clarke, Padraig Harrington and Tiger Woods.