The killer bunny rabbit
By
Scott T. Miller
| ESPN The Magazine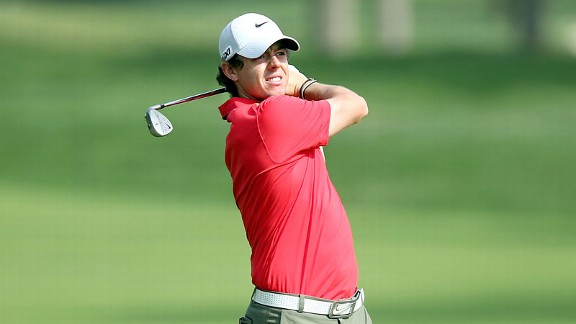 Andy Lyons/Getty ImagesWill Rory McIlroy roar at Merion? Our numbers say he will.
This story appears in ESPN The Magazine's June 10 Taboo issue. Subscribe today!
WHEN THE WORLD'S best golfers arrive at Philadelphia's Merion Golf Club for the U.S. Open (June 13-16), they'll tear the tiny course to pieces, one flip wedge at a time. That's conventional wisdom. But conventional wisdom hasn't bothered to do the math. We did and found something else: that Merion, at 6,996 yards, is indeed a throwback, but you can't call it a pushover. Here's our breakdown, one fancy metric at a time.
1. Big-time major stats
To rate Merion as an Open venue, we began with a simple question: Who wins U.S. Opens? We then mined five years of data to see how major winners compared with the field in three key stats: fairways in regulation, greens in regulation and putts per hole. The verdict? At the Open, you drive and putt for show ... and hit greens for dough.
Fairways in regulation
Hitting fairways helps a bit at U.S. Opens -- but it's by far the most irrelevant stat for Masters winners, who actually hit Augusta's fairways at a worse rate than the field.

Linda Root Pouder for ESPN
Greens in regulation
How much does GIR matter at the Open? In Rory McIlroy's eight-shot win in the '11 U.S. Open, his 86.1 percent GIR was 41 percent better than the field. (His putting? Just 1 percent better.)

Linda Root Pouder for ESPN
Putts per hole
While analysts love to wax poetic about bikini-waxed greens, only two of the 20 major winners from 2008 to 2012 have putted more than 10 percent better than the field.

Linda Root Pouder for ESPN
2. The horses for the course
If Opens favor green-seeking grinders, Merion might be the Openiest of all -- skinny-jean fairways framed by bluegrass rough that head pro Scott Nye says doesnt lay over; it stands straight up. The ball drops to the bottom. To gauge whose games are suited to it, we devised a U.S. Open Rating,* factoring GIR, current rank and past major success. Heres what it shows (lower is better) ...
Contenders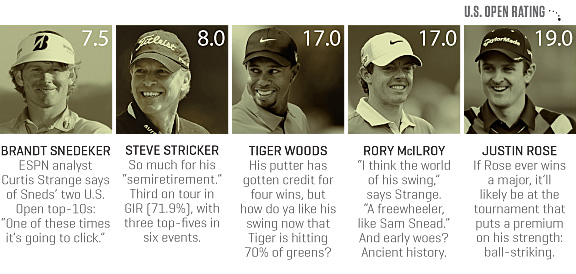 Great pretenders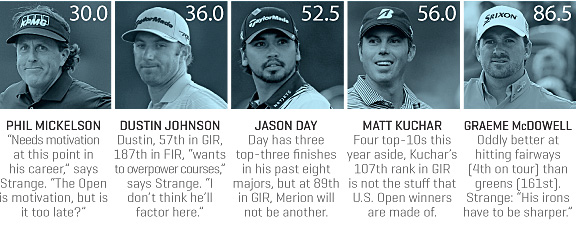 *U.S. Open Rating = average of GIR rank and FedEx Cup rank, as of May 20, for players with at least one top-10 finish in past 20 majors.
Follow The Mag on Twitter (@ESPNmag) and like us on Facebook.
3. Quiet, please
Perhaps you've heard of the rift between Tiger Woods and Sergio Garcia? Let's assume, um, opinionated Philly fans have too. Now consider that at 109 acres, Merion is 36 percent tighter than recent U.S. Open venues. "It'll be ... intimate," says Merion superintendent Matt Shaffer. With fans, tees and greens all mashed up against one another, expect chaos -- and nowhere for Garcia to run.
4. Who you callin' short?
Steel-shafted drivers and Slazenger balls were in vogue the last time a U.S. Open course (Southern Hills, 6,973 yards, 2001) was shorter than Merion (6,996).
5. Four score ...
Although no U.S. Open track has played shorter than Merion in the past 12 years, break it down by par and another story emerges. It features the second-longest collection of par 3's and fourth-longest group of par 5's in the past 15 years. Only two other Opens, though, have had shorter par 4's. Irons off the tee, anyone?
6. Drive carefully
That's the number of par 4's at Merion listed at less than 375 yards. The past five Open venues have featured only four such holes combined. But don't get out the red pencil just yet. Since '98, the 18 sub-375-yard par 4's have played to a stroke average of 4.06. If handled right, with layup tee shots leading to wedge approaches, they're birdie chances.