Sunrise begins on 2011 season in Hawaii

By Jason Sobel
ESPN.com
Archive
Here's hoping you didn't run to the fridge for a snack. Or go check the mail. Or even blink a few too many times.

Get all of ESPN.com's latest news, highlights and commentary about the world's most talked-about golfer. Tiger Tracker
If so, you probably missed golf's offseason. That's right -- it's over already.
There are a few different ways of measuring what exactly constitutes this time period, but I prefer to use this one: The official length from the last meaningful putt of 2010 -- though subjective, most can agree it was Tiger Woods' missed putt in the Chevron World Challenge playoff to lose to Graeme McDowell -- to the first tee shot of 2011, which happened to come off the club of Lee Slattery back on Dec. 9, opening day for the newest European Tour campaign.
Final tally: 76 hours, 54 minutes.
Of course, if you want to add in the Shark Shootout as a "meaningful" event of last season, well, it actually overlapped with the Euro opener, meaning there was no offseason in golf -- a long-held belief which can now be taken much more literally.
Those first few Euro Tour events notwithstanding, the real start to the 2011 campaign comes this week, as the PGA Tour kicks things off with its annual winners-only tournament at Kapalua. As this season-preview edition of the Weekly 18 begins, there is a different feel around the game than one year ago.
1. Hope Springs Eternal
This is kind of nice, isn't it? Refreshing. Invigorating. And best of all, business as usual.
Exactly one year ago, it was difficult to find a story about -- ahem -- "golf" that didn't invariably discuss police reports, mistresses and tabloids, as Tiger Woods' personal scandal hijacked the headlines and left actual on-course proceedings on the back burner for a while.
Follow Sobel on Twitter
Want to know what ESPN.com golf writer and blogger Jason Sobel is up to? Sign up now to track him on Twitter.
Follow him
• Follow ESPN_Golf on Twitter
This year, though, the prevailing preseason themes are of hope and excitement. The fact is, there might be more intriguing plotlines than prior to any recent year.
Let's start with Woods. Coming off the most tumultuous season of his career -- to put it lightly -- there's nowhere for him to go but up. Both his refined swing and mental focus appeared much improved in the final few events of last year, all of which should spell an end to the victory drought sooner rather than later.
While he might be poised to regain his No. 1 world ranking, his competition seems more intent than ever on keeping him from that goal. Lee Westwood enters the year in the top spot, but there are a handful of worthy challengers, including Martin Kaymer, Phil Mickelson and Jim Furyk. If you need visual proof that these guys aren't afraid of the 14-time major champ, simply rewatch the final 30 minutes of last month's Chevron event, where another one of those contenders, Graeme McDowell, holed a pair of daggers to hold off Woods.
What do a handful of those players have in common? They hail from Europe. The global reach of the game's upper echelon is expanding on a seemingly daily basis. Not only will the Euro Tour be stronger than ever this year -- Westwood, Kaymer and Rory McIlroy have each eschewed PGA Tour membership -- but don't be surprised if great players emerge from nontraditional golfing nations. I'll give you a hint: Y.E. Yang became the first Asian male to win a major in 2009, but he might not stand alone for much longer.
Two of those prospects include Ryo Ishikawa and Noh-Seung Yul, each of whom happens to be a mere 19 years old. Sound young? They could still steal Matteo Manassero's milk money; he's only 17, but already owns a Euro Tour win. Let's not be so naive as to think the current crop of youngsters with potential is larger than in past years, but it might be better. These players seem more talented, polished and ready to win than any early-twentysomethings and teenagers in recent memory.
Expect all of these to remain as major plotlines throughout the 2011 season. And the best news of all? Unlike at this point one year ago, we're already talking about 'em.
Three up
[+] Enlarge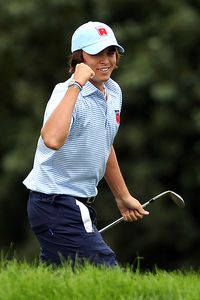 Ross Kinnaird/Getty ImagesRickie Fowler made Jason Sobel's list of players he expects to make "the leap" in 2011.
In what other profession could someone secure a successful year on Dec. 12 of the previous year? Seriously, tell me. If a surgeon successfully operates on a patient with a few weeks left on the calendar, can he simply be mediocre for the next 12 months? If a lawyer wins a big case before Christmas, does he get to sit back and enjoy the spoils for a year?
And yet, in golf this dream can come true. Or more specifically, on the European Tour.
You see, the Euros began their 2011 season in the second week of December, way back in 2010. And so when Martin claimed the first-place prize by 2 strokes at the Alfred Dunhill Championship for the second straight year, he had also assured himself of yet another successful year before the actual year had even kicked off.
Consider it a risk that paid off for Martin. Just a few days earlier, he was competing in PGA Tour Q-school, but after a slow start decided to withdraw and make the journey to South Africa to defend his title. Good move by the former Oklahoma State player, who already owns three career Euro Tour victories at the age of 24.
And if his win already secured a successful 2011, then one of his post-round comments should be considered an early candidate for quote of the year. Upon winning, Martin received a bucket of water over the head from fellow Spaniards Rafael Cabrera-Bello and Alvaro Velasco, which prompted him to respond, "Normally, they throw people into ponds and stuff, but I'm glad they restrained themselves today, because there are crocodiles and stuff around here."
True, becoming croc candy could have ruined his year, but with one win in the books already, Martin can cruise into 2011 -- the real year, not the golf season -- brimming with confidence.
3. The Leap
Anyone can make predictions for specific tournaments. I do it all the time. Of course, not just anyone can be right about 'em. That takes either a keen sense of inside knowledge or dumb luck. I'm usually fresh out of both.
This story is a little different, though. Rather than attempt to predict the winner of a certain tournament, I will choose players to make "The Leap" to the next level. As such, each player listed will be chosen to move up in professional status via certain results during the upcoming season. Full Story
4. Six players to watch
Unlike other sports, where top draft picks can often parlay amateur stardom into professional superstardom, young golfers usually need a few years to mature. It has less to do with talent than experience -- getting comfortable playing weekly events at the highest level, learning about the courses, even knowing where to stay, where to park and where to eat.
All of those factors are reasons we rarely see fab freshmen vault to the top of this profession. Personally, I look for players in their third, fourth or fifth year as a PGA Tour member to figure these things out and gain enough experience to find success. Hunter Mahan, Jeff Overton, Nick Watney and Bubba Watson are all players who weren't overnight sensations, but recently crossed the threshold into the next echelon at this point in their careers.
Here are six players who are hardly unknown commodities. Some have already won tournaments and some have contended for major championship titles. But each one is still on the rise. If you've got a fantasy golf squad, stock up on these guys, then sit back and watch 'em rake in the big bucks for you. And if not, well, at least you can impress the other guys at the local 19th hole. Full Story
Three down
5. Kapalua champions
Poor Geoff Ogilvy. Dude keeps winning in early January, then spends the rest of his year trying to get back to the winner's circle.
Raking it in early
| Year | Winner | Other wins | % of money earned |
| --- | --- | --- | --- |
| 2010 | Geoff Ogilvy | 0 | 46.8 |
| 2009 | Ogilvy | 1 | 30.0 |
| 2008 | Daniel Chopra | 0 | 67.5 |
| 2007 | Vijay Singh | 1 | 23.3 |
| 2006 | Stuart Appleby | 1 | 31.1 |
| 2005 | Appleby | 0 | 48.1 |
| 2004 | Appleby | 0 | 35.9 |
| 2003 | Ernie Els | 1 | 29.7 |
| 2002 | Sergio Garcia | 0 | 30.0 |
| 2001 | Jim Furyk | 0 | 24.8 |
Actually, Ogilvy has fared better than most of his predecessors. In 2009, he backed up his victory on Maui with another at the WGC-Accenture Match Play Championship. Last season, he failed to win another PGA Tour event, but claimed the Australian Open title in December.
Consider it a long-standing trend for winners of the season-opener. Whether it's a matter of complacency or the fact that winning multiple events just isn't as easy as it sounds, these guys have had a difficult time keeping it up after winning in Hawaii.
The chart to the left examines how each of the past 10 winners has followed his victory at Kapalua, showing their other wins for that season and what percentage of money earned came from the season-opening event. As you can see, only four players have posted another win after this one -- and none have won more than once.
The lowest percentage the winner's paycheck has been was for Vijay Singh, as it comprised nearly a quarter of his yearly earnings in 2007; the highest percentage was for Daniel Chopra, who earned more than two-thirds of his winnings from this event.
Of course, that doesn't mean it is impossible for a victory at Kapalua to translate into greater success throughout the season. Just prior to the past decade of champions, Tiger Woods won this event in 2000. He followed with eight more titles that season, including each of the final three major championships.
This one comes from my always informative friend John Antonini of GolfWorld: By finishing the year ranked 51st in the world, Stenson became the first player since Mark O'Meara in 2000 to drop from the top 10 at the beginning of the year to outside of the top 50 by the end of it.
Considering the OWGR is based on a two-year rolling calendar, that's tough to do. Consider the plight of Tiger Woods, who failed to finish better than fourth in any full-field event during the 2010 season and dropped only one spot, from first to second.
So how did Stenson back up 43 places from his initial start at No. 8? It wasn't easy. As a full-time PGA Tour member, he competed in 14 events on U.S. soil and never finished better than 27th -- a stark contrast from one year earlier, when he won the Players Championship and had three other top-10s.
It wasn't all struggles for the Swede, though. He did share third place at the Open Championship and finished T-13 at the late-season WGC-HSBC Champions event in China. Also playing a full European Tour schedule, he compiled a pair of eighth-place results on that circuit, as well, but it wasn't enough to keep from sliding down the ranking.
"It's been a tough year," Stenson explained back in November. "We had our second baby early on this year and I kind of missed out on a few events. Then I didn't get going. I've been sick quite a lot, as well. I had to pull out of the Match Play with some virus and a couple of colds. Then I picked up another virus straight after the British, so I was more or less down for eight weeks in total. Just chest infection and all this, and I went over and tried to play at the PGA and win. I really shouldn't have been playing, but had to keep my numbers up. Yeah, it was a rough patch there.
"But overall I've been struggling across the board, with long game and short game and mentally as well. I've just not been on most of the season and I got two top-10s in Europe and third at the British Open. So it's not been a good year for me."
Sounds like a classic case of a player trying to do too much. With travel and accommodations easier than ever before, it's certainly possible for someone to compete globally and find a large amount of success. Just ask Ernie Els. Then again, it's difficult to play well when you don't know whether you're in Dubai, Shanghai or Fort Worth on any given week.
Stenson's recent slide should serve as a warning -- not only to himself, but players like Graeme McDowell, Louis Oosthuizen and Charl Schwartzel, who will attempt to balance competitive schedules on separate continents this season.
It might sound like the best of both worlds, but as Stenson can attest, it can very often be the worst of 'em, as well.
7. LPGA Tour
The calendar reads 2011. The PGA Tour is set to kick off its 2011 schedule this week. Those crazy Europeans started their 2011 season way back in 2010.
And the LPGA? Its schedule is still yet to be released.
I'm not sure I can ever recall a time when a major professional sports league had yet to produce its schedule prior to the beginning of the calendar year. Then again, using the word "major" to describe the LPGA might not be the most appropriate terminology.
Nothing against the players or the competition on the world's top women's circuit, but while most sports entities are handled like Fortune 500 companies, this is starting to have the feel of a mom-and-pop store on the corner. According to rumors, the LPGA will have somewhere around 24 to 26 tournaments this season, with anywhere from 11 to 13 taking place in the United States.
The late announcement is only a small part of the problem with the LPGA's schedule, though. Last year, it included a grand total of 24 events, beginning on Feb. 18 and ending on Dec. 5. That means more weeks when it's off than on. Think about that for a minute: During the entirety of the season, even those fortunate players who compete in every event are forced to sit out and practice more often than actually compete. Can you imagine if, say, the NFL's 16-game schedule took place over a span of nine months? Of course not, but that is, in essence, exactly the LPGA's biggest issue right now.
Look, I understand why the schedule has yet to be announced. LPGA commissioner Mike Whan is still waiting on possible title sponsors to step up and take on some events. And much like the PGA Tour, which released its schedule for 2011 almost a year ago, he likely doesn't want to announce a partial schedule with a few "TBD" tourneys on the list.
And really, it's not such a big deal. As long as players are being apprised of when and where they can tee it up, it's not as if fans and media need a wealth of advanced notice prior to the opening of the season.
Still, it all just has the feel of that mom-and-pop store on the corner. What the LPGA needs is a little creativity. Different formats. Tournaments that end on nontraditional days or at nontraditional times. New, interesting courses. And for the love of Annika, let's finally see a combined event with the men, even if they need to go the Euro Tour or Nationwide route to get it done.
Despite growth in the game globally and some very exciting players at the top, these aren't very prosperous times for the LPGA. Its failure to release the schedule before the calendar turned over isn't the biggest issue the tour is facing, but it should serve as a symbol for what has become a problematic method to its business plan.
Three wishes
8. I wish we knew what to make of the declines of the 2009 major champions.
As far as celebrated major champions go, 2010 was a pretty good year. There was a no-doubt-about-it future Hall of Famer in Phil Mickelson, followed by three guys with varying degrees of up-and-comingness in Graeme McDowell, Louis Oosthuizen and Martin Kaymer.
OK, so it might not be the equivalent of Arnold Palmer, Jack Nicklaus and Gary Player combining to win the four majors in 1962, but it's not exactly 2003's quartet of Mike Weir, Jim Furyk, Ben Curtis and Shaun Micheel, either. Nothing against those guys, but they remain the only foursome in history to win who have combined to never win another major title before or since.
Where do the four winners of 2009 rank on that list? Well, at the time Angel Cabrera, Lucas Glover, Stewart Cink and Y.E. Yang each seemed like very good champions, though not all-time greats. And yet, one year later, each will be conspicuous in his absence from this week's Tournament of Champions.
The chart to the left shows what these players have accomplished since their major victories -- or more to the point, what they've failed to accomplish. Together, they've competed in 117 events on the PGA Tour without posting another win. It marked the first time in almost two decades that the four major winners from one season failed to capture a single PGA Tour title one year later, dating back to 1990 champions Nick Faldo (twice), Hale Irwin and Wayne Grady. As if that wasn't enough, Cabrera, Glover, Cink and Yang have combined for just 16 top-10 results during that time.
Major slowdown?
| Player | PGA Tour starts since major win | Top-10s | Best finish |
| --- | --- | --- | --- |
| Angel Cabrera | 29 | 4 | 3rd |
| Lucas Glover | 34 | 6 | 3rd |
| Stewart Cink | 29 | 4 | T-5 |
| Y.E. Yang | 25 | 2 | 3rd |
All of which begs the question: Will this foursome go down in history as one of the least celebrated collections of major winners for any given year or is it just taking a longer-than-usual period of time for each to claim another piece of hardware? I tend to believe it's the latter. I certainly wouldn't place any of these guys in the category of "fluky" major winners, considering each had won events prior to his major title and hasn't exactly fallen completely off the map since.
Even so, it's still interesting to note the lack of success. And it will be even more interesting to see if they can bounce back after such a collectively down season. One thing is for sure: If it happens, it won't happen this week.
9. I wish the list of players not competing in the season-opener didn't overshadow those who are.
But the truth is, it doesn't.
There are 39 players eligible for this week's event and 34 have elected to play. That's a robust 87 percent commitment rate, which would have tournament officials for any non-major doing backflips in their sleep.
At Kapalua, though, the big story going into the week isn't about quantity, but quality. That's because the quintet skipping the festivities includes Phil Mickelson, Louis Oosthuizen, Martin Kaymer, Lee Westwood and Rory McIlroy. If you're scoring at home, that would be three of last year's four major champions, the world's No. 1 player and the game's brightest young star.
In order to further show exactly what kind of star power will be missing, I decided to do a little number-crunching. Those five players have an average Official World Golf Ranking of 7.6, with three ranked in the top four. The 34 who are competing this week have an average ranking of 74.9, with no one higher than fifth.
(Break down this week's competitors even more and you'll find an eclectic list of winners from last season. Jim Furyk heads the list at No. 5, followed by 11 others in the top 25 and seven more in the top 50. But 10 of these players are still outside the top 100 and four rank higher than 200th, with Rocco Mediate (225), Cameron Beckman (253), Bill Lunde (258) and Matt Bettencourt (260) hardly parlaying victory into OWGR success.)
That's not to say this week's tourney will lack for elite players (Furyk, Graeme McDowell, Steve Stricker, Ian Poulter and Ernie Els are among the headliners), nor will it be impacted by worse television ratings (fans will tune in for a chance to see "real" golf once again and the majestic Hawaiian vistas) or decreased ticket sales (it's never a highly attended event anyway). Mickelson hasn't played there since 2001, a few European Tour regulars annually eschew the event and Tiger Woods -- ineligible this season because he didn't win last year -- removed it from his schedule long ago.
The real irony of ironies here is that the event has been renamed "Hyundai Tournament of Champions," but some of the greatest champions have elected to sit this one out. As independent contractors, more power to 'em for being able to pass up paradise and a guaranteed paycheck. It still casts a pall over the tourney, though. Consider it a black cloud passing through the numerous rainbows that will magically appear over the course this week.
10. I wish there was a better way for title sponsors to take ownership of tournaments.
Quick: Which teams played in this year's Beef 'O' Brady's Bowl? When was the San Diego Country Credit Union Poinsettia Bowl? Who won the Little Caesars Bowl?
Title sponsorships might offer a way for companies to get their names into the public consciousness, but they're also getting a little out of hand. I mean, did one single person in America actually call up a friend and say, "Hey, wanna go watch the Franklin American Mortgage Music City Bowl?" I doubt it.
By the same token, I can't imagine there will be many fans referring to this week's PGA Tour event by its proper name: Hyundai Tournament of Champions. Part of that reasoning is because it's a mouthful, part is because we can't figure these things out without a scorecard anyway. Prior to Hyundai taking over, the event was called the SBS Championship -- for exactly one year. Before that? Mercedes-Benz Championship. That was only for three editions of the tournament, replacing the erstwhile Mercedes Championship. I guess Benz felt slighted in the deal.
The point is, with so many sponsor changes at these tourneys, it's difficult to remember who's paying for it anyway. Heck, most players still refer to the Wells Fargo Championship as the Wachovia and the old-timers term the Northern Trust Open as the L.A. Open instead -- each of which were two titles ago.
Look, I understand the need to have sponsors -- and more importantly, sponsorship dollars -- attached to every event. And I understand these companies wanting to get the most bang for their buck by putting their names front and center on the tournament title. But if no one other than the TV broadcasting team is going to refer to it by its latest proper name anyway, is it really a beneficial partnership?
Not sure I have a better suggestion than what's out there now, but I do know that the current situation dilutes the product. If fans don't even know what to call a certain tournament, they won't be able to identify with it, either.
Personally, I'd like to see more companies as "presenting sponsors." For example, Jack Nicklaus' tournament at Muirfield Village is now called "The Memorial Tournament presented by Nationwide Insurance." OK, maybe Nationwide won't get as many on-air mentions as Hyundai will this week, but there's a trade-off, too. When someone simply mentions the "Memorial," we know exactly which event they're speaking about. You can't say the same thing for Hyundai Tournament of Champions.
11. Quote of the Week
"There was a different bounce in my step today. It was a wonderful run. For so many years, I've had the wonderful opportunity to go to so many great places and great courses and I've found myself thinking more and more: 'Hey, it would be great to visit here, not just work here.' I want to take a while for myself. It's a bit surreal, but it'll kick in quickly." -- outgoing USGA executive director David Fay, in an interview with Brendan Prunty of The Star-Ledger.
For 21 years, Fay was not just the man in the bow tie, he was the man in charge of running the game's domestic governing organization. And by all accounts, he did it well. Among his biggest accomplishments was bringing the U.S. Open to municipal golf courses in Torrey Pines and Bethpage.
His retirement -- which went into effect Friday -- came as a surprise to those within the organization, but don't expect many major changes now that Fay is out of the fray. Instead, the USGA will keep on conducting business as usual. And don't be shocked if the next guy in charge keeps Fay's phone number on speed dial for regular consultations.
12. Stat of the Week
Of the 300 highest-ranked players in the world at the end of 2010, only two finished the year in the exact same position from which they started.
Those two are Robert Allenby and Zach Johnson, who coincidentally remain back-to-back in the Nos. 21 and 22 places, respectively.
Five others were displaced by just one spot on the list, including Tiger Woods, who of course maintained his same ranking at the end of each of the four previous years.
Jason Sobel is a golf writer for ESPN.com. He can be reached at Jason.Sobel@espn.com.