12. Sobel: Quiros clearly on the rise
13. Photo of the Week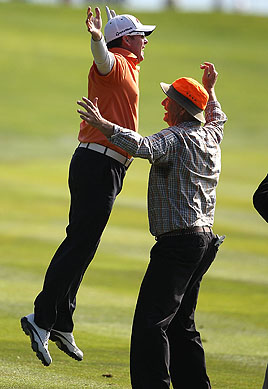 Jed Jacobsohn/Getty Images
Individual victory? Check. Team victory? Check. Perfectly executed chest bump after hole-out for eagle? Uh, not so much for D.A. Points, left, and actor Bill Murray.
14. Tweets of the Week
@Matt_Every Tried my hardest to miss the cut but was not successful
@PaulGoydosPGA I Stink!!! On to LA
PGA Tour: These guys are ... self-deprecating.
15. Fact or Fiction
Tiger Woods should be playing his hometown event in Los Angeles this week.
It was back in 1992 -- at the tender age of 16 -- when Woods was given his initial PGA Tour start, a sponsor's exemption into what was then the Nissan Los Angeles Open. He shot 72-75 that week to miss the cut, but returned one year later and again in 1997 -- his first full professional season -- finishing T-20 just a few weeks before winning the Masters.
In addition to making his PGA Tour debut at Riviera, Woods is known for two other things when it comes to this tournament: Never winning in 11 career appearances and never playing again following a withdrawal due to the flu five years ago.
That includes this week, too, as Tiger has chosen to take a week off in between playing the Dubai Desert Classic and competing in next week's WGC-Accenture Match Play Championship.
It would be difficult to find many golf fans who wished against Woods' return to what is now known as the Northern Trust Open. That's not the issue at hand, though. The question I've posed is whether he should play there again.
It's easy for journalists and fans to call for the world's best golfers to play more events and diversify their schedules from year to year. Consider it either selfishness or hopefulness, but we'd all like to see stronger fields on a week-to-week basis.
That said, I learned long ago that saying a player should compete in certain events is to disregard anything else in his life. There are very few times I'd disagree with this statement; maybe when Kenny Perry skipped the Open Championship a few years back (if you make that one, you go -- no questions asked) or when Anthony Kim skipped his hometown Bob Hope Classic last month (he stayed in the area, but didn't tee it up).
As far as Woods is concerned, even with private air travel from Dubai to Los Angeles to Tucson, competing for three straight weeks can be a grueling schedule. Yes, at the end of the day he is still playing golf for a living, but with the heavy expectations placed upon him, doesn't he owe it to himself to be best prepared to win every single event?
We tend to criticize the game's top players for not competing enough, yet when they don't perform up to standards and appear burnt out, we also criticize them for playing too much. Well, we can't have it both ways. That's why -- even though I'm among the majority that would like to see Woods back on his old stomping grounds at Riviera -- I consider the above statement to be FICTION.
16. Road to Augusta
There's this little speech that Bill Murray's character, Carl Spackler, gives in the movie "Caddyshack." You might have heard about it. Has something to do with holing the final shot at Augusta National to win the Masters. Cinderella story, in case you didn't know.
Even though Spackler was a groundskeeper, he must have picked up a few tricks at Bushwood CC, right? So I asked Murray whether he would consider looping for D.A. Points at Augusta this April -- even if it's just in the Par-3 Contest.

"That's a good idea," he said. "Thanks for bringing it up. It's possible ... but even if he could just slip me a ticket, that would be sweet."
I thought I'd initiated a caddie connection when I spoke to Points a few minutes later, but no such luck, it seems.
"Oh, gosh. That's certainly not a bad idea. My daughter won't be old enough, so she can't do it," he said. "But I think I might have my mom or dad do it. I hadn't really thought about it, but I think they'd get a kick out of being there."
As far as the actual tournament itself, Points will get a kick out of it, too. Not only will this be his first Masters as a competitor, he's never even played the course before.
"In the offseason, I worked with a new sports psychologist and my three main goals were to win in 2011, to play in the 2011 Masters and to play on the 2012 Ryder Cup team," he said. "It's in Illinois, at Medinah where all my friends are, and where I've spent a lot of time. So far I've completed two of the three, which I'm super excited about.
"To play in the Masters is another dream come true. I can hardly describe it."
17. On the Hot Seat: Rosie Jones
Two years ago, the United States defeated Europe 16-12 on home soil at the Solheim Cup.
This year's edition of the event will take place Sept. 23-25 at Killeen Castle in Ireland.

Jones
At the helm for the U.S. squad is seven-time team member Rosie Jones, who sat down to talk about emotions, team camaraderie and her role as captain.
Q: We're seven months from the start of the Solheim Cup. So far, is it more work than you had imagined?
A: You know what? I really didn't know what to expect. Having played on several Solheim Cup teams, you show up in your room and there's all these clothes and gifts, your captain tells you when to practice, the hotel is already scheduled, everything else is pre-planned. What you don't realize is how much influence the captain has over that. So there's a lot of work that goes on behind the scenes that players don't even realize.
As we get closer, it will be more about the strategy of the event and figuring out the players. But it is a lot different than I thought it would be.
Q: How often are you going to be out on tour, talking to players and getting a feel for your team?
A: Last year, I was out at about four events. I held a couple of dinners with several players, just trying to be around them and watching them play a little bit, just hanging out with them, trying to nurture those relationships. That was a big priority of mine. This year, I think I've scheduled six events. We'll also have some practice sessions scheduled, some dinners -- quite a bit, I think.
Q: How different is it to play this competition overseas than in the U.S.?
A: Well, the big disadvantage is the amount of fans they're going to have over there. The whole mojo of having that adrenaline through the fan base is huge. The course that we're playing over there is a Nicklaus design that's only about 4-5 years old. And it's probably not much different from what we play here on tour quite a bit.
So I think our players are going to be pretty comfortable on that golf course; it's not a links course, so that part is less of a disadvantage and sort of plays into our comfort zone.
Q: At the last Solheim Cup, some of the U.S. players were criticized for being too emotional, even boisterous at times. What's your response to that? Are you going to encourage that or would you rather see the players keep their emotions in check?
A: This is one of those tournaments where showing your passion is a plus. Players don't tend to show their passion as much in regular LPGA events. The Solheim Cup ignites that passion and I'm not going to pull back on any reins, that's for sure.
If there's an instance where I felt like something was uncalled for, I'd bring it up, but I'm not going to be pre-warning my players to bring it down a notch, that's for sure. We're going over there to win and we need as much spunk as we can get.
18. And The Winner Is ...
As the two-time defending champion at Pebble Beach, Dustin Johnson was all the rage entering the last tournament in search of a threepeat.
Instead, he failed to break 70 in any single round and finished in a share of 55th place. On the surface, it might appear his lace-it-and-chase-it brand of golf might not suit a ball-striker's paradise like Riviera, but DJ is more than simply a big bomber. He ranks 17th on the PGA Tour this season in greens in regulation percentage and with some shorter holes at the erstwhile L.A. Open, he can throttle back and focus on hitting fairways with a 3-wood more often.
Don't believe it? Just check last year's results, as he posted 64-67-66 in three of the rounds, only falling off the pace with a third-round 74 that eventually left him in a share of fourth place at the end of the week.