Storylines, surprises and some 'stern' advice entering '09 season

Change we can believe in. That was my campaign slogan for the new-look Weekly 18 column for 2009. (Pretty sure it was used somewhere else, too.) Well, the votes have been tabulated, and as you can see by the new and (hopefully) improved format, it's the dawn of a new W18 era. Consider this Inauguration Day for the new regime.
Doug Pensinger/Getty Images
Even Tiger Woods at less than 100 percent can win anytime he tees it up. We learned that little lesson last June at the U.S. Open.
1
One of the questions I'm asked most often during the early winter months is, "So what do you do during golf's offseason?" My answer: "Take the week off."
The truth is, there is almost no offseason in golf. Depending on how the calendar falls, major professional tour events are contested on 50 or 51 weeks of the year. As for the PGA Tour, here's hoping you didn't blink, because just nine weeks after the final putt dropped at Walt Disney World in Orlando, Fla., the 2009 schedule kicks off with the season-opening winners-only Mercedes-Benz Championship on Thursday. I was tempted to present a list of the biggest questions entering the season, but that would have been too easy. After all, these things tend to look the same every year. Will Tiger Woods continue to dominate? Who will step up to challenge him? Which young players will assert themselves as superstars? What's the biggest inside golf story that nobody's talking about? Sound familiar? So instead of simply asking the questions, let me proffer some quick-hitting answers to start off the first W18 of the new year: • Woods will return from injury as the same intensely competitive, dominant player we've seen for years. I'll put it this way: Ever since he was sidelined in June, I've been saying that if he won the U.S. Open on a torn ACL and multiple leg fractures, he can win anywhere, even with less than 100 percent physical health. And from what I've gleaned from Camp Woods, he's been taking a similar stance. Makes sense, doesn't it? • The 2008 PGA Tour Player of the Year result and Official World Golf Ranking be damned -- based on the math, it's possible that Woods will lose his No. 1 ranking before his return -- no player will unseat him as the game's greatest talent. Expect the usual cast of characters to vie for the role of Best Golfer Not Named Eldrick, including Sergio Garcia, Phil Mickelson, Vijay Singh, Padraig Harrington and Anthony Kim. If I had to pick one, I'd go with El Nino, who -- believe it or not -- is the No. 2 player in the world. • Last year was a breakthrough season for Kim and Camilo Villegas. Although I don't see either of them dropping in the rankings, I think they could tread water a bit while some other twentysomethings play catch-up. Not exactly going out on a limb with any of these, but keep a watchful eye on Justin Rose, Aaron Baddeley and Hunter Mahan as the crop of future stars continue their morphing into current stars throughout the year. • Kim and Villegas are among those who will compete more often on the European Tour in 2009. Although the casual fan won't notice their few absences during the season -- hey, they've each played one Euro event already, in case you missed it -- expect this trend to continue among more PGA Tour players. And there are two very good reasons for the trend. First, the Euro circuit can offer appearance fee money, while such practice is verboten on the U.S. tour. And second, playing more international events ensures that these players can grow their personal brand globally. Can't blame these players for making decisions based on this reasoning, but you'd better believe it has PGA Tour commissioner Tim Finchem nervous about what the future may hold.
Something is rotten in the state of Hawaii. I'm not certain where to place the blame, but I know a problem when I see one. And having the top four players in the world eschew the PGA Tour's season-opening event indeed qualifies as a problem.
SportsNation
Have a question about the PGA Tour season that begins this week in Hawaii? ESPN.com golf blogger Jason Sobel will chat live at 1 p.m. ET on Monday to field your queries.
Send Sobel a question
Woods can play his get-out-of-jail-free card this year because he's not healthy enough to compete at the Mercedes-Benz Championship, but he stopped showing up at Kapalua four years ago, so it's safe to say TW wouldn't have made the trip anyway. Coincidentally enough, Phil Mickelson discontinued his participation in the event back in 2001, choosing to spend more time with his family before beginning the season in his hometown of San Diego. It's tough to fault Padraig Harrington, who seemingly plays anywhere and everywhere throughout the year but has never teed it up in the Aloha State. And Sergio Garcia, who owns dual membership on the PGA and European tours, already committed to next week's Abu Dhabi Golf Championship in the United Arab Emirates. I'm pretty sure there's no direct flight there from Maui. It's difficult to place blame on the tournament itself, either. Gary Planos and his staff bend over backward to make it the most relaxed and enjoyable tour stop on the schedule for these players. Well, for the ones who enjoy oceanfront villas and guaranteed earnings, at least. Maybe the fault lies with the PGA Tour, but Finchem is sort of stuck between a volcanic rock and a hard place. There have been discussions to move the season opener back a few weeks, possibly to coincide with the off week between the NFL's conference championship games and the Super Bowl, but the schedule already extends too long as it is (into the middle of November this year). Pushing the MBC date back would require either moving everything else back a few weeks, too, or cutting more tourneys from the annual schedule. Neither affords an easy solution. The end result is the status quo, as the campaign begins for 33 players this week, many more next week, then some more until, little by little and week by week, everyone makes his season debut. It's hardly the optimal scenario, but then again, what is?
3 I wish the start of the golf season were created equally for each major tour. Yes, the PGA Tour season commences this week at Kapalua, but that doesn't mean all levels of golf are under way. The LPGA begins on Feb. 12, the Champions Tour has its first full-field event on Jan. 23 and the Nationwide Tour starts on Feb. 5 with four international events before finally coming to the U.S. in the last week of March.
And then there's the ever-backward European Tour, which began its 2009 season on -- no joke -- Nov. 6, 2008 and already has held five tourneys. Can't we all just get along, people? If the commissioners of each of these aforementioned tours -- three of which are owned and operated by the PGA Tour -- could ever get together and choose a singular date to start their annual schedules, the result would be a bigger splash and a more attention-grabbing debut. Not that any of 'em should be held hostage by the NFL playoff schedule (especially the Euro Tour), but kicking off the year during the off week between conference championship games and the Super Bowl would provide the big bang theory the tours sorely need.
4
I wish the PGA Tour didn't overly reward its previous year's champions. Let's forgo the subtleties and move right to the blunt truth: It's an absolute joke that all the 2008 tournament winners are able to get a head start on this year's money list by cashing a guaranteed paycheck in the limited field. Call it the ultimate rich-get-richer scheme. It's one that wouldn't be tolerated in any other major professional sport. Can you imagine the NFL rewarding all playoff teams with a 1-0 record to begin the next season? Or Major League Baseball issuing an automatic series sweep to its postseason squads at the start of the next season? Of course not, but in essence that's exactly what the PGA Tour continues to do with the current process. The easy solution: Keep the tourney as is and pay the players the same amounts, but don't count the totals toward the money list, instead starting everyone at zero before the full-field Sony Open. The more difficult solution: Open up the Mercedes to at least a few dozen more players -- let's say the next 50 on the previous year's money list not already qualified -- to give the inaugural event more of an inclusionary feel.
5
I wish the PGA Tour would disclose, well, anything. From Player of the Year vote totals to suspensions and fines, the folks at Ponte Vedra Beach, Fla., headquarters keep everything under lock and key, never releasing vital information about such newsworthy items. I've asked the simple question, "Why?" but have yet to hear an answer that makes me believe these practices are more sensible than those of just about every other major professional sports league that makes them public knowledge. I know the Tour wants to protect its players, but it seems as if this measure is strictly counterproductive. If the Tour fines a player 50 grand for swearing in front of TV cameras, isn't there a smaller possibility that it'll happen again if the player gets called out for it publicly? If only 30 percent of the membership votes for postseason awards, wouldn't making the final tally a known commodity be cause for more players to take part in the balloting? In a day and age when news about athletes from other sports leagues constantly scrolls on a bottom line ticker, it's about time the PGA Tour stopped protecting its players at all costs.
6Richard Sterne. There's no scientific way of answering this -- which is another way of saying you can't prove me wrong -- but I'm willing to bet that at least half of you readers see Richard Sterne's name and believe it's pronounced "stern." Not so much.
The dude's name is "STERN-ee," and it's definitely one worth remembering. With victories in each of the past two European Tour events, the diminutive 27-year-old South African has vaulted to 43rd in the Official World Golf Ranking and should qualify for a handful of top U.S.-based events. Last year, he played stateside seven times but never finished better than T-21. Expect a better showing this time around.
7
Davis Love III
. At 44, the 20-time PGA Tour champ likely wasn't seriously considered for the role of 2010 U.S. Ryder Cup captain -- but not because he doesn't own the credentials. No, DL3 will head the team someday, perhaps in 2012 or '14, but for now, he's intent on playing in the biennial competition for the seventh occasion. Although current skipper
Corey Pavin
has yet to determine the points qualifications process and almost certainly won't reward non-major winners during the 2009 season, Love's pursuit could at least receive a strong figurative boost this week, if not a direct one in the rankings. On the heels of winning the final event of last season at Disney, he returns to the Plantation Course, where his Mercedes-Benz record shows three top-10 finishes in four starts as well as two victories at the erstwhile unofficial Kapalua Invitational back in the 1990s. Don't be surprised to see him in the mix on the back nine this Sunday.
8
Danny Lee
. When Lee became the youngest-ever U.S. Amateur champion last year, the 18-year-old was asked about the prospects of going play-for-pay. "I want to be a professional golfer," he said, "but I want to be a student of college as well." Not gonna happen. Although the New Zealander plans to remain an amateur long enough to live in the Crow's Nest for a week at Augusta National, he reportedly will turn pro shortly after the Masters. The decision is eyebrow-raising only for the fact Lee is essentially turning down a date with Tiger Woods at Bethpage two months later, as the reigning U.S. Open champ and U.S. Amateur winner traditionally are paired together. Regarding such a proposition, Lee jokingly said, "I'm going to beat him." At least I
think
he was joking.
9 Michelle Wie. For the second straight year, Wie won't compete in the PGA Tour's Sony Open -- but this time, her absence won't be because of injury. After receiving sponsor's exemptions from 2004 to 2007, the 19-year-old will not compete in her hometown event at Waialae CC this time around, The Associated Press recently reported.
Perhaps most interesting about this news is that it contradicts some of her recent comments. After qualifying for full-time LPGA status through Q-school last month, she said of continuing to play against men, "I always wanted to do it since I started golf." There will be plenty of time for that in the future, but for now, she may be best served by focusing her energies elsewhere for a while.
10
Lee Westwood
. His entire career has been one giant roller coaster, and Westwood's first two events of the 2009 season have only served as a fitting microcosm. At last month's Alfred Dunhill Championship, his opening day 66 left him 1 stroke out of the lead, but he gradually slipped to 10th, then 13th, then 16th after the remaining three rounds for a disappointing finish. That was only a precursor of things to come one week later, when Westy squandered a two-stroke, 54-hole lead at the South African Open by shooting a final-round 73 to finish T-3. For a guy who owned 10 top-5 results without a victory on the Euro Tour last season and has claimed only two titles since 2003, it's time to start questioning whether he has the mettle to produce during closing time.
11
John Daly
. What? You really thought I could include a "three down" section without mention of the recently suspended JD? There's not much to say about Daly's wasted talent -- and that phrase can be taken a few different ways -- that hasn't been said before, so instead, let's focus on spinning this story forward and examining what the future may hold for the two-time major winner. Short-term, it appears as if Daly will be able to ply his craft only on the European Tour until around May, which wasn't necessarily out of the realm of possibility anyway, suspension or not. Once he returns to the PGA Tour -- or should I say,
if
he returns to the PGA Tour -- Daly will still be allowed to gain unlimited sponsor's exemptions as a five-time past champion. The silver lining for those who remain steadfast Daly supporters? I've always maintained that JD will never be a week-in week-out consistent top-10 player, but he is the type of guy who can MC in 19 straight events and win the 20th. This suspension won't change my opinion.

Eighty-eight players received a "December to Remember" gift in the mail this holiday season, and no, it wasn't a brand new car wrapped with a big, red bow. Invitations to the 2009 Masters were delivered recently, and those who received them included 15 who qualified in the year's final week via their placement within the top 50 in the Official World Golf Ranking.
Among them were potential contenders Justin Rose,
Luke Donald
, Aaron Baddeley and
Rory Sabbatini
, but none excites me more than Northern Ireland's teenage sensation,
Rory McIlroy
. Two years ago, McIlroy was the talk of Carnoustie, opening with a 3-under 68 en route to a T-42 finish at the British Open. He has yet to play his first PGA Tour-sanctioned event in the U.S., but at 39th in the world, he will be eligible for at least the two WGC tourneys -- the Accenture Match Play Championship and CA Championship -- prior to the Masters. He certainly could squeeze his way into a few more fields if he so chooses. "I'm over the moon," said McIlroy, 19, after finishing T-3 at the South African Open last month to clinch his spot. "It's going to be great to drive up Magnolia Lane, it's just going to be absolutely fantastic. … There is just such a mystique about the place. I've watched so many years on television and to actually get there to play, it's going to be great." If Kim and Villegas are considered the next generation of major champions, for now, let's keep McIlroy in the category of next-next generation. He has the stuff to become a Masters champ someday. The journey begins in April.

Here's a weighty decision for those in pick-a-player golf pools in which pros can be used only once throughout the season: Do you choose a lesser-known guy at Kapalua, knowing that he'll at least earn a guaranteed paycheck and hoping he gets hot, or do you opt for a heavyweight and try to start off the year with a bang? My advice: Go with the latter. The Plantation Course has a history of yielding only elite champions -- Daniel Chopra's victory notwithstanding.
Since the tourney moved to Maui in 1999, the champions list has read:
David Duval
, Tiger Woods,
Jim Furyk
, Sergio Garcia,
Ernie Els
,
Stuart Appleby
, Stuart Appleby, Stuart Appleby, Vijay Singh and Chopra, who defeated
Steve Stricker
in a four-hole playoff last year. My pick to click is Singh, who is about as hot as any pro golfer can be this time of year. After claiming the FedEx Cup, Singh took the increasingly prestigious Chevron World Challenge a few weeks ago. The notorious workhorse was later asked whether he planned to hit the practice range on Christmas Day and replied, "It's the best time to hit balls. There's nobody on the golf course." No rest for the weary. And unlike the rest of the Mercedes field, no rust, either.
Lana Lawless should be stripped of her title at the RE/MAX World Long Drive Championship.
In case you haven't heard
this story
, here's a quick synopsis: Man likes golf. Man becomes good at golf. Man becomes woman. Woman wins title. Ho-hum. Just your ordinary, average, run-of-the-mill boring golf story, huh? The first purveyors of the official Rules of Golf might not have planned for such an occurrence, but surprisingly enough, it's actually not the first time we've had this debate. And really, there's nothing to debate anymore because precedent has already been set. Mianne Bagger, a native of Denmark who was born a man and underwent gender-reassignment surgery in 1995, is currently a full-time member of the Ladies European Tour. This past season she made the cut in 12 of 19 appearances, posting a season-best finish of T-17 at the Tenerife Ladies Open. It was her development at the professional level that in 2005 led the Ladies' Golf Union and USGA to each rewrite rules that would allow players to compete under their current gender rather than the one at birth. (The LPGA has yet to acquiesce, meaning this could become a huge story stateside should Bagger ever decide to play on that tour.) As for Lawless, she won fair and square. As one of her competitors said, "The USGA approved transgender involvement in competition, so I don't see how we can dispute this." They can't. Golf is a game of rules. As long as Lawless adhered to those rules and isn't found guilty of changing her gender simply for the sake of winning women's tournaments, I have to rule in favor of the defense on this one. Consider the above statement fiction.

"He's common folk just like we are. He's just like his daddy, I think. I met his daddy before, a couple times. Like his daddy told me at the Ryder Cup, he said, 'Son, you act just like my son.'"
-- Boo Weekley on President George W. Bush.
Not to get all political on you, but hearing that Weekley and Bush act alike could explain an awful lot, don't you think? One more thought to ponder: After turning the Valhalla gallery "red, white and Boo" with constant chants of "Boo-S-A," this new information could lead to three words never before considered possible … President Boo Weekley. Hey, we can dream, right?
Eight.
That's the number of top-10 finishes for Vijay Singh in nine appearances at the Plantation Course, with the lone disappointment coming in the form of a T-12 last year. Meanwhile, the remaining 32 players in the field have combined for only 22 top-10s at Kapalua in 44 total starts, none with more than half as many as Singh. • Want more stats? Try the
Golf Stats Blog
.
Welcome to the section of the column that will answer one reader e-mail each week. Or more than one, depending on how many timely, pertinent, thought-provoking and -- most importantly -- entertaining e-mails I receive. Could be a lot more than one. Of course, because this is the first week of the year, my inbox is currently empty, so I'm going to change up the rules just a bit. For this week only (and maybe others, if no reader e-mails are up to snuff during a given seven-day period), I'll ask the question and post the best response. This week's query is timely in that it revolves around my holiday movie-watching schedule. Call it art's failure to imitate life -- and it's been bothering me for a while: How come the PGA Tour commissioner invited playing partner Shooter McGavin to the private meeting with Happy Gilmore during which the latter was eventually issued a suspension? Even if Shooter were a Player Advisory Council board member, it doesn't add up. I mean, let's say John Daly smashed a fan's camera, which actually happened recently at the Aussie Open. Sure, I'd expect the commish to confer with his playing partners because they were character witnesses, but when the time came to punish JD, the other players wouldn't -- and shouldn't -- be present. (And I'm speaking hypothetically here; Daly wasn't reprimanded by the Australian Tour and never met with Finchem before being suspended by the PGA Tour.) As one colleague said when I mentioned my distaste for the Gilmore meeting, "THAT'S where you're choosing to suspend disbelief?" Yup. For some reason, the whole driving the green thing and no-collared-shirt rule and random guys assigned as caddies and putts banking in off TV towers didn't bother me as much as this. So, what's your take? And remember to submit some non-"Happy Gilmore"-related questions for upcoming W18 columns, too, at
Jason.Sobel@espn3.com
.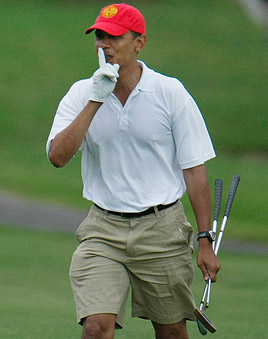 AP Photo/Gerald Herbert
The PGA Tour's best aren't the only golfers who will begin the season in the Aloha State. President-elect Barack Obama made a much-ballyhooed return to his native Hawaii, teeing it up with friends on a few separate occasions just three weeks prior to Inauguration Day. (Interesting note: Although he's ranked only No. 8 by Golf Digest among the 15 presidents who have played golf, Obama is ninth on the all-time PGA Tour victory list among southpaws, tied with the likes of
Bubba Watson
and Nick O'Hern at zero. Those above them include Phil Mickelson (34 career wins),
Mike Weir
(eight),
Bob Charles
(six),
Steve Flesch
(four), and
Sam Adams
,
Ernie Gonzalez
,
Russ Cochran
and
Eric Axley
with one apiece.) Actually, my reasoning for choosing this photo was twofold. First, during a period when all major professional golf tours were dark, there weren't too many other options. Second, it gives me a chance to empty the notebook with a story that
Dean Wilson
-- another Hawaiian -- told me last summer: "We were doing a shoot for Golf Channel, and we went over to a course I grew up at to do a clinic with the kids. And Barack was getting ready to tee off; he and a friend were sitting there waiting to get called on like everyone else on the waiting list, so that was kind of cool. I didn't really know who he was; I don't follow politics. … The lady who was working with me is a member at Waialae, and we were going back and forth on topics about and the politics there, and then she said, 'There's Barack Obama. He could be the next president.' And I said, 'President of Waialae?' She's like, 'No, president of the United States.' So that was pretty funny."