Despite odds, Fujikawa stands tall

This edition of the Weekly 18 starts with an apology. A sincere "I'm sorry" goes out to Zach Johnson, who won the Sony Open on Sunday. And another one is aimed at Paul Casey, who claimed the Abu Dhabi Golf Championship.
Stan Badz/Getty Images
Tadd Fujikawa might have finished T-32, but his ear-to-ear grin all week at the Sony Open won't be forgotten anytime soon.
On most weeks, fellas, if you take the trophy, you'll also take honors for best story, too, receiving more headlines than your peers for some quite obvious reasons.
Not this week.
Not when an 18-year-old kid named Tadd Fujikawa momentarily seizes a share of the lead in his hometown PGA Tour event by shooting a third-round 62. No matter that he faltered to a share of 32nd place when all was said and done Sunday; Fujikawa had already left another indelible mark in the professional ranks.
Don't worry. We'll get to Johnson and Casey elsewhere in the column, but the W18 begins by examining the infinitesimally small odds that a kid named Tadd overcame to play so well this week.
We've all heard tales of athletes prevailing over definitive setbacks, encountering stumbling blocks and clearing them with surprising efficiency.
I'm not sure many of these stories are better than that of Fujikawa, who wowed the crowds once again at Waialae. How much has he had to overcome? Let us count the ways.
• He's 5-foot-1 and weighs 110 pounds. Contrarians may contend that it's not as if Fujikawa has to play middle linebacker and physically take down his competition, but in today's power game, which features so many bomb-and-gougers, being a little guy is more disadvantageous than ever before. Just ask Corey Pavin or Fred Funk.
• He's only 18 years old. And he's not even an old 18, if that makes any sense. Fujikawa celebrated his birthday exactly one week before the opening round of the Sony. If you don't think his title contention was improbable, try this fact on for size: The PGA Tour record for youngest player to win a tourney was set 98 years ago, when Johnny McDermott won the first of his two U.S. Open titles. Fujikawa is one year, 10 months and two days younger than McDermott was when he set the mark.
• Fujikawa was playing in front of the hometown crowd. Sure, it's always an advantage to compete on a familiar course and sleep in your own bed, but there are a lot of pitfalls for those playing at home. First, the course is going to be prepared much different than it is for those weekend rounds with buddies, with tighter fairways and slicker greens. Second, there are always more responsibilities in these situations, from finding tickets for family and friends to increased media interviews. Just ask Parker McLachlin, who practically grew up on the course at Waialae and granted myriad interview requests during the week, then swooned to a second-round 77 -- tied for worst in the field -- that left him well off the cut line.
• He wasn't given a sponsor's exemption. Can't say I understand the reasoning of those from Sony who deemed the hometown hero unworthy of receiving an exemption, but Fujikawa instead had to go the old-fashioned route. Three days before the opening round, he Monday-qualified by shooting a 67 at Turtle Bay's Palmer Course. He not only earned his way into the field, he earned some recognition from his peers.
"I think after I Monday-qualified, I had a lot more respect from a lot of the players," he said. "Well, that's the feeling that I got. I can tell you, it's a good feeling knowing that they kind of accept you, and I feel I belong here, I really do."
• He has nowhere else to play. For most players, the end of one tournament only signifies the beginning of another, as the week-to-week grind of Tour life is a never-ending cycle. But Fujikawa not only doesn't own PGA Tour status, he's not exempt on any tour, anywhere. He plans to complete high school this spring before trying his hand either in Japan or on the mini-tour circuit, perhaps with the Tarheel Tour.
• He didn't get off to a strong start. It's one thing to start strong and then tread water while remaining on the leaderboard throughout the weekend. It's quite another to shoot 71-69, make the cut by 1 stroke, then go superlow on Moving Day with an 8-under 62 that Fujikawa claimed could have been a 59 with a couple of more fortunate breaks.
Whew. That's a lot to overcome, but it's not even the half of it. Those golf-related obstacles that Fujikawa faced have been only minor speed bumps compared with some harrowing issues in his personal life.
• He almost didn't survive. I'm not talking about surviving the Monday qualifier or making the cut. He almost never made it out of the hospital.
Fujikawa was born 3½ months premature, weighing less than 2 pounds. As his family has often said, he was so small that he could fit in the palm of a hand in those early days. Doctors gave Fujikawa a 50-50 chance of survival -- though even that may have been an optimistic interpretation -- but day by day, he matured to the point where he was out of danger and strong enough to survive.
• His father is facing some weighty legal issues. While Fujikawa was making waves as an up-and-coming junior golfer, his father, Derrick, was battling drug addiction. In July 2008, months after checking himself into a rehabilitation clinic, Derrick Fujikawa was indicted on drug trafficking charges for distributing methamphetamine on two occasions in an undercover police sting. He is currently free on $50,000 bail, but could face decades in prison if found guilty at a Feb. 3 court hearing.
"I cried," Derrick Fujikawa said of the situation in an exclusive interview with The Associated Press. "It was a sad time for the whole family, not just Tadd."
As for Tadd, he has felt the effect of such circumstances -- even if it doesn't always show on the scorecard.
"I just want to focus on my game," he said. "It does have an impact on me because it's my family. It's tough. Everyone has ups and downs, and you just have to take it as it comes. Every day is different. There are good days and bad days. It just makes me want to work harder."
And it may make golf fans want to root harder for him, too. Consider his comments after a disappointing final-round 73 that dropped him 26 places on the leaderboard.
"It just shows that I can do it," Fujikawa said of his title contention in a Golf Channel postround interview. "I qualified and then made the cut and then put myself in contention. If I can keep doing that, sooner or later everything will work out."
For Tadd Fujikawa, everything usually does.
1Paul Casey. Every year, it seems like a few European Tour stalwarts defect to the U.S. in search of bigger payouts and better preparation for three of the four major championships. Maybe not for an entire season, but at least 15 weeks -- enough time for these players to take up full-time PGA Tour membership.
In 2009, however, it's been quite the opposite. Players like Anthony Kim, Camilo Villegas, Boo Weekley, Geoff Ogilvy and Robert Allenby have become affiliate members in Europe, but none have gone the other way who hadn't already done so in the past.
For the second straight season, Casey has been among those players who own dual status on both major tours, and while his Euro Tour record is that of a burgeoning superstar -- he earned his ninth career international victory in Abu Dhabi on Sunday -- his PGA Tour results have left something to be desired. Last season the 31-year-old Englishman earned four top-10s in 16 starts, though none better than a share of seventh place.
But forget the past and look ahead to the future, golf fans. Casey's first win in the U.S. is only a matter of time for the Scottsdale, Ariz., transplant who went to school at Arizona State. He's a proven winner, and if you don't believe me, just read this shocking (well, shocking to me, at least) fact that was included in the final-round write-up on the European Tour's Web site Sunday:
"The win also makes Casey the fifth-most successful English player in European Tour history -- only Nick Faldo, Lee Westwood, Mark James and Howard Clark have won more events."
The fifth-most successful English player in European Tour history …
Those are a lot of players, and that's a lot of history, that Casey has passed in quite a short time. Don't be surprised to see him in the mix again at Augusta National, where he already owns three results of 11th or better in four career starts.
This week, his birdie percentage on par-5 holes was an astounding 81 percent (13-for-16). Those are the kind of numbers that win green jackets. Just ask Zach Johnson.
2 Oliver Fisher. I cannot tell a lie: It's always a bit disconcerting trying to differentiate Oliver Fisher from Euro Tour cohorts Oliver Wilson and Ross Fisher. (To complicate things even further, all three players finished at 8-under in a tie for 37th place this week in Abu Dhabi.) Of course, he could do a lot worse than become an amalgamation of his namesakes; the other Ollie finished second on last year's money list and the other Fisher was only four spots further back.
The one and only Oliver Fisher, though, is starting to make quite a name for himself. The youngest player ever to compete in the Walker Cup, he is now playing his third full season at the tender age of 20. (Wanna feel old? You need only check out Fisher's birthdate: Sept. 13, 1988.)
After coming in at No. 51 on the Euro Tour last season, he was 62nd going into Abu Dhabi, where he was in contention for the title through 54 holes before sinking like a stone with a final-round 75. It was a disappointing conclusion to a promising start, but it should be only a matter of time before Oliver Fisher joins the other Olivers and Fishers among the Euro Tour's top players.
And while we're playing the name game, take a look at these coincidences: Peter Hanson, Anders Hansen and Soren Hansen (no relation) each finished among the top 15, while Paul Lawrie and Peter Lawrie (no relation) both came in at T-20.
3 Geoff Ogilvy. Last week in the W18, I brought up one of the more intriguing early-season stats we've seen in a long time: Of the previous eight winners of the Mercedes-Benz Championship, only three have gone on to win another tourney during that year, with none winning more than once and none winning a major championship.
No Letdown

When Geoff Ogilvy wins, he doesn't sit back and let it get to his head. After his four previous PGA Tour victories, the Aussie has played well in his next start.
| | | |
| --- | --- | --- |
| Win | Next start | Result |
| 2009 Mercedes-Benz Championship | Sony Open | T-32 |
| 2008 WGC-CA Championship | Shell Houston Open | T-2 |
| 2006 WGC-Accenture Match Play Championship | Honda Classic | 2nd |
| 2006 U.S. Open | British Open | T-16 |
| 2005 Chrysler Classic of Tucson | Honda Classic | T-6 |
If those facts are related to a sense of complacency, then it says a lot about some pretty great players, including Jim Furyk, Sergio Garcia, Ernie Els, Stuart Appleby, Vijay Singh and Daniel Chopra. If it's simply coincidence, then it says … absolutely nothing. I asked the "complacency vs. coincidence" question of Ogilvy, the most recent MBC champion, during a Tuesday conference call and he seemed about as flummoxed about the whole thing as I am:
"It's probably just a coincidence. Might be a bit of complacency," he said. "When you get to the top of the money list after one week, you get all excited, maybe you take the rest of the year for granted. Stuart would have been three of those years. He wouldn't have done that. Ernie wouldn't have done that. Vijay definitely wouldn't have done that. Yeah, I don't know. It's probably just a coincidence. Hopefully, I can change the trend so the coincidences go away."
In the first tournament after his win, Ogilvy was close to doing just that, thanks to opening 66-69-68, leaving him 3 strokes back entering the final 18 holes. Truth be told, I wouldn't have been surprised to see the Aussie make it an Aloha Sweep based on his previous results after winning a PGA Tour event (see inset table).
Ogilvy defied those numbers by shooting a final-round 72, which doesn't sound too bad until you realize it dropped him from T-10 to T-32 on the final leaderboard. Was it complacency or coincidence? Well, probably neither one, but don't ask Ogilvy. I doubt he has the answer, either.
Call it the Case of the Hanging Chad -- except that in this case, it was Chad who left himself hanging.
We could go five years before hearing another tale of woe as mystifying as that of Campbell, who qualified for the ultimate "Three Down" moment last week. While en route to the Sony Open from his home in Texas on Saturday, Campbell had a funny feeling he had forgotten something …
"I had actually thought about it on the plane, that there was a chance I didn't commit," he later told The Associated Press. "I found out when I got off the plane."
That's right, ladies and gentlemen. Campbell forgot to sign up for the season's first full-field event, hopped an eight-hour flight over the Pacific and finally figured out -- oops! -- he wasn't in the field.
"It's one of my top five favorite tournaments we play all year," Campbell said. "It's one of my favorite golf courses. That's what [stinks] more than anything."
Actually, what would have [stunk] even more is if Campbell, like so many fans, had chosen himself in a fantasy golf pool at the Sony. Wouldn't have been a bad pick if, you know, he had actually been playing golf; three years ago, he finished runner-up to David Toms at Waialae.
This time, though, Chad left himself with no place to hang for the week.
5Ian Poulter. If Poulter played a team sport, he'd be the guy eliciting angry phone calls from sports radio listeners who wanted him shipped off to another city.
It's not that he's untalented; in fact, it's just the opposite. The guy nicknamed Poults may have so much unfulfilled potential because it always seems like he's engulfed in some kind of drama.
It was about this time a year ago when he told Golf World U.K., "I really respect every professional golfer, but I know I haven't played to my full potential and when that happens, it will be just me and Tiger." Since then, the 27th-ranked player flipped the bird to his ball during the second round of the U.S. Open before later withdrawing with an undisclosed injury, and he later skipped the HSBC Champions tournament because his driver had been stolen and he couldn't get an exact replica to the venue in time for the opening round.
Now comes word that Poulter will undergo eye surgery to correct an astigmatism, which knocked him out of the European Tour event in Abu Dhabi this week before he even teed it up.
"I have been having a problem with my vision in poor light, and my doctors have advised me that I should have this surgery as soon as possible to prevent further deterioration," he said in a statement. "I am relieved that the problem can be corrected with surgery, but very disappointed to miss one of my favorite events on the schedule."
Let's be fair: It's difficult to knock the man for receiving necessary eye surgery, but it's just representative of the distractions that have pervaded his career. When he's on his game, Poulter can hang with the world's best, as evidenced by his runner-up result at last year's British Open and a get-on-my-back performance at the Ryder Cup during which he appeared to be the only European player who was competing with any passion. And, really, the sport could do a lot worse than having a bevy of top players with Poulter's fire-and-brimstone approach to competition.
But like some athletes in other sports you love to hate -- from T.O. to Sean Avery to Stephon Marbury -- it seems like Poulter will never reach his full potential until he battles through all the little setbacks that always seem to pop up, leaving him on the outside looking in when it comes to making the leap into the next stratosphere of the golfing elite.
6 TaylorMade-adidas Golf. Even the most amateur of economists understands that these are unfortunate times in the corporate world, and so it shouldn't be surprising to learn that the financial downturn has seeped into the golf industry as well. In fact, many aspects of the business have taken a hit in recent months, the latest being TaylorMade-adidas Golf, which announced 70 layoffs on Jan. 9.
"We have to align our resources appropriately to meet the unique challenges ahead," said Mark King, chief executive officer and president. "That means taking a variety of critical actions to make our organization leaner and more cost-efficient. We regret that one of those actions is to reduce our workforce, however difficult times require difficult decisions. We're confident that the steps we're taking now will allow our company to remain strong during these turbulent times."
That the company had to endure these cutbacks isn't what earned it a spot on the "Three Down" list. No, it's that two business days after this statement, another was released in which TaylorMade-adidas announced the signings of 17 more current PGA Tour players to its already beefed-up lineup.
While this may be deemed business as usual and doesn't necessarily differ from the other large manufacturing companies, it left the original announcement of layoffs more disingenuous than it originally had seemed. Perhaps TaylorMade-adidas is only guilty of bad PR, but it came across as a disconsolate maneuver during desperate times.
7 I wish I knew exactly what it is in the coconut milk that helps youngsters from the Aloha State mature twice as quickly as their peers from the mainland.
First there was Michelle Wie, who missed the Sony Open cut by a single stroke as a 14-year-old. Then Fujikawa, who shocked the golf world when he finished T-20 at the age of 16 (and did so again this week, just days after his 18th birthday). And now comes Lorens Chan, 14, who qualified for the event and shot a respectable 72-75, but failed by 6 strokes in his attempt to become the youngest player to ever make a PGA Tour cut.
(How green was this kid? Here's what he told Golf Channel prior to the opening round: "Yesterday, I did wear shorts. Someone told me that I can, but one of the PGA Tour staff said that I should wear pants throughout the week, so I got them today." Note to the commish: If any players qualify for tourneys who are so young that they're unaware of the pants-only policy, let 'em slide.)
Toss in the likes of Kimberly Kim and Stephanie Kono (as well as a few others I'm probably forgetting right now), and it becomes clearly evident that there's something going right in the 808. And don't insult me with the weather explanation; kids from California to Texas to Florida get the same advantages of a 12-month golf season, and despite a much larger subsection from those states, there hasn't been as much recent success in their midteen ranks.
Speaking of the land of sugarcane and rainbows, here's a bonus wish before the Tour heads to the continental United States: I wish all of the unfounded talk about how the PGA Tour shouldn't start its season in Hawaii would just go away until there is some legitimacy to it -- if and when that ever happens.
Now don't get me wrong: I'm all for pushing back the schedule a few weeks to avoid the beginning of the season coinciding with the NFL playoffs. As I've mentioned in this column previously, though, that's a much tougher task than simply sliding every event two to three weeks further back or -- as in the above scenario -- lopping off the first two tourneys of the year.
From what I've gleaned, the foremost problem most dissenters see with the current schedule is that the Tour can no longer convince cash cows Tiger Woods and Phil Mickelson to put a little extra fuel in the private jet to come compete in Hawaii. Oh well. Those guys aren't going to be around forever; the Tour would be doing a great disservice to its membership if it ever pandered to its top players by succumbing to this suggestion.
And then there's this news flash: The season could start with back-to-back tourneys at Isleworth and Grayhawk, but that doesn't mean Tiger and Phil would show up to those either.
Like the rest of us, it seems they'd rather sip mai tais in the dead of winter while watching the whales breach and the palm trees sway on the ol' hi-def TV. Let's hope those sights stick around for a while.
8 I wish there were a better cutoff point for making PGA and European tour players eligible for the World Golf Hall of Fame. Currently, any player who is 40 years of age and owns at least 10 career professional victories is placed on the ballot -- and that includes plenty of guys who aren't exactly the retiring type.
There was a lot of discussion last week surrounding Jim Rice, who made it into the Baseball Hall of Fame in his 15th and final year of eligibility. Why, the dissenters asked, wasn't he HOF material for the past 14 years but suddenly became a more popular selection? Such debates are even more curious in the world of golf, where a candidate may still be serving time as an active player while being eligible for induction.
If 40 is the new 30 for golfers, then this eligibility rule is akin to opening Cooperstown to baseball players only halfway through their major league service. This year's ballot, which was announced Monday, lists the names of newcomers Darren Clarke and Kenny Perry, who are hardly finished putting together their résumés; they combined to win five titles on their given tours last season. Meanwhile, returning candidates include Colin Montgomerie, Davis Love III and Jose Maria Olazabal, none of whom are quite ready to hang up the soft spikes just yet, either.
Those last three players will -- and should -- be Hall of Famers someday. But they haven't received the 65 percent vote necessary for enshrinement (50 percent if no one else is voted in). That's a smart move by voters. Why pencil 'em in now when you can wait and see what their career totals will be in a few years? And it's a silly rule for the WGHOF. Why place pros on the ballot who are still very much competitive? Hey, someday they're going to get burned by having an active player eschew his induction in favor of taking a seven-figure appearance fee to play in an overseas event. Oh, wait -- that already happened when Vijay Singh took a one-year pass in 2005.
My take: Increase the age minimum for inclusion on the ballot to 50. Or even 55. By then we should be able to view a player's entire body of work and make a conscious decision whether he is worthy of being in the Hall or not. Either that, or take a page from the women's game, which offers induction based on a points system. We may lose the interesting debates, but we'd gain a better sense of perspective and accomplishment.
9 I wish the LPGA's top players would realize a good thing when it comes their way. Late last month, the tour announced a sanctioned exhibition event to be played Jan. 24-25 in Brazil. According to reports, with home-country stars Candy Hannemann and Angela Park, plus a Brazilian amateur already in the field, players from the top of the 2008 money list down were asked to fill the remaining dozen slots -- but only one of the top 13 committed to the event.
Hey, what's good for the gander is good for the goose, right? If we can criticize the likes of Padraig Harrington, Sergio Garcia and Phil Mickelson for taking a pass on the guaranteed paycheck, oceanfront villas and calm, cool atmosphere of Kapalua, then let's do the same for the women of LPGA fame who say "No thanks!" to an all-expenses-paid trip to Rio de Janeiro, in which even the last-place finisher will receive a five-figure payday for partaking in 36 holes.
As one player in the field told me last week, "They don't know what they're missing."
Just spitballing here, but maybe as a reward to those who jumped at the chance the first time around, the LPGA should give them first dibs at the opportunity next year, too.
Colin Montgomerie should be named Europe's next Ryder Cup captain.
In case you haven't been paying much attention to the ongoing consternation over the 2010 captaincy situation on the other side of the pond, let me clear it up for you: Sandy Lyle, the only member of the continent's Big Five of the 1980s and '90s (with Nick Faldo, Seve Ballesteros, Ian Woosnam and Bernhard Langer) who hasn't led the team, was an early candidate. Same goes for Woosie, who led the Euros to victory in 2006 and would be at home in his native Wales. Then there was Jose Maria Olazabal, a seven-time team member who emerged as a front-runner in recent months.
And so it stands to reason that, according to reports, when the committee makes its final decision on Jan. 28, the likely captain of the next team will be … Monty!
Allow me to digress for just a minute from the topic at hand and examine the process itself. While the PGA of America quietly -- and I mean almost at a whisper -- announced Corey Pavin as its next captain last month, the Europeans have made major headlines internationally with their elongated indecision.
What a difference three days can make.
Prior to the 38th Ryder Cup at Valhalla in September, the United States was Team Disarray, searching for explanations and excuses for five losses in the previous six editions of the biennial event. Meanwhile, the Europeans coolly had everything figured out, from how to win the matches to how much Guinness they'd need for the victory celebration. Apparently these roles have been reversed for the time being, which may speak more to the confidence that a victory inspires than anything else.
With that in mind, after all of the cogitation and deliberation since September, those representing Europe seemingly will get it right if and when Montgomerie finally is named to lead the squad at Celtic Manor.
At 51, Faldo was deemed by some to be too far out of the loop with his players and too far removed from his own playing days. That sort of negated the previous conventional wisdom, which said Monty was the favorite to captain the team when the Ryder Cup comes to his home country in 2014, since he will be -- you guessed it -- 51 at that time. And you'd better believe the Euros want Monty on home soil rather than throwing him to the gallery wolves here in America, many of whom haven't been so kind to him in the past.
As for the other candidates, Olazabal presumably will get his chance in 2012 at Medinah (it wouldn't surprise me if, much like the dual appointments of Woosnam and Faldo some four years ago, this were announced along with Montgomerie's captaincy in a few weeks); Woosie won't get another shot; and Lyle will forever remain without a chance -- the European version of Larry Nelson.
And you know what? It took long enough, but it all makes sense. The above statement is FACT. We'll know soon enough whether the European committee agrees.
Jason Sobel is a golf writer for ESPN.com. He can be reached at Jason.Sobel@espn3.com.

In the days and weeks after Zach Johnson won the Masters two years ago, I was often asked to predict the long-term status of the self-proclaimed "normal guy from Iowa."
Was he a challenger to Tiger Woods' reign as the world's best golfer? Was he a one-hit wonder who would never be heard from again?
Neither, I'd respond. He's somewhere in the middle. And then I'd bring up the name of a player whose game, style, mental approach and talent level I believed best matched that of the guy with the green jacket.
That player? David Toms.
In my eyes, it's high praise anytime a young player -- Johnson was 31 when he won at Augusta National -- can be favorably compared to a longtime veteran with a dozen victories and his own major title to his name. Throughout his career, Toms has been the type of guy who never led the money list but would win a tourney or two each year, contend at a few others, could land on the leaderboard at a major venue that wasn't playing too lengthy, and was always a reliable member of the Ryder Cup team.
And so it was kind of eerie watching Johnson and Toms go toe-to-toe -- while paired together, no less -- down the stretch at the Sony Open on Sunday. Johnson defeated by 2 strokes the man who could be his professional doppelganger (along with co-runner-up Adam Scott) to earn his fifth career title and second in his past six starts.
"I was just encouraged with the start of the year, I was encouraged with where my game was going into it," Johnson said after shooting a final-round 65. "I don't think I needed to win, but I tell you what: Just knowing that the work I put in, the progress I've made, the instruction I've had with my coaches and their stubbornness to turn me around, I'm very thankful. It's been a lot of work, but that's what I like -- the process and the road to this is enjoyable."
Of course, his own personal Road to Augusta was already paved for life -- and no, Johnson can't sell off the exemption that comes with victory to one of his peers (like Toms) who still isn't in the field. After his sublime performance this week, all Johnson can do is hope for April 9 to get here as soon as possible.

John Shearer/WireImage
Are Adam Scott and actress Kate Hudson an item? I'll leave that for the tabloids, but the two were caught canoodling (love that word, but don't often get a chance to use it in the W18) at Kapalua as she followed him from outside the ropes.
"We met here," Scott said during the season opener in Maui. "We have a mutual friend, so we met through him."
This week's edition of The List examines five of Hudson's movies that could also serve as titles for biopics on Scott -- and I didn't even include the 2000 flick "About Adam" because, well, it was just too easy.
5. "You, Me and Dupree." When Butch Harmon has trouble getting his prized pupil focused in glitzy Las Vegas, they travel to the small town of Dupree, S.D., where wacky hijinks involving swing planes and right-arm supination ensue.
4. "How to Lose a Guy in 10 Days." Follow Adam as he travels from a PGA Tour event in the United States to a Euro Tour event in the Middle East to his home in a remote 200-person village in Switzerland all in the span of a week and a half.
3. "Fool's Gold." In this tragic tale, a young golfer emulates the famed swing of Tiger Woods, but to much less critical acclaim.
2. "200 Cigarettes." Playing in a threesome with John Daly and Angel Cabrera, Adam is forced to burn his clothes after the round.
1. "Almost Famous." The puzzling story of a talented professional golfer who wins the Players Championship and Tour Championship, then disappears during majors.

As the winner of 29 career PGA Tour titles, including six major championships, Lee Trevino was a Hall of Fame talent, yet it was his larger-than-life personality that most endeared him to fans.
Never at a loss for words, Trevino still has a sharp tongue at age 69, nearly 25 years removed from his last career victory, at the 1984 PGA Championship. I spoke with him Thursday about a handful of issues surrounding the game.
Q: Let's start with an easy one: Where do you see the state of the game right now?
A: Well, I'll tell you what: Times are going to be pretty tough. I think they've missed Tiger and they've missed him a lot. You know, the jury is still out on what's going to happen in the future, but times are tough. I wouldn't want to be Tim Finchem right now, especially if he's got some negotiating to do. But I think that if Tiger gets back to the form that he left on, I think it will be very healthy.
Q: If you were Tim Finchem, what's the first thing you would change about the PGA Tour?
A: I would make it mandatory to play once every three years, every tournament. I tried to get that rule passed in 1973, and they wouldn't go for it. But if Finchem ever thought about doing it, this might be the time, especially if times are going to be tough and it's going to be pretty hard to talk a sponsor into signing up for three years. Generally, they have three years when they sign up for the tournament. It would be pretty good if a guy came up and put in all of his money and Tiger Woods was guaranteed to play at least once. I think that it would make the job for Finchem a lot easier. I would make it mandatory that you have to play every tournament one time every three years.
Q: The only potential risk is that a guy can say, "You know what, I don't need the PGA Tour anymore. I'm not going to be a member."
A: Well, let me tell you something: Golf is much bigger than any one individual. Believe me, it'll survive. They said it wouldn't survive when [Ben] Hogan and them retired, they said it wouldn't survive when I finished and [Jack] Nicklaus finished and [Arnold] Palmer finished and [Gary] Player finished. And then here comes John Daly, and then here comes Tiger Woods, and before you know it, they'll get somebody else. Golf is much bigger than any individual, believe me.
Q: Speaking of Tiger, I know you played through injuries for much of your career. What will it take for him to return at the same level, if not better?
A: Well, the only way that he's going to get better, in my opinion, is he's going to have to change his swing just a little bit. He's going to have to relax that left knee at impact. He locks that left knee, which gives him a tremendous amount of speed -- lower body and upper body. And he swings so hard with his upper body -- what, 130 mph? -- that the only thing that will slow his swing down is his left knee. And that's why he's had surgery on that knee [three] times. If he doesn't make one of those changes, I'm afraid he might blow that thing out again.
Q: How tough is it to play golf through those injuries?
A: Well, Tiger's sights are a little bit different than most people's. Tiger has his sights on winning major championships. He's won 14. He needs five to break Jack Nicklaus' record. If he injures it again, it wouldn't surprise me if Tiger Woods retired. I don't think that he would play just to play, to finish top-10, top-15. That's not in his equation. He won't do that.
Q: How much PGA Tour golf do you watch these days?
A: Well, I haven't watched any because Tiger hasn't been playing! [Laughs] I'm no different than anybody else. If Tiger's playing, I turn it on to see how he's doing.
Q: Other than the usual suspects -- Tiger, Phil, Vijay, Ernie -- are there any players who have impressed you when you have watched?
A: The one that's talking a big game -- and he seems to be backing it up, though the jury is still out on him -- is Anthony Kim. He looks to me like he's got that spark, he's got that fire in his belly. He wants to win. The only thing I don't like about Anthony Kim is that he chokes down 2 inches on that golf club. When you choke down 2 inches, you have to swing down too hard at it and when you swing that hard, it's very difficult to have finesse for short shots and other workable shots. That's the only thing. I think he'll have to change that swing in 2010 when the U grooves are not there anymore; when they bring out the V grooves, that ball is going to go everywhere.
Q: How much is that going to change the game?
A: It's going to change it tremendously because, you know, we used to learn to play with V grooves, then we went to box grooves, then we went to U grooves. Now they're coming back to U grooves. Well, we learned how to hit shots, OK? These guys, all they've ever played with is box grooves and that's why they try to hit it so hard. With their driver, they try to hit it 350. They don't care if they're in the rough, because they can spin it out of the rough. They're not going to be able to do that starting in '10, so they're either going to have to learn how to play out of that rough with a V groove or they're going to have a tough time.
Q: Is there anyone out there who reminds you of yourself?
A: No, the swings have all changed. We learned to play with mostly lower body, blocking the ball. In other words, we had to keep it straight and make a living. We didn't play for that much money. These guys remind me of Brett Favre -- run and shoot, baby! Just gun it! And that's what they do. They hit it as hard as they can, they go find it and they know that because they have those grooves and the ball, they'll be OK.
Q: How about in ways other than the swing? You were always a great showman on the course. Does the game now lack for personalities or is it the Tour's job to just market them better?
A: Well, I don't think the Tour can market them. You can't make someone that's a very quiet person start talking. You have to understand that if you're crazy and loud and you don't want to talk much anymore, that's fine. You can go from there to there. But you can't go from a very quiet person to one who is trying to tell jokes and everything, because nobody will believe you. I don't think that's going to change. They're playing for so much money that these kids are concentrating too much. In other words, we didn't play for that much; we had a lot of fun. I mean, on the practice tee it was like a carnival out there. We used to needle each other all the time. And I'm talking about Arnie and Jack -- everybody.
Q: Other than taking away the money and have them playing for less again, how do you make it more fun with the guys who are now coming up?
A: Well, I don't know if they're going to learn that. These are all college kids, they were all on a team. You have 12, 13 players on that team and they seem to take their coaches' personalities. I think if you get a crazy coach, then, yeah. Joe Inman just got a job down at Georgia State. Don't be surprised if his guys don't come out crazy. [Laughs] They'll have a lot of fun.
Q: Wouldn't the PGA Tour be a lot better place with some more crazy guys?
A: I tell you, Joe Inman can create 'em, man. He'll have some fun with them.
I also asked Trevino why some of his peers like Nicklaus and Tom Watson were competing in the Wendy's Champions Skins Game this weekend but he was thousands of miles away from the tourney site in Hawaii.
"Are they over there playing? Aw, that's OK," he said. "I've been to Hawaii a couple of times. It's OK. I love it."
"But you can still take those guys, can't you?" I asked.
"Well, I don't know," he said. "They're playing a game over there that I don't enjoy; they're playing alternate shot. Arnie and I tried to get them to change the format to a scramble. You have to understand; Arnie's [almost] 80, I'm almost 70, and we don't hit the ball like we used to. It looks embarrassing on television when our partner hits it 300 and then we lay the sod over it with a wedge!"
When I pressed him, Trevino admitted that he's actually not laying the sod over it as much these days as he'd have us believe. "I'm actually playing pretty well right now," he told me. His secret? Five years ago, Trevino -- who suffered from back problems throughout his playing career -- had lumbar spinal stenosis and had two X-STOP Spacer devices implanted in his lower back, something he credits for his current clean bill of health.
"Man, I haven't looked back since," Trevino said. "When you're hurting, you're not trying to be funny; you want to get the hell away from people. When you're feeling good, man, everything's great."

"He's been dodging me. I keep calling him, he won't call me back. I can't figure out why." -- Paul Azinger
"He keeps calling me collect. What do you expect me to do?" -- Nick Faldo
Golf's most improbable comedy duo was back at it again in the Golf Channel broadcast booth during Round 1 of the Sony Open -- the first time, both said, they have spoken since playing a round together at last month's Father/Son Challenge.
Though their give-and-take was in true midseason form, the usual tweakfest had an unfamiliar overtone as much of the conversation (Zinger was only in the booth for two segments of the telecast) revolved around the recent Ryder Cup.
There was inside information: Azinger told the story of J.B. Holmes seeing a tree limb during Thursday's practice round that was about 300 yards from the tee box and 20 feet high and might impact his ball flight. Ten minutes later, the limb had been removed.
And there were laughs. When Faldo commenced explaining why the U.S. had defeated his European team, Azinger countered by picking up a pen and playfully making a mark on a sheet of paper, saying, "That's excuse number ...?" When Faldo continued, Azinger mocked him by playing the world's tiniest violin.
The hearty repartee wasn't confined to those two segments, however. Though Azinger says he plans to play a full schedule this year, he will join Faldo in the booth for a number of Golf Channel broadcasts throughout the season, starting with the Accenture Match Play Championship in February.
Don't be surprised if he brings up the Ryder Cup a few more times.

During the first non-NFL playoff weekend of the golf season, the game could benefit from some of its biggest names stepping up to help shine a spotlight on the current Tiger-free product.
Ask and ye shall receive, golf fans.
Before jetting off to Malaysia and Australia in the next few weeks, Anthony Kim will enjoy some home cooking in his backyard at the Bob Hope Classic. It's not like AK needs any extra advantages, though; his fairway wood to within inches that set up eagle and a T-2 finish on the final hole at Kapalua may go down as one of the shots of the year by a nonchampion. He still never has finished higher than Woods in a tourney -- a fact that Kim himself didn't know until recently, and one that obviously won't change this week -- but a victory would boost his increasingly high profile. I say he picks up career win No. 3 in the desert.

Let's take a double dip into the prognostication pool this week, since there are likely more World Ranking points available in Qatar (where five of the top dozen players will tee it up) than the Hope.
And there is no player whose OWGR points are worth counting more than Sergio Garcia, as the world's second-ranked man could make a serious run at Woods by claiming a title this week. Coming off a T-8 in Abu Dhabi, thanks to a 67-64 weekend finish, he appears primed and ready to make it happen.
I promise there won't be many events this year in which the W18 goes chalk, but this is one time when it needs to happen, helping jump-start the season for those who have been locked in on the gridiron until now.
This week's e-mail comes from Scott in Steinbeck-land, aka Salinas, Calif.:
Do certain sponsors get to earmark the funds they give to players? Obviously, Nike doesn't direct Tiger how he must spend his millions. But, for example, would it be typical for, say, Titleist to tell Nick Watney that they will pay for his travel for the year up to a certain amount?
Nope, doesn't work that way in the big leagues. Instead, players sign contracts with manufacturing companies or other sponsors that will pay them a certain amount. There may be incentives in which bonus clauses can kick in -- winning a major championship, for example, or even just using certain equipment. But none of this money is earmarked for specific expenses, all of which are the responsibility of the player himself.
In the lower levels of professional golf, though, it works very differently: Sponsors, which can be either companies or individuals, often agree to pay for a certain part of a player's expenses, whether it's hotel accommodations or airfare or even entry fees into events. As for how much the player can spend on these expenses, well, that works on a case-by-case basis and is at the discretion of the sponsor.
As always, hit up the inbox for inclusion in future W18 columns at Jason.Sobel@espn3.com.
5 percent
According to a recent L.A. Times article, "FedEx Corp. cut wages for 36,000 salaried workers by five percent last month …"
Just salaried workers? Whew! It's a good thing this is only applicable to those thousands of employees and not the FedEx Cup champion. It would be an absolute shame if the winner clinched the title at East Lake and was only able to cash a check for a paltry $9.5 million -- 5 percent less than the $10 million that has already been announced.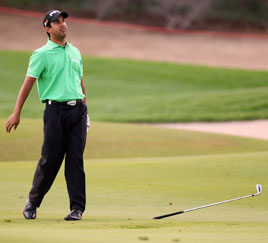 Ross Kinnaird/Getty Images
The above photo of Euro Tour player Shiv Kapur depicts:
(A) A golfer so upset with his approach shot that he spiked his club into the ground.
(B) A golfer so excited about his approach shot that he spiked his club into the ground.
(C) A golfer who obviously doesn't grasp the concept of "going parallel" with his swing.
(D) A golfer who obviously grasps the concept of "dropping it like it's hot."
As it turns out, Kapur's second shot on the par-4 17th hole in Round 1 of the Abu Dhabi Golf Championship couldn't have been all bad, as it led to par on the scorecard. For the week, he would have plenty of reason to throw his clubs both in joy and anger; Kapur made the cut but finished 19 shots off the pace, in a share for 62nd place.