Wie's first victory as a pro inching closer

Well, that didn't take long.
In the first tournament of her first season as a full-fledged member of the LPGA, Michelle Wie once again made headlines by failing to close out her first career victory at the SBS Open. While it can be argued whether Wie lost the tournament as much as Angela Stanford won it, one thing is certain. She once again solidified her place as the sport's greatest lightning rod for debate.
Think about it: Tiger Woods is obviously more discussed, but most arguments are only those in which one party tries to out-superlative another. Phil Mickelson still stirs 19th hole disputes, just not as much as prior to his three major wins. When it comes to the subject of Wie, though, opinions are like wedges: Everyone's got at least three of 'em.
The Weekly 18 starts with the notion that, yes, we still have to practice patience in the increasingly curious case of Michelle Wie.
It was four, maybe five years ago when I first wrote a column about Michelle Wie using the theme, "This is only the end of the beginning, not the beginning of the end." Since then, I've echoed my own sentiments on about a half-dozen occasions and see no reason to deviate now.
Andy Lyons/Getty Images
Michelle Wie had a 3-shot leading during Saturday's final round of the SBS Open. But despite her strong play all week, the 19-year-old came up short, losing to Angela Stanford by 3 shots.
Ever since she burst on the national scene as a 14-year-old, failing to make the cut by a single stroke at the PGA Tour's Sony Open in 2004, Wie has been held to a higher standard than any of her peers. With increased media coverage came increased expectations and the fact that five years later she still hasn't won, well, it's all been the cause of much consternation in golf's inner circles.
Add in the fact that Wie attempted to rise to prominence through less traditional methods, competing in men's professional events each year and eschewing college golf, and it has led some to label her a failure prior to ever concluding her teenage years.
The truth is, Wie's greatest flaw may be the fact that she was born about 10 to 15 years too late.
In today's need-it-now mentality of the Internet age, it's not enough to know that a player owns potential and will see it through someday; the line between the present and the future has been blurred more than ever. Even more damning is that every young player is now held up to the guidelines set by Woods, who raised the bar more in his first year as a professional -- not to mention his first five or 10 years, too -- than almost anyone in the game's history.
Let us not forget, though, that as a young pro, Woods failed on occasion -- most notably in a loss to Ed Fiori at the 1996 Quad City Classic. Need a more fitting comparison? Try Lorena Ochoa. A more recent one? Check out Anthony Kim. Or Rory McIlroy.
The point is, every great player -- or potentially great player -- undergoes growing pains on the road to superstardom. Wie has been toeing the outskirts of that road for a half-decade now, but at 19 she still deserves a wait-and-see attitude that has unfortunately dissolved during that time, if it ever existed at all.
"Every good shot that I hit I'm putting in the positive memory bank and gaining confidence a little bit by little bit," she said after shooting a final-round 73 to lose by 3 strokes at the SBS Open on Saturday. "I feel pretty good with my game. Obviously, right now I am a little disappointed, but I can take a lot of positive thoughts from this week. And I think I know exactly what to work on. I know, like, what I have to do to go to the next level. ... Just missing the trophy by a little bit is going to motivate me to work even harder for the next one."
This isn't the beginning of the end for Michelle Wie. It's just the end of the beginning. The future is closer to meeting the present than ever before. Like Woods, Ochoa, Kim and McIlroy before her, it's just a matter of time before Wie breaks through for that first victory.
2 Dustin Johnson. Though I haven't been able to confirm this yet, I've heard reports that of the 201 total strokes taken by Dustin Johnson at the AT&T Pebble Beach National Pro-Am, not a single one aired live on any of the television broadcasts. If that's true, I've got to wonder whether it's the first time this has happened in the era of televised golf.
Stephen Dunn/Getty Images
Though just 24, Dustin Johnson now owns as many career victories as Anthony Kim and Camilo Villegas.
Though he never incurred the pressure of a final round, never had to hit a shot with the spotlight directly on him, here's guessing that Johnson isn't exactly complaining about simply showing up Monday morning and being handed a trophy -- regardless of what he said one day earlier.
"I don't want it to be called," he said after Sunday's round was washed out. "I'd rather it be played [Monday] than not."
Instead, Johnson didn't have to hit a shot since Saturday, collecting not only the winner's check, but berths in both the upcoming Masters and U.S. Open, as well. Those who don't think such rewards should be heaped upon a player who never had to play a final-round shot with a 4-stroke lead likely won't appreciate this notion, either: It may be time to include Johnson in any discussion about the best player under 30.
He certainly doesn't top such a list, but consider the fact that in just 14 months as a PGA Tour member Johnson now owns two titles -- the same number as theoretical world-beaters Anthony Kim and Camilo Villegas. Johnson and AK also comprise the entire list of players under 25 with multiple wins.
Johnson might not get the same air time as his more popular cohorts -- or, well, any air time at all -- but the kid with the overpowering long game deserves to be mentioned in the same regard, based on his victory total alone.
3 University of New Orleans. Like so many residents of the Big Easy, the members of the UNO men's golf team were forced to evacuate the city when Hurricane Katrina swept through, spending the fall semester of 2005 on the LSU-Shreveport campus. Unlike so many others, though, the experience hardly had an adverse effect.
"We actually just conducted business as usual," Privateers coach Chris McCarter told me this week. "We didn't miss one of our tournaments. We had a lot of driving to do, but it was business as usual and the guys performed admirably."
There was a time, pre-Katrina, when "performing admirably" didn't translate into admirable results for UNO. In 2003-04, McCarter's first season at the helm, the squad finished 29 shots behind the second-to-last place team in the Sun Belt Conference tournament. "We were almost in our own category," the coach says now with a laugh. "We had last place sewn up early."
Despite brief struggles trying to recruit players to the New Orleans area, McCarter has turned the program around in recent years. In that 2005-06 season, much of which was spent displaced by the hurricane, the Privateers finished 2 strokes out of first place at the conference tournament. One year later, the team missed by just 1 stroke, then unbelievably, unimaginably matched that result the next season, too.
Perhaps this will finally be the year UNO breaks through for the elusive victory. The team closed the fall part of its season with a pair of victories and this past week it hosted a tournament for the first time since before Hurricane Katrina.
Held at the team's home course of TPC-Louisiana -- which also plays host to the PGA Tour's Zurich Classic -- the Mardi Gras Invitational featured 15 teams. After Monday's opening 36 holes, though, UNO found itself in fifth place, 10 strokes behind leading Southeastern Louisiana.
"I felt we played just about as bad as we could have. Even though it was our home course, it didn't look like it," McCarter said. "But I also looked at the teams that were ahead of us and I thought we could beat 'em."
Turns out, the coach has a little bit of soothsayer in him. Led by sophomore and eventual medalist Ken Looper -- who shot a final-round 68, the only closing sub-70 total of the day -- the Privateers finished 12 shots better than any other team Tuesday, winning the event by 4 strokes.
And the good news doesn't end there.
The UNO program is already planning to make the Mardi Gras Invitational an annual event -- and McCarter doesn't see a reason why it can't be one of the top tourneys in the country within a few years.
"Why wouldn't it? It's a PGA course. It's very challenging. It's around Mardi Gras, which is an interesting time down here, and New Orleans is one of the great cities of the world," McCarter said. "I must be missing something if that isn't an exciting place to bring your team for a tournament."
4 Title sponsorships. For those who have had their heads stuck in the sand -- or the sports pages -- for the past year or so, allow me to be the bearer of bad news: The country's current economic status is, uh, not so good.
Believe it or not, that goes for golf, too, as there's been plenty of consternation concerning the state of the game on both the professional and participatory levels. While it remains to be seen how many automobile manufacturers, financial institutions and other sponsors bow out in coming months and years, there was good news on this front in the past week, with major announcements coming on both the LPGA and PGA tours.
With the news that the women's circuit had agreed to a five-year partnership with JoongAng Broadcasting Corporation that names J Golf the tour's official Korean media rights partner starting in 2010 also came this announcement, via news release: "JBC also will underwrite an event on the 2010-14 LPGA Tour schedules in Southern California; the venue and tournament name will be announced at a later date. In addition, JBC has assumed title sponsorship rights to the 2009 Phoenix LPGA International Presented by Mirassou Winery; the official event name will be announced in the near future."
In related news, though not a new title sponsor, it was announced that Travelers would extend its naming rights of the PGA Tour's Hartford, Conn., based Travelers Championship through the 2014 season; it was originally scheduled to expire after next season.
"Our sponsorship of the Travelers Championship provides the company with a tremendous opportunity to support the community and continue raising significant funds for local charities," said Jay Fishman, chairman and chief executive officer of Travelers. "It's been an important part of sports history in Connecticut and we're committed as ever to help make it a first-rate event for players, sponsors and the fans."
It will be interesting to see whether other current title sponsors -- not to mention potential future ones -- will see similar upside in hosting a golf tournament during the current economic downturn. For this week, though, both of these announcements should be considered positive spins on what could increasingly become a gloomy situation.
5Anthony Kim. Prior to making his initial appearance at the Malaysian Open, Anthony Kim played a pro-am round with The King -- and I don't mean Arnold Palmer. No, the world's 11th-ranked player teed it up with Sultan Mizan Zainal Abidin, who just happens to be the King of Malaysia.
"I really didn't know I was going to be playing with the king and it was quite an honor," Kim said afterward. "It was a blast to go out there and play a round of golf with him. There is a good chance that he could have beat me today, so he obviously has a good golf game."
Oh, that Anthony! What a joker! And so humble!
Actually, if Kim played as poorly in the pro-am as he did in the tournament's first round, the king probably should have beaten him.
Kim opened with a 6-over 78 that left him 16 strokes behind leader Noh Seung-Yul; the round included nary a birdie and an astounding 39 total putts. That's right -- 39. He had a single 1-putt green and four 3-putts -- not exactly what the tourney sponsors had in mind when they invited the 23-year-old and assumedly spotted him a hefty appearance fee.
Though he came back with a 65 in Round 2 to make the cut, Kim still finished with a disappointing T-33 result -- 10 shots behind another AK from the U.S., winner Anthony Kang.
It reminds me of something Kim said after that pro-am round in regard to the wildlife at Saujana Golf and Country Club: "I saw about 10 monkeys and I wanted to try and pat one of them, but it showed me its teeth!"
It's a shame Kim didn't show his teeth this week, too.
6 Chad Campbell, Carl Pettersson, Woody Austin, Ryuji Imada. Look, I understand the whole independent contractor thing. Players are free to make their own decisions on when and where to play, never obligated to tee it up if they'd rather not.
I also understand the notion of setting a schedule in advance. For both cost efficiency and peace of mind, no player likes to commit to tournaments just before the deadline, living a week-to-week, fly-by-the-seat-of-your-pants type of existence.
And yes, I understand that while the AT&T Pebble Beach National Pro-Am features a few of the world's greatest golf courses, it's not exactly a must-play event due to the oft-cold, rainy conditions and six-hour rounds that come from having a pair of amateurs in every foursome.
Sometimes, though, it pays to assess the situation and make a late decision for reasons below the surface. The AT&T was the final tournament in which players could qualify for the upcoming WGC-Accenture Match Play Championship, with the top 64 in the Official World Golf Ranking reaching the field for that event. Campbell, Pettersson, Austin and Imada -- ranked 68th, 69th, 71st and 72nd, respectively -- all chose to forgo the festivities at Pebble, though, in effect rendering their chances obsolete at playing in the Match Play.
It wasn't like these guys needed to win the AT&T, either; a top-5 likely would have been enough to vault any of 'em into the Match Play field. And what's so important about that, you ask? Two things: On a tour in which appearance fees are against the rules, there's a guaranteed T-33 paycheck for every player who tees it up -- no matter how they fare.
And the nature of the format means there's just as much chance for the 64th-ranked player to win as the No. 1; expect the volatility to only increase on a new venue this year.
Of course, not every player made the same decision. David Toms was among those on the borderline -- he was ranked 66th going into the week -- who played the AT&T in part to qualify for the Match Play.
"It's very important," said Toms, who missed the cut in his first trek to the Monterey Peninsula since 2002. "It's one of those events that has so many ranking points, if you win a couple of matches you can move up pretty quickly. It would be an opportunity for me to make a big jump. If I could get in that field and then have a good week there, [I would] be able to move up to get in the other tournaments that I want to be in."
For Toms, it was worth it to compete in the AT&T just to have a shot at reaching the Match Play, where anything can happen. For Campbell, Pettersson, Austin and Imada, though, the dangled carrot was left uneaten.
7 The celebrity rotation. If you don't think rounds of -- wait for it ... keep waiting ... just a little bit longer now -- six and a half hours (!!) can't wear down the pros, then check out the results of those who played in the celebrity rotation at the AT&T, which as usual featured some of the longest days we'll see in professional golf all year.
There were 60 professionals in the rotation that played Spyglass Hill on Thursday, Poppy Hills on Friday and Pebble Beach on Saturday. Of those, none concluded the third round in the top five (Kevin Chappell was T-6), only four were in the top-30 (Chappell, Charley Hoffman, Tim Clark and Tim Herron) and just a baker's dozen made the official 80-man cut.
Break out the calculator. You'll find that while these pros accounted for 33.3 percent of the field, they made up just 16.3 percent of the money men.
"The pro-am format gets the guys into it," said Robert Garrigus, who was in the celeb rotation this week. "They really enjoy watching us play. You know, we try and make it fun for them. It's kind of hard with me trying to win a golf tournament. I've been in this situation a few times, but not in a pro-am."
Though he blamed neither the long rounds nor the celebrity involvement, Garrigus -- who competed with Vegas.com owner Brian Greenspun -- might serve as this year's poster boy for how this rotation can take its toll on a pro. Tied for third place entering the third round, Garrigus posted a 5-over 77 at Pebble Beach on Saturday, finishing in a share of 39th place after rain washed out the final round.
The other result of the pros in the celeb rotation faring so poorly is that their amateur partners didn't reap any benefits. Of the 25 teams that would have played in the final round, only Chappell/Chris O'Donnell, Garrigus/Greenspun and Will MacKenzie/Dan Archer made the cut.
Phil Mickelson? Blah. Vijay Singh? Eh. Padraig Harrington? Old news.
Another strong field will be on hand for this week's Northern Trust Open, but none of the aforementioned three-time major winners will serve as the tournament's biggest drawing card. Instead, that honor goes to 17-year-old Japanese phenom Ryo Ishikawa, who will make his United States professional debut Thursday and has also received a special invitation to play in this year's Masters.
How do I know he'll have hordes of fans and media following him? The proof is in the pudding -- and the pudding (no surprise) can be found in the media tent. At last count, there were a record 375 media credentials doled out, about 100 of which came from Japanese media -- more than five times last year's total.
And it's all because of Ishikawa.
"We've actually increased the size of the media tent because of the large Asian media that's coming," tournament director Tom Pulchinski told me. "And of course the Los Angeles market does have a large Asian market, so we're looking at some increased attendance as well as increased coverage based upon him showing up."
As alluded to, pre-sales for tickets are "up slightly from last year," Pulchinski reported. Of course, none of it should come as a shock in advance of the debut of "Hanikami Oji," which translates to "Bashful Prince." Ishikawa already owns three career titles on the Japan Golf Tour and finished fifth on last year's money list, which leads me to believe that all of the attention he's garnered is already well deserved.
"The PGA Tour kind of alerted us to that, because they have their finger on that pulse a little bit better than we do here on the local level, so we were not surprised," Pulchinski said. "It's a little bit more than we had expected, but we're certainly prepared and ready to go."
• Though I've been saying for months, purely on a hunch, that I believed Tiger Woods would make his season debut at the WGC-CA Championship at Doral, I'm ready to concede defeat, as it seems like every day there are more and more signs pointing toward that comeback getting started at the WGC-Accenture Match Play Championship beginning Feb. 25. Don't be surprised if an official announcement is made later this week regarding Woods' return in Tucson.
• Of the many reasons why it's a shame the AT&T couldn't be concluded Monday, let's not overlook the potential of live golf ... from one of the world's most stunning venues ... on a national holiday. Mother Nature robbed us of some valuable couch time with this one.
• Two weeks ago, I led the W18 by imploring tournaments to follow the model set by the FBR Open in how to draw attendance. Though I specifically wrote that events need not copy the 16th hole at TPC Scottsdale, one tourney is doing just that, as the New Zealand Open will introduce the short par-4 15th at The Hills course as a "party hole" next month. Believe the hype. "We're going to have a pallet of Heineken sitting just off the green," DB Breweries national sponsorship manager Peter Wills said. "Every player who scores a hole-in-one will get a pallet delivered to their homes, anywhere in the world."
• We should all be forced to undergo suspensions like that of Golf Channel's Andrew Magee. While suspended for reading on the air a fan's T-shirt that had sexual connotations, the former PGA Tour pro competed in the AT&T, missing the cut by 3 strokes. He's scheduled to be back on the air next week.
• There was news this week that the federal government is preparing to spend $300 million of the $838 billion economic stimulus bill on a fleet of fuel-efficient "neighborhood electric vehicles" that resemble golf carts. Don't they know it's always cheaper to walk?
• If the LPGA ever hosts an arm-wrestling tournament, I've got my money on Angela Stanford to reach the finals.
The PGA Tour announced its January ballot for Player of the Month honors this past week. The candidates are Geoff Ogilvy, Zach Johnson, Pat Perez and Kenny Perry -- aka the four guys who won tourney titles in January. Way to go out on a limb, Ponte Vedra people.
• Question of the week that is impossible to answer: Within 24 hours of being born, was Charlie Axel Woods already more famous worldwide than Nick Watney, who was busy winning the Buick Invitational at the same time? No way to measure, but I'll say this much: Watney's never had an article written about him on People.com.
• No one's seen or heard much from Hal Sutton since his unsuccessful stint as 2004 U.S. Ryder Cup captain, after which he retired to develop Boot Ranch in the Texas hill country. But he competed in the Allianz Championship, finishing T-70 on Sunday, and plans to take part in 15 to 20 more Champions Tour events this season. And if he plays well? "Might be more than that," Sutton claims.
• In last week's W18, I reprimanded the LPGA for failing to issue a hard copy media guide this year. Apparently, what's bad for the goose is bad for the gander. Early reports are that the PGA Tour will also only offer an online version of its media guide in 2010. That may not -- and, really, should not -- mean anything to most fans, but if it starts taking me a few extra days to finish this column every week, you'll know why.
The USGA shouldn't let newer courses host the U.S. Open.
For years, the USGA's crown jewel was held only on venues that were known gems; from Pebble Beach to Congressional to Winged Foot, these courses were always a known commodity and never the slightest bit risky.
Recently, though, the governing body has branched out, bringing the Open to muni courses such as Bethpage (2002, 2009) and Torrey Pines (2008) -- both of which were well-received for the sites themselves.
Now the USGA is extending its reach to not to only new courses for its rotation, but new courses in general. Last year, it was announced that Chambers Bay, which just opened in 2007, will hold the 2015 edition of the Open. And for a while, rumors have been flying that Erin Hills, a 2006 design in Erin, Wis., that will first hold the 2011 U.S. Amateur, may be in line for the Open in 2017.
While traditionalists may prefer the old standbys, I say that such new traditions have to start somewhere and it might as well be on what I've heard are a pair of the most breathtaking new sites in the country. Five years ago, the PGA of America gambled on a new place called Whistling Straits; now it's one of the hottest big-venue courses in the U.S.
Bringing major championships to these sites shows foresight and gumption. It may not necessarily be an era of "out-with-the-old, in-with-the-new," but an amalgam of the two will serve the game's best interests going forward.
Former USGA president Sandy Tatum once famously said of the organization's stance on the U.S. Open, "We're not trying to embarrass the best players in the world. We're trying to identify them." They are also trying to identify the best courses -- birth date notwithstanding. I couldn't agree more.
Consider the above statement to be FICTION.
Jason Sobel is a golf writer for ESPN.com. He can be reached at Jason.Sobel@espn3.com.

Last year, three players were granted special invitations to the Masters: Jeev Milkha Singh of India, Prayad Marksaeng of Thailand and Liang Wen-chong of China. This year, just one invitation was handed out; it went to Ryo Ishikawa of Japan.
If you fail to see the trend here, you're just not looking hard enough.
Augusta National Golf Club has made a priority of furthering the sport in Asia, so the recent announcement that the organization, along with the R&A, has created the Asain Amateur Championship should come as little surprise.
It's called tapping into a growth area and none is burgeoning more than that of Asia, which is rapidly producing more players of world-class caliber every year. In fact, the winner of this year's inaugural amateur event will receive many of the same rewards as those who win the U.S. Amateur and British Amateur, namely a berth in next year's edition of the Masters.
"This is an extension of the initiative we announced last April," said Masters chairman Billy Payne, "regarding the use of the Masters name, and reputation, to help grow the game of golf around the world."
"Throughout our 250-year history, the R&A has worked hard to act in the best interests of the game of golf," added Peter Dawson, chief executive of the R&A. "The potential to grow the game in Asia-Pacific is very large and the creation of this championship represents a wonderful opportunity to see the region's talent flourish."
Next stop for Asian golf: Its first major championship title. (Vijay Singh has won three majors, but his native Fiji is considered part of the continent of Australia.) It may be closer than you think. With this initiative, expect the process to only quicken.
I hate "Best Of" lists. They're too subjective; I mean, what's "best" to you may not be "best" to me, so while these things provide great fodder for debate, they can never offer the right answer.
This especially holds true -- in my humble opinion -- for any "Best Of" list of golf courses. Again, this is a matter of personal choice. I always get a chuckle when, say, Pebble Beach rises from No. 5 to No. 6 in an annual ranking. Isn't it the same course it was a year earlier?
With that in mind, this week's edition of "The List" doesn't proffer the "best" courses in the regular PGA Tour rotation, only my personal favorites.
5. Spyglass Hill Golf Club. I'm usually not a big fan of self-mutilation, but I actually sorta enjoyed getting my butt kicked when I played this underrated gem years ago.
4. Harbour Town Golf Links. Quick note to my editor: The only of the five on this list that I haven't seen in person, it would be a perfect place to gather some important post-Masters stories. Please don't make me have to watch it on TV again.
3. East Lake Golf Club. Bobby Jones' course in Atlanta is the definition of old style and the perfect place to conclude the playoffs.
1b. Augusta National Golf Club. In any other world, on any other planet, this would be the clear No. 1 choice, but ...
1a. Pebble Beach Golf Links. Pebble, Augusta. Augusta, Pebble. Don't make me choose! I could spend the rest of my life covering the game on no other courses and die a happy golf writer.

One of the top golfers in the AT&T Pebble Beach National Pro-Am celebrity field, Carson Daly, was coming off rounds of 67-63 (T-7) alongside buddy Jason Gore that put the duo in contention for the amateur portion of the event when I spoke with the late-night talk-show host via telephone Friday evening.
One day later, Team Daly posted a 70 to miss the cut by 1 stroke.
The lesson, as always: Never return my calls.
Q: For most of the celebs in this week's field, the concept of tournament golf is pretty unfamiliar, but you've been competing since you were a kid.
A: It brings back my competitive juices. I just don't get to play as much as I would like to throughout the calendar year, but I always have the AT&T at Pebble Beach earmarked as a week where I want to have my game in decent shape. Unfortunately, it usually isn't. Because I played competitive golf and some of the guys on tour are ones I played junior golf with, I get competitive this week. But I'm here as an invited guest and I'm honored to be here. It's sort of that juggling act; I keep reminding myself, "Hey, you're a guest, just have fun," but I'm playing with guys I played high school golf with and I can't help but want to beat them, too.
Q: I was just about to say it's too bad none of those guys from the Southern California junior circuit ever made a name for themselves in professional golf.
A: I'm telling ya, man. That's the whole thing -- when you're from SoCal, the weather's so great that there's golf all year round. I'm 35. For me and Jason Gore and Tiger, when we were growing up, golf wasn't quite the cool thing to do in Southern California. It was a very surfy environment; Kelly Slater, who is in my group this week, is a [nine]-time world champ. There were really just a handful of us who were dumb enough to choose golf, which wasn't really the coolest sport to play in SoCal, but yeah, those guys have really done well.
Q: I'm guessing that back in the day you never looked at Tiger and said, "This is the guy who is going to make the sport cool."
A: Well, no. Hindsight, yeah, but that's not really fair. He was just so much better than everybody. He was in the flight younger than me -- he's like three years younger -- and he was so dominant, just handily beat his age group. And he beat most of us, even though we were in a different flight. So we always knew he was something special.
Q: Do you remember playing specific rounds with him?
A: Yeah, absolutely. I remember I played with him in Henderson, Nev., at an AJGA event, which for us, being teenagers in Southern California, getting into that was like being in the PGA for teens, if you will. One summer it was probably 120 degrees out and we played a round. I think he shot even and you would have thought he shot an 84. He was, I don't know, maybe 15 and we were all just dying to get off this golf course. I was dying to use my fake ID that my brother had given me and start drinking some beer and getting into trouble. As soon as we got off, I was out of there. And as I was leaving, I looked back and there was a totally empty range except for Tiger and Earl. That was sort of the tipping point. I was like, "Oh, [expletive.] This kid is serious."
Q: Were you ever able to get him out for some trouble, too?
A: Later, yes. But my fake ID actually worked, so I was just happy being there on the weekend. Many years later, though, yeah. I was in Vegas when he had his Tiger Jam for a couple of years. We had a chance to reunite. He wanted to play golf in the morning. I remember his people called and said, "Tiger just wants to go out with some friends." No press, he just wanted to get out there around 6:30. And I was like, "No way am I getting up at 6 a.m. in Vegas. It's just not gonna happen. I'm just getting home at 6 a.m." And they said, "Well, you're the only one who has ever turned him down for a round of golf." But I did a clinic with him and then went back and I think I forced him to have a Bloody Mary at about 10 a.m. while we were playing craps. First time he ever did that."
Q: If you played against him now -- let's say his knee feels OK -- how many strokes a side would he have to give you?
A: He's gonna shoot 64 and I'm gonna shoot 84, so I guess I'd need 10 a side. At least. And he'd have to play one-handed.
Q: You played some college golf; was there ever a thought about trying to earn your card through Q-school?
A: There was. I left college in '92 when I was playing at Loyola Marymount, moving out to Palm Springs to work with my teacher at the time at PGA West. I enrolled at a junior college out there, College of the Desert, and I spent a lot of time with Brent Geiberger and some other guys; this is when Jason Gore and his team was winning the championship at Pepperdine in Southern California, so I had a lot of good buddies who were doing well and I was really trying to give golf a shot. I tried to qualify for the U.S. Open that particular year and didn't make it. And I played in one or two of -- I forget what it was called then -- I guess it's the Nationwide Tour now. It really was an eye-opener on what it would take to go to Q-school, which was some funding that I didn't have and, ultimately, being a 1-handicap or a scratch golfer just wasn't good enough. I realized it just wasn't for me. And then, of course, a guy named Jimmy Kimmel, who was working at a radio station in Palm Springs, got me into radio, which led to my career in entertainment.
Q: Tell me about that U.S. Open qualifying. I read that you didn't just not make it; you shot a big number, didn't you?
A: I did shoot a big number, although I had it going well as I recall. … I think I shot maybe 75 or so the first round. The next nine I was OK and then I made like an 8 or a 9 on a hole and the wheels fell off. I was just completely deflated and knew that there was just no way.
Q: Tell me about caddying at Riviera growing up.
A: Great place. My dad owned the golf shop there for many years, we lived in Santa Monica. I could get out there early. I could do a loop from 6:30 to 9:30 in the morning and make a hundred bucks. I knew the golf course well. I loved to play golf. It gave me my afternoons free. Most of my friends were bagging groceries or had a paper route; they weren't making nearly the money and working all day. So it was a great gig, but it taught me a lot. I caddied for O.J. Simpson for a long time, Marcus Allen, Peter Falk, some of the celebs that were members at Riviera. It taught me a lot about etiquette and the game.
Q: After years of hosting TRL in front of screaming teenyboppers, you should be distraction-proof on the course, right?
A: Well, it's funny, because the first couple of years I played out here at the AT&T, I lived in New York, so I would fly out here on a redeye Wednesday night and basically get to the tee on Thursday with my shoes untied, with two hours sleep, with a Bloody Mary in my hand. When the marshals would raise their hands to quiet the crowd, I would tell 'em to get the crowd going, because I was just so used to the screaming kids at Times Square. It actually is true that I play much better when there's somebody yelling in my backswing.
So this is what it felt like to be Tiger Woods, circa 2000.
OK, so I'm not exactly spitting wins every Sunday, but Mike Weir's second-place finish at Pebble Beach gave me two top-10 selections in the past two events, making my ever inconsistent predictions more unpredictable. (Don't think about that one for too long; you might hurt yourself.)
On to the L.A. ... er, Nissan ... uh, Northern Trust Open -- where my pick to win sounds like some kind of golfer's riddle:

Who owns the second-longest current cut streak on the PGA Tour, has won more than $19 million in career earnings and hasn't seen a winner's trophy since 2001?
The answer is Robert Allenby, whose personal riddle has been thinly veiled as an enigma for quite some time. The Aussie hasn't missed a cut since his first start of last season, as his 27 straight trails only Tiger Woods (and is more than double that of the next-closest player, Sergio Garcia), while including a pair of runner-up finishes in 2008. And yet, since dual victories in both 2000 and '01, he hasn't set foot in a PGA Tour winner's circle; in fact, Allenby hasn't won anywhere since claiming the Australian triple crown in late 2005.
If he's going to win again, it just may happen at Riviera, the site of one of those 2001 victories and a course where he has finished seventh or better in three of the past four years.
That's only a small part of the reason why I'm picking Allenby this week, though. In his first PGA Tour start of the season, expect him to be playing on raw emotion and a little extra motivation, just a few weeks removed from the death of his mother, Sylvia, who lost her battle with cancer.
There's no doubt that a win in L.A. would be the most gratifying and meaningful of Allenby's career. Here's hoping we get a chance to witness it.
"I don't want to get my mother in trouble ... but only a mom could say this. She said I spoiled Annika's last tournament and I kind of spoiled Michelle's first one. So I'm used to wearing the black hat."
-- Angela Stanford after winning the SBS Open on Saturday.
It's a unique perspective, but Mom makes an interesting point. In the final round at Turtle Bay, Stanford came from 3 strokes down with eight holes to play to defeat local hero Michelle Wie, who was competing in her first event as a member of the LPGA Tour. This comes on the heels of last year's 1-stroke win over Annika Sorenstam at the Lorena Ochoa Invitational, which just happened to be the latter's final four-round event as a tour member.
Though each occurrence might be considered a coincidence, Stanford's recent play should hardly be shouldered with such a tag. Since September, her results resemble anything Sorenstam achieved and Wie would aspire to, posting the following finishes, in order: win, T-3, solo second, T-4, win, solo sixth, win.
Listen to Stanford, though, and it appears this may just be the tip of the iceberg.
"I'm just starting to understand how to hit the golf ball and, you know, why it does what it does and how do I make it do this, and how do I make it do that," she said after carding rounds of 65-71-70. "And I feel like the last month, I don't know, I just feel like a kid again just hitting the ball and having fun."
Of course, trying to contend with the red-hot Stanford has been anything but fun. Just ask Sorenstam and Wie.
This one actually came through via my SportsNation chat last week, but it's worth delving into once more. From Brian in Savannah, Ga.:
Do you think golf should have an all-star event?
Coming off the NBA's All-Star weekend, which was preceded in successive weeks by the NFL Pro Bowl and NHL All-Star Game, this is a timely question and one which I've never heard discussed by the powers that be on the PGA Tour.
The easy answer is yes. Anything that brings the game's best players together in a televised, informal setting that would show off their personalities is certainly worth consideration. There need to be a few caveats, though:
1. The top players have to buy into it. The Pro Bowl is less genuine when the elite players skip the festivities. If the likes of Tiger, Sergio, Vijay and Phil decide not to partake, consider the idea dead before it ever lived.
2. It has to be conducted during the season. Skills competitions and other fun-filled events have long been part of the Silly Season schedule. No one watched those and no one will watch this, either, if it takes place in November and airs on tape delay.
3. It can't disrupt the flow of a tournament. If the PGA Tour were to ever decide to play three rounds of an event, then have a day of skills competitions and an "all-star game" prior to the final round, the only question is whether the outrage would be louder from the fans or the players.
So when and how would such an idea work best? I'm just spitballing here, but maybe the tour could finish its opening FedEx Cup playoff event on a Saturday, then have something like this on Sunday of that week, with the game's top players involved in everything from a driving distance challenge to a putting contest, followed by a Ryder Cup-style match.
Got a better idea? Let me have it. I'll post the best ones -- along with another e-mail topic -- in next week's edition of the W18. Hit me at Jason.Sobel@espn3.com.
Check out this consistency: If one player drops out of the WGC-Accenture Match Play Championship before next week, Richard Green will compete in his fifth consecutive edition this year without ever being ranked in the top 40 of the Official World Golf Ranking at the time of the event.
Back in 2005, he was ranked 51st. The next year, he checked in at the exact same number. In '07, he squeaked in at No. 62 and last year he moved all the way up to 42nd.
The lanky lefty also owns the dubious distinction of going one-and-done in each of the previous four instances, never sticking around past Wednesday.
This time around, Green stands at 65th in the rankings. So if a certain No. 1-ranked player doesn't return, Green will be teeing it up in Tucson next week in an opening-round matchup with one of the four No. 1 seeds.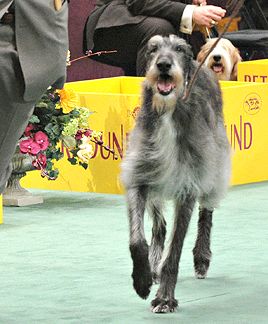 AP Photo/Peter Kramer
Tiger Woods is a dog.
Never thought I'd type that sentence, but it's true. Literally. "Tiger Woods" is the name of a 7-year-old Scottish deerhound -- and much like his namesake, he's a champion. The canine TW won the hound group at the 133rd Westminster Kennel Club Dog Show on Monday.
And no, the name isn't a coincidence.
"I'm a huge golfer," owner Gayle Bontecou said.
So there you go, golf fans. Tiger Woods the dog leads Tiger Woods the golfer so far in 2009 -- one victory to zero. Of course, the canine is presumably working with two good knees, so he does own a slight advantage. (That's right; two knees -- just in the hind legs -- not four. I looked it up!) Here's guessing the golfer will take Best in Show at some point after his return, too.