Goosen's victory might be harbinger of things to come

Allow me to live in the moment by invoking a little March Madness vocabulary to analyze the final result at this week's Transitions Championship:
Cinderella tried on the slipper, but didn't get to dance in the winner's circle in Tampa, Fla.
Among the potential underdog heroes were Tom Lehman, who recently became eligible for the Champions Tour; Brett Quigley, who has competed in 342 PGA Tour events without a win; and Charles Howell III, who is desperately trying to lock up a spot in his hometown event a few weeks from now in Augusta, Ga.
Instead, one of the favorites prevailed with a buzzer-beater on the final hole. Then again, Retief Goosen is hardly a No. 1 seed these days. Once as high as third in the Official World Golf Ranking, he's watched his status slip in recent years.
As the Weekly 18 starts, the most recent champion is peaking just in time for the sport's Big Dance in April.
I would have loved to have been a fly on the wall if and when Ernie Els and Goosen first sat down together behind closed doors for a frosty beverage after last year's Masters was complete.
Sam Greenwood/Getty Images
The last time Retief Goosen found the winner's circle on the PGA Tour? How about August 2005, although he has won since then on the European Tour and other places around the world.
I'm guessing the scene would have been one part celebration, two parts commiseration. You see, last year's green jacket winner, Trevor Immelman, is a fellow South African, but at a decade older and more accomplished, it was always assumed that either Els or Goosen would be the first countryman since Gary Player to bask in the Butler Cabin afterglow following a title-clinching putt. The pedigrees were certainly there; Els owns six career top-10s, including two runner-up finishes, while Goosen has four results of third place or better since 2002 at the Masters.
Though the Big Easy largely remains an enigma, his counterpart -- like the azaleas surrounding Augusta National Golf Club -- is making what is now a perennial bloom at the most appropriate time.
Whether he's playing well in advance or just starting to maneuver his game into a position where he can contend, it seems that Goosen is always in his best form when heading to Augusta. In 2002, he won the BellSouth Classic in the preceding week, then finished solo second, 3 shots behind Tiger Woods. In 2005, he had posted a pair of top-5s in the month leading up to a T-3 result.
The next year, he was second at the Players Championship and T-4 at the BellSouth before again taking a share of third at the Masters. One year later, he was still riding high off a victory at the Qatar Masters when he finished in a tie for second. And last year, he parlayed a T-2 at Doral, in his final start before the year's first major, into a T-17 at the tournament.
And so it should come as no surprise that once again hope springs eternal for Goosen heading toward next month's Masters. His victory at the Transitions Championship comes on the heels of less heralded wins in Malaysia and South Africa in recent months, all of which points to signs that he's ready to contend once again.
"Although they are not big events, I've beat some good players," he said of the prior two victories. "Yeah, you can just keep trying. It's great to be able to be in that position and to actually pull it off."
Goosen, who turned 40 last month, has seen his game regress in recent years. Part of that road to renewal was an added emphasis on his fitness -- which seems to have helped spur the results.
"You know, beginning of last year, I was looking at myself in the mirror thinking, I look a bit out of shape," he recalled. "I just thought, you know, might as well try and turn everything around. Started working very hard in the gym. ... Instead of getting totally out of shape and struggling, I thought I might as well be fit and struggling. So I'd rather feel better about myself."
He's feeling great right now -- and don't be surprised if that confidence carries over to Augusta. Goosen's name may not be the first that springs to mind when discussing the best to have never claimed a green jacket, but he at least deserves to be on the short list, considering his recent achievements at the tournament. And yes, when looking at those who could be the next Masters champion come the evening of April 12, his name should be on that short list, too.
2 Tiger Woods. On the course, the well-oiled machine known as Tiger is still chugging and churning in hopes of reaching a top gear prior to the Masters. Off the course, he's already in midseason form.
Though Woods' schedule is often more predictable than the outcome of a "Friday the 13th" movie, his name was in the news for three separate future events this week, all of which leads to one inevitable conclusion. First, let's recap the news and rumors:
1. As host of the Chevron World Challenge, last year Woods publicly called for an earlier date on the Silly Season schedule. "The date after the Skins Game would be great," he said. His wish was the tourney's command. The event will be contested this year from Dec. 3-6, replacing a previous date much closer to Christmas. The only other possibility? As one ESPN.com commenter suggested: "This [comes] after Tiger threatened to move Christmas back a week."
2. Woods hasn't competed in a professional event in Australia since 1997 ... but that will change later this year. The idea of bringing the No. 1-ranked player Down Under gained a groundswell of support during last year's Aussie Triple Crown; they will now have TW in at least one of their three big events: the Australian Masters. For his part, Woods is simply competing out of the goodness of his heart. Oh, that and a reported appearance fee of somewhere between $3-4.5 million.
3. One standard practice we've seen from Woods when making his schedule is that once a tournament is out of his regular rotation, it almost never works its way back in. And yet, that could be the case for next year's AT&T Pebble Beach National Pro-Am; it was reported this week that not only is Tiger interested in competing in the event for the first time since 2002, he may be behind such crucial changes as field size and replacing one of the event's three host sites.
Tiger's reasons are twofold: Playing at Pebble would give him one last look at the course before returning for the U.S. Open, and AT&T is now the title sponsor of his own Washington D.C.-based tourney and the main logo on his golf bag. Considering the latter, we've got to wonder whether an appearance at Bing Crosby's old event will replace the Buick Invitational, the site of much success for Woods, but no longer a sponsoring company.
Even in a week in which he was coming off a T-9 at Doral, competed for the losing side in the Tavistock Cup and readied himself for Bay Hill and, more importantly, Augusta National, Woods found plenty of time to make some noise off the course, too.
As for that inevitable conclusion? Well, I've always maintained that the game remains bigger than Tiger, but when he wields such power in three very different and -- because of his interest in them -- increasingly important events, it appears Woods is gaining ground every single day.
3 Charles Howell III. Poor Chucky Threesticks.
This must be what it feels like for a Pamplona native to not get to run with the bulls. Or a Louisville-bred jockey to get locked out of a spot in the Kentucky Derby.
Unless he makes a momentous jump in the World Ranking this coming week or wins one of the next two events, Howell will be deprived of competing in his hometown event for the first time since 2001. Wouldn't be such a terrible thing for most players, but then again most players weren't born and raised in Augusta, Ga.
With a victory at the Transitions Championship, Howell would have clinched a spot in next month's Masters field. Instead, he shared a tie for second place with Brett Quigley, 1 stroke behind Retief Goosen, who converted a short but nervy par putt on the final hole to seal the win.
"Well, if Retief's 5-footer lipped out, I wouldn't have cried," said Howell, who shot a final-round 69. "I mean, the [Masters] means more to me than anything. That may be why I haven't played as well as I would have liked to. But frankly, it's just hard to get that out of your head. That it is Augusta. ... I don't think there's a professional golfer in the world that wouldn't like to play that golf tournament. And so, yeah, it's in my mind. It was in my mind today."
Much like Davis Love III and -- to a certain extent -- Fred Couples before him, it's almost as if CH3 gets less credit for what he's accomplished than others of similar status because the original expectations were so great. He was the AJGA Player of the Year and an NCAA champion as an amateur. Upon turning pro, he sealed his PGA Tour card without ever having to go through the Nationwide Tour or Q-school.
Now three months shy of his 30th birthday, Howell owns a résumé that reads like that of a good, solid pro, if not a superstar. He has two career wins and has earned more than $17 million in what is now his 10th season on tour. If there's one place you can criticize, it's that he may lack that certain killer instinct, having now finished runner-up an eye-popping 11 times.
Though Howell bogeyed two of the final four holes coming in on Sunday, his latest second place should be viewed as more success than failure. He's now made the cut in seven of eight starts and is up to 21st on the money list; those are numbers he should be able to build upon in coming months.
And hey, he's not giving up on reaching the Masters field just yet.
"I've given it a run," Howell said. "I've played a lot of tournaments. I've played a lot of golf this year. But like I said, I'm going to play the next two and work my tail off to try to do it."
4 Pat Hurst. I cannot tell a lie. With the final group heading to the par-5 18th hole at the MasterCard Classic on Sunday, and with Yani Tseng holding a 1-stroke advantage over playing partner Pat Hurst, I had already began writing a "Three Up" section on Tseng's comeuppance on the LPGA.
It was gonna be pretty good, too. I had this little part about how most non-diehard fans (and even many golf writers) couldn't name the world's second-ranked player, as many would guess either currently inactive Annika Sorenstam or close-but-not-there-yet Paula Creamer or even up-and-comer Jiyai Shin. At that point, I would drop the news that Tseng is actually the only player behind Lorena Ochoa in the Rolex Ranking, having now claimed two victories in her first two full seasons on tour.
And then ... I was forced to delete all of it.
That's because Tseng made bogey on the final hole and Hurst countered with birdie to win the title in regulation.
It was actually a symbolic conclusion for Hurst, who never seems to be one of the front-runners in discussions about the game's best players over the past decade, but always seems to be right there when it matters in the end. Two months shy of her 40th birthday, she keeps plugging away, with this most recent win the sixth of her career and first since 2006.
Then again, after starting the year with results of T-26 and T-73, Hurst sort of came out of nowhere to clinch this one. Here's guessing Tseng never saw it coming.
I know I didn't.
5Vijay Singh. With three victories in the second half of last season, it didn't appear Singh was anywhere close to losing his fastball -- even as he entered the downhill portion of his 40-something years.
Prior to this year's season-opening Mercedes-Benz Championship, however, the Hall of Famer revealed that he would need surgery to repair a torn meniscus in his right knee. Singh finished T-27 in the 33-man field at Kapalua, went under the knife three days later, then returned after just three weeks, only to miss the cut at the AT&T Pebble Beach National Pro-Am.
One week later, he MC'd again at Riviera, then endured a second-round exit at the hands of Luke Donald at the WGC-Accenture Match Play Championship and a T-53 among the 79 who finished the WGC-CA Championship at Doral last week.
For a guy still attired in clothing that reads "Stanford Financial," let's just say it wasn't the best time for Singh's on-course assets to be frozen.
As if his mediocre results and dubious sponsorship weren't enough bad news, on Monday we learned that the Big Fijian's knee was flaring up again. Originally scheduled to compete in the Transitions Championship, Singh called tournament director Gerald Goodman and begged off from the tournament he won five years ago.
Though Singh's representatives at IMG have assured that his early withdrawal was more of a preventative measure in advance of the Masters than anything else, we've got to wonder whether the 2000 champ will be at full power when he steps to the first tee in Augusta on April 9.
6 Jim Furyk. Davis Love III and Rod Pampling are both very good players and, by all accounts, solid citizens. And yet, there's one group of which each is a member that none of their fellow pros wishes to join.
Love and Pampling are among those select few who have had the dubious distinction of owning the first-round lead of a 72-hole event, only to miss the cut one day later; DL3's gaffe came at the 2006 Players Championship, while Pampling's occurred at the 1999 British Open.
Though PGA Tour officials could not supply a complete list of recent first-to-cursed competitors, we do know that Furyk was 16 inches from joining Love and Pampling on Friday. After an opening-round 65 to claim sole possession of the Transitions lead, he ballooned to a birdie-free 78 the next day, needing a lengthy lag putt and tap-in for par on the final hole just to make the cut on the number.
That total was surprising for a variety of reasons.
Foremost among them is the fact that, simply put, Furyk doesn't go that high. It was his worst single-day total since a second-round 79 at the 2007 Wachovia Championship -- a span of 156 rounds on the PGA Tour.
It's even more surprising when you consider that Furyk was playing some inspired golf prior to that round. Thursday's 65 was his sixth consecutive sub-70 score, including all four rounds at Doral, where he finished solo third. His previous high score in three stroke-play events this season was 75; no other rounds was higher than 71.
So what was the problem on Friday? Putting, putting and -- unfortunately for Furyk -- more putting. He took a total of 34 putts for the day -- nine more than the previous round.
Furyk never really bounced back, plodding to weekend scores of 72-74 to finish T-52, but that underscores a more glaring deficiency. He's now played 36 events without a victory, which may not sound like much, but is his longest drought since an injury-plagued 2004 season.
After his strong play at Doral and through one round in Tampa, it appeared that winless streak was on the verge of being snapped. Instead, it continues ... but don't let that one poor round fool you. Furyk will claim his 14th career victory sooner rather than later.
7 Greg Kraft. To call Kraft a surprise winner at last year's Puerto Rico Open is akin to saying that it would have been a mild shock to see a No. 16 seed in the NCAA's Sweet 16.
Prior to that victory, the journeyman pro had earned exactly one top-10 in his previous 77 PGA Tour starts dating back to 2002. And though he added two more such results later in the season, he still finished a distant 90th on the final 2008 money list.
Things haven't gone much better this year, either. After a T-29 at the limited-field Mercedes-Benz Championship, Kraft missed four cuts in a row, then claimed a respectable T-21 during his title defense in Puerto Rico. At his hometown event this week, the University of Tampa alum posted a pair of respectable 1-over 72 scores, but it wasn't enough to give him a weekend tee time.
So, what's been the problem? Well, everything. Check out these stats from prior to the Transitions: Kraft was ranked 190th in driving distance, 104th in driving accuracy, 142nd in greens in regulation, 201st in sand save percentage, 190th in putting average, 197th in putts per round, 188th in birdie average and 198th in scoring average.
Add it all up and you'll find that he was dead last in the tour's all-around category among the 204 players who were qualified; he was also 146th on the money list and 149th in the FedEx Cup points race.
Of course, there is a silver lining for Kraft. With the two-year exemption that came for winning last season, he'll be fully exempt through the end of 2010 -- no matter what.
• Greg Norman turned 50 on Feb. 10, 2005, but he has yet to play a regular-season Champions Tour event, instead electing only to compete in five senior majors so far. That changes this week when the Shark takes part in the Cap Cana Championship, followed by the PGA Tour's Shell Houston Open and, of course, the Masters.
Let's just set the record straight: Norman's toying with the lead at last year's British Open was a major story. Norman in contention at the Masters would qualify as an international incident.
A positive international incident, though. Like discovering a new planet. Or a plane crash without any casualties.
• Might want to hold off on handing 2026 Florida State high school player of the year honors to Charlie Axel Woods just yet. That's because Annika Sorenstam announced on her blog this week that she and husband Mike McGee are expecting their first child later this year.
Said Annika: "We have had a lot of exciting changes in the past few months, and adding a new addition to our family later this fall will certainly be at the top of that list." Let the rumors fly as to whether Sorenstam -- who never used what she called "the 'R' word" in reference to a retirement -- will parlay motherhood into a return to the LPGA in 2010.
• Perhaps Tiger Woods got the memo. You know, the one about not committing to events until three to four hours before the Friday 5 p.m. ET deadline, as he did prior to the CA Championship. For Arnie's tourney this week, TW made his intentions known a good 24 hours in advance.
I still think that if the PGA Tour wanted him -- or anyone else -- to declare earlier, officials should move up the deadline. Easy as that. Then again, Woods should know what his name brings to a tournament, in terms of TV promotion, ticket sales and overall increased interest. Doesn't mean he cares. "Kind of typically what I always do," he said with a laugh about the situation at Doral. "I don't know. I just tend to do things that way."
• Remember this name: Chapchai Nirat. Only 25, the Thailand native won his third career Asian Tour title Sunday -- by a resounding 11 strokes.
• Double that for Estanislao Goya, 20, of Argentina, who won the Madeira Islands Open in just his sixth career European Tour start.
• If Tom Lehman had been able to hold on to the 54-hole and claim victory Sunday, he would have been the first player to win after captaining the U.S. Ryder Cup team since 1993 skipper Tom Watson, who prevailed twice following that event.
Speaking of Lehman, now might be a good time to reiterate a point I made a few weeks ago in this column: If he wants to play full-time on the senior circuit, the dude will absolutely clean house.
Then again, when you're still competitive on the PGA Tour, what's the rush?
• When naming "notable alums" for East Tennessee State's opening-round basketball game against Pittsburgh, CBS listed country singer Kenny Chesney and … ex-PGA Tour pro Mike Hulbert. Let's just say that one may have been slightly more notable than the other.
• Best golf name in the NCAA tourney? That would be Pitt's Brad Wanamaker, who already has a trophy named after him.
• Is it just me or does it feel like a half-decade since Adam Scott pulled a T-2 at the Sony Open back in January? Since then, he lost in the first round at the Match Play, finished T-66 at Doral and MC'd in Tampa.
• Another week, another made cut for rookie Jeff Klauk. That's now 8-for-9 (ironically enough, he only failed to reach the weekend in the opposite-field Puerto Rico Open) to start the season.
• Similar story for David Mathis, who is 7-for-8 (also MCing in Puerto Rico), but hasn't fared better than T-27 yet this season.
• Mark Calcavecchia has never disguised his disdain for putters and it resulted in the funniest moment of the week in Tampa. After tapping in on the final green for a second-round 75 that left him 1 stroke shy of the cut line, Calc simply dropped his flatstick and left it there on the putting surface -- presumably to wither away and die a lonely death.
Had he made the cut, it would have been No. 500 on the PGA Tour for Calcavecchia. Here's guessing he didn't have a big party planned anyway.
As the old saying goes, "You can't tell the players without a program." Time to amend that adage to include professional tournaments, too.
On the heels of the inaugural Transitions Championship -- nee Tampa Bay Classic, then Chrysler Championship and, most recently, PODS Championship -- it's becoming increasingly difficult to figure out proper titles.
And that includes plenty of in-season changes, as well.
A few weeks ago it was announced that after Wachovia's merger with Wells Fargo, the latter was uninterested in becoming title sponsor of the erstwhile Wachovia Championship. Despite already paying for such treatment, Wells Fargo didn't opt for the extra exposure. The Charlotte-based event was renamed the Quail Hollow Championship, for this year at least.
More name news came in the past week, as -- surprise, surprise -- Stanford Financial will no longer be part of the title sponsorship in Memphis; the tourney will now be referred to as simply the St. Jude Classic. Things have been shakin' more than Elvis' hips at this tourney; it will now have a seventh different title in its 52-year history.
One thing I can guarantee: We haven't seen the end of such turnover -- not even close. With so many changes on a daily basis in today's economy, expect the PGA Tour schedule for next season and beyond to include many familiar tournaments & with completely unfamiliar names.
317.0
That was the average distance, in yards, for Alvaro Quiros off the tee at this week's Transitions Championship -- the second straight tourney in which he's topped the field in this category.
The rumor going around is that the lanky Spaniard with the wide-brimmed hat and pencil-thin sideburns is longer off the tee than J.B., Bubba or anyone else in the world -- and he's starting to prove it on U.S. soil.
In Tampa, he topped the field average by nearly 37 yards; that's likely a three-club differential in any conditions.
Quiros' long-bombing nature hasn't come out of nowhere, of course. He currently leads the Euro Tour in driving distance at 314.2 -- almost 6 yards longer than the next closest competitor. And he's finished atop this category in each of the past two seasons by a similar margin.
Obviously, distance doesn't always equate to successful results, but on long courses with wide fairways and/or negligible rough, expect Quiros to own a substantial advantage.
The Australian taxpayers should pay for half of Tiger Woods' appearance fee at the Aussie Masters.
Let me get something off my chest right away: I hate appearance fees. Despise 'em. One of the things that makes golf unique as opposed to other professional sports is that its competitors make only what they earn. Play well in relation to the other players and you'll be handsomely compensated; play poorly and you'll feel it in the wallet.
Wouldn't it be great if all sports followed this guideline? How much more competitive would, say, the average NBA game be with a monetary incentive that truly paid for performance rather than just performance-based bonuses?
While appearance fees are dinero non grata on the PGA Tour, they're very much legal on most other major tours around the world. And -- no surprise here -- there isn't a player who commands the dollar amount of Woods, who will reportedly earn more than triple that of the tournament winner just by showing up.
That's not even the controversial part, though. No, the rub is that half of this fee -- somewhere in the neighborhood of $1.5 million -- will be generated through taxpayer dollars. This wouldn't be well received in better financial times, but considering the Aussie economy is in roughly the same dire straits as the rest of the world, it's become one of the country's biggest hot-button issues.
Before wondering whether such a number will help to put the government under Down Under, we must realize that this is nothing more than a business decision. Some reports have quoted experts as claiming that Woods' inclusion in the event -- which was won by Rod Pampling in December -- will generate up to $19 million for the economy, with much of that money coming from television revenue, sponsorship commitments and ticket sales.
"There's a lot of people hurting in Australia, and they might look negatively that one guy is paid $3 million just to turn up," said countryman Stuart Appleby. "The common man won't understand the business model because the government is paying for it. They might not see the money he brings in."
I still hate appearance fees. Hate everything they represent and everything they have become. That said, in today's economic climate, a sound business decision trumps any morality issues. If the Australian government needs to spend money to make money and can do so by paying Tiger to compete in this event, it should be met with cautious optimism.
I'll contend that the above statement is FACT, but with a word to the wise in the Australian government: If the numbers don't add up in the long run, you deserve the criticism that will come your way.
Jason Sobel is a golf writer for ESPN.com. He can be reached at Jason.Sobel@espn3.com.
What in the world has happened to Brandt Snedeker? After a T-3 result at last year's Masters, during which he played with Trevor Immelman in the final pairing of the day during both weekend rounds, it appeared the PGA Tour's Rookie of the Year in 2007 was a superstar-in-waiting, on the verge of hanging with the big boys in the upper tier of golf's elite level.

A final-round 77 left him emotionally distraught after 72 holes at Augusta National, but there was no reason to believe that he was some sort of one-hit wonder at a major championship. Two months later, a T-9 at the U.S. Open only bolstered that notion.
And now? The flavor of the week in April 2008 is beyond "just getting off to a slow start" and has evidently retreated into "something's really wrong" status.
Let's break down the numbers ...
Last year: Snedeker made the cut in 19 of 26 starts, earned five top-10s and finished 59th on the money list with more than $1.5 million. This year: He has made the cut in two of seven starts, hasn't finished better than T-42 and has earned a grand total of $26,417.
Last year: Snedeker ranked 55th in putting average and 66th in scoring average. This year: He ranks 157th in putting average and 135th in scoring average.
Last year: Snedeker shot 69-68 to claim the 36-hole lead in Tampa en route to a T-8 result. This year: He shot 77-73 -- posting only one birdie -- to miss the cut by 7 strokes.
I'm not ready to give up on this guy anytime soon; as I've written in the past, he doesn't do anything exceptionally, but has an uncanny ability to simply get the ball into the hole. Except, of course, so far this season; apparently getting the ball into the hole is a lot more difficult when he's not putting well.
Snedeker's early-season results have no bearing on his entrance into this year's Masters field -- he was already in based on last year's finish -- but they should have a major effect on his potential role as a contender. Stay bullish on the 28-year-old over the long term, but unless he somehow figures something out and turns his game around in the next two weeks, don't expect a repeat performance this time around.
As I walked with Ian Poulter through the pro shop at Doral Golf Resort & Spa last week in advance of this interview, and as we passed huge quantities of sleek, bright-colored garb from the spring line of his Ian Poulter Design company, I felt compelled to ask the man one question: "Do you need a cool waiver to wear these clothes?"
He looked puzzled, so I explained that it ought to be like a loan application at a bank; you show your qualifications and either get approved or denied. I mean, let's face it: Some people simply can't pull off a lavender sweater or orange tartan slacks. Wouldn't that reflect poorly on his company?

"No, no, no," he said with a laugh. "These clothes are for everybody."
Once we sat down, Poulter had plenty more to say about the clothing line, showing off more personality in golf and even his controversial comments of last year.
Q: Talk to me about fashion, clothing, design. How did this all start?
A: This all started way back. I just looked at an old picture from when I was 5; I had a little pink shirt on and a grey skinny tie and I'm like, "There you go!" And I turned out to be a golf fan, started playing a lot of golf, and I watched Payne Stewart and guys who I associated with who had personalities. I think a lot of people would say the same. They drew attention and they created a buzz around themselves. They were the guys I could relate to. It kind of got me in the mindset of one day I want to be doing that and I want to be doing my own line.
And then I had an opportunity three and a half years ago to move to Cobra golf equipment, which allowed me to free up my clothing. As soon as I could possibly do that, it was like, "Alright, let's kick the dream off. Let's have some fun." We built a team back home in the U.K. who could design, run the business and get it to where we are today, which is now a global brand, 22 countries plus, good distribution networks and we're having fun. And I think that's what's real nice -- to have people passionate about the brand and people who want to push it as far as it can possibly go, because the boundaries are endless and I'd like to try and find them.
Q: Being interested in clothing and wanting to start your own company are two different things. How did that crossover happen?
A: I've always liked shopping and it was only until a few years ago that I could afford to go out and shop properly [laughs]. So that bit being fashion and then obviously the business brain kicking in, thinking, "What do I want to do in 15 to 20 years time?" You know, I want to look back on a good career and say I've done the best I can on the golf course, but also off the golf course I've had a successful business and a brand that we had fun with and could take it to many different countries.
Q: You mentioned Payne Stewart being an influence, but I'm guessing a 5-year-old kid doesn't just go out and buy his own pink shirt and grey tie. I assume your parents had some say about that?
A: My parents were in there. My dad's always been a fairly snappy dresser. He now doesn't buy any clothes; he just goes into my wardrobe, because he's the same build as me! Yeah, so he always wanted to look good. My mom used to work in fashion. She used to run a retail store, so kind of the color coordination thing came from her and being able to go out and shop came from my dad.
Q: Do you ever worry that people look at you more as a fashion plate and less as a golfer?
A: No, that question has been asked plenty of times. And when you step up to the plate at the British Open last year and you go play as well as you played at the Ryder Cup, I guess that kind of answers that question. I know I can perform on the golf course; I wouldn't be in the top 50 in the world if I couldn't. It's a hard place to maintain your status and I've been in there for a few years, so I can mix it with the best of players.
Q: Do you think you're more popular worldwide because you're not just out there in a blue shirt and khaki pants every day?
A: Of course. I mean, if you look at the global fan base that we have, I'm recognizable. I think that's how, when I was a kid, you knew Payne Stewart, you knew Seve [Ballesteros], you knew John Daly, you knew Jesper Parnevik. You knew the guys you could quickly associate with straight away, because they were different. They weren't the khaki; they were very, very different and they expressed themselves on the golf course. That's what I do.
Q: How important is it for the sport to have these different personalities?
A: You have to have characters in any kind of sport. I mean, look at tennis a few years ago with [John] McEnroe and them. Everybody knows McEnroe because he's McEnroe. And that's important. I mean, you can go through all sports and pick out individuals, people who do good for the game, which creates awareness for kids to get in and play golf, because it's a great game. It's a great sport. It certainly occupies a lot of time, and that's certainly good for a lot of kids to be occupied for a lot of time when they've got so much of it on their hands. And who knows? They could turn out to be the future of golf.
Q: That said, are there too many robotic guys out there on tour? Is there a way to get more personality out of guys who don't have that in their nature?
A: No, because if that's who they are, that's who they are. You're trying to turn somebody into something they're not and that's a bad thing. But every now and then, you get a group of guys who have their own identity and their own personality and can express it in a normal way as opposed to doing it the wrong way. So I just think it's not everybody's cup of tea to be slightly outlandish and have their own flair. But we all need more. The sport in general all needs more. But I think it's been nice and refreshing in the past five years to see guys dressing different. How about Phil Mickelson wearing a white belt? I mean, where's that come from? You'd never imagine that, would you?
Q: He hasn't ruined white belts for the rest of you?
A: No, I might have to turn away from him for a little while [laughs]. But guys taking time to think about what they're wearing, that didn't happen five years ago. I know that. I was out here looking. You could look up and down the range and see a blend of colors that all mixed; they all wore the same. You could go khaki, navy, grey or black trousers -- that was it. That was as outlandish as it ever got. You look now and guys are wearing color and they're color coordinated in their accessories -- shoes, belts and hats. That didn't happen before. So on a good note, it's changing and players are thinking, "Hmm, that doesn't go with that." They're not just sticking their hand in the drawer and picking out a shirt or a pair of trousers that don't match.
Q: If Colin Montgomerie calls you today and says, "I need help picking out the wardrobes for the Ryder Cup team next year," what do you tell him?
A: Yeah, I mean, I would love to. Of course. Anybody would love to do it.
Q: What would you pick for the team?
A: Well, I think you'd have to look at the potential players on the team, obviously, because you wouldn't want to put somebody in something they're not comfortable. So that would be the first priority, to look at that and think, "Could that potential person be comfortable wearing this?" I think personally I'd brighten up the colors more than they've been the last few years. Obviously, Colin being Scottish, I think you'd have to put some kind of tartan flair in there, because that would be very, very apt. And that would go right with our story line. So there are a number of things that I would suggest.
Q: Are you still hearing anything about the comments you made last year? ["The trouble is I don't rate anyone else," he was quoted as saying in the March 2008 issue of the United Kingdom version of Golf World magazine. "Don't get me wrong, I really respect every professional golfer, but I know I haven't played to my full potential and when that happens, it will be just me and Tiger."]
A: Nope, that's all fishpaper.
Q: Rough go for you for a little while having to deal with it?
A: Probably a few months. The same question kept coming up and obviously it was people saying it tongue-in-cheek. You know, it's water off a duck's back, to be honest with you. It gets boring after a while when people keep talking about it, but I guess when you step up and show that you're not, as one paper said, "all mouth and trousers," if you step up and deliver, then all of that kind of goes away.
If the answer is "Fred Couples, Ernie Els and Steve Elkington," there can only be one question:
"Which three pro golfers have owned the prettiest swings over the past 15 to 20 years?"

Each of these players still looks like poetry in motion when coming through the ball, but which of the next-gen talents (age 35 or less, let's say) will carry the flame? It's a subject I discussed in last week's WGC-CA Championship blog from Doral, but let's delve into the subject a bit more here.
This edition of "The List" ranks my top five personal faves:
5. Chad Campbell. Often described as "Hogan-esque," he's among the tour's better ball-strikers.
4. Rory McIlroy. Boy Wonder owns a natural move that combines power and grace.
3. Nick Watney. Calm, cool swing that holds up under pressure.
2. Luke Donald. Classy. Balanced. If the PGA Tour ever wanted to reshoot its logo, he might be the choice.
1. Adam Scott. How can a player who makes it seem so effortless have such a difficult time in big events?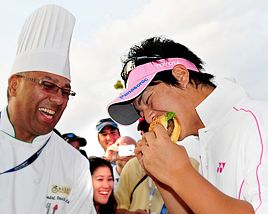 Al Messerschmidt/Transitions Championship
Among the opening comments in Ryo Ishikawa's pre-tournament interview session at the Transitions Championship were these words: "The last two weeks I miss American hamburgers. ... The hamburgers of this clubhouse is delicious."
Asked to elaborate on what he loves about this newfound creation, Ishikawa said, "The size. Big." Pondering that thought for a second, he laughed before admitting, "I am getting hungry."
And so as soon as the 17-year-old had polished off a second-round 2-over 73 that allowed him to be the second-youngest non-U.S. player to make the cut in a PGA Tour event, he was greeted by Andre Halston, the executive chef at Innisbrook Resort and Golf Club, with his just desserts.
Though Ryo's cheeseburgers in paradise were served with a side dish of 72nd place of the 74 players who reached the weekend, expect him to use it as a building block for future ventures. Next up for him is this week's Arnold Palmer Invitational, where he plans to seek out the tournament host to discuss his sponsor's invitation.
"I am kind of surprised that Mr. Palmer knows about me," Ishikawa said. "So I want to go visit him and to say hi, definitely, and say thank you for the invitation. I have so much respect to Mr. Palmer as a professional golfer."
Here's guessing it won't be long until Ryo runs into Palmer again. They'll both be at Augusta National two weeks later, where the teenager will be making his Masters debut.
It wasn't that long ago when choosing a champion at Bay Hill was an exercise in futility ... if you were taking anyone other than Tiger Woods.
Through a challenge from Phil Mickelson to a romp while suffering from food poisoning, Woods won each edition of Arnold Palmer's event from 2000 to '03. And then ... he just stopped. Finished T-46 the next year, then T-23, T-20 and T-22. Just when it seemed Bay Hill had suddenly transformed from Tiger's personal money-grab to one of his tougher venues, he won again, cementing last year's victory with a dramatic final-hole birdie putt and subsequent hat-slam.
Despite a second-round exit at the WGC-Accenture Match Play and a T-9 at Doral, TW is still the prohibitive favorite each and every time he tees it up. Including the recent Tavistock Cup, he has now played eight competitive rounds since returning and seems to be improving with each one.

And so I'm tempted to hang my hopes on the defending champ this week, but -- here's a not-so-subtle hint -- I may hold off on selecting him until the next tourney he enters ... uh, someplace in Georgia, I believe.
Here are some other candidates I like this week: Retief Goosen is certainly rounding into form at the right time; Vijay Singh has a strong track record here, though his bothersome knee worries me; John Rollins is proving he can contend on any given week; Ian Poulter is going to win his first PGA Tour title very soon; ditto Mathew Goggin; and Ben Crane is a solid choice if it turns into a putting contest.
I'm not going with any of 'em, though.
Instead, I'm picking Stewart Cink, who has three top-10s at Bay Hill this decade, including a T-2 back in 2003. He started off this season strong before falling off in his past two events. After taking a week off, I expect him to be fit and ready to win his sixth career title.
"I should have gone to bed last night. I had to stay up and watch Western Kentucky; they were the late game last night. I didn't go to sleep until about 1:30 and got up at 5. You know, I was just tired. That was stupid on my part. I admit it. Learned a good lesson."
-- Kenny Perry, after a second-round 74 dropped him from a share of third place to T-28 at the Transitions Championship.
Allow me to speak on behalf of the entire American workforce: You weren't alone, Kenny.
That's right -- lack of sleep and that next-day glazed-over look didn't just affect the folks who sit near your cubicle; even PGA Tour golfers were at the mercy of the NCAA tourney this week.
While Perry's slumber blunder was rewarded with a victory by his Hilltoppers, he never recovered on the leaderboard, finishing T-17 for the week.
Allow me to delve into the leftover bin from last week's CA Championship blog for this e-mail from Brian in Parts Unknown:
Why is it that it is taking the best American players so long to mature into consistent winners/contenders? If you look at the play of what I'd consider to be the best four young Americans (Anthony Kim, Sean O'Hair, Nick Watney and Hunter Mahan), they are incredibly inconsistent. Not only have they been almost non-existent in majors, but even week to week, their scoring is very up and down.
I guess my larger question isn't why they aren't winning more; it's why guys who have won before, and who would therefore seem to know how to finish, aren't scoring better on a more consistent basis? Even the younger non-Americans out there (Rory McIlroy, Sergio Garcia, Adam Scott, etc.), while they certainly struggle with consistency, seem to have more weeks at the top than the Americans.
There are a few different answers for this query, though I'm not sure we can place too much blame on any single variable.
The U.S. players -- including each of the aforementioned quartet, excluding O'Hair -- all played college golf, which may enhance their goal of becoming well-rounded people, but tends to stunt their growth just a bit as a player. Think about it: If McIlroy went for a diploma rather than turning pro, he'd still be a little-known sophomore instead of the world's 17th-ranked player.
One idea borne of common sense is that these young players are & young. Take a look at the history books and you won't find many elite players who performed as such right out of the chute, save for the likes of Bobby Jones, Gene Sarazen and Tiger Woods. Unlike the NFL or NBA, where rookies and sophomores can make major impacts, it simply takes longer to find a comfort level in golf.
You can place a vote for complacency, too. Each of those players mentioned -- and I'll throw in Dustin Johnson and J.B. Holmes, too -- has won since the beginning of 2008. When a guy is in his mid-20s, has a few mil already in the bank and knows he won't lose his PGA Tour status anytime soon, it's common to ease up on the gas pedal, no matter how driven that player might be.
Here's another possible explanation: The Americans are plying their craft against the world's best on the PGA Tour, while the international young'uns often feast upon those of the Euro Tour and other global leagues. Nothing wrong with that, of course, but the talent level is unquestionably not as deep.
Or perhaps it's all perception. No, there aren't many -- OK, any -- young American players who are tearing it up on a week-to-week basis, but referring to Scott or even Garcia (his No. 3 ranking notwithstanding) as "consistent" is to turn a blind eye on some of their recent poor performances. In fact, the only thing consistent about Scott these days is his inherent inconsistency.
All in all, I don't think we can place blame on the U.S. players' inconsistencies with just one thing, Brian. You're correct in pointing out the issue, but it's one that plagues many players in many different ways for many different reasons.
Got a question for the inbox? Hit me at Jason.Sobel@espn3.com.