HAVEN, Wis. -- Before the start of the PGA Championship, Rory McIlroy -- still the No. 1-ranked player in the world despite missing almost two months because of an ankle injury -- delivered an astute piece of media and cultural criticism when he was asked what he thought about Jordan Spieth's recent rise and our fickle attention spans. His tone wasn't defensive. But it was the verbal equivalent of a raised eyebrow, or a bemused shrug of the shoulders.
"We live in such a world where everything is so reactionary and everything happens so quickly," McIlroy said. "A year ago, I won this tournament and it was 'The Rory Era.' Then Jordan wins the Masters and it's 'The Jordan Era.' Eras last about six months these days instead of 20 years. But that's just the way the world is. With social media and everything having to be instant, it's the world that we live in."
McIlroy is right, of course. When he won back-to-back majors to close out 2014, the golf world acted as if Tiger Woods' true heir had finally arrived. Nike even made a commercial about it. Then Spieth ripped up the script by winning the Masters, winning the U.S. Open, and making a serious charge at The Open in St. Andrews, ultimately finishing 1 shot out of a playoff while McIlroy sat at home watching on television.
It shouldn't matter whose "era" this is, an arbitrary and virtually meaningless distinction anyway. Instead, we ought to enjoy the fact that two great players -- both of whom figure to be viewed, one day, as all-time greats -- are arm wrestling for majors and are likely to continue doing so over the next decade.
However, after watching them play together for the first two rounds of the PGA Championship at Whistling Straits, here is the best way to compare and contrast them:
1. No one in golf hits the ball better than McIlroy does when he's focused, when he's swinging in rhythm, and when he's healthy. The lines he takes off the tee with his driver, and the height he gets with his irons, is almost surreal. Watching it on television barely does it justice. It's like trying to describe the way a great steak tastes by showing someone a picture of a steak in a magazine. Even Spieth admitted he was in awe of some of McIlroy's shots Friday. "Watching him drive the golf ball is just inspirational," Spieth said.
2. Despite all that, Spieth is the better golfer. He, not McIlroy, is the best player in the world, despite what the rankings say. And this would be true even if McIlroy hadn't injured his ankle six weeks ago. The first two rounds of the PGA, where Spieth and McIlroy played together and Spieth was 4 shots better, is the latest example.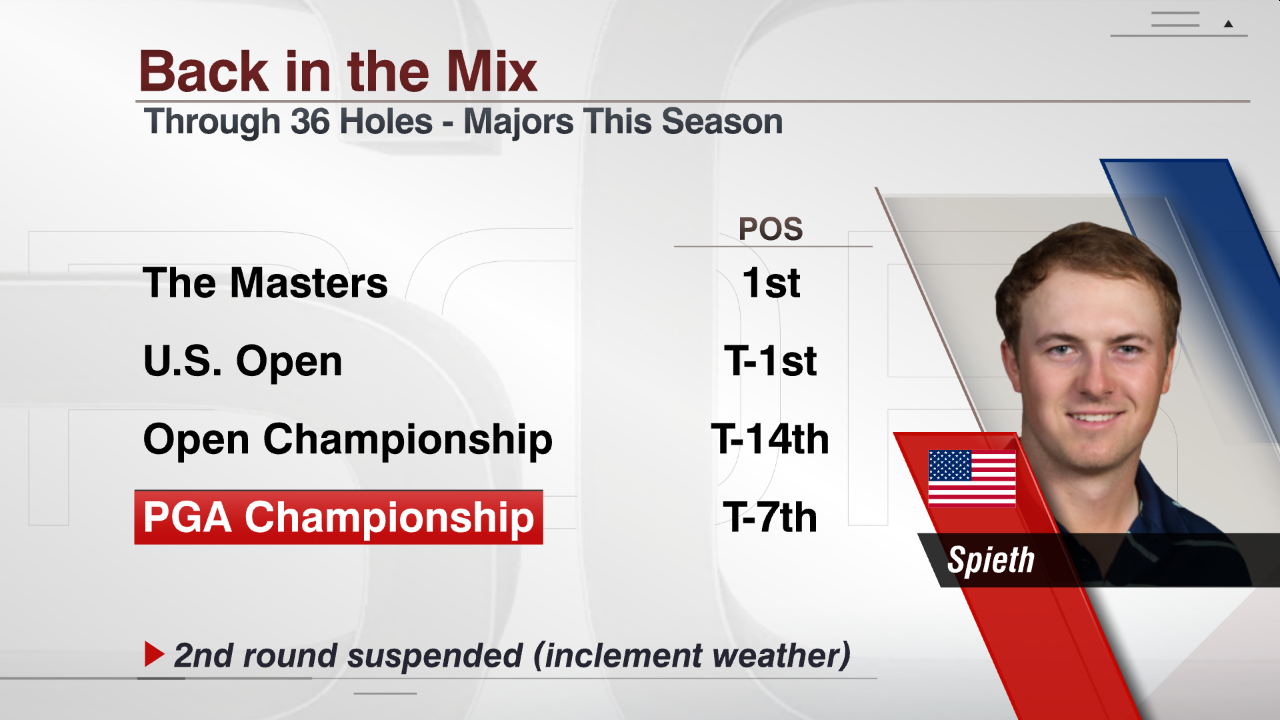 That could, of course, change over the next six months. McIlroy conceded that he has been motivated by Spieth's recent stretch of great play, and he's too talented and too much of an alpha dog to let Spieth take the No. 1 ranking without putting up a hell of a fight. But Spieth's recent ascension has been an interesting reminder that a golf swing doesn't have to look perfect to perform brilliantly.
For all the swing gurus out there, the ones studying video, looking at spin rates, focusing on ideal angles and perfect positions in the backswing, all that matters is getting the ball in the hole in the least amount of strokes. It's golf, not golf swing. Spieth understands that as well as anyone.
The 22-year-old Texan isn't some scrappy underdog, clawing past his peers by relying on guile and strategy. He's extremely talented, maybe the best wedge player in the world, magical with the putter from outside 20 feet, and he's longer off the tee than most people realize. (That he finished fifth in this week's long drive competition was evidence of that.) But the consistency of his swing, and his innate knack for hitting heroic shots in unlikely moments, has him in the mix for yet another major championship.
Even McIlroy was impressed.
"I feel like there are a lot of ways to get around this golf course, and Jordan showed that over the last couple of days," McIlroy said. "He hasn't hit the ball miles. He hits it far enough. He's definitely above average in terms of length. But he's the prime example of someone whose game is very efficient."
Spieth was grinding through what looked like it might be a disappointing round after eight holes Friday, then on the 18th hole -- his ninth of the day -- he made a ridiculous bunker shot from an awkward downhill lie that sparked a back-nine birdie run to finish with a sizzling 67. It was the 16th time he'd holed a chip this season, a statistic he tried to downplay when a reporter mentioned it to him. His answer was classic Spieth: Make a brilliant shot, describe it in detail for media hungry for insights, then downplay the accomplishment, or attribute it to good fortune.
"The pins seem to be soft when I hit chips sometimes," Spieth said, shrugging when asked to explain why he's made shots from off the green so frequently. "The ones that are hit a little hard seem to somehow find a way to rail the pin and drop, not just hit it and go to the side. The fact that they go in versus settling close to the hole is a bit of luck and I'll take it."
No one would have blamed Spieth if he showed up in Wisconsin this week mentally and physically exhausted from the grind of a long, yet brilliant season. To put yourself in the mix to win three consecutive majors is hard enough on your body, and Tiger Woods use to say -- back when he was in contention in almost every major -- that it was even more taxing on the mind. Yet here is Spieth, still focusing at the highest level, threatening to close out one of the greatest seasons the game has ever seen.
He now has five rounds of 5-under par or better in majors this season. According to Elias, the only player over the past 20 years with more rounds of 5-under or better in majors in a single season is Woods, who did it seven times in 2000. Any time you do anything comparable to the gold standard of golf seasons, you're in rare air.
"I've got a chance to win a major championship," Spieth said. "Just thinking about that gets you enough adrenaline that there won't be any issues. I'm sure at the end of the year, it will be nice to sit back and hang the clubs up for a couple of weeks, but until then, we have a lot to play for."
A Spieth backlash is, in all likelihood, inevitable. You can already sense it brewing in some circles, the idea that no one can be this perfect, this humble, this polite and this consistently good. McIlroy already weathered his own version of it -- when he changed clubs (switching to Nike from Titleist) and briefly lost his game, and when his personal life became tabloid fodder, specifically the end of his engagement to tennis player Caroline Wozniacki.
The things people love about Spieth -- his earnestness; the fact that he has been dating the same person since high school -- probably will be used against him when he does something human and shatters the impossible-to-uphold narrative of perfection. It would be nice if we could resist it, but it almost has become a rite of passage for the modern athlete.
How will you handle it when you can't live up to our unrealistic fantasies? Prove you can win us over, yet again, after we've had the chance to tear you down.
Whatever happens next, it's been a thrill to watch him play golf this year. No one has done it better, and we're not done yet. Spieth might be uncomfortable admitting it, but everyone -- including Rory McIlroy -- is chasing him.