DUBLIN, Ohio -- They surrounded the 18th green at Muirfield Village Golf Club, spectators lined several rows deep, the leaders hours away from even teeing off Sunday, let alone getting to the finishing hole of the Memorial Tournament.
And they stood and cheered as Tiger Woods walked off that green having just made another double-bogey, about to sign for his highest 72-hole score as a pro.
Why were they here to take in the man who would finish last?
Better question: Why were so many packed around the first tee before 8 a.m. on Sunday to watch a man coming off a career-worst 85 to play a solo round of golf with nothing at stake?
Surely they weren't in attendance to witness the train wreck that occurred Saturday. Nor were they here to see any kind of history, the kind for which Woods is far better known.
Perhaps there is a bigger-picture question: Will we ever not care about Tiger, even if he is at his worst, seemingly lost and so far removed from his glory days?
The answer is no, even amid the primal screams of outrage from those who wonder why we continue to chronicle the exploits of Woods, who is getting dangerously close to falling out of the top 200 in the world and seems miles away from regaining his form.
The reason is as simple as the reply given by Joe LaCava back in the fall of 2011. The long-time caddie for Fred Couples, LaCava earlier that year had started working for Dustin Johnson, who contended that summer at the Open Championship.
Woods, meanwhile, sat out four months with knee and Achilles injuries. He missed the U.S. Open and Open Championship, returned for two tournaments, and then didn't play again until the fall. LaCava decided to leave Johnson -- one of the game's up-and-coming players -- and came to work for Woods, whose future was very much in doubt.
Why?
"Because it's Tiger Woods," LaCava said then.
And that is the perfect answer.
Why is that so difficult to comprehend?
He's won more majors in his career (14) than he has missed cuts (13). He's won 79 PGA Tour titles. He once won four majors in a row. Two years ago, he was player of the year and won five times. And he hasn't won a major championship going on seven years.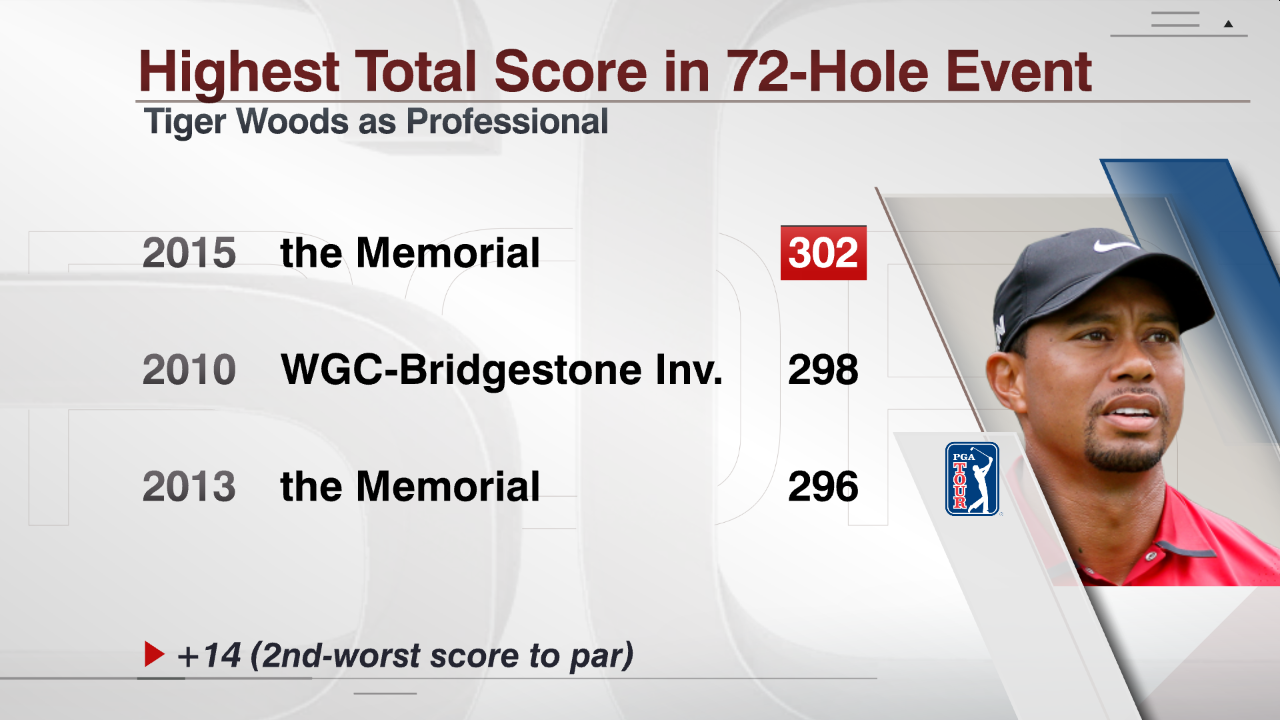 The fact that at age 39 he continues to pursue those goals, amid myriad injuries, swing changes, personal challenges, a new breed of talented young golfers and all kinds of doubt makes him just as compelling as when he dominated.
"Look at all the people out here; it's amazing," said Thomas Lee, a spectator from New York who followed Woods on the back nine Sunday. "Who else would have this? When are you ever going to get to watch him play alone like this? You should have seen how many people were here at 7 a.m. The guy is an icon. Look at what he has done in his career. It's still incredible to see him."
It is fair to wonder whether Woods will ever get close to his form from two years ago. He hasn't contended since losing a playoff to Zach Johnson at the unofficial 2013 World Challenge. Of course, he's played just 14 times worldwide since then, missing three cuts and withdrawing from three other tournaments.
There was back surgery and then likely a return that came too soon, followed by more back issues. Then there was a change in swing coaches, the process of tearing down and rebuilding the swing, dealing with unforeseen chipping yips and now seemingly more questions than ever.
"We all go through crises in our lives, and Tiger is going through that right now," said Jack Nicklaus on Sunday. "He's had a fantastic career. I really don't know what's going on right now.
"We all go through ups and downs. '79 for me was about like that for me. I didn't win a tournament for the first time in 17 years on tour. My short game was so bad I was putting around bunkers. So sometimes you just have to sit back, take assessment of your own and sort of start over.
"In Tiger's case, he certainly knows what to do and how to do it, as I did. I sort of revamped my swing and my short game and moved forward with a positive attitude. And I hope he does the same."
Nicklaus, at age 40, won two major championships in 1980 after many had written him off. It was an era when 40 seemed like 60, and there was plenty of reason to doubt the Golden Bear. Nicklaus would go on to contend in majors in 1982 (when Tom Watson beat him at the U.S. Open) and 1983 (when Hal Sutton defeated him at the PGA Championship) and of course he had his epic 1986 Masters win for his 18th and final major title.
Nobody is suggesting here that Woods will do the same, but isn't that why we watch?
And if he never returns to his winning ways, isn't Woods' presence still captivating -- especially for those who might never have seen him in person?
You can bet that people still showed up to watch Babe Ruth swing and miss in his waning days, even after he had left the Yankees. Or that folks were interested to see how Joe Namath fared after being traded from the Jets to the Rams. Or whether Michael Jordan could still dunk with the Washington Wizards.
Arnold Palmer last won a major championship in 1964, but as late as 10 years later, when he posted his last top-5, there were many who believed he could still win one of the biggest tournaments. He won his last PGA Tour event in 1973, and yet the crowds were huge when Palmer played tournament golf into his 50s, no matter the score.
Less than two years ago, Woods shot a second-round 61 at Firestone Country Club on the way to winning the WGC-Bridgestone Invitational for his 79th PGA Tour victory. All signs pointed toward him contending the following week at the PGA Championship and perhaps winning his 15th major.
Who could have predicted then what would unfold over the following 22 months? The injuries. The swing changes. The setbacks. The high scores.
But we've followed along just the same, just as we will in two weeks when he heads to Chambers Bay for the U.S. Open, and as we will next month, when he heads to the Old Course at St. Andrews.
Why?
Because he's Tiger Woods.