UNIVERSITY PLACE, Wash. -- He left a few putts out there and failed to pick up any birdies on his way in at Chambers Bay, but Phil Mickelson had difficulty finding too much fault with his opening round in the 115th U.S. Open.
"I shot under par the first day of the U.S. Open,'' Mickelson said after a 1-under-par 69 had him four strokes behind earlier leaders Dustin Johnson and Henrik Stenson. "The first round was the round I was going to be most nervous at, getting started. You don't want to have to fight to come back all the time.
"You want to get off to a solid start around par. And I got off to a good start and shot 1 under. Made a couple of bogeys coming in. The one on 14 was a good bogey, I'll gladly take that. But really pleased to be under par after the first round.''
Mickelson, 45, is playing in his 25th U.S. Open, and he holds the record for most runner-up finishes in the championship with six. It is the one tournament he needs to complete a career Grand Slam.
Lefty put himself in good position by playing the front nine in 32, making three birdies and leaving a couple of other birdie opportunities on the course. After a bogey at the 10th, he rebounded with a birdie at the 11th, but he couldn't get another the rest of the way.
At the drivable par-4 12th, where a 270-yard tee shot was needed to reach the front of the green, Mickelson elected to lay up with a 6-iron off the tee. But he wasn't able to wedge it close enough for a birdie, then followed with consecutive bogeys.
"I thought it was going to be difficult to get a driver on the top section. It was going to be difficult to be on the low section with a very difficult putt,'' he said. "I felt I could get a wedge every bit as close as I could a putt form the front of the green.
"I also felt at 3 under I don't want to have one hole ruin my round. I hit one bad drive and go in the junk and I make a 5 or a 6, it just hurts the round. I didn't want one hole to come up and bite me.''
The par, however, seemed to derail any momentum, as Mickelson struggled on the next two holes. He needed to make a 15-footer at the 14th just to save bogey.
He parred in from there to shoot in the 60s for the eighth time in the opening round of the U.S. Open. Four of the previous times he finished seventh.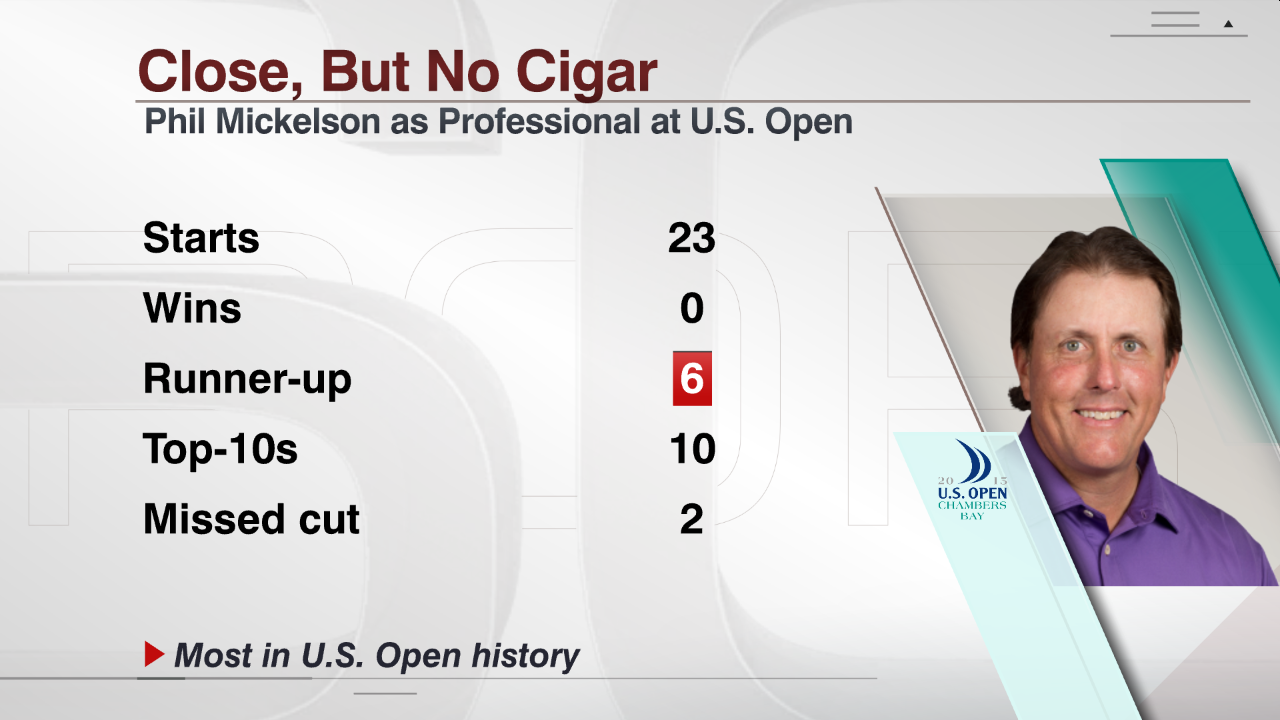 "I would love to see Phil Mickelson win this week,'' said Gary Player, 79, who is celebrating the 50th anniversary of his U.S. Open victory in 1965 at Bellerive Country Club -- which helped him complete the career Grand Slam. "The reason that he is the best [public relations] pro playing the tour today, he takes his time in signing all the autographs, in dealing with the public correctly. His behavior is impeccable.''
Only Gene Sarazen, Ben Hogan, Player, Jack Nicklaus and Tiger Woods have won each of the four major championships in their careers.
Mickelson, who played with Bubba Watson (70), and Angel Cabrera (70), will tee off on Friday at 4:30 p.m. ET.