GREENSBORO, N.C. -- For 64 holes, Tiger Woods contended in a golf tournament, managing to make it to the back nine Sunday at Sedgefield Country Club before his round -- and tournament -- fell apart.
A triple-bogey derailed his hopes of winning the Wyndham Championship, and four birdies over the closing six holes for his best finish of 2015 were little consolation.
Not even a rowdy crowd that cheered him all week and gave the PGA Tour's regular season-ending tournament a big boost could spur him after a solid three-round start.
Woods began the day just 2 shots out of the lead and with a chance to win for the first time in more than two years. Instead, he finished 4 shots back of Davis Love III. And so begins another early offseason.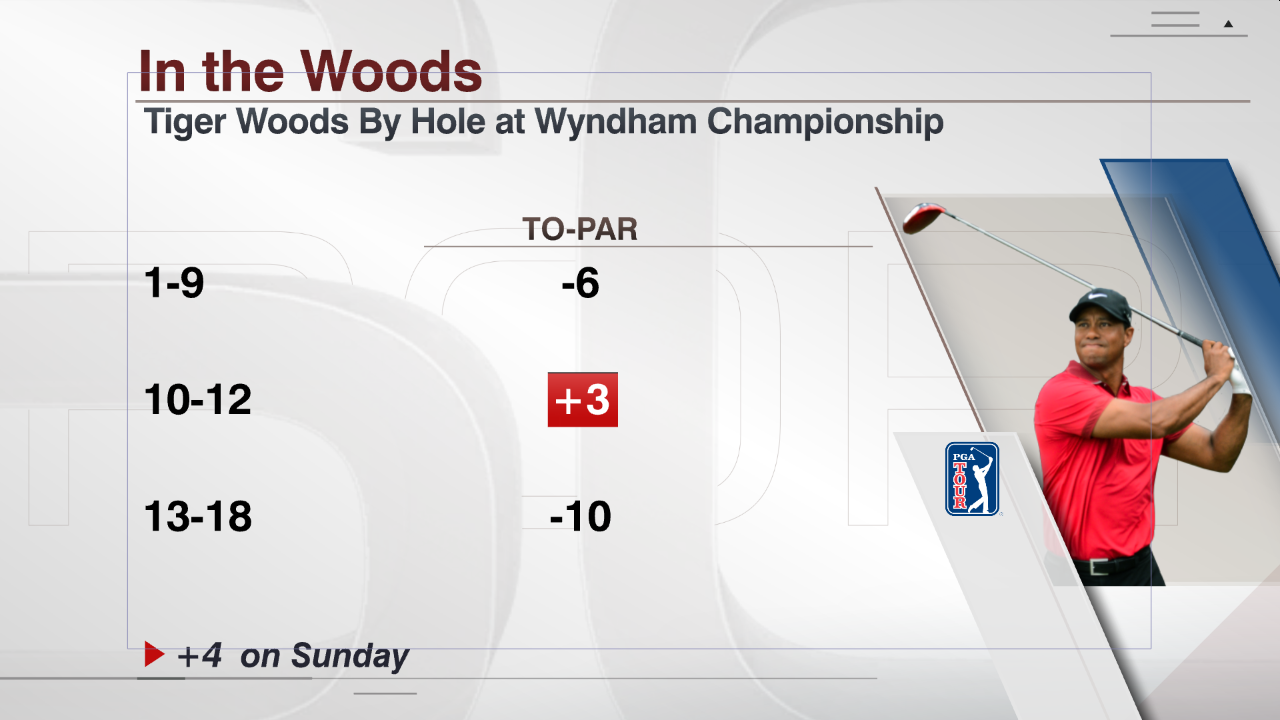 "I gave myself a chance and I had all the opportunity in the world today to do it,'' Woods said. "And I didn't get it done.''
Woods, 39, made no excuses, although it was clear something was bothering him after he hit his tee shot on the par-4 11th hole. He grabbed his back area, and then having missed the green with his second shot, appeared to fall back into the chipping malaise that haunted him earlier this year.
He made a mess of the hole, taking a 7, then bogeyed the next one as well before settling down to make those three straight birdies to shoot even-par 70. It was a strong comeback, but too late as the pressure was off and the season over.
Woods was asked about his back and needed to be pressed before he said it was his hip that bothered him. He did not say which one, and offered no details on how much it affected him over the closing holes.
But Woods did say it would not have kept him from playing next week if he had qualified for the Barclays, and he does have positives to take away from his 11th event of the year.
He shot three rounds in the 60s, was in contention through 54 holes, hit his driver the best he has all year, and gave himself plenty of chances. Whether the 11th hole was simply bad golf, the result of injury or both, it was as close as he had been to the lead in any tournament at that late stage in nearly two years.
Woods now has a forced seven-week break until the Frys.com Open in October, the season-opening event of the 2015-16 PGA Tour season. Although he has not officially committed, his agent, Mark Steinberg, previously said he would play the tournament.
He is not expected to play in any tournaments until then. The following week he is scheduled for a team event in Mexico on the PGA LatinoAmerica tour, and then could possibly choose to play somewhere else overseas.
It might behoove him to add another of the fall events on the PGA Tour's schedule -- perhaps the McGladrey Classic, which Love hosts -- and attempt to get a jump on the new season. Woods moved into the top 250 in the world with his tie for 10th, but will undoubtedly slide back down due to inactivity.
The fact that Woods, a 79-time winner, was having his worst year didn't stop the people of Greensboro from flocking to see him after his surprise commitment. Tournament officials reported an increase of 50,000 tickets sold for the week. And he rewarded them with his best golf of the year.
It just wasn't good enough to continue his season.