EDISON, N.J. -- Tom Lehman became the world's No. 1-ranked golfer on April 20, 1997. It was a reign that lasted exactly seven days, until the formula which determines such things pushed Greg Norman past him once again.
At the time, this takeover was a mere footnote. The point totals were so close that it was assumed the reigning Open Championship winner would soon gravitate back to that coveted top spot. Instead, Norman kept the position for the next nine weeks, then spent the ensuing year jostling for position with Tiger Woods and Ernie Els.
Lehman would never again ascend atop the ranking, leaving him the dubious distinction of being the only player to have been No. 1 for a single week.
"That's just the way it goes," he lamented shortly thereafter. "A week is better than not at all."
Following a missed cut at the Barclays on Friday, current No. 1 player Jordan Spieth knows the feeling.
It was just two weeks ago that Spieth surpassed Rory McIlroy on the world ranking list, becoming the second-youngest player ever to hold that honor. When the supercomputers recalculate those points on Monday, though, he'll fall back into the familiar No. 2 position.
"That ranking, it's great once you reach it, but it's not something that I'm going to live or die on each week," said Spieth, sounding eerily similar to Lehman nearly two decades ago.
We assume, of course, that this year's Masters and U.S. Open champion will soon regain the honors, perhaps even as quickly as next week's Deutsche Bank Championship. As history has proven, though, any such assumptions are pure foolishness.
Then again, foolishness has its fingerprints all over this scenario.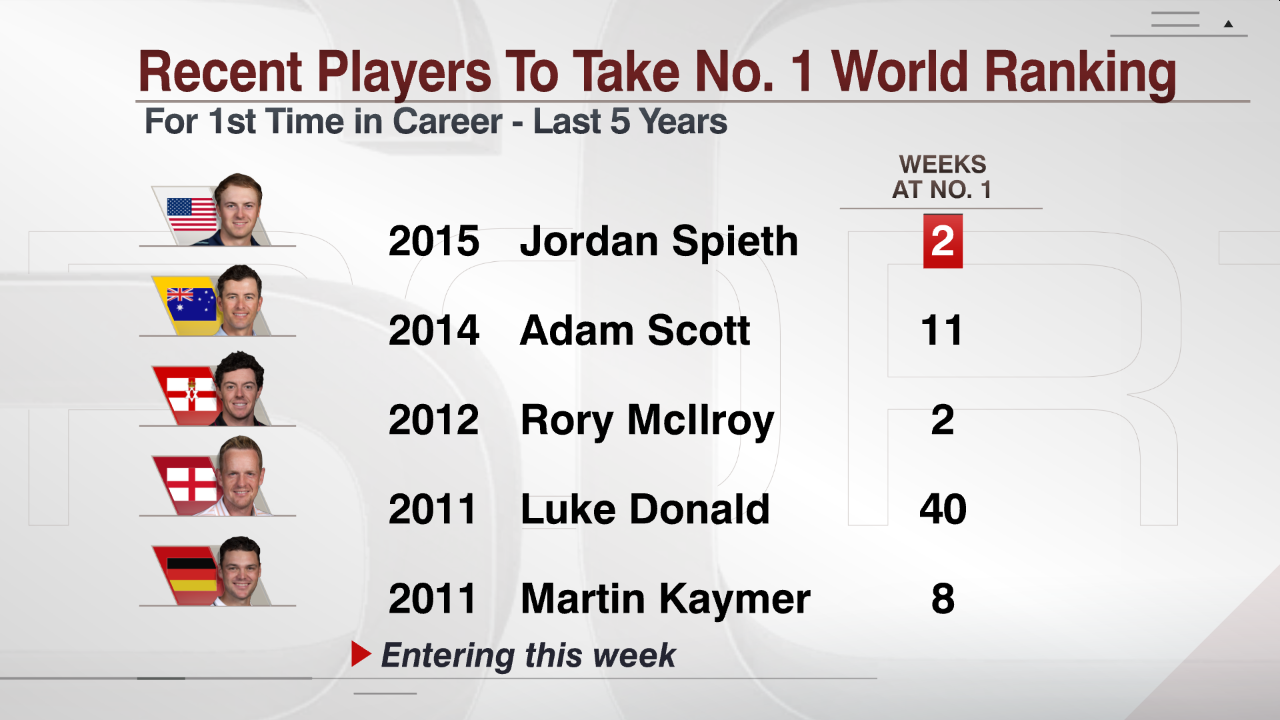 It should be noted that while Spieth lost his ranking during a week in which he posted scores of 74-73 and appeared befuddled by a game that he so often makes look easy, it wasn't exactly like McIlroy ascended the leaderboard and wrestled it away from him.
No, the erstwhile and impending No. 1 player "earned" the title back while resting at home and nursing a bum ankle that shelved him for close to two months this summer.
If you're looking to place blame on a system that seemingly rewards a player who skipped the tournament over one who at least competed, here's a sticky proposition: Blame math.
"I guess my divisor becomes bigger and therefore I have less average points," explained Spieth, "but I like to play and I'll keep on playing. Rory is still coming back from an injury, so I think it makes sense that he took the week off, from what I understand, just trying to get 100 percent healthy."
There's a silver lining to this development, and not just for the guy losing the No. 1 spot, either.
At 26 and 22 years old, respectively, McIlroy and Spieth have often been thrust into debates about whether they have already forged a rivalry. These are debates, which -- to their credit -- each player has downplayed, due to a lack of head-to-head, final-round battles between them.
It can be argued that golf won't achieve its next great rivalry until the point when each of these players is vying against the other on a major championship Sunday -- or perhaps multiple major championship Sundays.
While that isn't untrue, continuous elbowing for the top ranking on a weekly basis might at least stoke the flames a little bit. If nothing else, such movement could serve as greater motivational fuel for the two young superstars.
Either that, or it could shine a larger magnifying glass on the current world ranking formula and whether it truly offers the best way for evaluating the game's best players.
"It doesn't really make much of a difference," suggested the levelheaded Spieth. "If you go on a three- or four-year cycle, Rory is No. 1 in the world. If you go just base off of this year, I am. They just use two years."
Again, it's just math.
It's just a formula that spits out calculations which orders players in the ranking.
This week, Spieth was the lead dog. Next week, it will be McIlroy.
If the one about to lose that No. 1 spot learned anything over the past two weeks, it's a lesson that Lehman first understood so many years ago.
One week -- or in this case, two weeks -- is better than nothing at all.