LAKE FOREST, Ill. -- In golf's modern era, the number of players who had better years in the major championships than Jordan Spieth did in 2015 adds up to exactly two.
Ben Hogan won three majors in 1953.
Tiger Woods won three majors in 2002.
This year, Spieth won the Masters and U.S. Open, missed a playoff by a stroke and tied for fourth at The Open, then finished second at the PGA Championship.
That is a "player of the year'' season by almost any measure ... except Jason Day is making it interesting.
The Australian's victory Sunday at the BMW Championship gave him five wins this year, including four in his past six starts. Throw in a major championship win at Whistling Straits, and the very real possibility of winning the FedEx Cup next week in Atlanta, and there is undoubtedly going to be debate about the honor.
"Absolutely,'' said Phil Mickelson, who has never been voted player of the year by his peers. "He's got an argument and it would be a vote between the two of them. And it would be a close vote. Is it more majors or more wins? The old guys would say the more majors and the younger guys would say the more wins, so there you go.''
Typically two major championships in a year prevails over anything else. Going back to the inception of the award in 1990, every two-time major winner has also been player of the year -- except for Nick Faldo, who was not a tour member when he did so in 1990.
Yet every five-time winner in that span also was play of the year.
Of course, there has never been this overlap, either.
"No, no way,'' said 2014 player of the year Rory McIlroy when asked whether he thought Day had a chance. "Majors trump anything. Jordan has had that locked up basically since the Open Championship.''
At that point, Spieth had four victories on the PGA Tour and that incredible run in the majors with another runner-up finish to come.
Day, 27, had only a single victory to that point at the Farmers Insurance Open and had just seen another opportunity pass when he failed to make a birdie over the closing 12 holes at St. Andrews, missing the playoff won by Zach Johnson by a single stroke.
A good bit of soul-searching ensued after that near miss, and Day -- who had nine top-10s in majors to that point -- seemed determined to get it right. He won the RBC Canadian Open the following week, then two weeks later shot a record-setting 20-under par in winning the PGA Championship.
Throw in two more victories since and the idea of him getting attention for player of the year certainly has merit.
"It's kind of hard to vote against Jordan, even though Jason has obviously had a fantastic finish to the year,'' said Dustin Johnson. "You never know. I guess he wins this week and next week, who knows?''
Maybe a closer look at the numbers would help?
Spieth: 24 official PGA Tour starts; four wins; 14 top-10s; four missed cuts. Major finishes: 1-1-T4-2.
Day: 19 official PGA Tour starts; five wins; 10 top-10s; two missed cuts. Major finishes: T28-T9-T-4-1.
The way players view the importance of major championships undoubtedly will have a big impact, and Spieth clearly is ahead in that category. Even Day acknowledged as much.
"It might change people's minds about it if I go ahead and win next week and win the FedEx Cup,'' said Day, whose final-round 69 gave him a 6-shot victory over Daniel Berger at Conway Farms. "That'll definitely move some heads, I think.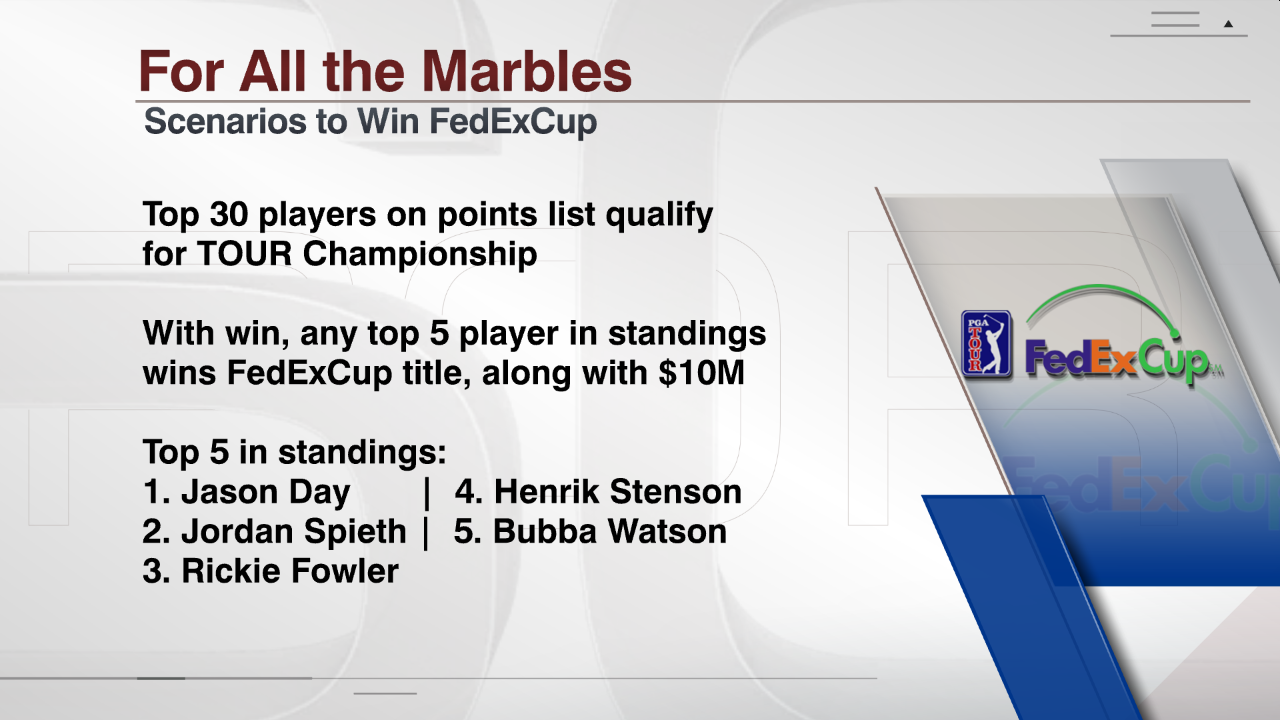 "But once again, we can't deny what Jordan has done in the major championships this year. For a 22-year-old kid to accomplish what he's done in the major championships, to even have the opportunity at winning the Grand Slam in the year ... that has been an amazing ride for him.
"I think it's him, but I'm hoping I can go and win next week and get people talking about it a lot more.''
Winning five times -- and possibly six -- is an understated achievement, likely because Woods has done it 10 times. Going back to 1980, only Tom Watson, Nick Price, Woods, Vijay Singh and now Day have won a minimum of five times in a PGA Tour season.
And some prominent players have never done it, including Gary Player, Greg Norman, Ernie Els and Mickelson.
Perhaps the best question to ask would be whether Spieth would trade his year for Day's? It is difficult to imagine that, which might be the ultimate way to decide this debate over two excellent years.
Or Spieth can take care of business by winning the Tour Championship, matching Day with five victories and capturing the FedEx Cup.
Short of that ...
"I'm glad it's not my decision,'' said Rickie Fowler -- clearly forgetting that he'll have a vote in the matter.
Ballots go to PGA Tour players immediately following the Tour Championship.