ATLANTA -- Jordan Spieth is 22 years old and has just cashed a cool $22 million.
Well, that's not totally true. That's on-course earnings alone; it doesn't include endorsements. And it's only for this year; it doesn't include others. So really, he has banked much more than that, which only makes the following story more relevant.
A few years ago, Spieth wanted a razor scooter.
OK, so maybe it was close to a dozen years ago, but when you're just 22 and delving into your memory bank, there's nothing that didn't happen more than a few years ago.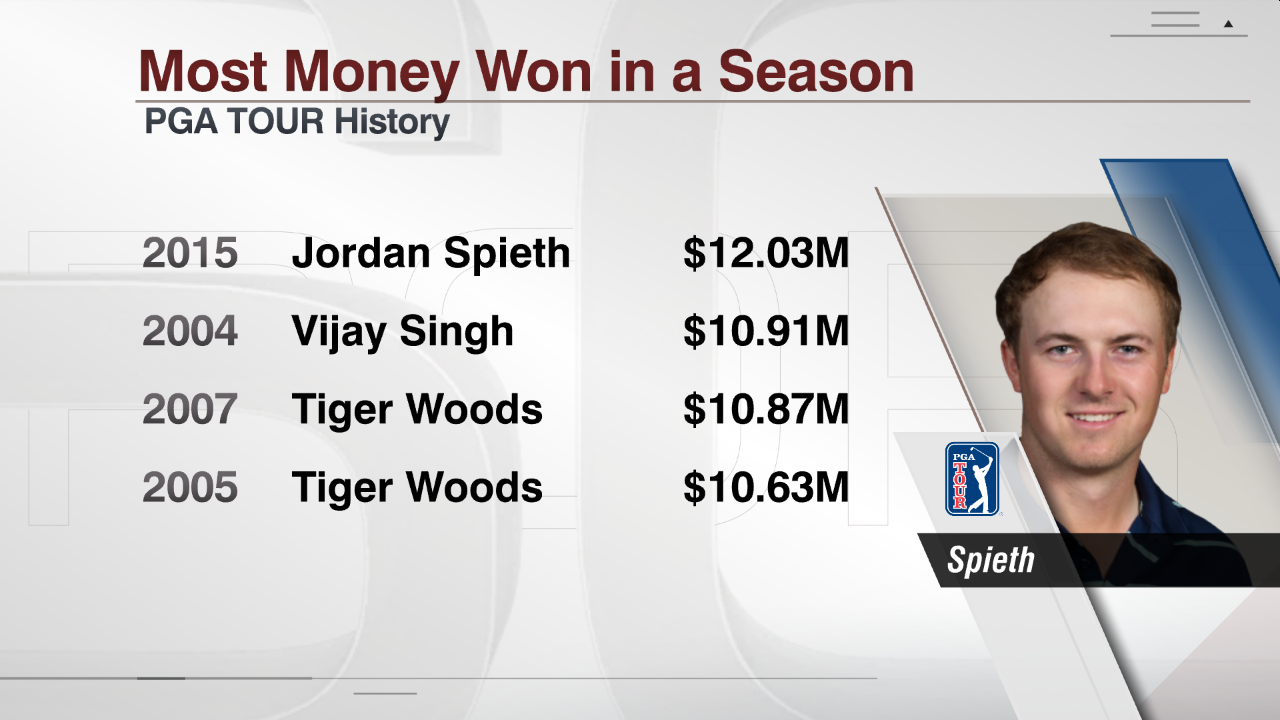 He wanted this razor scooter -- "back when they were cool," he says now -- and so he started saving up for it.
"They were a little over $100 or something," he recalled with a laugh after winning the Tour Championship and clinching the FedEx Cup on Sunday, a haul that totaled $11.485 million. "I was trying to save up. You know, $20 here, $40 there."
His parents, Shawn and Chris, don't remember the razor scooter.
Walking up the par-3 18th hole at East Lake Golf Club as their son was on the verge of claiming the end-of-season double-dip, they were asked if Jordan ever desperately wanted anything as a kid.
"I can't think of anything, to be honest," said his mom.
Nothing? No cool new clothes? A dirt bike? Video games?
"He never played video games," she replied. "His brother did and his friends did, but he wouldn't want to go over to people's houses, because they'd sit and play video games. I remember one time it was a gray, dreary day and he couldn't play golf -- he was in high school by then -- and he said, 'I'm so bored. What do kids do all day?' Because he couldn't play golf."
So, nothing at all?
"Well, just some specific clubs," his dad said, "to get out of those bubble shafts that I first got him."
He's quick to point out that they made him earn the money by doing chores, such as mowing the grass, but even that soon turned into a golf-related activity.
"He used to want to cut the grass in the corner of the front yard into a golf hole," Chris remembered, shaking her head. "I told him, 'You're going to kill my grass,' but he'd put the blades down and make a circle."
Entire books have been written on how to raise a champion, but the first chapter should include some variation of the Spieth story: Kid wants to practice and compete endlessly; parents encourage, but temper those aspirations at the same time.
Just minutes before Jordan would rake in a seventh straight par putt to close his round and easily win by 4 strokes, his mom recalled how they'd kept him from being too engrossed with the game. He wanted to attend a full-time golf academy, they sent him to a traditional high school; he wanted to spend half the day practicing, they ensured he took a full course load; he wanted to move away from home, they kept him under their roof.
That might tell only part of the story of how the newest FedEx Cup champion and world No. 1 and, presumably, player of the year remains so grounded.
Other 22-year-olds might earn this much money and immediately pimp their rides and bling themselves out and, well, whatever else irresponsible 22-year-olds do these days.
Not surprisingly, Spieth has opposing plans.
"It allows me to now even more so, take care of the people that have given me to this position and allowed this to happen," he explained. "Like I always say, it is a team effort. A lot of behind-the-scenes work goes in when we're at home, when we're in the early stages and on course here. The bonus that comes with the FedEx Cup championship trophy allows me to now take care of, even more so, our team and to keep them wanting to come back to me."
That might sound like lip service, but there's someone else who knows exactly what he'll do with those riches -- someone who's front lawn was turned into a golf hole not so long ago.
"He doesn't go out and make big purchases," Chris said. "He's generous with his family, he's definitely generous with his friends, but he really doesn't spend it. He started a foundation and I guarantee you some of this money is going to go into that."
It has been a long time since Spieth was saving $20 or $40 at a time, doing chores to save up for that razor scooter. Really, though, like everything in the life of a 22-year-old, it wasn't so long ago.
Not long after he clinched both titles Sunday evening, with both gleaming trophies on a table in front of him, Spieth was asked about the last time he needed money for some material item.
He wistfully told the story of the razor scooter, then allowed himself to consider the irony of how he has earned $22 million on the course this year.
"Yeah," he offered with a laugh, "I could probably get a few razor scooters now."