ATLANTA, Ga. -- If Jordan Spieth wanted to exhale, cruise through the FedEx Cup playoffs, enjoy the spoils of his riches and not obsess over that big pot of gold awaiting the champion -- $10 million, mind you -- who among us would have blamed him?
Despite all the chatter leading into the Tour Championship about player of the year resumes, Spieth's 2014-15 season already qualified as one of the best all time. The major championships took care of that.
But Sunday's final round at East Lake Golf Club -- which Spieth said he would treat like a major championship -- turned an already phenomenal season into something beyond even that, a five-win effort that is as rare in today's game as winning two majors in the same year.
Throw in Jason Day's five wins and the game of golf's youth movement is looking pretty impressive at the moment.
"I think golf is in good shape,'' said Day, who won two FedEx Cup playoff events and led the FedEx Cup standings before Spieth won the Tour Championship on Sunday. "Not only with myself and Jordan, but Rory [McIlroy] and Rickie [Fowler]. I think golf is in a good spot.
"To be able to put five win seasons for both of us, it's pretty good. It's kind of like the old Tiger [Woods] and Phil [Mickelson] kind of era when they used to put stuff like that together and now it's kind of our turn to do that.''
Perhaps it is, but not even Tiger and Phil produced the same kind of year -- together -- as Jordan and Jason.
Woods won a minimum of five times in 10 different years, a remarkable achievement in its own right. But Mickelson -- a Hall of Famer with 42 wins, including five majors -- never has won five in a season, nor has he ever won two majors in a year.
Spieth did both of those at age 22, and in the process earned $22 million and change this year in both official earnings on the PGA Tour and FedEx Cup bonus money.
As rare as it is for a player to win five times in a season -- Spieth and Day became just the fifth and sixth players to do so since 1980 -- it also incredibly rare for two to do it in the same year.
You have to go all the way back to 1973, when Jack Nicklaus and Tom Weiskopf each did so. It has now happened just five times since 1960, with Nicklaus, Lee Trevino, Arnold Palmer and Doug Sanders being part of that small slice of tour trivia.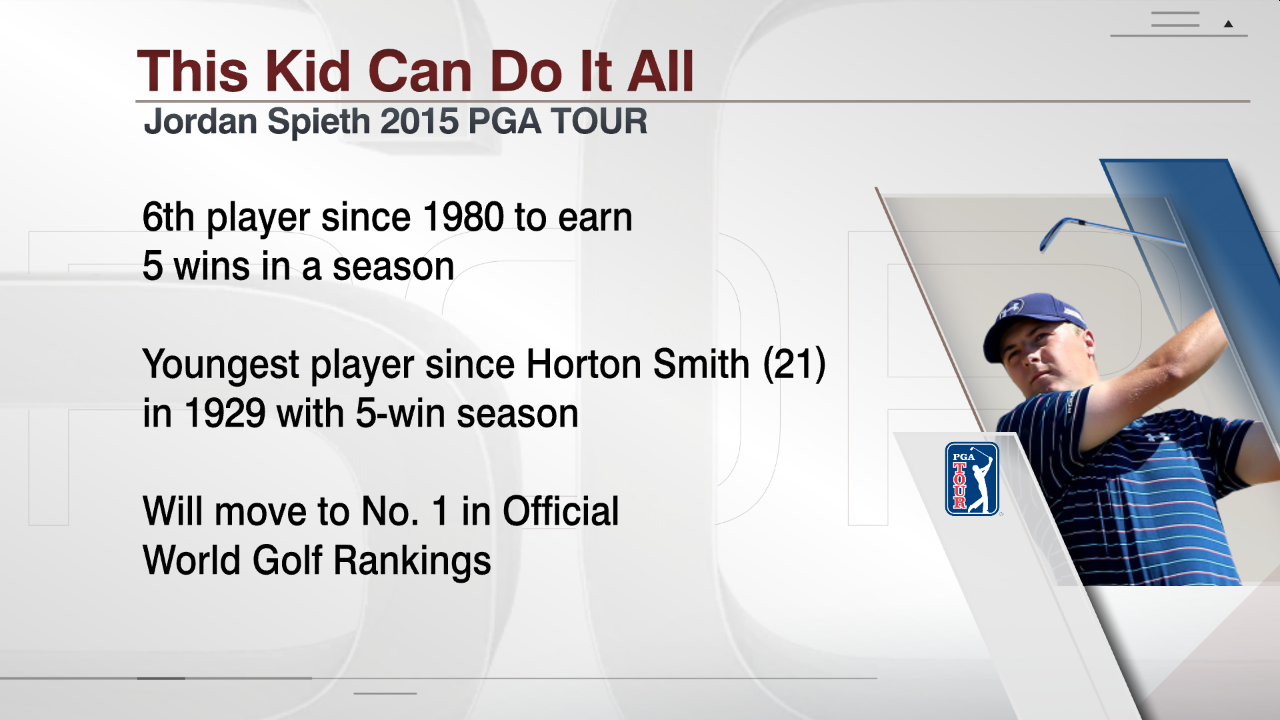 Spieth and Day seem poised to make their own history, but don't forget McIlroy and Fowler. That foursome combined to win 16 times worldwide in 2015, and three of the four players claimed all four of the FedEx Cup playoff events.
"I think [the game] is in as great a state as it's been in a while,'' Spieth said. "From my perspective, it seems that fans could tell a bit of a difference. They just seem more excited, and you can see it just seems to be having a bit more of an impact.
"Rory's season last year was one of the great seasons that's been had. But the fact that there's been such a high level from numerous guys, it's cool. We push each other. The state of golf right now has been raised to a higher level and it's motivating.''
But McIlroy, who won two majors last year, failed to win in the latter stages of the season, and yet that didn't keep him from holding and relinquishing the No. 1 ranking that went back to Spieth on Sunday. The ankle injury he suffered on July 4 was a turning point for him and the game.
Fowler captured the Scottish Open, a tournament McIlroy missed. Spieth and Day missed a playoff by 1 stroke at The Open, where Zach Johnson prevailed while McIlroy's leg was still propped up on a couch. And then with a rusty McIlroy back for the PGA, Day outdueled Spieth on the final day at Whistling Straits to win his first major.
A letdown appeared inevitable for Spieth, whose two victories, a tie for fourth and a second in the major championships ranks outside only the years of Ben Hogan (three victories in 1953) and Woods (three in 2000) in the majors. It can be argued that no other major year was better than what Spieth put together in 2015.
So what do you do after that?
Keeping that fire burning just two weeks after the PGA would have been a tough ask for anyone, and Spieth understandably fell off. He shot four straight rounds over par and failed to make the cut at both the Barclays and the Deutsche Bank Championship.
In a true playoff format, that would have been the end for Spieth. But he was well aware of the setup, that his strong play throughout the year assured him of getting to Atlanta in the top five, and that a victory at East Lake would assure him the overall title.
That's why he approached it like a major championship -- and given his success this year in those big tournaments, why not?
With a 1-shot lead heading into the final round over Henrik Stenson, Spieth overcame back-to-back bogeys at the fifth and sixth holes and made a couple of dagger putts to keep Stenson from closing the gap on the back nine.
"It's been a phenomenal year for him,'' said Stenson, who finished second in the FedEx Cup standings after his tie for second in the tournament. "I watched it first hand during the first two rounds at Augusta, and he played phenomenal and putted phenomenal. And it was just the same putting display, really, today. It was just an exhibition on the greens, to be honest.
"His putting and mental focus is the best in the world.''
Spieth overall is the best in the world, the rankings putting him on top again, the sixth straight week there has been a change between him, McIlroy and Day.
It speaks to the high level of competition at the top of the game, and suggests that more of the same is in store when the calendar turns to a new year.