Here at the end of what could forever be known in the golf world as The Year of Jordan Spieth -- briefly interrupted only by The Late Summer of Jason Day -- this past week has served as a victory lap for our guest of honor.
He won the Tour Championship; we applauded. He clinched the FedEx Cup; we marveled. He returned to No. 1 in the world; we knowingly nodded our heads in unison. And with Friday's announcement that he's been named the PGA Tour's Player of the Year for the 2014-15 season, we'll again use this news as a launching point for kowtowing to everything Spieth, from shock at his world-class abilities as a 22-year-old to the unfair yet inevitable Tiger Woods comparisons.
None of this adulation is new, and all of it extends well beyond the confines of his golf game. He's mature; he's humble; he's grounded. In short, he's the impeccable combination of everything we want our superstars to be and everything his public relations team wants him to be. That's a delicate line to walk and he's done so with equal measures of grace and charisma.
It seems everyone is fawning over Spieth's growing list of accomplishments these days, except one very important character in this emerging storyline: Spieth himself.
Among the world's best golfers, the perseverance to "keep getting better" is worn as a badge of honor. Passed down from one generation to the next, it remains one of the game's unique charms. Even the most proficient players are never satisfied. Nobody can ever perfect this craft, because there's no such thing as perfect.
Spieth's determination, though, is already becoming the stuff of legend.
There are numerous tales which can be used to encapsulate his mindset. Like at Harbour Town earlier this year when, just days removed from winning the Masters and a post-victory whirlwind interview blitz around New York City, he showed up at the RBC Heritage looking like he might fall asleep in a fairway; instead, he posted a second-round 62 and finished in a share of 11th place. Or at the end of the U.S. Open, when he endured a penultimate-hole double-bogey, then ripped a driver and smoked a 3-wood to set up the eventual winning birdie.
Perhaps no story, though, symbolizes his mindset more than one that never showed up on a scorecard or any results table.
It was last week, early Monday morning, when Spieth was heading to East Lake Golf Club for a practice session with the people he fondly refers to as his team. After starting his playoff run with two missed cuts and a T-13 at the BMW Championship while idly watching Day take over the top spot in the ranking, Spieth punctuated the conversation with some perspective.
"You know what?" he said audibly, though he might as well have been telling himself. "This week is just part of a marathon. And I've treated the last month like a sprint."
In sporting lore, the marathon-sprint analogy is a tired cliché, one too often employed by athletes attempting to take a longer view.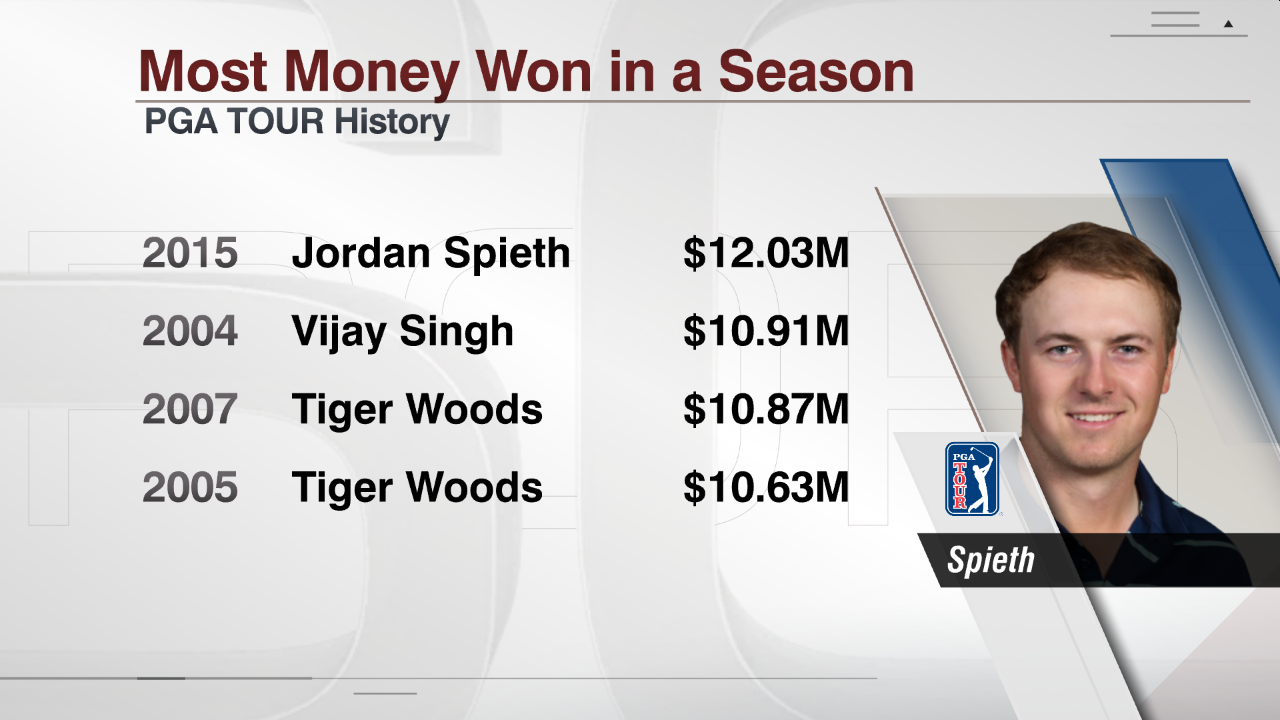 In this particular case, it serves as a window into Spieth's ethos.
That's because the longer-view analogy was a longer view in itself. The marathon wasn't this season, with him racing to the finish line. It's his entire career, one which has barely hit one of those early mile-markers.
On Sunday, as Spieth marched toward his fifth title of the season, one which would deliver all of those other accolades, his caddie, Michael Greller, reminded him of those words.
"You're at the end of mile three," he told him. "You've had a great mile three, but you've got 20-plus years of doing this."
That should serve as a daunting proposition for any other golfer with plans on winning big-time events over the next two decades -- even if Spieth abhors the incessant talk about his age. He doesn't bristle much, but ask about his general youthfulness and he'll put up a wall of defense.
After he won the Valspar Championship this year, he insisted, "It doesn't matter how old you are, who you are, anything can happen in golf"; after he claimed the U.S. Open, he said, "I don't really think of my age, I just think of us all as peers."
That might be the case, but he understands he's still early in his marathon. While the rest of us marvel over what he accomplished this year, Spieth won't allow himself to wallow in the spoils. He's still pacing himself.
Two majors, the FedEx Cup title, five wins and Player of the Year honors. Yes, this was clearly The Year of Jordan Spieth -- so far. Two decades from now, though, when he's nearing the finish line of this marathon, such a description of a single campaign could be followed by a simple, serious response: Which one?