PEBBLE BEACH, Calif. -- One by one, each wave crashed onto the shore of Carmel Bay under a bright Sunday afternoon sky, the tide pushing the water into massive rocks, sending a cacophony spraying upward, then pulling it back out to sea. It would be a brilliant scene anywhere, but its beauty is enhanced by serving as the backdrop to one of golf's most iconic holes, the 18th at Pebble Beach Golf Links. Before Jack Nicklaus played the final hole of his U.S. Open career, he famously stopped for one last lingering contemplation of this view.
Vaughn Taylor loves the water; he grew up on the water. Not this water but that of his native Augusta, Georgia, admittedly a far cry from Carmel Bay. He's a fisherman, and when he's not playing golf or spending time with his family, you can often find him on a boat, trying to reel in some bass or striper.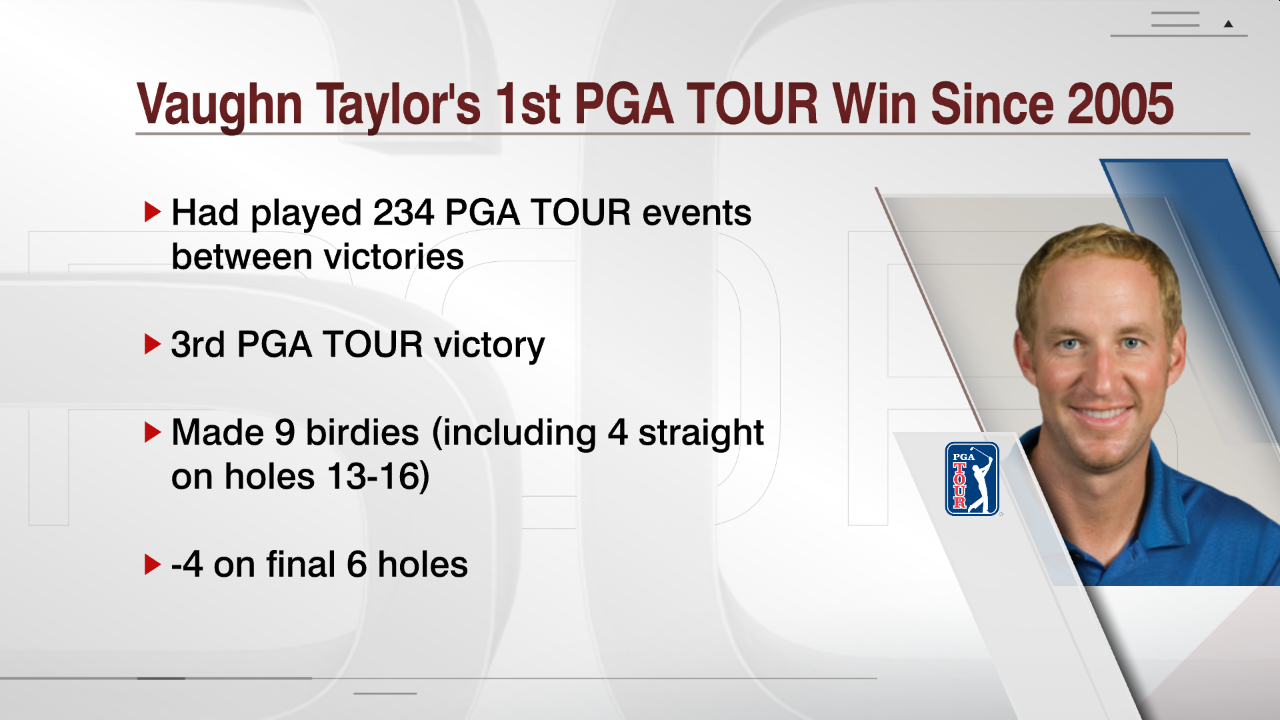 So maybe it's fitting that the biggest moment of his professional career occurred just a few elevated yards from the water, a tap-in par on that final hole to solidify a final-round 65. Maybe it's fitting that he had to overcome so many obstacles on this day, starting a half-dozen strokes behind Phil Mickelson. And maybe it's fitting that even after he had finished, the man who had waited 11 years to win his next PGA Tour title was forced to wait another breathless hour until it was official.
Maybe it's all fitting, the water and the obstacles and the waiting, because just a few years ago, that combination nearly killed him.
The date was Aug. 11, 2014. Taylor was fishing on his boat in the Savannah River, something he had done plenty of times before. It's the same river where two years earlier he had hauled in a 56-pound, 2-ounce striper, a river record.
This time, however, Taylor was alone and wasn't wearing a life jacket. The line anchoring his boat right by the dam snapped, causing it to capsize.
Within moments, he was submerged in the water. He reached for an inflatable tackle box and tried to stay afloat. Then he waited. There was nothing he could do but wait.
"Once you're in the water, in current, without a life jacket, you think it's easy to swim, but it really changes when the water's up to your nose and you don't know what's happening," he recalled. "It was pretty scary. I really thought for a minute that this could be it."
Ten harrowing minutes passed until Taylor was rescued by local authorities. Ten minutes that changed his entire perspective on life.
When he was finally safe, he called his wife, Leot, who remembers him being "in hysterics." She remembers him thinking he would never make it back home to her and their young son Locklyn again.
"It taught him," she says now, "that life is precious."
That might have been a lesson that Taylor needed. He admits these days that he once took too much for granted. His career, his life -- all of it.
Taylor won his first PGA Tour title in 2004, which was also his first full season. He followed with another win the next year, then competed for the United States team in the Ryder Cup one year after that.
For a kid who grew up in the shadows of the Masters Tournament, success had come quick and easy. There was no reason to believe that it would just as quickly leave him too.
But things happened. Life happened. Golf happened.
"I lost a lot of confidence," he admitted. "Lost a good bit of my game."
He also lost his PGA Tour playing privileges. Two years ago, he was the first alternate here at Pebble Beach and never got into the field. Last year, he missed out on conditional membership status by one spot on the FedEx Cup points list, finishing 151st by mere percentage points.
He had planned to ping-pong between two tours this year, playing the PGA Tour when the opportunities arose but otherwise competing on the developmental Web.com circuit. That's where he was two weeks ago, missing the cut in Panama. And last week, he withdrew after one round with a flu bug so violent that it required a hospital visit.
He showed up at Pebble Beach this week with a carry bag, because he didn't want to pay the excess baggage fee that a heavy staff bag often incurs with 50-pound limitations. Just like two years ago, he was the first alternate when he arrived, but this time a withdrawal allowed him into the field.
The obstacles. The waiting. They've become central themes in Taylor's career.
Without them, he insists Sunday's victory never would have happened.
Once Mickelson missed a birdie attempt on the final hole, it was official. Tears streamed down Taylor's face as photographers clicked pictures of him hugging Leot and their little boy.
In the backdrop of this scene was the water, waves crashing against the rocks, one by one, spraying into the air before slowly trickling back out to sea.