PEBBLE BEACH, Calif. -- Stop me if you've heard this one before: Phil Mickelson presented a brilliant display of golf for most of the week, faltered during the final round, attempted to mount a furious late comeback, then ultimately wound up as a disappointing runner-up.
The final result here at the AT&T Pebble Beach Pro-Am could easily be termed The Epitome of Mickelson, but that would underscore a major theme that the left-hander himself proffered after yet another second-place finish.
Not all close calls are created equal.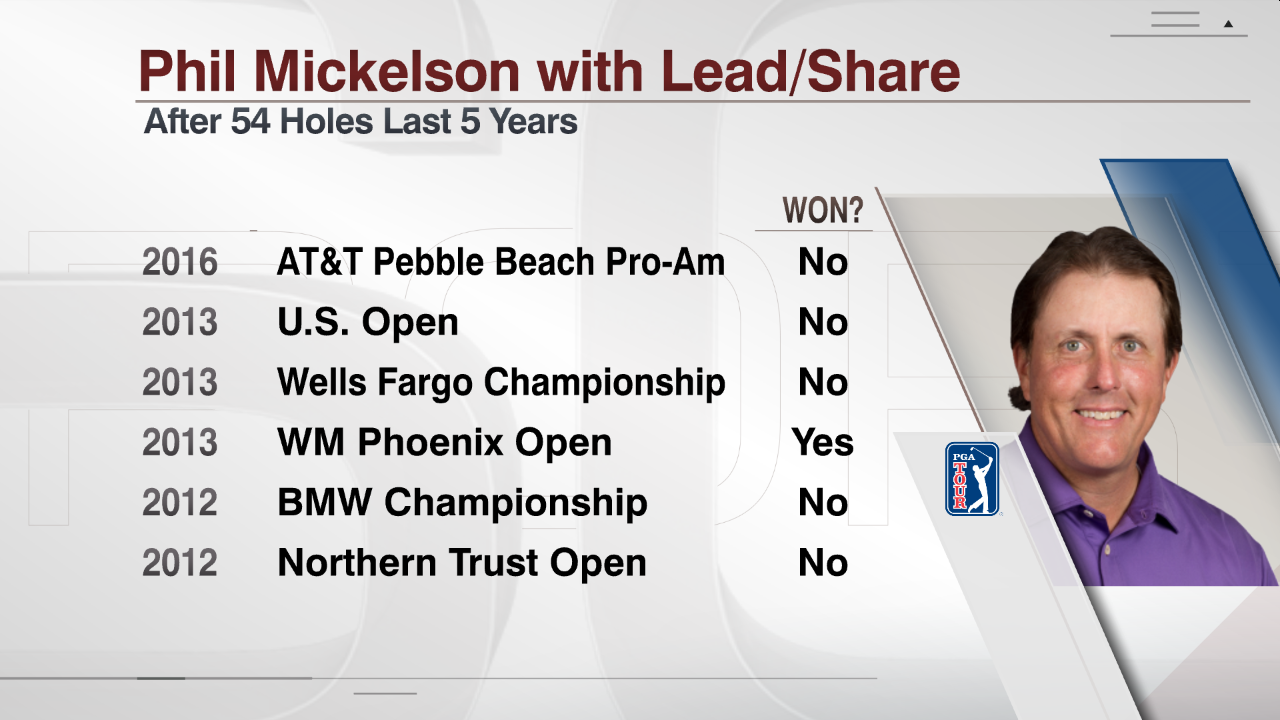 He would know. Mickelson has finished runner-up 32 times in his PGA Tour career. He has done it at least once in 20 of the past 21 seasons. He has ended up in second place at all four of the major championships, some more than once. (Ahem ... U.S. Open.)
If there's any professional golfer who owns a keen awareness of the heartbreak that comes with some runner-up results and the solace that comes with others, it's Mickelson. He understands when a loss is so debilitating that it will keep him bedridden for days afterward and when one is so encouraging that it will motivate him to race to the driving range the next morning.
In the aftermath of parlaying a 2-stroke, 54-hole lead into a 1-shot loss to Vaughn Taylor on Sunday, Mickelson knew immediately where this one would fall on that spectrum.
"It's certainly disappointing, but it makes me more determined to get back to work and get this thing right, because I know that I'm on the right track," Mickelson said after a final-round, even-par 72. "I know that I'm close to being where I want to be."
This wasn't some sort of spin control or putting on a happy face for the cameras.
Mickelson has always been honest about how much each loss really stings. Just check the archives after all six of his U.S. Open second-place finishes, each one more painful than the last.
This one wouldn't have afforded him an addition to his major championship total. It wouldn't have passed any sort of momentous benchmark. Sure, for a guy with a career-worst, two-and-a-half year winless drought, it would have allowed him to shrug off the naysayers who claim he's too old to win again, but that's not the type of thing that motivates him anyway.
What motivates him is a swing that has him confident over the ball again and a putting stroke that didn't miss anything inside of 7 feet until the 72nd hole of the week.
For a player -- like so many of his elite-level brethren -- who focuses on seeing his game peak four times per year, he realizes this result could very well lead to improved performances at those majors.
"The positive is that I'm having more fun playing golf right now than I've had in years," he said. "I've got control of the golf ball. I'm hitting a variety of shots and pulling them off with ease, and I'm just having a lot of fun. As nervous as I was and as disappointed as I am that I didn't win, this was so much fun for me to get back in the thick of it and feel the pressure."
Mickelson will move forward from this runner-up just as he moved forward from the 31 before it.
As for whether all of those other close calls will help him refocus after this one, he wasn't immediately sure.
"I don't know if those past experiences help or hurt," he admitted. "I know that I come out of this a little bit more determined. ... I'm just a little more determined to get back to work. Because I know where I'm playing. I know how close I am to being where I want to be, and when I get there, I'm excited about what the result's going to be. But right now, I'm not quite there yet."
Mickelson has been here before. He has endured plenty of close calls, knows when they'll gnaw away at his insides for a while and when they'll motivate him to keep working on his game.
In the moments directly after this latest loss, he wasn't heartbroken -- just a little disappointed. Don't expect that disappointment to linger for too long.