AUSTIN, Texas -- Jordan Spieth headed out early Saturday afternoon, his run at the WGC-Dell Match Play over sooner than all of his local Longhorn supporters had hoped, his No. 1 ranking in peril.
But while Spieth had difficulty hiding his frustration on the course while losing to Louis Oosthuizen -- and was more than honest afterward about his shortcomings in the match -- the Texan was also far from panicking about his Masters defense in two weeks.
"The good stuff is there when I have control,'' said Spieth, who fell 4 and 2 to Oosthuizen after cruising to the Round of 16 during the first three days at Austin Country Club. "As long as I can hold it together four, five six rounds in a row, then we're in good shape.
"I feel like it was a big improvement this week off of the last month. If I think about it that way, we're going to be in good shape in a couple weeks' time and I think we'll get in contention next week, and hopefully hold a little more consistency there come the weekend.''
It could very well be that Spieth is trying to convince himself that all is well. The theory here was it would be good for him to get into contention at the Match Play to erase any doubts with the Masters so close.
The past several weeks have served to present more questions than answers. His daunting schedule has been scrutinized, and since returning from tournaments in Abu Dhabi and Singapore, he's failed to contend in five stateside events.
During that run, he shot a 79 and missed the cut at the Northern Trust Open, shot 76 at the Valspar Championship, rallied to get back into contention, then shot a poor final round and questioned his decision-making as well as that of his caddie, Michael Greller.
Spieth breezed through the opening three days here, never trailing in a match, making 14 birdies and an eagle, then stumbled against Oosthuizen -- against whom he never led.
Nonetheless, it will go down as a tie for ninth, his best finish since a tie for fifth in Singapore. That 8-shot victory at the Hyundai Tournament of Champions in January wasn't exactly a sign that everything would be perfectly smooth in 2016.
"I was off from when I hit my first tee shots on the range,'' Spieth admitted about his match with Oosthuizen, in which he twice hit balls in the water and played 16 holes in 1 over par. "The ball was slicing off, which is very odd. I've had incredible control of the ball this week and of my wedges. I'm not exactly sure what happened. I still don't really know.
"And it could have been something as simple as ball position or alignment. I tried to figure it out for the entire range session, but I just couldn't grab a shot that I knew I could go to the course with. It was just a very off day. I just need more consistency on my off days if I want to be able to compete come Augusta.''
Spieth's anger flashed a few times, including slamming his club into the bag after an errant shot into the water at the 11th when he was only 1 down. "Shots that are maybe 1 out of 100, and they just happened to come up today,'' he said. "Just tough timing.''
He expressed regret at not being able to hang around and compete the rest of the weekend in the town where he attended college at the University of Texas and played plenty of golf.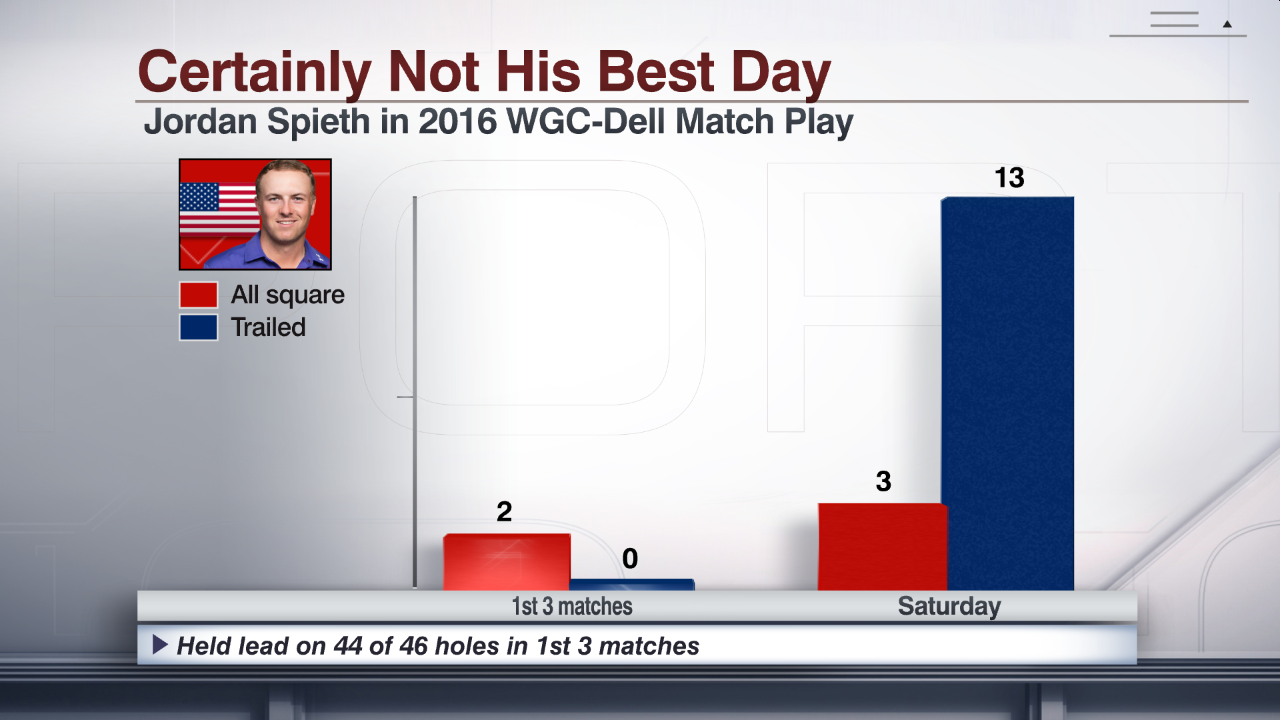 "All my matches this week felt like a round in contention. That's what's good about match play and preparation for majors, because you feel like it's a win or go home against one other opponent,'' he said. "You feel the nerves on almost every swing. I have this entire week. So that's certainly good for me.''
There's also a chance the day off will do him some good. Not in terms of his world ranking or his bank account or even his golf. Spieth said he would not practice Sunday, so perhaps that rest will be beneficial. Going back to that victory in Hawaii, Spieth has never had more than a tournament week off, playing eight times in that span.
This coming week's Shell Houston Open will be his ninth, with the Masters to follow and all the attention and stress that comes with being the defending champion -- or in Spieth's case now, going into any major championship.
Perhaps that is why he didn't seem all that bothered by the possibility Jason Day could surpass him for the No. 1 ranking, which the Aussie did later on Saturday in his quarterfinal win against Brooks Koepka.
"To be honest, it could be a good thing for me going into the Masters,'' he said. "More on other people, less on me.''
Well, good luck with that, Jordan.