PONTE VEDRA BEACH, Fla. -- The red-carpet treatment is understandable, given that this is PGA Tour headquarters, warm and fuzzy all around. The Players Championship offers a big purse, plenty of amenities, along with the never-ending debate about where the tournament ranks in golf's hierarchy.
This year, tournament officials even rolled out a benign golf course, with receptive greens and generous pin locations and all manner of scoring opportunities.
And then conditions turned nasty -- or at least that is the prevailing conspiracy theory.
Overnight, the Stadium Course at TPC Sawgrass turned from benign to beast, the greens causing headaches and heartache along the way.
"It's as extreme as you could have this set of greens today,'' Adam Scott said. "They are as quick as they could possibly be to be playable here."
Even tournament leader Jason Day was impacted, although not enough to put a big dent in his advantage.
The No. 1-ranked player in the world, Day set a 36-hole scoring record, shooting 129, 15 under par. He didn't make a bogey through 36 holes but then made two double-bogeys in three holes on the front nine Saturday afternoon, with a four-putt and a three-putt.
"I want to say this was the toughest day I've ever had to play in my life,'' said Day, who managed to maintain a four-shot lead through 54 holes.
But he made only three birdies in a round of 1-over-par 73. Hideki Matsuyama shot 67 and Ken Duke had a 65 that included a front-nine 30 to tie Alex Cejka for second, four strokes back.
So scoring was not impossible. But the number of three-putts, double-bogeys or worse and high scores suggest something was amiss. Saturday's scoring average was 75.59, up from 71.06 for the first two rounds.
What happened?
"They must have rolled them more than normal,'' Scott said, referring to a machine used to treat the greens. "You can cut greens and get them smooth, but rolling them makes them fast, and they must have rolled them more than any other day.
"Couple more [rolls] tonight and one more in the morning and we will be ice skating tomorrow.''
Not so, said the PGA Tour.
"We have done the same thing all week,'' said Mark Russell, the tour's vice president of rules and competition. "We have been double-cutting these greens and double-rolling them and trying to get them firmed up.
"And what happened today was just kind of a perfect storm with the weather. We weren't expecting a 20 mile-an-hour wind all day, and the humidity 30 percent, not a cloud in the sky. And they just, you know, sped up on us.''
No arguments there, Mark.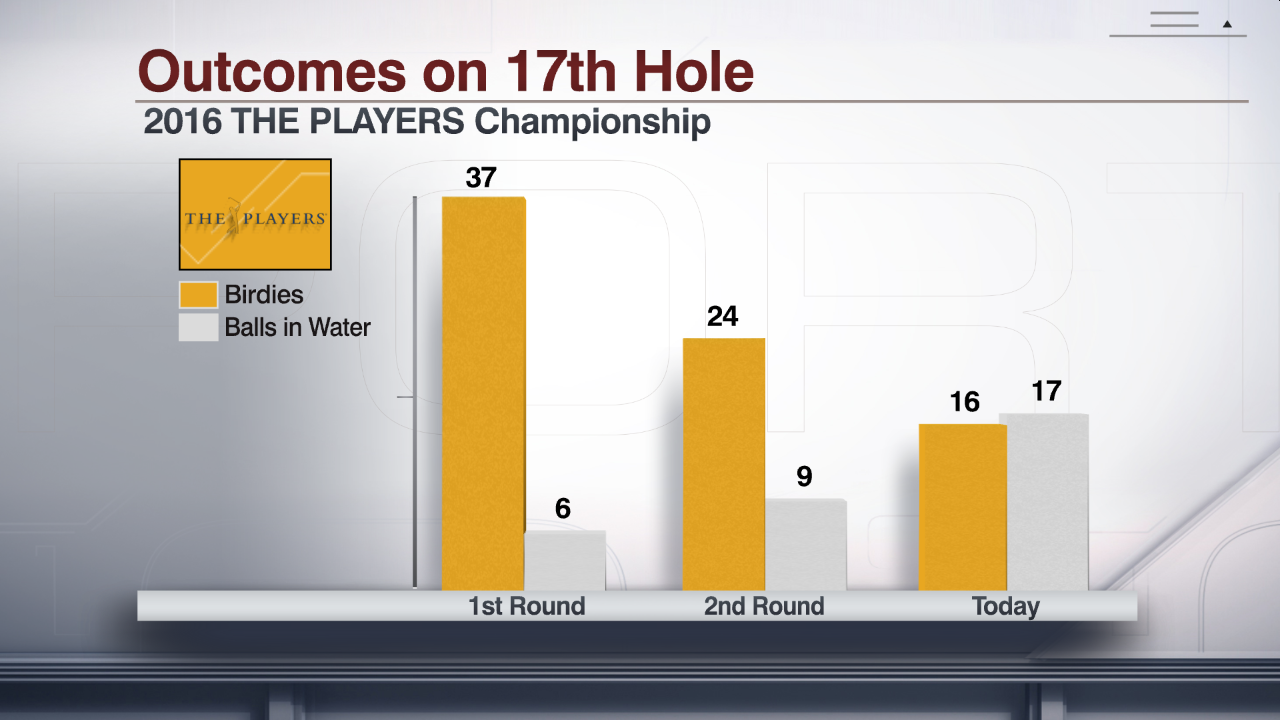 The problem is, the tour has a slew of players not believing the company line.
"It was a massive change -- it wasn't very subtle,'' Scott said.
"That was borderline unfair on a few holes,'' Rory McIlroy said.
"I felt like I was putting on dance floors out there,'' Billy Horschel said.
"It was crazy tough,'' Matsuyama said.
There were only three rounds Saturday in the 60s and only six under par. There were seven in the 80s. The 76 players in the field combined for 149 three-putts or worse -- a record for the course. There were 86 double-bogeys or worse.
"I think everyone knows it got out of hand slightly,'' said Russell Knox, who made a 9 on the par-3 17th -- which had nothing to do with the greens. "The greens were the fastest I've ever putted. I looked up on the board and saw Ken Duke shot 65 and was like, what? That's the best round of golf ever, probably. It was incredible how hard it was out there. If I made a par, I was delighted.''
The greens were in a precarious position coming into the week. They are due to be torn up and re-sodded once the tournament is completed as part of numerous changes to the layout that has been home to this tournament since 1982.
In simple terms, the greens are stressed, with a short root structure, meaning the golf course staff had to put water on them early in the week to keep from losing them or having them turn brown at the start of the tournament.
That's why scoring was record-like the first two days: the soft greens, and humidity -- which produces the moisture to keep them from drying out -- was prevalent.
"It's funny how green these greens were on Thursday when we played and how brown they look now,'' Horschel said. "So I'm guessing they stopped watering them a little bit. A lot of us were shocked that they weren't firmer and faster [at the start of the tournament], but they weren't that slow on Thursday or Friday.
"But man, today was just a different level. They really took it up another notch.''
Even Day, the tournament leader, was left to wonder what happened.
"It was a little frustrating how quick the greens [were],'' Day said. "I've never played golf where I'm trying to lag 10-foot putts just to get around the hole. A 10-foot putt felt like it was 60 feet away just to try and get it that close. It was difficult.''
There's always a fine line in setting up a golf course for the best players in the world. Given the tournament's status, the low scores the first two days were not what one would expect. So it's logical to believe that the tour attempted to make the test more strenuous.
"We weren't trying to do anything,'' Russell maintained. "We have done the same thing we have done all week.''
And he stressed there will be no changes for Sunday.
"I think that would be really unfair if they did,'' Scott said. "I feel they've really kind of manipulated the scoring over this event and they should keep it firm and fast. I don't know if they can slow them down from where they are at. I'm not a green keeper, but I think they should keep it a tough test for the whole weekend and make everyone grind.''
On that point, Scott is quite likely to get his wish.