IRVING, Texas -- As Sergio Garcia stomped into the scoring trailer at the AT&T Byron Nelson, he let out a low, guttural grunt. This was the unmistakable sound of frustration, a feeling Garcia has experienced all too often during his lengthy professional career.
It came just a minute after he'd missed a 14-foot birdie putt on the final hole that would have moved him into sole possession of the lead. He aimed too high. Or maybe it didn't break enough.
"When I hit it, I thought it was perfect," he would later explain. "I [just] hit it a touch too hard for the break."
Instantly, it seemed like another one of those moments for Garcia. The kind he's felt so many times before, when the line between ecstasy and agony measured mere inches at the very end.
It felt similar to many of those major championships, going on 17 years now, when he has been so close without ever clutching the hardware. Or over the past four years, when he has won global events and played some of the most consistent golf of his career but failed to win another PGA Tour title.
Sometimes these moments are his fault. Sometimes he's a victim of the situation.
"I feel like I had some tournaments that maybe I gave away a little bit," he would explain. "I also had some tournaments that I kind of got stolen from me, [where] I felt like I played well enough and somebody did something spectacular."
This time, fortune was finally on Garcia's side.
When Brooks Koepka failed to convert a final-hole birdie putt of his own, he and Garcia went back to the 18th tee for a playoff.
Hitting first, Koepka rinsed his drive into the water down the left side. Garcia found dry fairway with his, then posted a routine par to clinch the victory.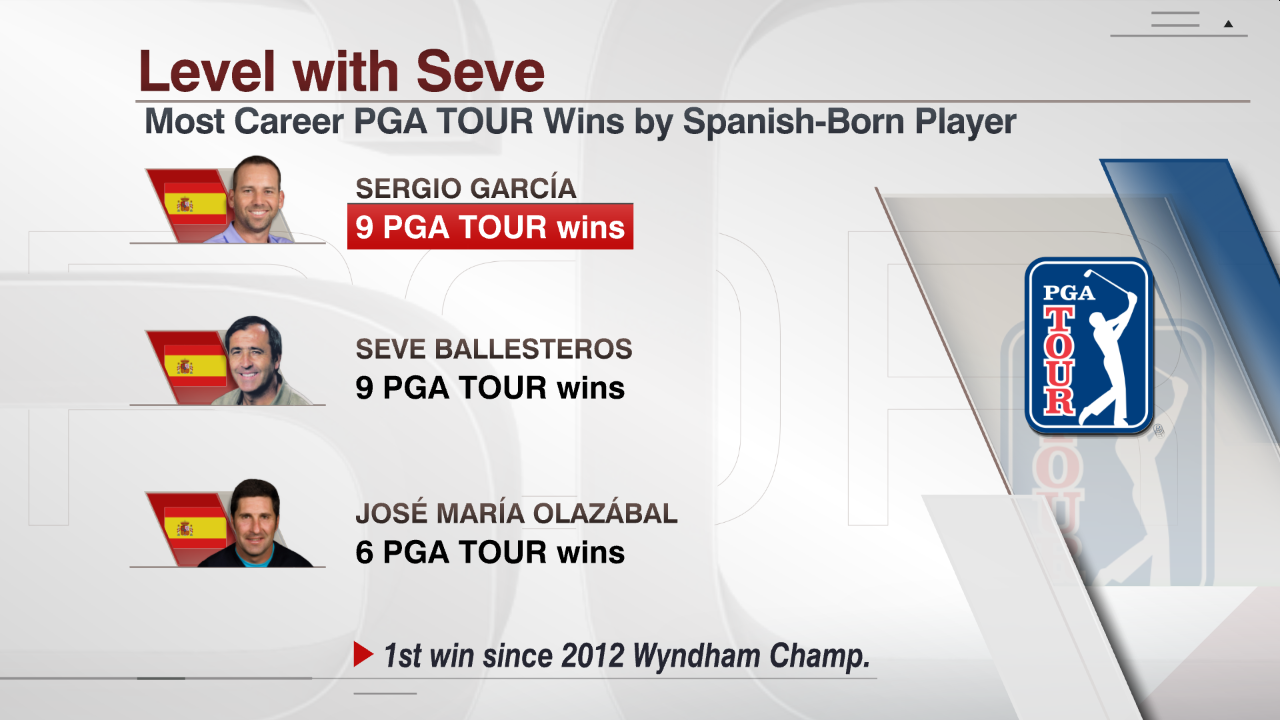 Frustration had finally given way to fortune for Garcia.
"You have to get lucky to win tournaments," said the player who perhaps leads the world ranking in bad luck over the years. "Playing well usually is not enough. And I did get fortunate, obviously."
Garcia is 36 now. His stubble is flecked with grey, his youthful exuberance replaced by the weariness of a man who has spent half his life playing professional golf around the world.
With that weariness, though, comes other, more positive effects of these years. He wears those experiences like a badge, his maturity borne of mistakes.
Yes, this is the same player who once blamed a higher power when his ball hit a flagstick and caromed off the green. It's the same player who spit into a cup when he missed a putt. The same player who attempted to playfully invoke a fried chicken joke when speaking about Tiger Woods.
Things like these can only be forgotten -- or at least dismissed -- with the passage of time. As Garcia's golf game has grown, so has his responsibility for doing the right thing.
"As you get older," he contemplated after the win, "you hopefully become a little bit wiser."
Someday, he might still win a major championship. And it might very well look exactly the way Sunday's victory did, with Garcia benefiting from another player's mistake, rather than dominating the course of play from start to finish.
You get the sense, though, that most observers are more concerned about the potential for this prospect than Garcia himself, who doesn't appear as if he'll be missing anything in his life without a major.
"I guess nowadays I also realize that, obviously, winning is amazing; it's great, it's an unbelievable feeling, but it's not the only thing in the world," he said. "There's so many other things that you can do to help people other than hitting the golf ball."
In these moments, just after the victory, he became reflective. Even philosophical.
"When I'm out there, I'm trying my hardest, but if it doesn't come out, I try to take it as the best way possible. Some weeks are better than others, but, you know, I tried."
This week was much better than others.
For a player who so often has suffered misfortune at the most unfortunate times, who stomped off the course in frustration at the end of his round, luck was finally on Garcia's side this time.
"Sometimes the win doesn't come out and you feel a little frustrated when you finish," he admitted. "We all know how much effort it is to win out here.
"It's not easy at all."