The somber, pessimistic vibe that made for an uncomfortable Bahamas breeze last December turned out to be spot on. Tiger Woods looked and sounded like a guy who was not going to be playing competitive golf for a good while, and this week that feeling became reality.
By withdrawing from the PGA Championship and his agent, Mark Steinberg, saying he would not play during the rest of 2015-16 season -- a matter of weeks at this point -- it was assured that more than a year will have passed between Woods tournaments.
It shouldn't be a surprise, and it's not news, really. The guy sits out nearly a year, has hardly been able to string consecutive rounds of golf together -- his own admission last month -- and he's going to tee it up at Baltusrol for the PGA Championship?
Remember the talk that a links like Royal Troon would be okay given it's not a strenuous walk? That it's a flat course where he could get his golf ball around? Yeah, that cold, rainy weather would have been great for a bad back.
Woods, 40, foreshadowed this at the Hero World Challenge in December, when it became apparent that his two back surgeries last fall were not going to allow him to come back in three months' time like he did in 2014.
"The hardest part for me is there's really nothing I can look forward to, nothing I can build towards,'' Woods said in the Bahamas. "Where's the light at the end of the tunnel?''
Nearly eight months later, it's still dark, apparently.
Sure, there have been positive signs. Various updates have come with the words "progressing nicely,'' which is a vague way of saying little. Progressing to putting one foot in front of the other? Or swinging a golf club at more than 120 mph, the speed necessary to compete in today's game?
The various sightings at clinics in the spring were merely a tease that a comeback was imminent. At his Houston-area golf course opening in late April, Woods acknowledged it was the first time he had played any holes on a golf course. He played five that day and actually looked pretty good for a guy who had not played at all. He warmed up on the driving range and hit enough good shots to make you think that he wasn't that far away.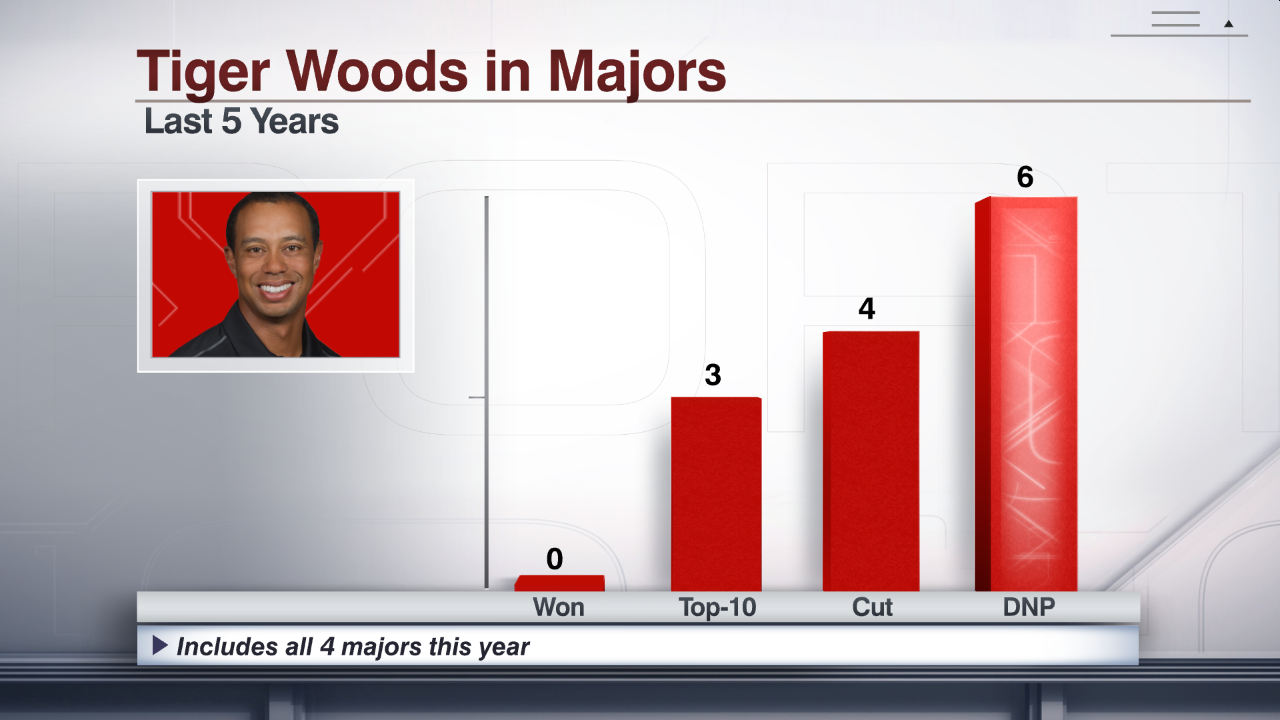 But how did he feel the next day? We don't know, and therein lies the problem. For him to return to competitive golf, Woods -- at a minimum -- needs to be able to practice and play 18 holes a day for five consecutive days, maybe six. If he can't do that, then tournament golf is impossible.
Then there is the lack of information surrounding his Oct. 28 back surgery, his second in six weeks. Woods has never disclosed what occurred. Was it more serious than the microdiscectomy he had six weeks earlier? It almost assuredly was, given the slow recovery. But nobody outside of his closest confidants knows, and maybe if that had been disclosed, the questions about a return would be less frequent.
Steinberg has expressed frustration about having to give updates about various tournaments and his status, understandable in that nobody else is required to do so. Woods did not even issue a statement when it was announced he withdrew from The Open, letting the tournament handle it. Same with the PGA Championship, although Steinberg responded to media inquiries.
While Woods has to deal with far more than anyone else when it comes to these matters -- how often was Jim Furyk queried about his return from wrist surgery earlier this year? -- some of this is his own making.
At the Quicken Loans National last month, Woods was specifically asked if he had ruled out any future tournaments, including The Open and the PGA, and he said: "No I haven't. I'm just playing it week to week and I keep getting better. I keep getting physically better. I just hope that everything clicks in and I can do it sooner rather than later.''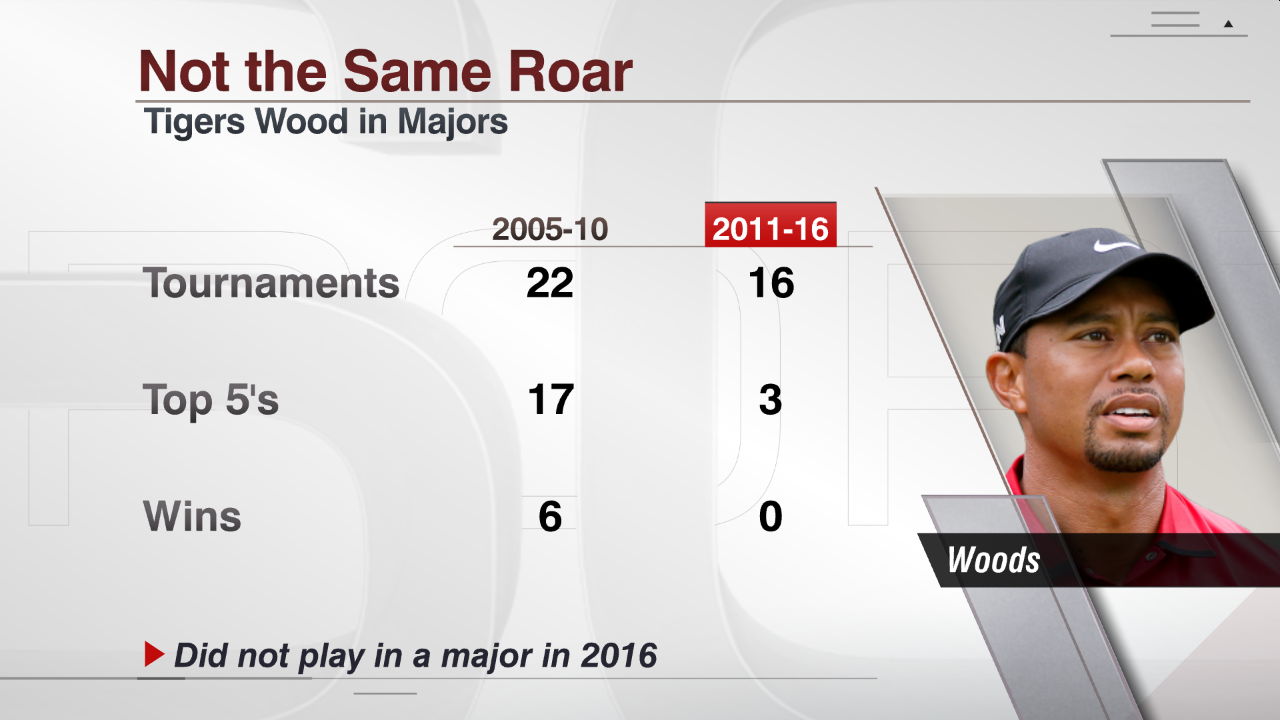 It's going to be later, despite the fleeting hope he gave that day by not ruling out any immediate events. Unless he plays overseas somewhere, which would seem unlikely, Woods is looking at an October return at the earliest. The first tournament of the 2016-17 season is the Safeway Open. That is more than two months away, and if he is able to go, that's where he should return.
No event is below Woods at this point. When ready, he will need tournament golf, as much of it as he can handle, to find any kind of form. Las Vegas, Davis Love's RSM Classic, and Woods' own Hero World Challenge are all tournaments that would make sense at the end of 2016.
Unlike others who come back from injury and are granted a grace period, Woods is typically not given that luxury. But realistically, how good do you expect him to be after such a long layoff? It might take him months or longer to get competitive again.
At Congressional last month, Woods spoke positively about his progress. He did not look or sound like the same disappointed player who expressed doubts about his future back in December.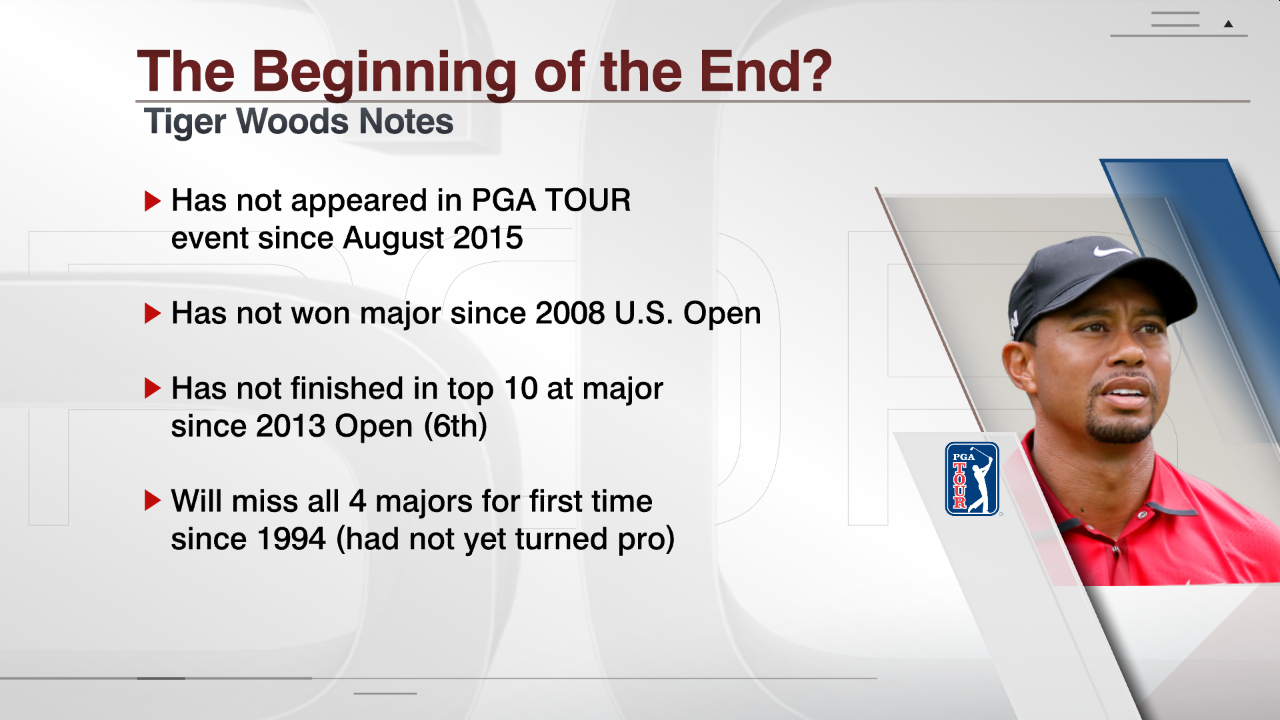 And yet we still wait, a major championship season about to pass with zero starts, the doubts still lingering.
A 14-time major champion, Woods will now miss his 10th major championship in the 34 played since he won the 2008 U.S. Open. It's amazing to think that in the 34 he played to that point, he won 12 of them.
The hope remains that Woods will get healthy enough to put together one last run, a final shot at greatness. Meanwhile, we're not even sure if he's walking.