We asked 49 LPGA Tour players nine questions that they answered anonymously earlier this year. Their responses elicited some intriguing replies about varying topics in women's golf.
Some queries had yes or no answers, while others required deeper thought. In one case, we looked for one rule they would change, and some pros came back with how there were simply too many "stupid" rules to choose from.
So here's how many, but not all, LPGA players feel about the state of their tour, how to fix it and even President Donald Trump's impact on the sport.
---
What is the biggest issue facing the LPGA Tour right now?
Not surprisingly, 35 percent of players said the pay gap between the LPGA Tour and the PGA Tour is the biggest issue facing the women's game. For example, the total purse at the men's U.S. Open in June was $12 million while this week's U.S. Women's Open is $5 million -- which happens to be a record on the women's side.
Nearly 20 percent of players thought getting more viewership and overall media coverage was key to their cause; 12 percent said their schedule, which often bounces from East Coast to West Coast (not to mention entire swings through other continents) is the biggest issue.

*Included nine different answers
What the players said:
"It's also other perks that go along with being a PGA Tour pro that we lack on our tour: retirement compensation, medical compensation, stuff like that. Those things are a luxury on that tour that we never even fathom."
---
True or false: It hurts the LPGA that it doesn't have a stronger footprint in the United States.
More than half said true, yet 18 percent said it both hurts and helps the LPGA Tour.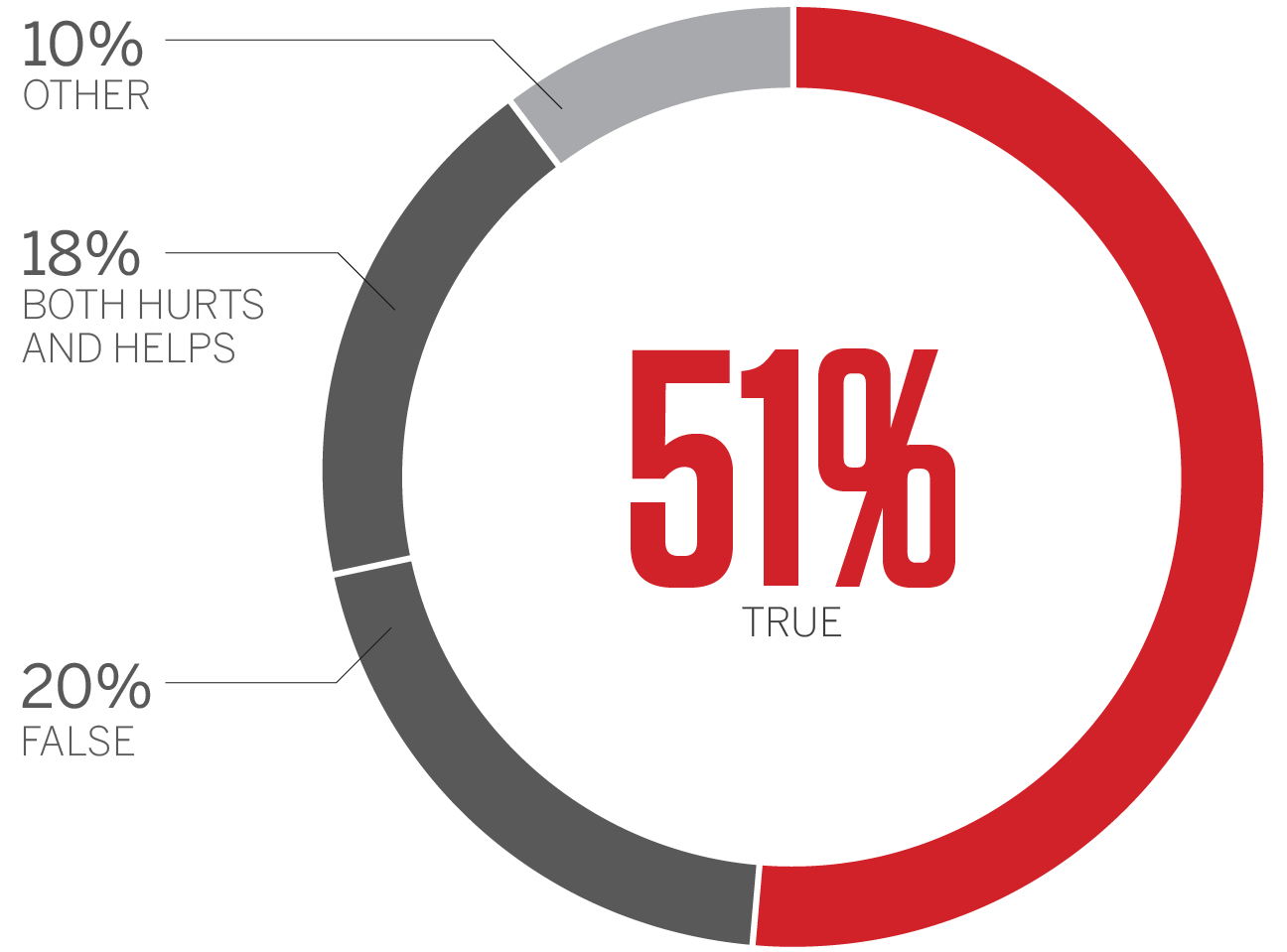 What the players said:
"It's huge in the other countries because the countries and their companies get behind women's golf and they do a great job of marketing and making the players look like superstars. That's not done in the U.S., so you see that there's less enthusiasm around women's golf. If you can change the conversation here and get the companies to promote the women like they've done in other countries, if companies here could see what benefit that is when international companies do the same thing, you'll see that growth and enthusiasm here to get involved in women's golf."
---
Name the best female player in the game right now (and you can't pick yourself).
Lexi Thompson, Ariya Jutanugarn, So Yeon Ryu and Lydia Ko were the top names among their peers, accounting for 85 percent of the votes. (This question was asked over May and June of this year.)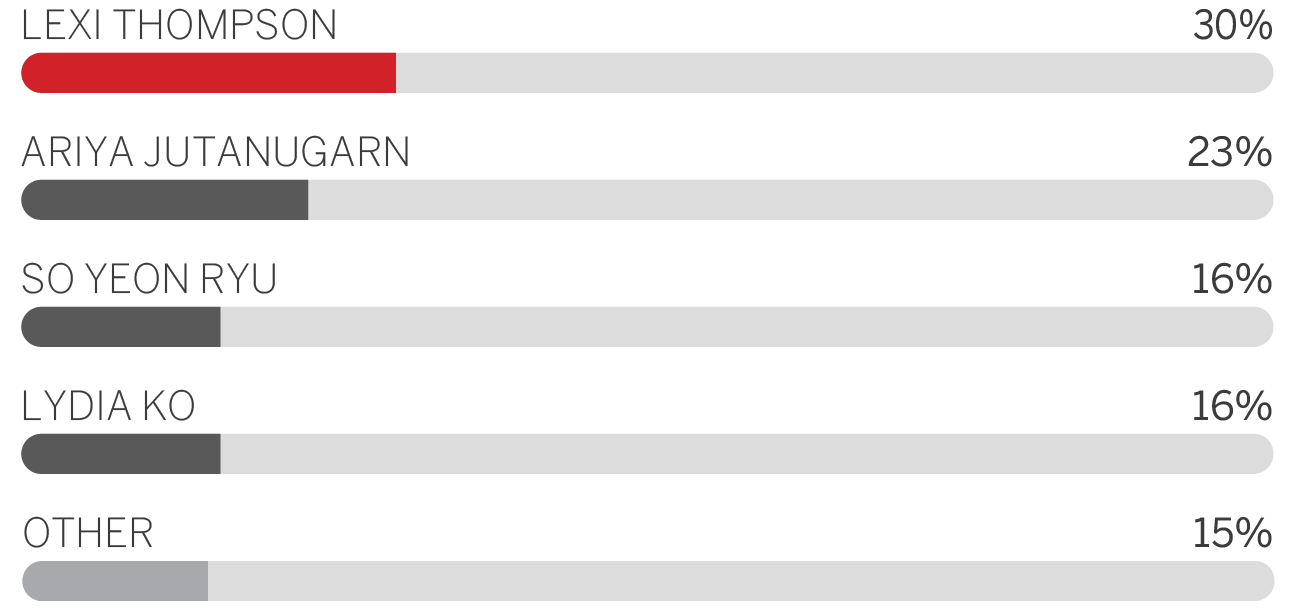 What the players said:
"When [Lexi Thompson's] game is on, she's so tough to beat because she hits so much longer than everybody else. When you hit that long and straight, it's tough to compete with her."
---
Yes or no: LPGA Tour players, as compared to PGA Tour players, are paid fairly.
With 78 percent saying no, more players dodged the question entirely (*).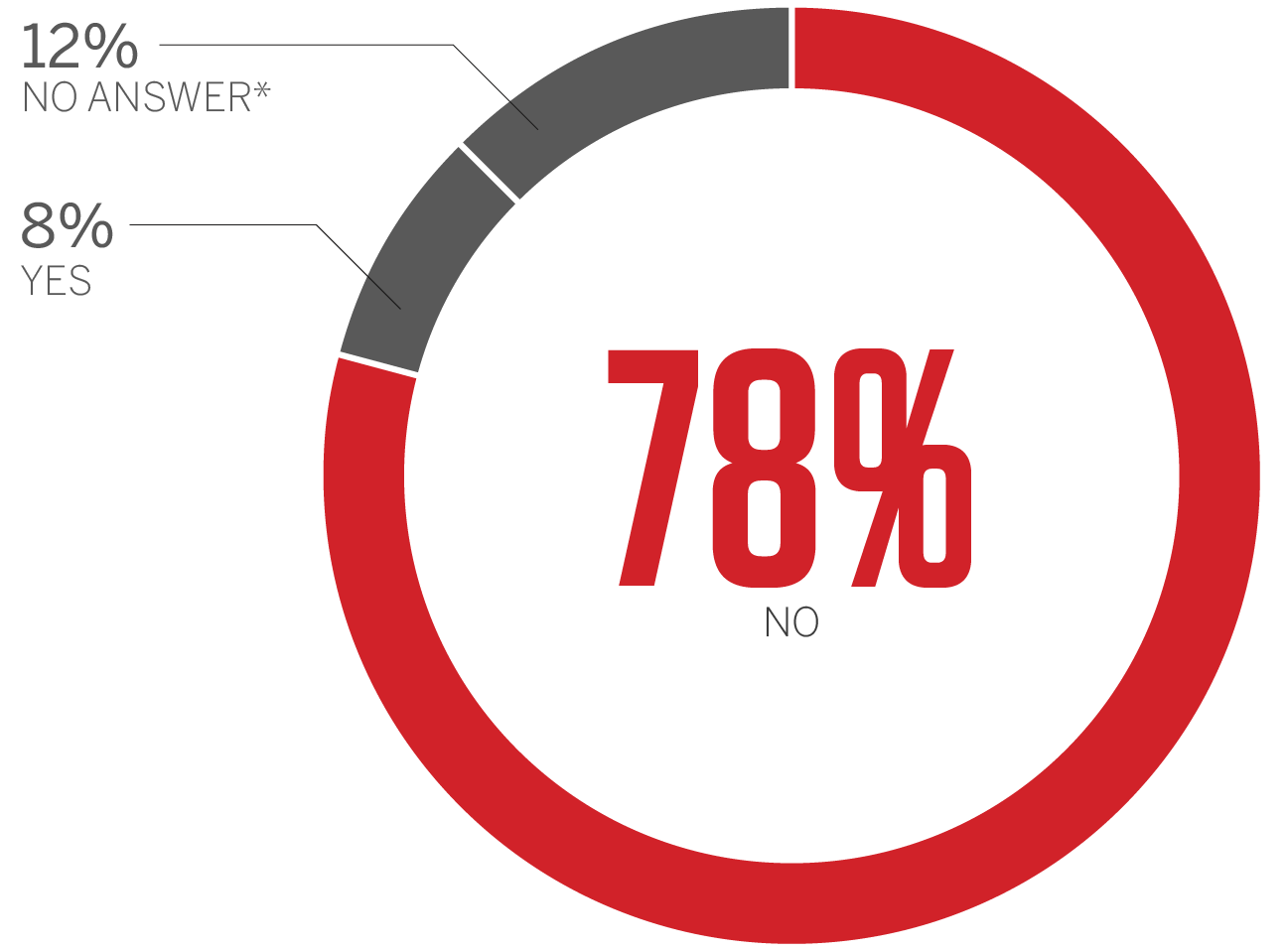 What the players said:
-- "I don't think that's a fair question because I think it's an obvious answer. I don't think it'll ever be fair. The only sport that's fair is between women's and men's tennis. I would be happy if we could just get a little more. I think it's way too far-fetched to think we'd ever get to where the PGA [Tour] is, but if we could get to where the purses are $2 million, $3.5 million, so week in and week out, you're playing for a good chunk."
-- "It'd be cool to see an event where you see the top 60 men and the top 60 women play with alternate tee times to bring awareness to women's golf. It's known -- I'm friends with everyone, so I can say this -- but for an American audience, the South Koreans aren't the best -- it's just true that in women's golf there are a lot of them and they are successful and great and have awesome work ethic, but in Korea, they are freaking rock stars. And you see some of the best purses coming out of Asia. But as far as American viewership and sponsorship, it hurts."
---
Yes or no: There should be more of a working connection between the LPGA and PGA Tour.
A whopping 92 percent said yes. While both tours announced a strategic partnership in recent years, how might they do it? One player had a few suggestions.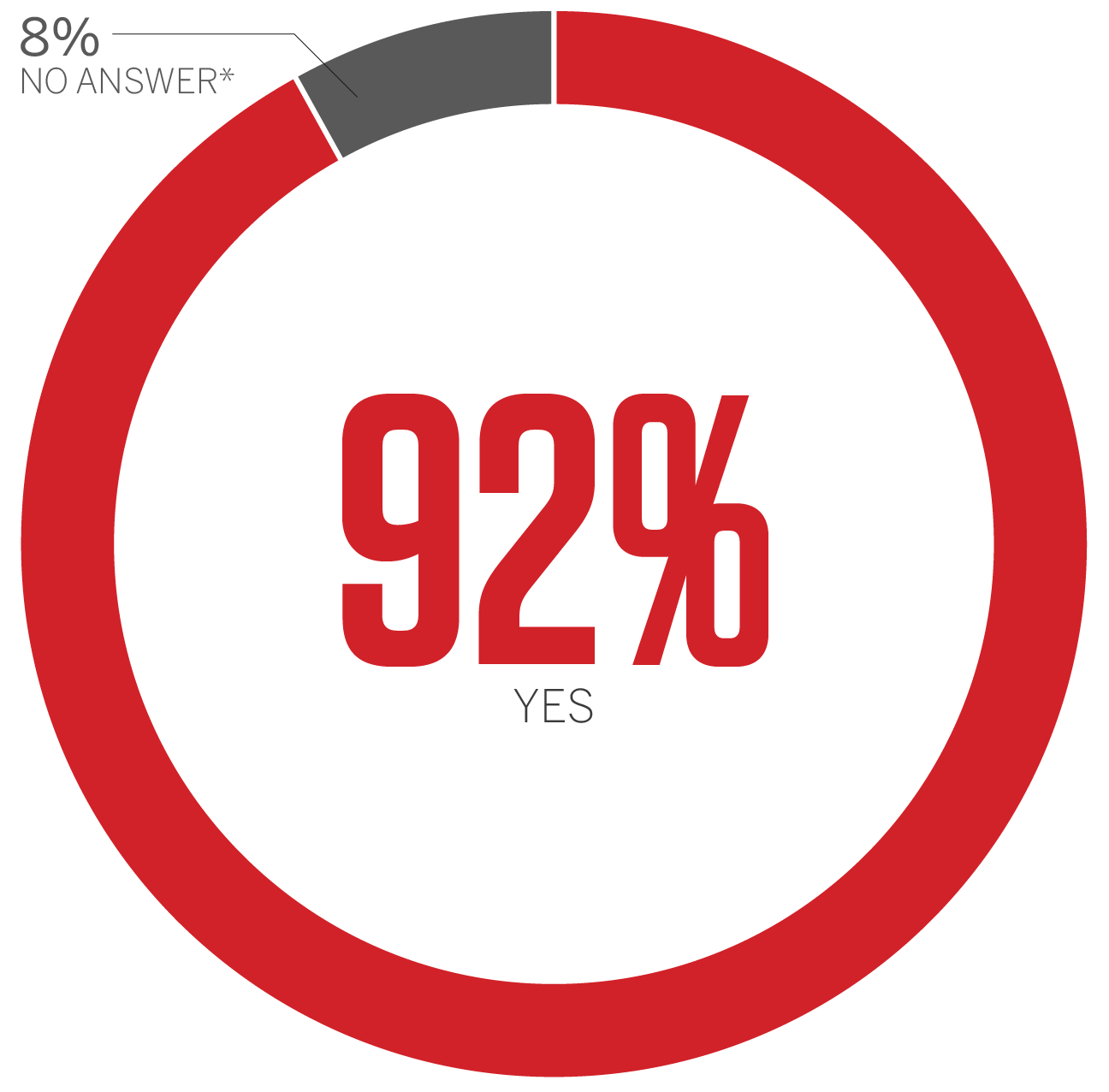 *Several players chose not to discuss the topic
What the players said:
-- "I don't know if the PGA Tour guys would do [a joint event] because I don't think they care enough about us..... Just the lifestyles. ... They fly charter everywhere, they rent out houses, they have chefs traveling everywhere with them. And it's the same game -- this happens in sports, business. It's a hot-button topic of gender wage gap."
-- "When given the choice between turning on men's and women's golf, people turn on men's, so don't let them compete. Have a women's tournament on Monday through Wednesday so you can watch women on some days and the men on the other. When you're directly competing, it's hard, but then people could be like, 'Oh, the women are playing today, let's turn it on and see what's going on.'"
---
How would you grade President Trump's impact on women's golf (A through F)?
Even though we said the question was about Trump's effect on golf and not about politics, 33 percent of players still wouldn't comment. Some didn't want to comment for political reasons, others simply said they didn't know much about his effect on the women's game, while others said they weren't American and preferred not to go there. Of those that did give him a grade from the overall pool of 49 pros, 27 percent marked him as A-minus or above, while 55 percent said B-minus or above.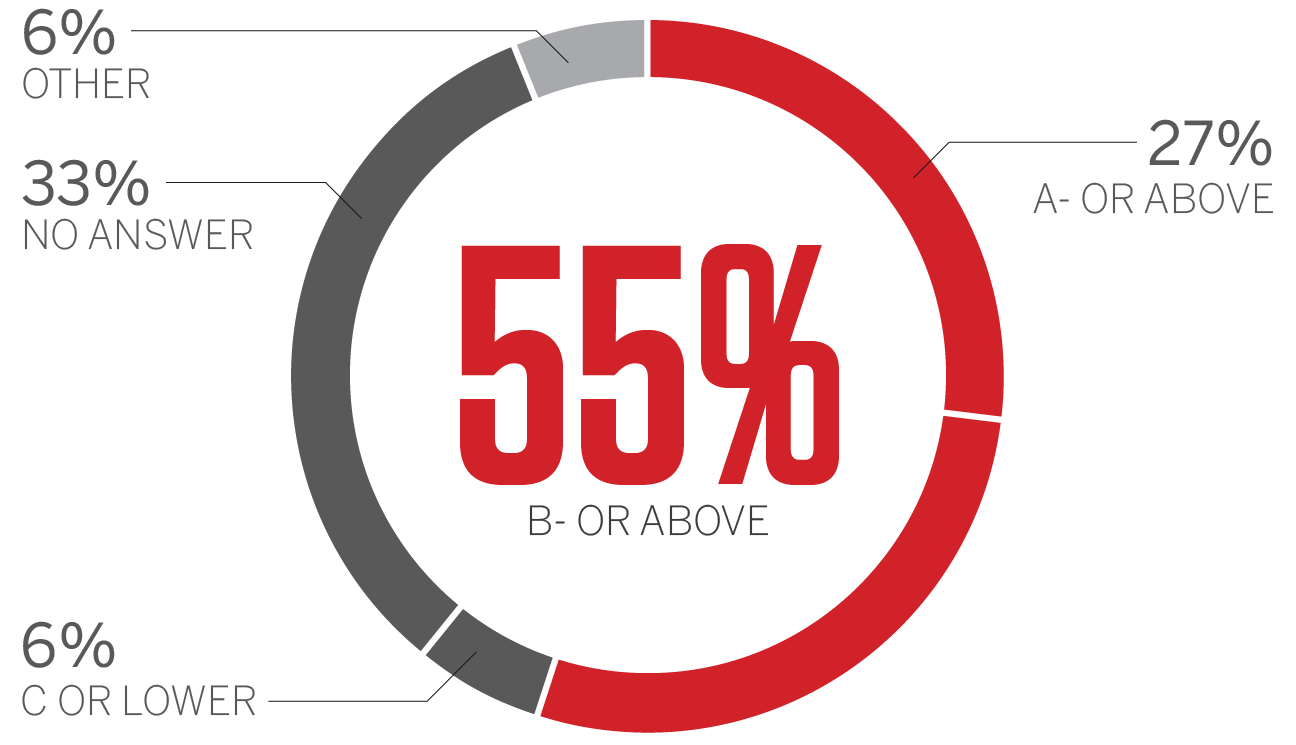 What the players said:
-- "Whether you like his political views or not, he's done a lot for the game of golf, and you don't really get that, especially on the women's side. It's pretty cool that we're playing at his course and the purse is so high for us. It should be a great event."
---
Would you ever consider not playing in the U.S. Women's Open because it's being held at Trump National in Bedminster, New Jersey?
Not a single player said she would skip the U.S. Women's Open. The reasons were varied, from "a tournament is a tournament and he's our president," to "you've got to try and keep politics out of sport," to others who thought it might affect some players but not them.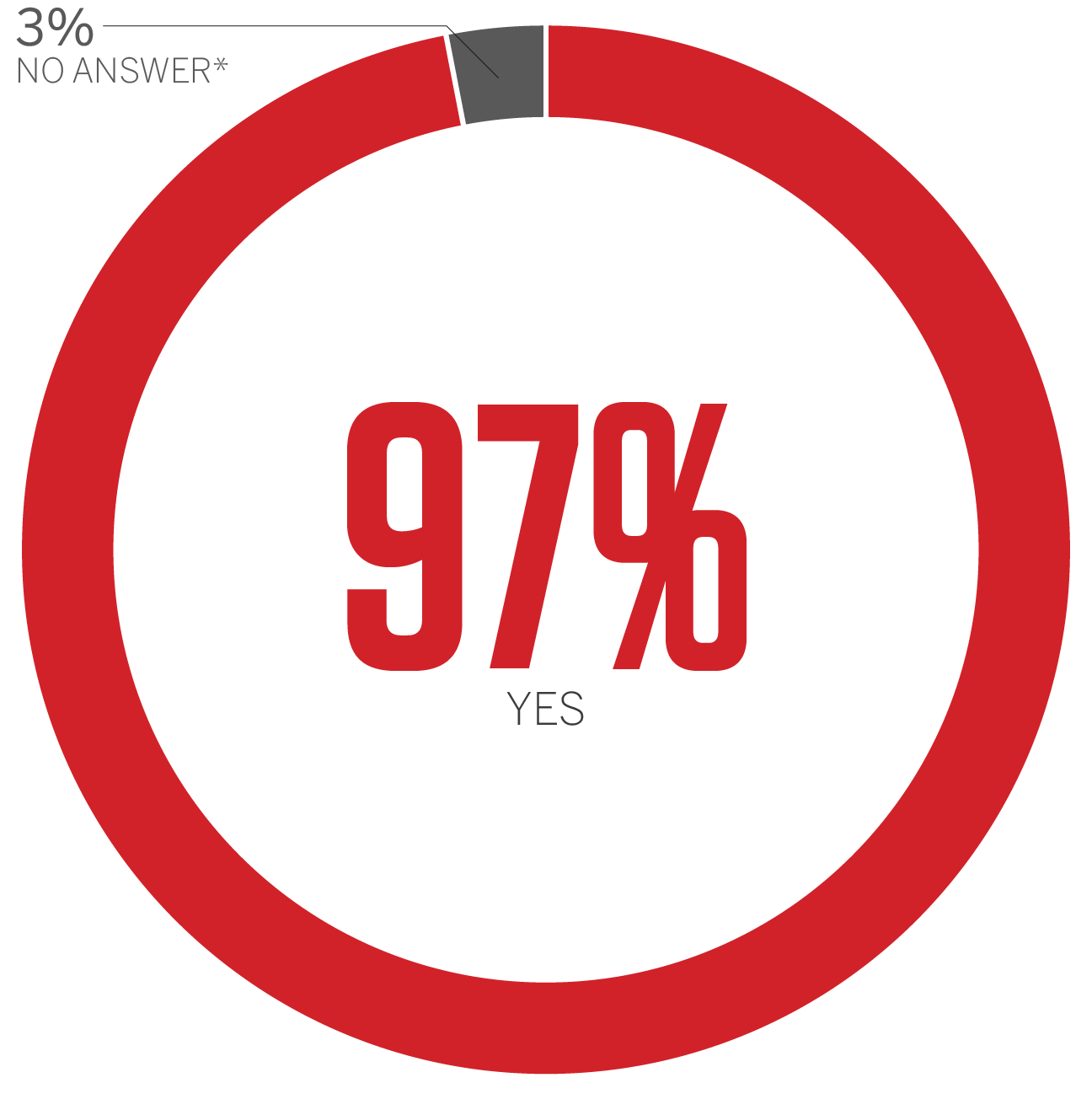 *Some players chose not to discuss the topic.
What the players said:
-- "Honestly if you're going to not play because it's [at Trump's course], that's just being petty, because we're not there to see him, we're there for the golf course for the tournament. It doesn't matter who owns it, it never mattered before, so I wouldn't ever pull out because he's the owner of the course and I think that would be rare. It's the U.S. Women's Open, it's a major, and it's on a beautiful golf course."
---
If there is one rule in golf that you could change by fiat, what would it be?
Some rules are not being addressed by the upcoming changes to the Rules of Golf (like free relief from balls that land in divots in fairways, which garnered 35 percent of answers by LPGA Tour players). Others, such as fixing spike marks on greens, will be allowed when the new rules go into effect on Jan. 1, 2019. TV viewers calling in rules violations was the only other issue to get double-digit recognition by the players, and, by the way, isn't currently slated to be updated prior to the 2019 change.

*Players had eight other suggestions for one rule to change.
What the players said:
-- "Oh, wow. One rule? Can I do two? I think you should get relief from a divot in the fairway and also when you're off the green and there's a ball mark in your way, you should be able to fix that."
---
Should Lexi Thompson have been penalized for the rules infraction at the ANA Inspiration this year?
A total of 80 percent of players responding said Thompson deserved at least a 2-shot penalty, but only 10 percent overall thought the 4-shot penalty she received was appropriate. Had Thompson been penalized only two shots, she would have won the 2017 ANA Inspiration instead of losing in a playoff.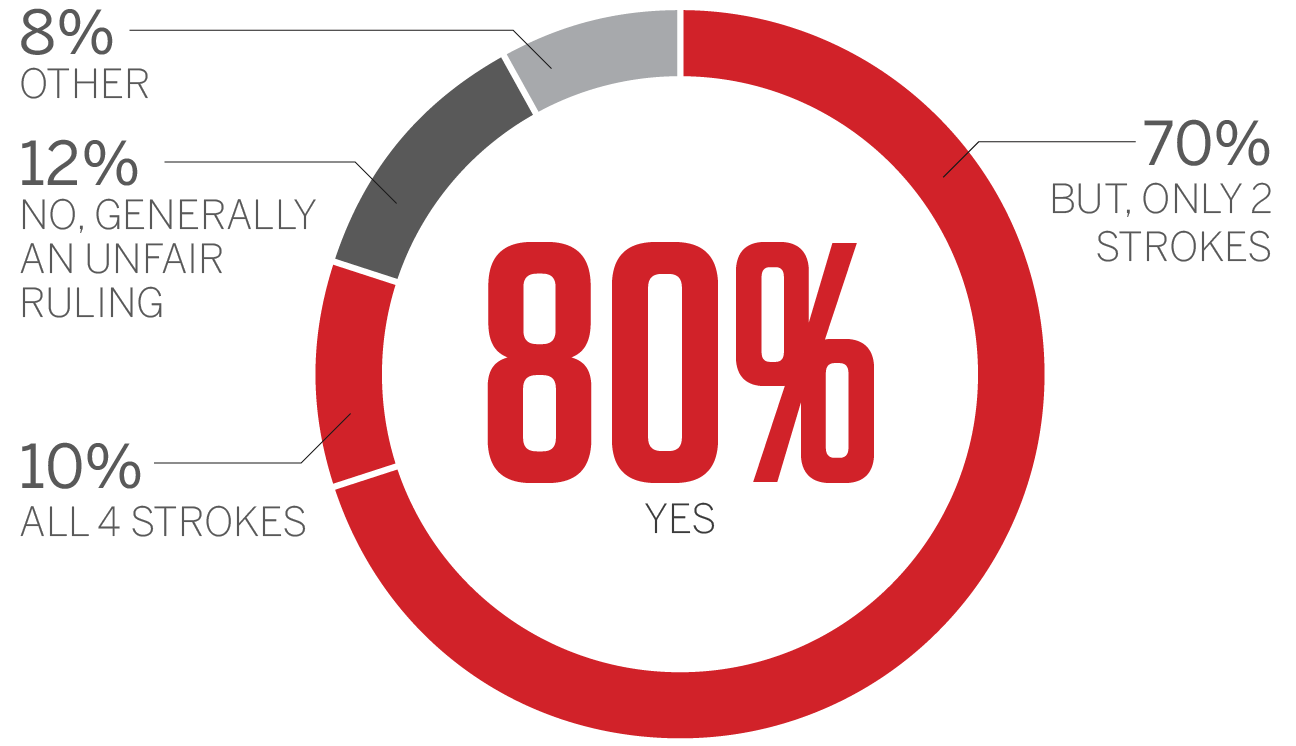 What the players said:
-- "It's 100 percent fair [to be penalized the 4 strokes]. That's the rule -- she moved it. So it's fair right now. But does it need to be changed? Yes. People had a fit about her getting 2 shots for the card, but they don't realize that it used to be a [disqualification for that same infraction]."