Since 1994, the golf world has regularly gathered to field-test a question: How would top golfers from everywhere but Europe fare against the best of the U.S.? Answer: not well! In 11 Presidents Cups, the U.S. has won nine, lost one and tied one, when in 2003 the team simultaneously ran out of sunlight and the desire to see the internationals lose again.
Another exercise in sanctioned jingoism is slated for Sept. 28 to Oct. 1 at an almost aggressively patriotic site, New Jersey's Liberty National Golf Course. There, with a fine view of the Statue of Liberty, the U.S. will be favored to triumph for a seventh straight time. But will it? We put that question to our own favorite test -- a metric test.
---
NOT IN PHIL'S HOUSE
Say this for the Presidents Cup -- it's less-bad TV than it used to be. While three of the first four Cups were blowouts, recent ones have actually been semicompetitive. But through it all, one constant remains: the ironclad U.S. home-course advantage. Credit the Yanks' 6-0 home record to overserved fans, friendly setups or familiar layouts (like Liberty National, where 12-time Cup-man Phil Mickelson is a member). But no matter the reason, there's no denying the U.S. is a downright hostile nation for visiting golfers.
TELLING NUMBER: 5.2 -- The average winning margin of U.S. teams at home -- compared with an average margin of 0.2 abroad.
Team winning margin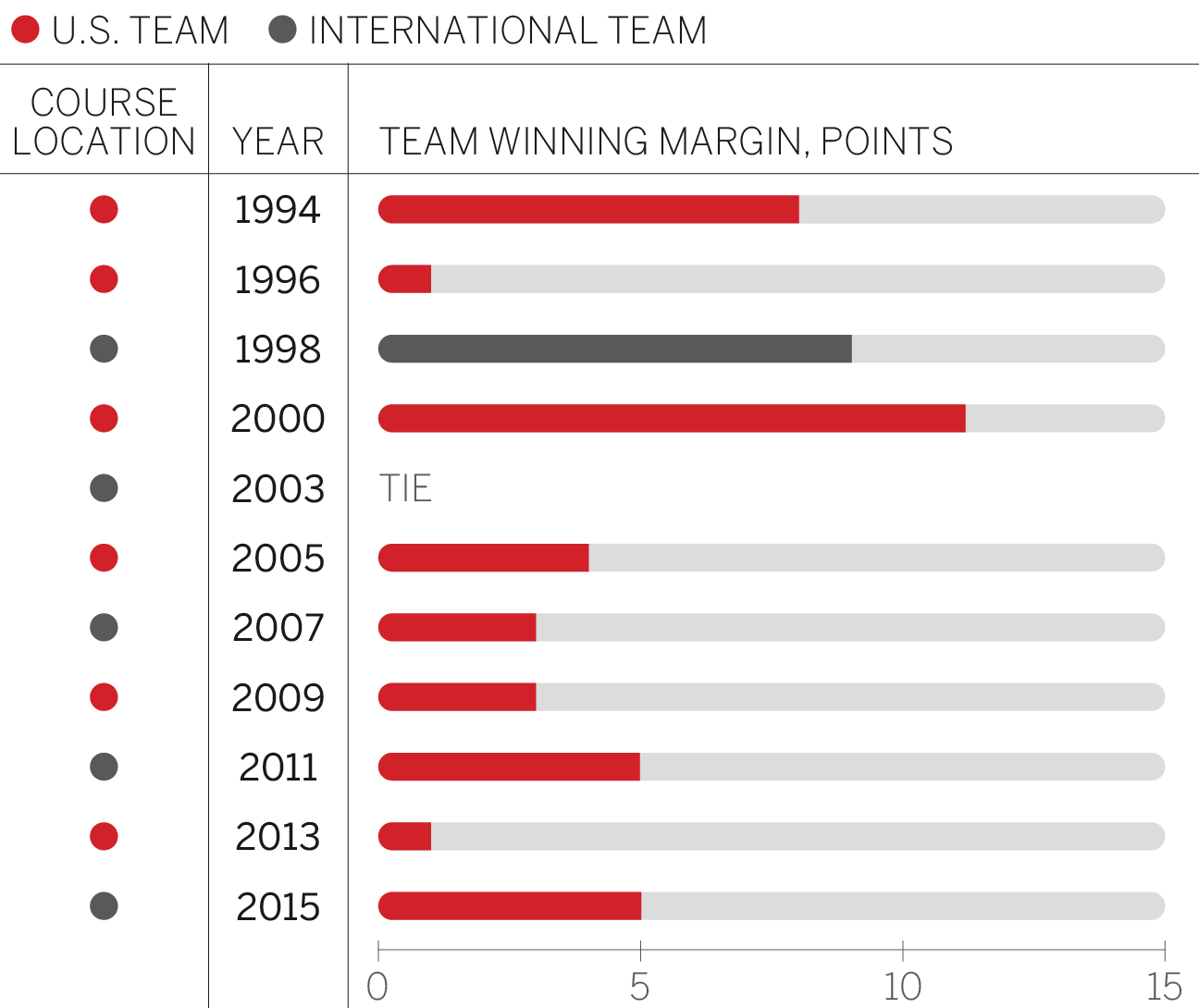 ---
AMERICA'S GREAT, AGAIN
Another bulletproof correlation: roster strength. This might seem intuitive. (The better team wins? Duh.) But non-stroke-play formats are supposed to mitigate the talent gap -- and they don't. Plotting each roster against the average world rank of prior Cup players (23.2) shows that after 1998, no below-average international team has won, and no above-average U.S. team has lost. Indeed, every U.S. team at least 30 percent stronger than average has won by at least three points. This year's U.S. team: 32 percent above average. The internationals: 41 percent below. Game over!
TELLING NUMBER: 15.7 -- The average world rank of the 2017 U.S. players, 17 spots higher than that of your tired, your poor, your Team International (32.7).
Roster strength, percentage above/below average