PHIL MICKELSON'S QUEST for a U.S. Open title -- and his epic run of absurd near misses -- has endured so long that the first of his children had yet to be born when it began. Amanda Mickelson, soon to turn 15, entered the world the day her dad would have contested a playoff for the 1999 Open were it not for Payne Stewart's final-hole heroics. "Phil's gonna have his opportunities again," Stewart graciously predicted at the time.
Good lord, was he right. Phil has had opportunities aplenty, each more heartbreaking than the one before. What's left of his psyche is surely calloused by his record six Open runner-ups: at Pinehurst ('99), Bethpage ('02), Shinnecock ('04), Winged Foot ('06), Bethpage again ('09) and Merion ('13). So with the Open returning to Pinehurst on June 12, will Lefty's loyal legion of fans finally be fulfilled? We consult the telling metrics for the odds of his success.
1. Phil loses ... because he chokes!
How long has it been since Phil first sniffed the stench of subordinate sorrow? Consider, by way of an answer, the beeper -- the communication mode of choice in 1999 and what his caddie, Jim Mackay, donned for all four rounds of Phil's seminal near miss. Phil's wife, Amy, was waaay pregnant, and if the beeper beeped, Mackay says, "Phil was flat-out going home, 100 percent." Instead, the beeper didn't beep, Stewart made par-bombs on 16 and 18 and a birdie on 17, and Phil was deemed unlucky. But bear in mind: Lefty finished over par down the stretch, a habit he'd repeat in every runner-up finish. Bad finishing "luck"? Let's just say there are other names for that too.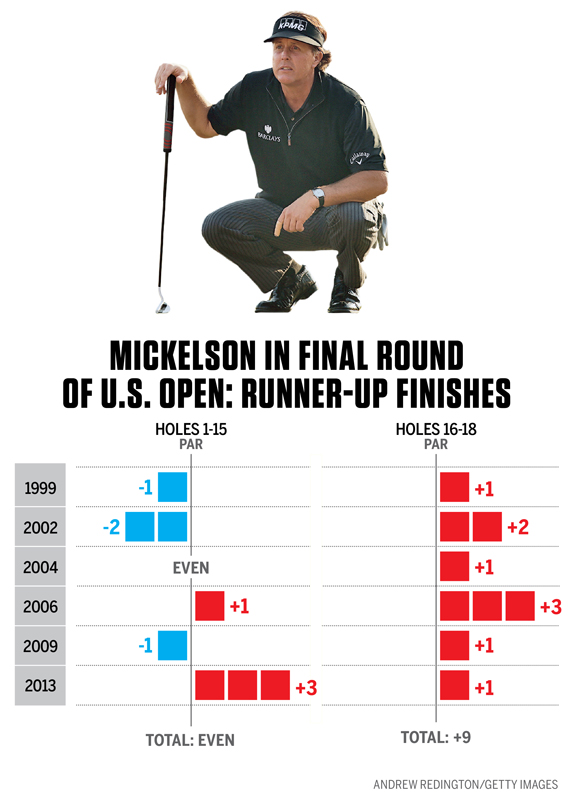 ---
2. Phil wins ... because no rough!
Lefty was a fan of Pinehurst No. 2 long before architects Ben Crenshaw and Bill Coore face-lifted the classic course back to the vision of Donald Ross (read: virtually no rough). "Well, I'm obviously for that," Mickelson says, adding that "the recovery shot is the most exciting in golf, which is why Augusta always has such great excitement, and Pinehurst should have that same excitement. Because you don't have wedge-out rough. You have an opportunity to recover." Here, Lefty is speaking in a code of sorts, and the translation goes like this: When I contend in U.S. Opens, I hit a ton of greens. And since I spray my drives, I need to be able to play from the rough. And if you trim Pinehurst's rough, it'll play a lot like the Masters. And oh, did I mention I've won there three times?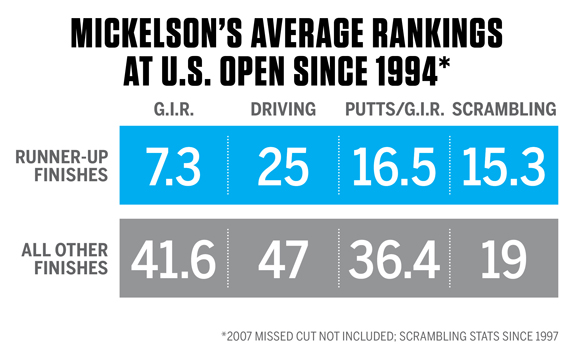 ---
3. Phil wins ... with magic!
When the Open returned to Pinehurst in 2005, Lefty didn't contend, finishing 33rd. Why? "It wasn't in great shape around the greens, and that hurt him," Mackay says. "It was hit-and-miss with chipping." Pinehurst's most notable aspect is its crowned greens (think upside-down bowls), which repel poor approach shots into chipping areas -- where Phil, a short-game wizard, excels . In '05, though, those spotty conditions killed Phil's ability to thrill. "We know the shots that will be needed in a U.S. Open, and at Pinehurst that means a lot of chipping and short-game shots from the runoff areas," Mickelson says. So with a pristine course expected this year, look for Phil to wield his magic wand all around the greens.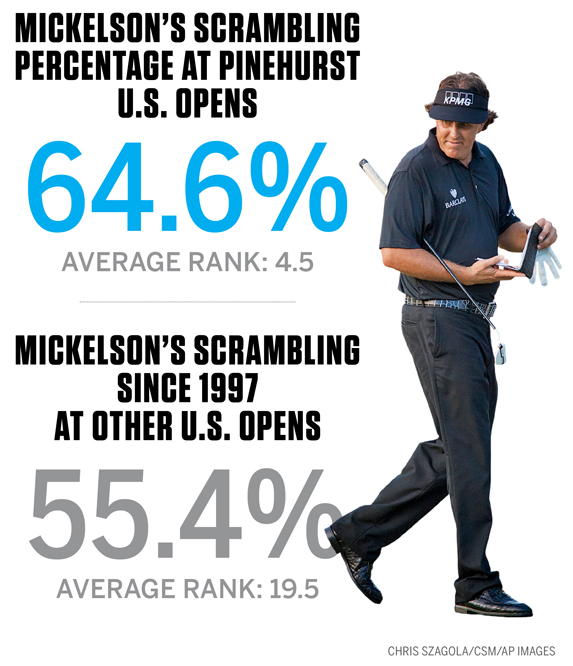 ---
4. Phil loses ... on Sundays!
Here's the answer to a fun trivia question: Stewart, Tiger Woods, Retief Goosen, Geoff Ogilvy, Lucas Glover, Justin Rose. They're the winners of the U.S. Opens in which Lefty finished second -- a fate he's suffered in most every way: Stewart dropping putts down the stretch ('99). Woods taking the lead and never letting go ('02). Goosen jarring everything ('04). Phil driving off corporate tents on the last hole ('06). Glover enduring a sloggy Monday finish ('09). Rose becoming the first Brit in 43 years to win the Open ('13). The common denominator: In every week, Phil contended late because he scored early -- posting his worst or second-worst round on those six final days. What's the opposite of closing? Phil does that.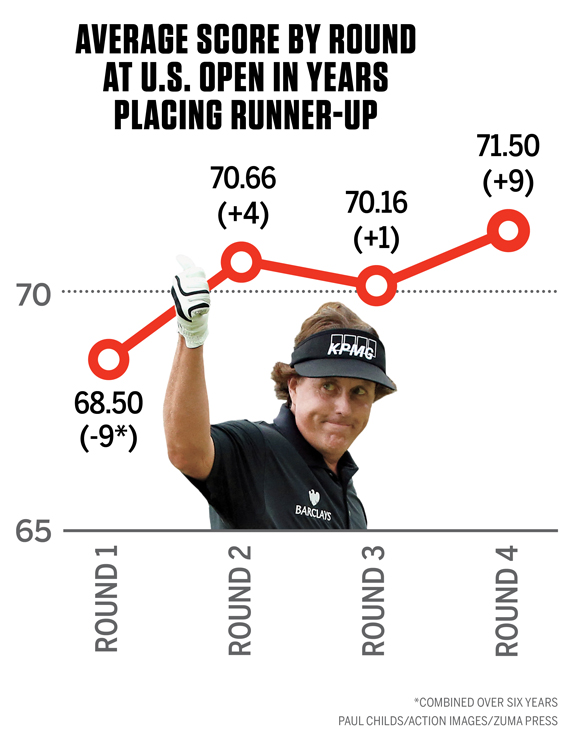 ---
5. Phil wins ... because he must!
When it comes to the half-life of his U.S. Open quest, Phil talks a patient game. "I do believe it will happen," he says. "whether it's at Pinehurst or an upcoming championship. I've played well in that tournament." But let's consider: After this year, Phil will start pushing the margins of the actuarial tables. When the Open goes to first-time venue Chambers Bay in 2015, he'll be 45 -- Hale Irwin's age in 1990 when he became the oldest U.S. Open champ. And with trips after that to Oakmont (where he missed the cut in '07) and new venue Erin Hills, there are no cozy confines in Phil's near future. Add the fact that the average age of recent U.S. Open winners is the second lowest of all majors and, well ... if Lefty can't tame the Open this year, getting older ain't gonna help his cause. Which either spells desperation -- or motivation -- for Phil. By Amanda's next birthday, we'll know, either way.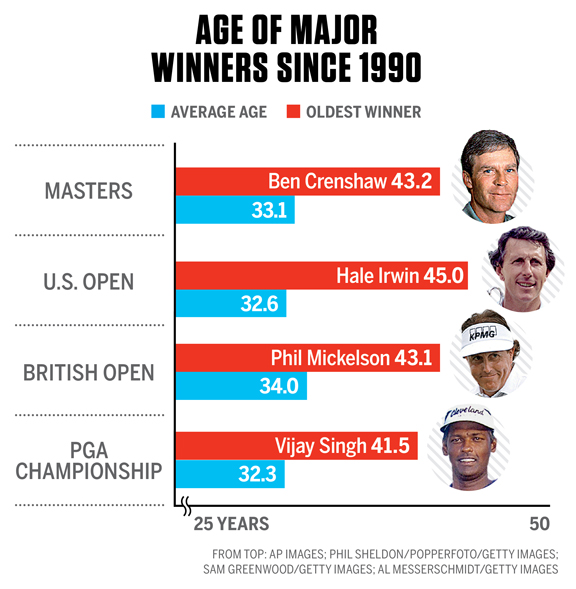 Follow The Mag on Twitter (@ESPNmag) and like us on Facebook.