ST. ANDREWS, Scotland -- As we reach the midway point of the 144th edition of The Open, on these hallowed grounds of The Old Course, I've decided it's time for a confession: There was a time, not too long ago, when I felt only schadenfreude when I watched Tiger Woods struggle on the golf course.
I'm hardly alone. There are millions like me, and we're not haters, no matter what Tiger apologists might have you believe. We always appreciated his athletic brilliance, his steely determination, his grace under pressure and for what he meant to the game - sociologically and financially. But it was hard for some of us to pull for Goliath. At his peak, rooting for Tiger felt like rooting for a corporation. Yes, he might have been awe-inspiring and innovative in thrilling ways. True, he was like a god with a wedge and a putter. But it was still difficult to overlook how poorly he treated some people, how he cast them as disposable things in his life. I loved watching him, I just couldn't love him.
Maybe you never cared what kind of man he was, or who he stepped on during his reign. You simply wanted to see golf played at a higher level than it had ever been played throughout the game's history, and Tiger gave you that. That's OK too. No judgment here. This is the beauty of watching sports. We seek out what resonates with each of us, and we root accordingly.
But after watching him trudge around the Old Course for three days, and seeing the melancholy look on the man's face when it was finally over, I no longer feel even a hint of schadenfreude. I feel only empathy.
When he took off his hat on the 18th green to shake hands with Jason Day and Louis Oosthuizen, he looked as close to broken as I've ever seen a truly great athlete look. He entered this event thinking he had a real chance to contend. He wasn't even close to making the cut. He doesn't have the answers, and they aren't right around the corner. This isn't about "feels" or "baseline shifts" or any other nonsensical golf jargon he's grown fond of. It is not about activating his glutes. He's just mentally fried, and you can see it in his face. The weight of expectations - whether they are our expectations or entirely his own -- is just too much. When he walked into the media tent to answer a few questions Saturday, he wasn't defensive, angry or annoyed. He was just forlorn.
"I felt like I was playing well enough to win this event (coming into it)," Woods said. "On the very first hole on the first day, I fatted a sand wedge in the water. I fatted my 3-iron off the tee, and then I fatted my 8-iron into the green on 2. It's just one thing after another," Woods said.
He may have done this to himself, chasing the myth of a perfect swing. Whether that quest was inspired by ego, or because years of injuries were mounting, or because geniuses tend to get bored and it's in their nature to tinker, we'll never know. It's probably a bit of all that. But we too played a role in breaking him. To whom much is given, much is expected, and in the end, maybe we expected too much from Tiger Woods.
In recent years, a huge segment of people within the world of golf - fans, media, governing bodies, equipment companies - have treated every new coach, every new swing change, every return from injury, like it was going to save the sport. Like Tiger winning majors again could single-handedly help golf rebound from its recent economic regression. It's too much to put on one person.
"It's a great question, I don't know," Woods said, when asked why he struggles so much now at the start of tournaments. He wasn't defensive. He seemed generally perplexed.
You think he doesn't feel the weight of it all, simply because he was so good at handling pressure on the course for so many years of his prime? Come watch him on the range. No one hits it better. It's like watching Eric Clapton strum a guitar, or John Coltrane with a saxophone. There's still poetry there. He can still make an 8-iron an instrument of wonder. He just can't consistently find it with the world watching. A 17th place finish at the Masters, or a 32nd place finish at the Greenbrier Classic, is not enough to suggest he's close to winning. You can delude yourself into believing those tournaments represent real progress, that they're evidence he'll reinvent himself and make one more run at Nicklaus, but it's a fantasy. It's a testament to how great he truly was that he makes you forget his bad golf so quickly. When he shows up at the PGA Championship in August, people will forget how poorly he played at The Open and convince themselves he can contend, right up to the point where he shoots 78.
Don't let anyone tell you he's finished, even if history suggests as much, because none of us know for sure. He has a lot of work to do, and it's unclear if his body will even allow him to put in the hours and reps it will take to be good again, much less great, as he enters his 40s. He could do it.
But don't turn him into a punch line either. We'd need to end this farce where we drag him into press conferences every week and ask him to lie to us about his progress. He's the 241st-ranked golfer in the world. He doesn't need to be part of the narrative buildup to every tournament anymore. He can't be honest with us until he's honest with himself about the state of his game, and right now, he's lost.
We need to let Tiger Woods fade into the background for a bit, accept that golf is in a great place even if he's no longer its king, and enjoy Jordan Spieth and Rory McIlroy and Dustin Johnson and Rickie Fowler and so many other talented young players for what they are, right now. When that happens, when the glare of the spotlight fades a bit and Tiger is allowed to enter tournaments (majors even) without every mistake getting instantly gawked at, looped and retweeted, maybe then he'll have one more run in him. Maybe his last act is to surprise us, to give us a thrill when we least expect it. Can you even imagine how fun it would be to see Tiger, at peace with his legacy, show up at Augusta with no hair and two teenage kids, and make a mad birdie run no one sees coming?
Don't kick dirt on his athletic grave, or forget how jaw-dropping it was to live through his best years. Dustin Johnson is tearing up the Old Course the way Tiger did twice, but it's all power and very little artistry. Tiger was an artist, and that's an important part of his legacy too. He didn't just smash the golf ball, he often made it dance. Go on YouTube the next time you're feeling despondent about the state of his game. Watch the way he used to shape the ball around trees or fly it low and knife it through the wind. His imagination, not his power, will be his legacy.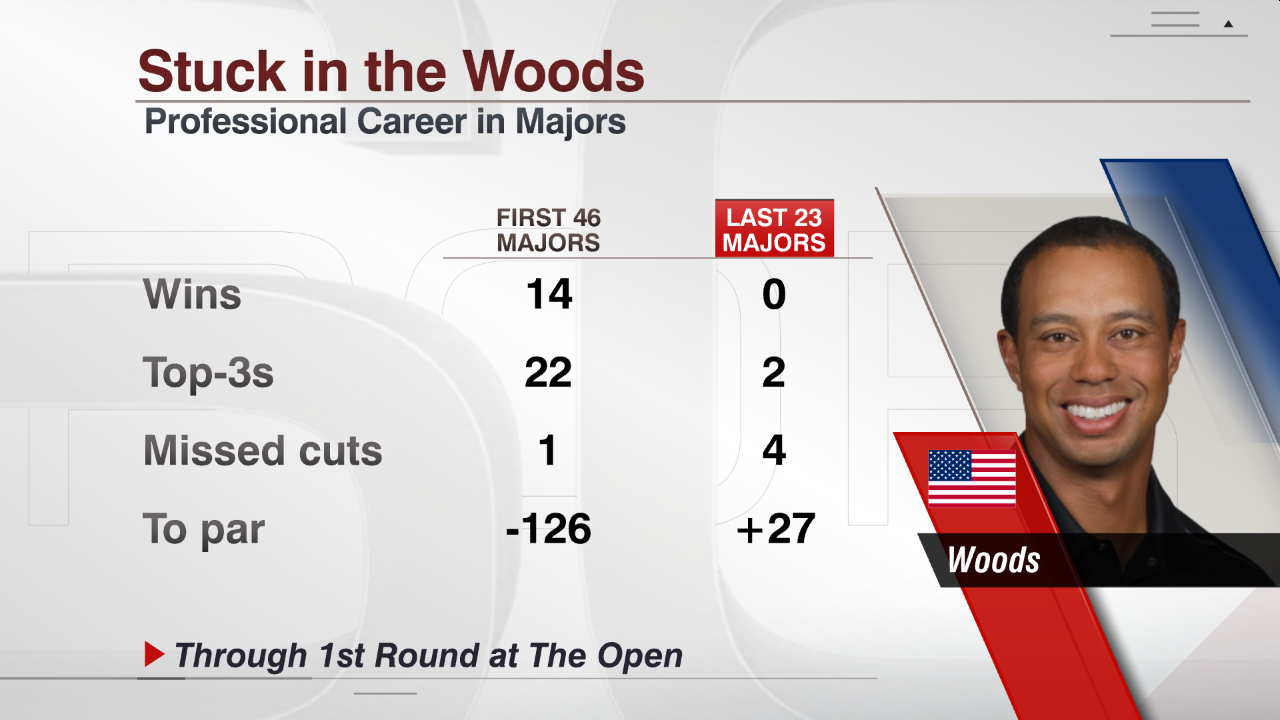 Understand this as well: part of the problem, at the moment, is framing. From the moment he burst on the scene, Tiger Woods was supposed to be the man who was going to break Jack Nicklaus' record for major championships, a record that didn't even seem like all that big of a deal when Nicklaus was setting it. That Tiger even admitted his career goal was to win 18-plus is a remarkable admission of ambition, one we probably ought to admire, but it's one that's currently, somehow, framing his career as a disappointment if he never gets there. It's hard to imagine anything quite as backward as looking at the second greatest golfer of all time - and you can make a good argument he's ahead of Nicklaus anyway - as a disappointment because of the things he didn't do instead of remembering the things he did.
It's OK if we're entering the Michael Jordan-in-a-Wizards-uniform stage of Tiger's career. It's also OK if he just wants to be a dad and make up for lost time, and not practice hitting wedges for six hours a day. Having given us so many great memories, he now owes the world very little. I don't think anyone would pretend he was a good husband, but he seems, by every indication, to be a good father. His own father, Earl, was certainly an attentive and loving father to him, and Tiger seems determined to be that, if not an even better man, for his own kids.
As Tiger walked up the 18th fairway Saturday, he waved to the crowd several times, smiled reluctantly and seemed grateful for the small roar that greeted him. He turned to Jason Day and mentioned that this, to him, remains the greatest walk in all of golf. The roars used to be so much bigger, of course. They used to be deafening, and they used to come on Sundays. They might even happen again some Sunday. Isn't it pretty to think so?
If it doesn't happen, though, don't feel cheated. Focus instead on the magic you were lucky to witness.