ST. ANDREWS, Scotland -- The magic of Jordan Spieth was right there in the flesh, leaning against the stone wall of the Road Hole. Jim Mackay, Phil Mickelson's guy, had spent a little more than a quarter-century as a caddie on tour, and never before had he finished a round and then planted himself on the golf course to wait for a different player to do the same.
Built like a 1-iron, the caddie universally known as "Bones" was tired and weather-beaten and still feeling the chill of the downpour that drenched his group earlier in the day. Mickelson had teed off two hours before Spieth, rolled his first shot into the burn, and then posted an indifferent score of 2-under 70 on a day when everyone was tearing the Old Course to shreds.
Lefty was out of the tournament, and yet Spieth was pulling Lefty's caddie right back into it. Mackay was waiting near the 17th green, the small of his back pressed against that ancient wall, because he wanted to see a 21-year-old chase history on the greatest par-4 in the world.
"I just think the kid is special," Mackay said. "I think he's gifted between the ears. When I say gifted, I mean like Jack Nicklaus-gifted. Jordan is going to do amazing things because he's such a killer between the ears."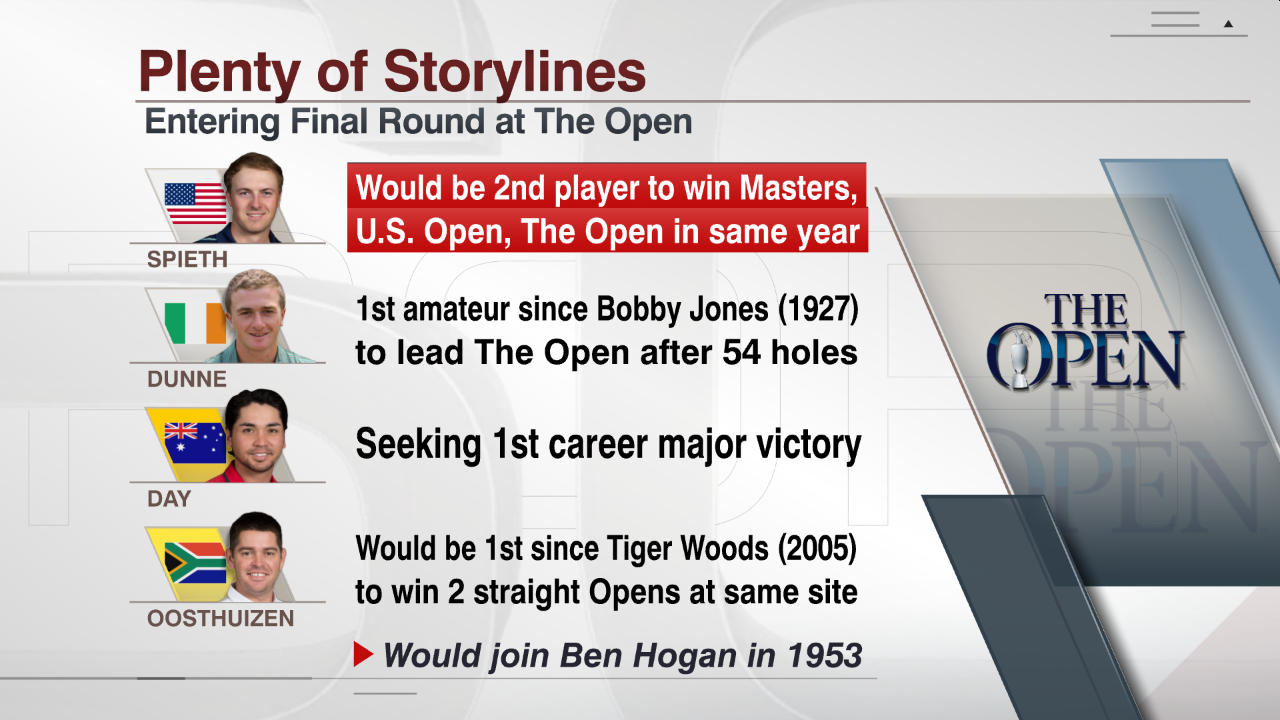 Mackay looked toward the scoreboard that showed Spieth in the lead at 11-under, and shook his head in disbelief that the first calendar-year Grand Slam since Bobby Jones' in 1930 was still in play. The Masters and U.S. Open champ looked cooked after needing 37 putts in an even-par second round that lasted longer than any of the Anglo-Scottish wars, leaving him 5 strokes off Dustin Johnson's lead. "Not many people thought you'd see his name leading the Open on Saturday," Mackay said, "and there he is. Special."
Spieth had survived Johnson's onslaught in the first two rounds, and he'd survived Saturday's wind-delayed absurdities, too. More than anything, he'd survived the lack of St. Andrews experience that confronted him on arrival Monday morning, fresh off his playoff victory at the John Deere Classic.
It took Spieth all of two-and-a-half Open rounds to master the Old Course. Actually, Mackay argued, it only took him one. Bones ran into Spieth's caddie, Michael Greller, Sunday morning, and told him he couldn't believe how Spieth handled himself in Round 1 with everyone watching to see if he'd become the first man to win his first three majors of a single season since Ben Hogan did it in 1953.
"Man, of all the amazing things you guys have done this year," Mackay told Greller, "coming out here having won the Masters and U.S. Open and shooting 67 on Thursday, with all that attention on you, was the most impressive thing Jordan's done all year. To come out here and ball like that and make that putt on the final hole, I mean, look at this kid."
Mackay turned to his left, where the leader was taking practice swings in the 17th fairway. Spieth hit his approach shot safely short of the green while the all-knowing Scottish fans -- well-versed in the evil nature of the desired target and the bunker guarding it -- rewarded him with applause.
"Jordan Spieth has a lot of Greg Maddux him," Mackay said. "He paints the corners out here and he knows how to get people out. He's not Randy Johnson and he's not Roger Clemens, but he's arguably the greatest pitcher of all time, or of his era, in Greg Maddux."
When Bones talks, people listen. He knows as much about golf as anyone on or around the tour, Mickelson and Tiger Woods included.
"Jordan's the closest thing to Tiger, mentally, that I've seen out here," Mackay said.
Woods won four consecutive major championships over the 2000 and 2001 seasons, and his Tiger Slam stands among the game's enduring feats. But Woods has been stuck on 14 major titles for seven years and counting, and he did nothing at the Old Course, once his personal playpen, to disabuse critics of the notion that he'll never see No. 15.
Is it crazy to suggest that Spieth, not Woods, is the one destined to break the Nicklaus record of 18 big ones?
"I don't think it's crazy at all," Mackay said. "I think anything's possible with Jordan. What I do know is he's going to be a guy who isn't going to run into any personal problems, he'll be incredibly popular with his peers, and he'll have a very enjoyable time out there. That combination will lead to great things."
Spieth made his up-and-down par save at the Road Hole, pumped his right fist, and headed off to the 18th while Mackay decided to join the media procession and follow him in. Bones confirmed that this was the first time he'd done this for a contender not his own, and he seemed to be enjoying the ride nearly as much as he enjoyed Mickelson's stunning charge to The Open title at Muirfield two years back.
On the 18th tee box, after Sergio Garcia initially forgot he didn't have the honors (he shared a good-natured laugh with Spieth over that), the kid with two more majors this year than Garcia has won in his otherwise distinguished career had a fairway wood in his hands. Spieth surveyed the wide-open landscape, and then made a dramatic march to his bag to pull out his driver, to the delight of the fans.
"You tell me," Mackay said. "We're standing here right now, and you have to say this kid can do it. As much as we've heard those words when guys have won the first two majors, this kid can actually win the Grand Slam. At 21 years old."
Spieth landed his ball in the right side of the fairway. He chunked his wedge shot, watched it roll down the slope and off the green, and still made par anyway to finish off a 6-under 66. He would go to bed at night 1 stroke off the lead held by Louis Oosthuizen, Jason Day and the amazing Irish amateur, Paul Dunne, and 4 strokes ahead of the crumbling Johnson, whose brawn isn't as impressive as Spieth's brain.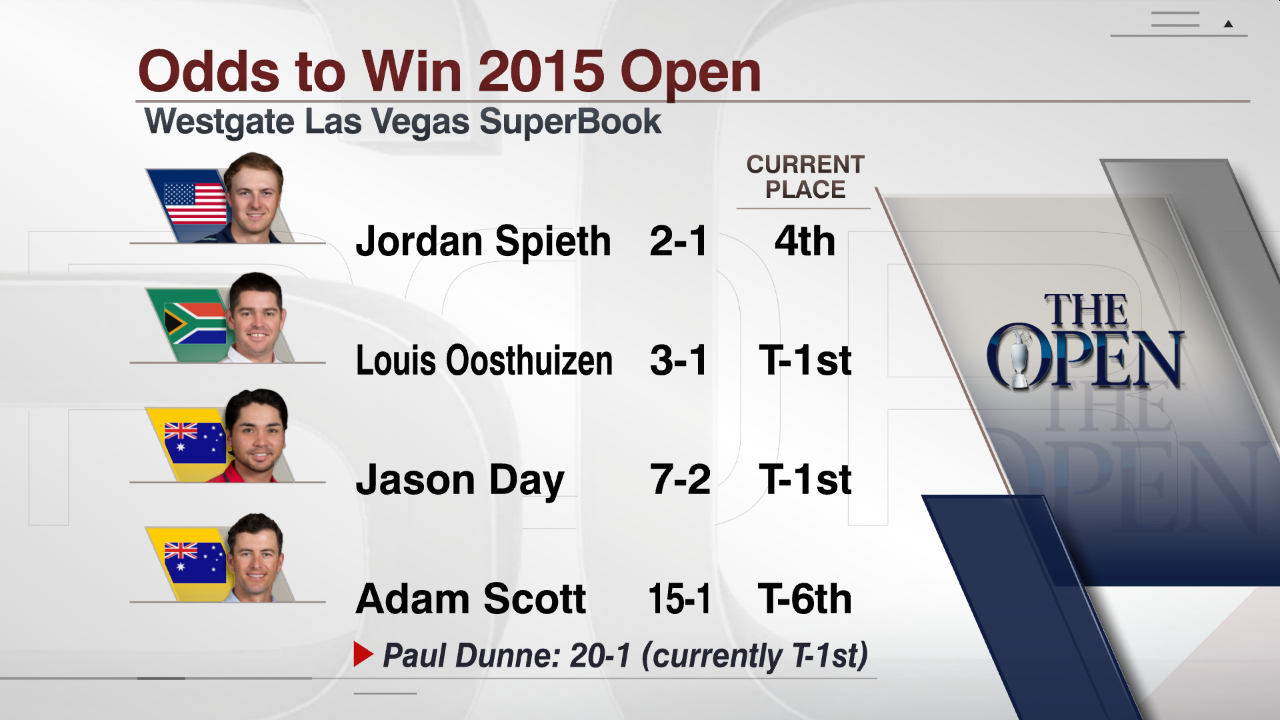 But before he left St. Andrews for the day, Spieth admitted that his blind focus on the shot at hand, and his ability to shrink these big moments to a manageable size, might be temporarily overwhelmed Monday by the magnitude of what he's trying to achieve.
"If it creeps in," Spieth said, "I'll embrace it ... I don't look at it as a negative thing. I look at it almost as an advantage. Why should it add more pressure in a negative way? If it adds more pressure, it just makes me feel like this is something that's a little more special, and let's go ahead and get the job done."
Woods and Nicklaus lost their 2002 and 1972 Grand Slam bids at Muirfield, and Arnold Palmer lost his at the Old Course in 1960. Maybe Spieth will lose his at St. Andrews, too, or maybe he will carry this thing all the way to a PGA Championship that Hogan didn't get to play in 1953, when the tournament overlapped with The Open.
Either way, Sunday was a day to listen to Bones Mackay. Like millions of fellow golf fans, Mackay was awed by the fact that the endless weather delays here didn't break Spieth, nor did the lack of local knowledge, nor did the criticism to pass on an extra week of links golf in Scotland in favor of the John Deere Classic.
So it doesn't really matter if Spieth can get the third leg of his potential Grand Slam to the house on Monday. The journey means so much more than the destination, and so does the solitary figure of an exhausted caddie leaning against an ancient stone wall, waiting to watch the magic of Jordan Spieth chasing the game's most elusive grail.