ST. ANDREWS, Scotland -- Jordan Spieth hopped over Jason Day's ball marker, tapped in for his 274th and final stroke of The Open, and walked to the side of the green to stand with his caddie, Michael Greller, and talk to him about the lost possibilities of a Grand Slam bid that was now officially as dead as Old Tom Morris himself.
Spieth removed his cap, ran his fingers through his thinning hair and then congratulated and comforted Day over his identical score of 14 under, 1 stroke south of what was needed to join a three-man playoff that would be won by Zach Johnson. Under a slate gray sky at the close of a round during a tournament defined by weather best described as bizarre in the U.S. and routine in Scotland, Spieth clapped in appreciation of the cheering fans and gave them a thumbs-up.
The kid gets it. In fact, he gets it so much that he might've been the only contender to stick around St. Andrews for more than an hour to congratulate and hug Johnson after the four-hole playoff was complete.
Spieth will celebrate his 22nd birthday next week, but he's really 21 going on 42. The winner of this year's Masters and U.S. Open had just failed to match Ben Hogan's run of three straight major victories to start a season in 1953, and he'd just suffered the same Old Course fate that denied the 1960 Grand Slam bid of Arnold Palmer, who also came up 1 stroke short.
And yet he did not come across Monday as bitter or crushed over the history that had just been ripped from his callused hands. Spieth is a genius golfer, but he understands that he plays the cruelest game on the planet for a living.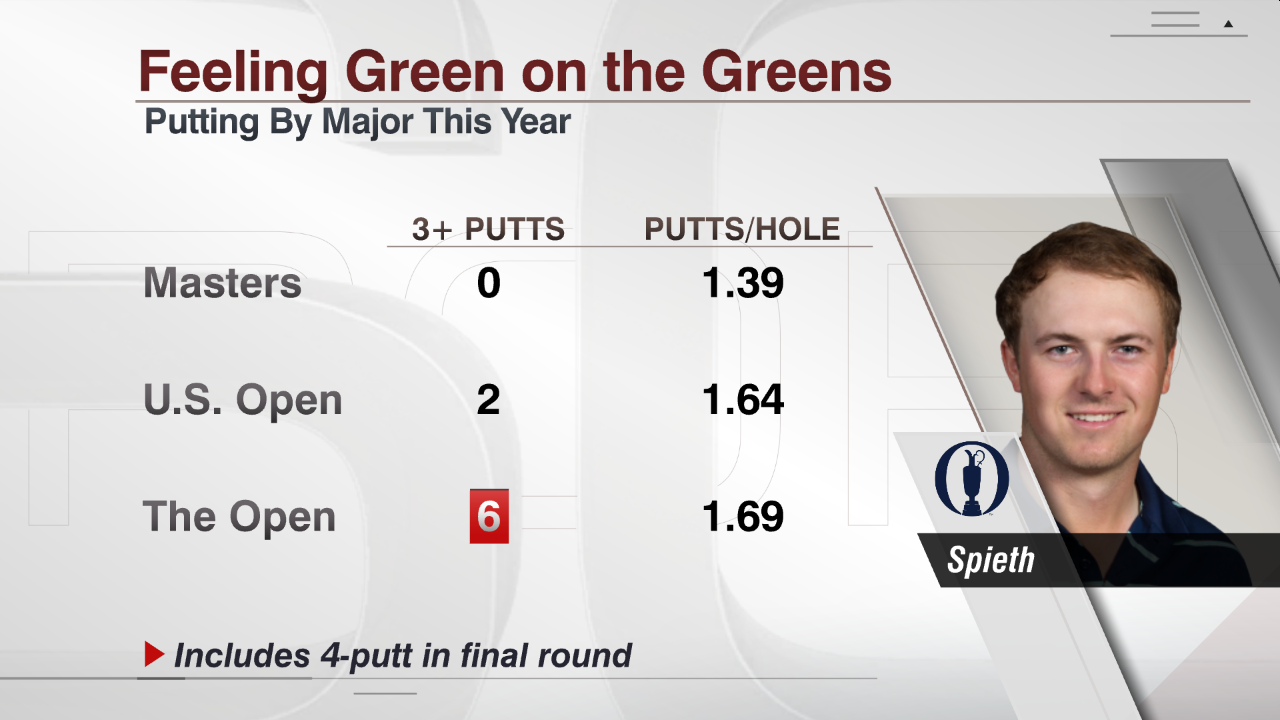 In the end, golf always wins. Golf always draws blood. Golf always gets its man.
Jack Nicklaus won a record 18 majors, but the game found ways to ensure he also finished second 19 times. Nicklaus lost his 1972 Grand Slam dream at Muirfield on what he considered a lucky Lee Trevino shot, and Tiger Woods lost his 2002 Grand Slam dream at the same course when he was blown out of the ballpark by apocalyptic storms on the way to shooting a third-round 81.
This was Spieth's turn to take the hit. He played his you-know-what off, and hit the ball off the tee and elsewhere as soundly as he's hit it across this entire charmed season and, oh yeah, he made a putt on the 16th hole that ran as long as the stretch of I-40 in his home state of Texas.
Tied for the lead at 15 under, Spieth raised his putter with his left hand after that one, reminiscent of the way a 46-year-old Nicklaus raised his after the classic putt on the 17th at the 1986 Masters. Everyone fortunate enough to be watching had the exact same feeling: The kid was actually going to do it. He was going to survive the five three-putts in a wind-delayed second round that seemed to cover two weeks rather than two days. He was going to overcome Monday's ghastly double-bogey on No. 8 just like he'd overcome his ghastly double-bogey on the 71st hole at Chambers Bay.
Spieth would stand with his fellow Texan, Hogan, as same-season winners of the Masters, U.S. Open and The Open, and he would go to Whistling Straits with a chance to do something in sports history that would've made American Pharoah's Triple Crown triumph last month look like just another fun day at Belmont Park. In his news conference, before a roomful of awestruck reporters, Spieth would even laugh about his chip shot at No. 13 that hit the pin and somehow didn't fall.
But something unfunny happened on the way to that news conference. In fact, the Road Hole happened. When asked after his third round if he would be able to block out the historical magnitude of what he was chasing on the back nine of his final round, Spieth said he would embrace that thought and use it as a motivational source "if it creeps in." It didn't creep in. "The putt on 16 went in," Spieth said Monday after his final round of 3-under 69 was complete. "But none of the historical element came into my head whatsoever because 17 is just so brutal, and 18 is tough to get close." Seventeen is no par-4; it is a medieval torture chamber penned in by an ancient stone wall. It can break a man the way it broke Phil Mickelson, whose early charge up the leaderboard was vaporized on the 17th tee when he hooked his blind tee shot so severely it landed on a guest room's balcony at the Old Course Hotel.
Spieth was victimized on the Road Hole by a sudden burst of rain as he approached his second shot. "I thought the rain had kind of subsided for the rest of the day," he said. His ball was sitting 240 yards to the hole on the side of a downslope, and in those conditions, Spieth couldn't hit his driver that far. So he slapped a line-drive 3-iron shot short of the green and then chipped his ball to six feet.
"If I stood on the 17 tee box and you told me I had that putt for par on the hole," Spieth said, "I would have certainly taken it. I wouldn't say that very often on a par-4. That was as hard a par-4 as I think we've played all year."
The standard bearer for the Spieth-Day group was a 19-year-old from Long Island named Luke Smith, who said he was struck by how much time Spieth had spent analyzing putts over the first 16 holes. But Smith and another official with the group thought Spieth spent less time on this one. "It seemed a little rushed," Smith said. Near the 18th green, as the fans quietly waited for the two-time major winner to play his way into Old Course lore, an official with a walkie-talkie whispered, "Spieth just missed a 6-footer for par on 17." The grandstand crowd groaned when his name was removed from the top of the board and restored a few notches below, next to the red number 14.
Suddenly needing birdie to tie, and facing the easiest target on earth -- the 18th fairway, with the adjacent first fairway offering a comfortable bailout option to the left -- Spieth hit a lousy but playable drive way, way left, complicating what should've been a simple approach. He aborted his next shot at the top of his backswing when distracted by a quick-triggered photographer behind him. On the second try, Spieth hit his ball too short with too much spin and watched it trickle off the green and into the famed Valley of Sin.
Spieth gave his long, uphill putt a go from around the same place Costantino Rocca had holed out in 1995 to force a playoff with John Daly that the Italian would lose.
"I've watched Opens at St. Andrews," Spieth said. "It was a very, very straight putt."
He pulled it a hair or two to the left, the crowd groaned again and that was that. "I played a great round of golf today," Spieth said. Just not great enough. The double-bogey at the par-3 eighth turned out to be a killer, and Spieth said he caught a bad break when he looked up from his tee ball only to have his face pelted by driving rain. Forty yards from the pin and tired of leaving putts short on that hole all week, Spieth let one rip and ran it off the green and down the opposite side. But on Monday evening at St. Andrews, there would be no Monday morning quarterbacking from the kid who tied for fourth. At the start of the day he didn't believe three opponents would get to his own pregame target, 15 under, which they did.
"I think the way that I played this week," Spieth said, "and especially today would have won the U.S. Open by more than just a shot."
So after he promised not to beat himself up, Spieth waited and waited for the playoff to end to congratulate his Ryder Cup teammate for a job well done. Spieth waited near the R&A clubhouse to give Johnson a hug. Later, he called The Open champion "a role model" on Twitter. "He's a better person than he is a golfer," Johnson said of Spieth.
And he has a chance to grow into one of the greatest golfers of all time. Spieth already has two major titles tucked inside his pocket; Woods didn't win No. 2 until he was 23.
But just as he will rise again, Spieth will also be put right back in his place. The evil game of golf always prevails in the end, and if nothing else, it was encouraging to see a 21-year-old superstar recognize that Monday with common dignity and grace.