TROON, Scotland -- For a little over an hour on Tuesday afternoon here at Royal Troon, the player interview room became a repository for cautiously dancing around an issue and for stomping all over it. For tiptoeing through eggshells and for spitting straight fire. For remaining wholly image-conscious and lapsing into I-don't-give-a-you-know-what mode.
With the 145th Open Championship set to begin in less than 48 hours, two of the game's biggest stars sat down in front of the assembled media and were largely grilled not about the game's oldest major championship, but about the upcoming Olympics -- an event neither will be playing.
First up was Jordan Spieth, who'd just withdrawn his name from Olympics consideration one day earlier. He answered an initial softball about returning to The Open, then punctuated his response by knowingly adding with a coy smile: "I can already see, by far, that's going to be the easiest question I receive."
It was. He was immediately asked about the burden of his decision, the pressure he'd received to compete and why he came to that conclusion. Spieth explained that health concerns and other risk factors of playing in Rio de Janeiro ultimately led to his withdrawal.
He then offered comments that would bring a proud tear to the eye of any PR flak.
"This was probably the hardest decision I've ever had to make in my life. ... I'm very passionate and very much a supporter of the Olympics and Olympic golf. ... I certainly hope they vote to keep it, because I believe it can be very beneficial for the game and I would love to be a part of benefiting the game with it."
At one point, Spieth was even self-aware enough to acknowledge his hand movements, saying he'd better sit still or they'd be misconstrued in photographs.
It was clear that he understood this was an unpopular decision but fully intended to emerge from it with his public image still intact. He might have declined an invitation to the wedding, but he still wanted to send a nice present with the RSVP.
If there was a controversial comment during the proceedings, even that was masked by Spieth's insistence that this was a personal choice.
"I'm making the decision of what I think is best for me," he said. "I don't feel like I have to carry the torch -- see what I did there? -- for the sport or anyone else. This is bigger than that for me personally."
Not long after Spieth finished, Rory McIlroy sat down in the same chair and offered a contradictory approach to answering similar questions.
It was three weeks ago when McIlroy made his decision to eschew the Olympics, citing fears over the Zika virus. Up to that point, he'd been in favor of golf's inclusion; after his announcement, he softened on the idea, though still contested that more top players would be competing if the tournament was being held elsewhere.
On Tuesday, he didn't pull any punches.
"I don't feel like I've let the game down at all," he said of his decision. "I didn't get into golf to try and grow the game. I got into golf to win championships and win major championships. All of a sudden, you get to this point and there is a responsibility on you to grow the game and I get that. But at the same time, that's not the reason that I got into golf. I got into golf to win. I didn't get into golf to get other people into the game."
This was a stark departure from just a few months earlier, when McIlroy specifically said of his Olympics inclusion, "I feel like I have a responsibility to grow the game."
Not only did he shift gears this time, he clearly wasn't worried about the public reaction.
He continued: "I'll probably watch the Olympics, but I'm not sure golf will be one of the events I watch. ... [I'll] probably [watch] the events like track and field, swimming, diving -- the stuff that matters."
The stuff that matters.
Unlike Spieth's delicate attempt to convey golf's relevance in the Olympics without his participation, McIlroy stuck a knife in the back of the event and twisted it. Hard.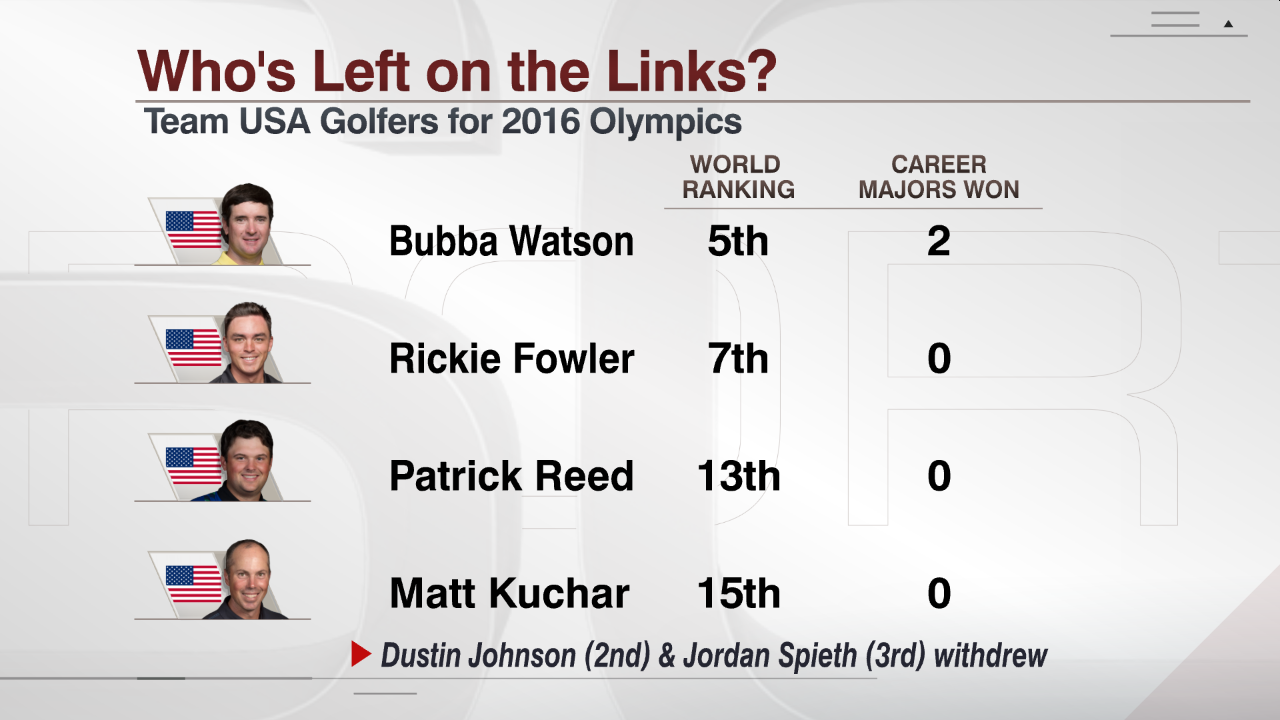 The ensuing public outrage and social media uproar over McIlroy's comments in comparison to the general malaise surrounding those of Spieth are less because of what he said than how he said it. If Spieth launched a high fade that landed like a butterfly with sore feet. Then, McIlroy opted for a penetrating stinger that bounded relentlessly into the gallery.
There's no right or wrong answer here. There's no specific blueprint for these players to speak their minds about the Olympics or any other issue.
From tiptoeing through eggshells to spitting fire, two of the game's biggest stars took two severely different approaches toward voicing their feelings. On this afternoon, the dichotomy between them was shocking.